I have something critical to your online success at the ready (and available for a limited time only). It's going to triple your growth and launch your income to new heights, so let me cut straight to the point.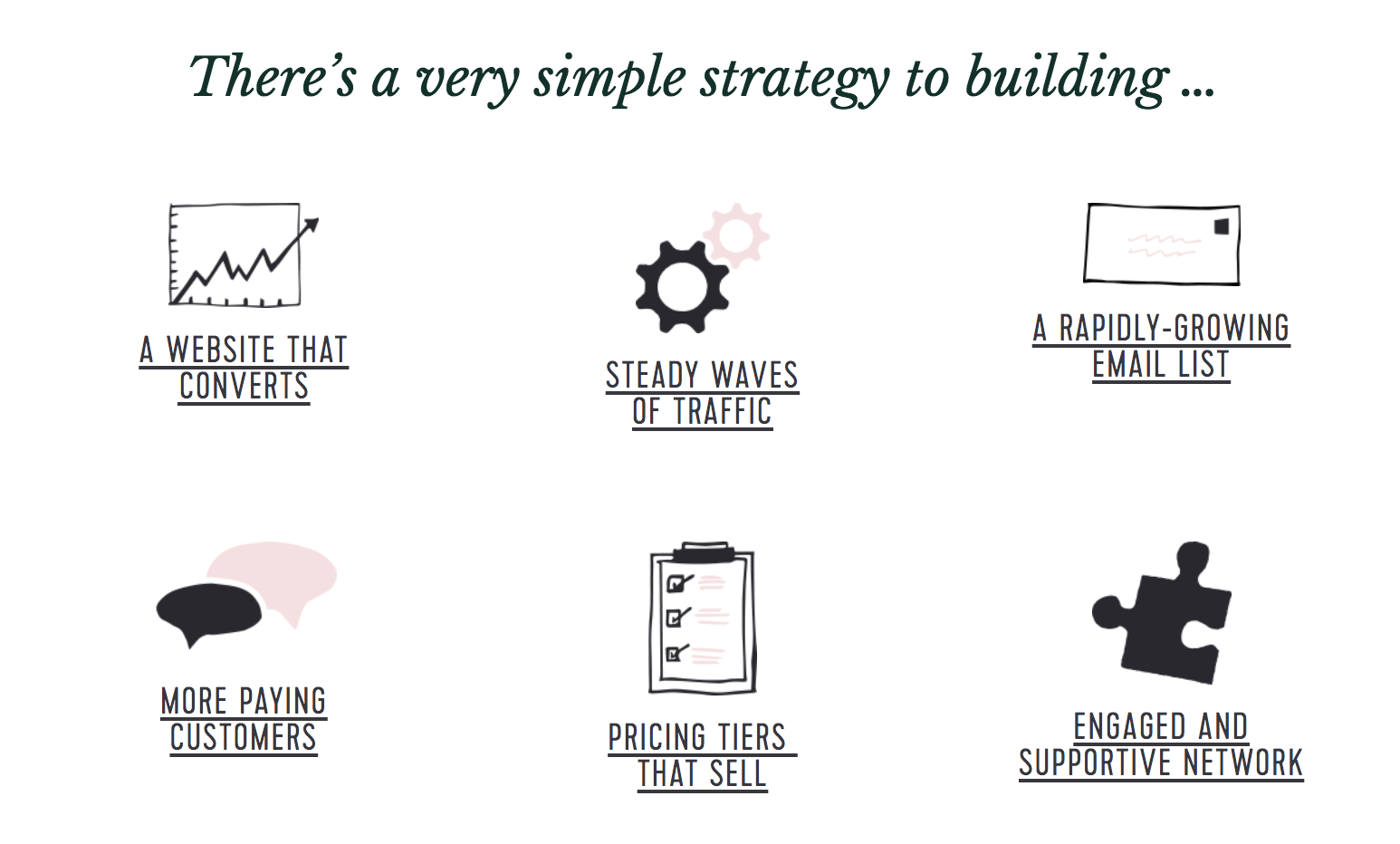 I want to show you …
Why it is that, once you have your product ready, your online success is simply a numbers game (if you've made 1 sale, you can make 100 sales, you can make 1,000 sales, you can make 100,000 sales!)
What all of those potential customers and clients are DYING to hear from you (and how to write in a way that addresses their needs and persuades them to take action)
Where you're leaving business on the table + how you're costing yourself the sale time and time again
How to write a best-selling product listing and/or sales page (I'll cover both)
How to create an irresistible opt-in that rapidly grows your email list (remember the numbers game? More subscribers = more sales)
Proven techniques that you can use right away to double, triple, even quadruple your business profits
Why email is everything to your bottomline + the most comprehensive class on writing effective email newsletters and broadcasts on the market
Tested sales templates and scripts that convert! Students have earned back the price of the course by using these once (but they are proven to be effective time and time again!)
The exact email sequence that helped me earn $25K in less than one week
The exact formula I've used for launches earning up to $70,000!
Moreover, imagine sending a sales email that has your customers replying, "Thank you SO much!" That's how thousands of clients feel about my sales tactics, and I'll show you how to create a similar system that feels good and converts.
"Lisa Jacobs gives it her ALL!  I didn't know I needed this information but it's exactly what I have been missing."
Everywhere you exist online (aka your "sales funnel") is meant to always be doing these three things: (1) Attract, (2.) Connect, and (3.) Convert.
You'll know it's not working if you find yourself constantly asking …
How do I get people to my website?
How do I convert views into sales?
How do I get fans to see my posts on Facebook?
How do I get social media fans onto my email list?
What am I supposed to say in email broadcasts?
How do I find new customers?
How do I make more sales?
If you're asking any of the above, it means your online presence is static, stalled, or stuck. It's not moving. What if instead you had …
Irresistible Offers, Happy Clients, Passive Income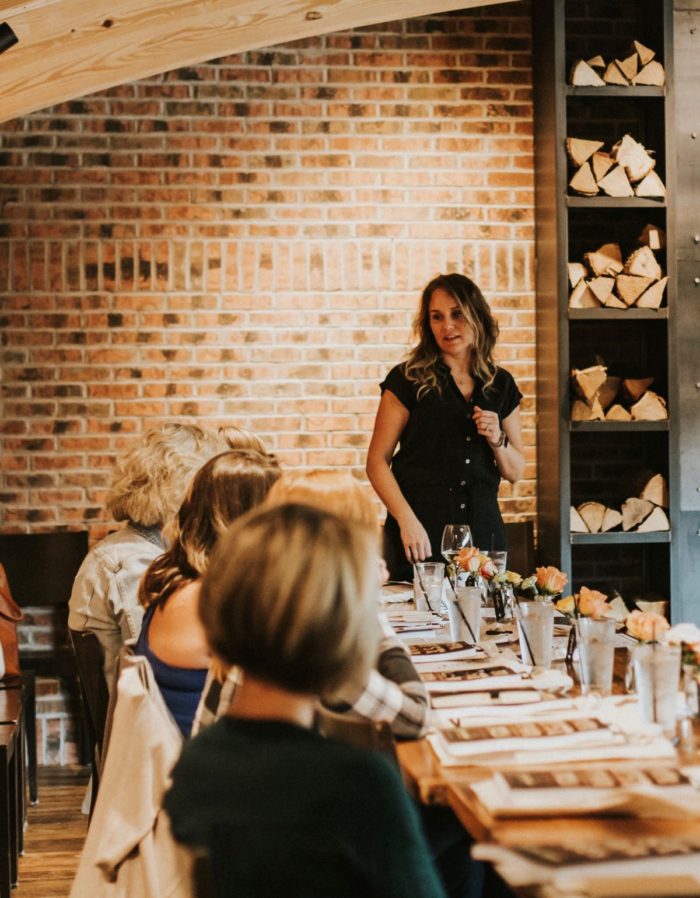 I know what you think copywriting is—you probably know the textbook definition of it, which is to write in a persuasive way that markets, advertises, and raises brand awareness. And yes, it's all true, but it's so much more than that.
Good copywriting adds movement. It brings LIFE! to your online business. It honors the buying process. It's what motivates your customers through the sales funnel, guiding them from new visitor to loyal friend.
Copywriting is the language that builds relationships online, and that's the best way to look at it! It's a language to be learned. It will help you build an online sales machine that represents you in the most authentic way imaginable.
"Lisa Jacobs is an insightful marketing genius who talks in a language I can understand."
You'll say what your customers have been dying to hear, you'll easily attract more interested buyers, you'll connect in a way you never thought possible, and converting sales will become the easiest part of the job.
Complete Copywriting: The Course to More Sales
My signature course titled, Complete Copywriting: The Course to More Sales is NOW OPEN for enrollment, but only for a limited time. To understand what your copywriting is supposed to do for you online, you need to take a closer look at the buying process.
Enjoy this sample video from inside the course …
"Without being intimidating, Lisa Jacobs is powerful and articulate in her delivery."
Not only have I created extraordinary results in my own business (I've scaled from a steady, stalled 30K/year income to a glorious 30K/month salary!), but I've also helped thousands of clients and readers reach their goals as well.
Because I have a business very similar to yours, I'm the best-suited to guide you toward all those things we desperately crave in this industry: more sales, a winning marketing strategy, recognition and respect, and a long-term plan for growth. I can alleviate the frustration that comes from flying by the seat of your pants. I know you're a DIY-er, but unless it comes very naturally, it's hard to DIY a business! Stop spinning your wheels when you could be making sales.
Let me show you how I can help…
Are you tired of feeling like you're talking "at" people, or worse, like you're talking to yourself? Are you ready to stop wasting time sharing updates that don't engage? How many hours have you wasted writing emails (or worrying about writing emails) that nobody reads?
Are you ready to cure yourself of online rejection and neglect once and for all?
If so, good news! Copywriting is simply a language to be learned. It will help you build an online sales machine that represents you in the most authentic way imaginable.
And here's my favorite part: When you learn this language, it makes everything you do online more successful. You begin to say what your customers have been dying to hear, you easily attract more interested buyers, you connect in a way you never thought possible, and converting sales becomes the easiest part of the job.
You will learn …
Module 1: Where you're leaving sales on the table + how to convert more visitors
Module 2: Why your customers aren't buying (yet) + how to help them overcome their hesitation
Module 3: How to read your customer's mind + write in a way that moves them
Module 4: How to maximize your reach + get more people into your sales funnel
Module 5: Sales Templates! Sales Templates! And MORE! Sales Templates: the anatomy of viral blog posts, the formula for effective status updates, the secret ingredient of rapidly converting opt-in offers, best-selling product listing templates, proven sales page templates, and highly engaging conversation starters
Module 6: Email is king: the most comprehensive class on the market to help you make the most of your newsletters and broadcasts
Module 7: How to combine everything you've learned into copywriting mastery + stellar promotions and launches
Module 8: The advanced vault. Everything it takes (and what it costs) to run a 6-figure business online
BONUS: Lifetime Luminaries Club!
I've saved the best for last! Your purchase of Complete Copywriting: The Course to More Sales INCLUDES lifetime membership to my elite training program, The Luminaries Club.
Get access today for $997
Online businesses are the ONLY small businesses in the world that create a product and scramble to sell it day-by-day. I know all of this because I created a business similar to yours, ran it day-by-day just like you're doing now, and almost dismantled it after three years thanks to frustration and dead-end results. And then I thought, what if my career were different?
Imagine knowing where your next month's paycheck is coming from and feeling confident about how much you can earn. Imagine a set-it and forget-it system that builds your following, increases your sales and markets your products while you sleep. Imagine having a realistic plan you can trust for constant expansion and growth.Through ongoing experiments and strategy-building, I've set my business up for exponential growth. I finally realized that if I wanted extraordinary results, I had to do things differently and make some extraordinary changes to my operation. And it worked!
Membership includes …
The entire library of Marketing Creativity e-programs, including Shop Fundamentals, Advertising and Exposure, The Ultimate Blogging Kit, as well as the annual releases of Your Best Year Workbook and Planner (a $150 value)
Rut-busting monthly challenges designed to help you improve your online reach, boost your social media strategies and streamline your creative business delivered in action-oriented, easy-to-implement packages (a $100 value)
Unlimited shop and website critiques from a helpful and engaged community (fresh perspective = priceless)
An exclusive, interactive course (titled Illuminate) designed to help you shine the spotlight on your business and build a marketing strategy that sells (a $300 value)
Classes and workbooks that will help you create a killer first impression for your online storefront, find more paying customers, build a more efficient business, and so. much. more (a $200 value)
A private and supportive network full of hundreds of like-minded creatives from around the world
Productivity tools to keep you focused on the work that matters
Exclusive opportunities, trends to watch, marketing tips and more
Personalized attention and client support like you've never seen before. The Luminaries Club is designed to help you every step of the way on your creative journey. As president of The Luminaries Club, I pride myself on continuously returning your investment on the course by adding more and more valuable information every single month.
This investment in YOUR business' success not only includes Complete Copywriting: The Course to More Sales distributed real-time (we'll walk through it together over the next 8 weeks), it also includes instant access to everything The Luminaries Club has to offer.
Get access today for $997
I offer a money back guarantee. I know that carving your own path in business can be an equal mix of excitement and frustration. You run into countless obstacles, end up chasing the same issue for weeks, months, even years.
You are never alone inside The Luminaries Club. Trust me, you are always going to have new questions.You're always going to need to learn new things. And as a Luminary, you'll always know where to turn. The Luminaries Club is full of the help you need … if you do the work. It takes much more than reading tips and watching videos to create success; you must be focused on your goals and dedicated and persistent in your efforts.
I have a 30-day money-back guarantee. You just have to show me your completed coursework (proof that you gave my system a go), and I'll happily refund your money if my training hasn't improved your results.