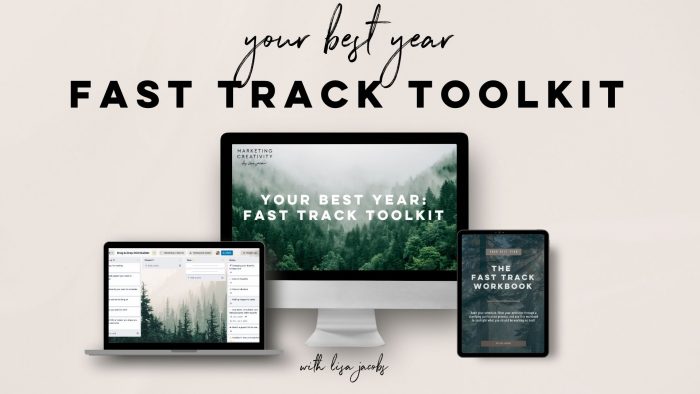 Introducing a simple system for channeling your time, energy, and attention into rapid results! In less than an hour, you'll be on your way to auditing your schedule, filtering your activities through a clarifying purification process, and using this toolkit to spotlight exactly what you should be working on next! From the best-selling author of Your Best Year: Productivity Workbook and Business Planner, welcome to the Fast Track Toolkit!
Let everyone else fuss over all the busywork while you fast-track your way to the finish line.
Oftentimes in business, we set out with good intentions and clearly defined goals. But in lieu of a landmark (kept consistently front and center), we'll end up circling back into what I call "the daily scramble" (lost and directionless). We're all susceptible to the daily scramble—in which you wake up today and ask: what am I going to do today to reach my goals already?
When you don't reach your goals, it's never for lack of effort! I know how hard you're working, and I know how challenging it is to put yourself out there as vulnerably as you do.
What I've come to realize is that, for many of us the daily scramble + undefined growth is a recipe for disaster and ruin! Allow me to show you the way to the finish line.
Welcome to The Fast Track
Following my proven, 4-step framework and templates, you'll audit your schedule, filter your activities through a purification process, and spotlight exactly what you should be working on next!
In less than one hour, you'll have unpacked all the tools you need to reclaim control and direction in your business again.
Only $27

If you find yourself always wondering what to work on next — or worse, you find your optimism running dangerously low, you feel like you've lost the forest for the trees, and you lack the motivation to constantly push things forward — this program is not only a time-saver …
This is the life saver your business needs.
It's the program I wish I'd had when my business felt like a runaway train completely out of my control. It's the most simple system I've ever created, yet it yields maximum value results. It's that good.
Here's what's inside …
Only $27

.
Because Your Customers Are Waiting
I want you to get more of your beautiful work into your customers' hands! And, to all the potential customers out there right now, action is interesting. Your business isn't interesting to them if you're scrambling behind the scenes on dozens of unfinished projects and ideas.
You're about to learn my proprietary method for getting more done. More specifically, getting more done that moves the dial (and interests your customers) in business! With The Fast Track Toolkit, you'll free up mental bandwidth and creative energy, organize your workload in an empowering way, and ultimately breathe new life back into your business!
It's simple and quick, yet so impactful. If you've been looking for a better way, you've found it here. Welcome to the Fast Track!
I'm Lisa Jacobs
I'm a radical advocate for growth and change. I've worked with thousands of entrepreneurs to help them improve focus and efficiency in their businesses. I've taken hundreds of business owners from a state of uncertainty to top-selling industry leaders. I've mentored powerful women on their way to seven-figure salaries and beyond.
My motto has always been: Your life. Your business. Your way. Imagine this with me: Inspired creation, effortless delivery. Welcome to your first step in that process.

Welcome to the Fast Track!