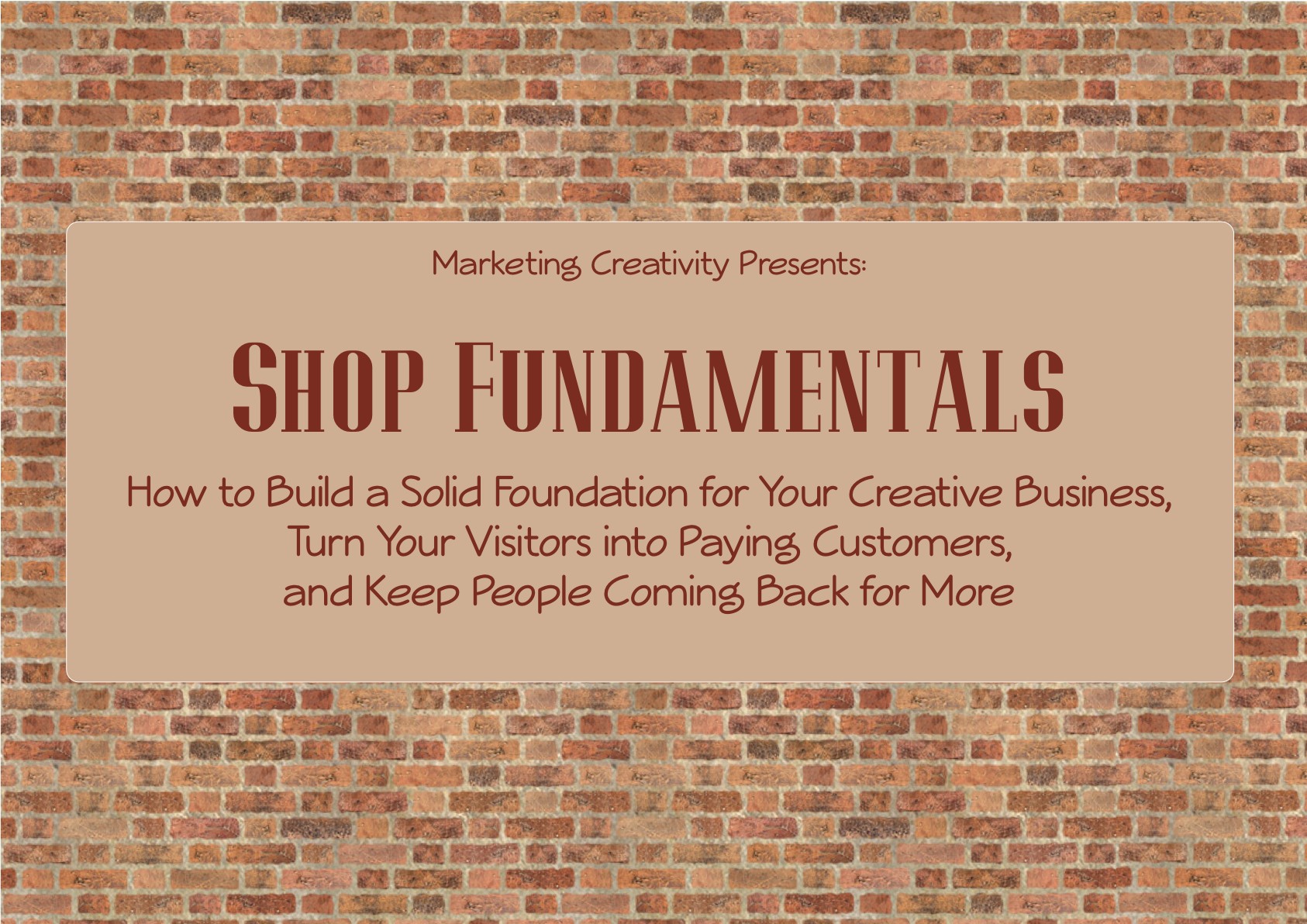 Shop Fundamentals is the recipe for small business success!
Shop Fundamentals is the recipe for your creative business' success: It contains the secret ingredients of a top-selling shop. This comprehensive e-program was built to help your online store stand out from the crowd. When I opened my own Etsy shop, I read all of the beginner advice, and found myself asking: "And then what? Now what do I do? How do I find customers?" This is the " And then, …." I don't waste your time with generic advice that you can find for free.
If you are …
Looking to increase your sales and exposure
Frustrated by  lack of  sales
Confused by the success of the shops around you
Feeling lost in the crowd
Ready to build a shop that attracts and converts visitors into paying customers
Shop Fundamentals was built for you.
You will learn:
How to understand and benefit from Search Engine Optimization (SEO) in simple, no-nonsense terms
How and where to employ relevant keywords that will help more customers find you
The key elements of a visitor's first impression and how to make yours count
How to keep your visitors interested and engaged
How to turn your visitors into paying customers
How to improve your listings and descriptions for maximum results (effective copywriting)
How to subtly address your customer's doubts and concerns, and solidify their confidence to buy
How to get recognized in your industry and claim your expertise
How to keep your customers coming back for more
Customer service strategy that will turn paying customers into raving fans
You will get:
Shop Fundamentals: How to Build a Solid Foundation for Your Shop, Turn Your Visitors into Paying Customers, and Keep Them Coming Back for More in PDF file
Shop Fundamentals: The Workbook in PDF file. This workbook is worth its virtual weight in gold! It will help you implement and explore everything you have learned throughout the Shop Fundamentals program.
Advertising ideas that will help you form an effective marketing strategy.
Information on how to avoid the BIGGEST common mistakes in the marketplace. The majority of sellers are making these mistakes and unknowingly turning business away. Chances are, you're one of them.
Direct, no-nonsense advice. I know you're past what to call your shop, and how to list an item. I'm not going to waste your time (or mine) giving you information you already have. This is straight-to-the-point instruction. Don't buy it unless you're ready to take your shop to the next level.
A Money-Back Guarantee.  I know and respect that your business funds are important to you. I know for a fact that this product is like nothing else on the market. I am so confident that you'll love this program, I offer a 30-day money-back guarantee. No questions asked.
An Invitation to My (Very Generous) Affiliate Program. I love and appreciate my partnerships and connections within the handmade community. I wouldn't be where I am without them. My affiliate program is so beneficent, you'll earn the purchase price on this program by sharing the information and selling just TWO copies. In fact, you'll earn a profit. Complete details are included inside.
It's time. It's time for you to take control of your destiny, market your creativity, and get paid to be you.
Download Shop Fundamentals for $57
On Sale for a Limited Time for $30

Reader feedback is pouring in, thank you!
I love Lisa's Shop Fundamentals! I've skimmed through the book once and already have changed my whole attitude about sharing my jewelry with other people. Now I've printed out the workbook and I'm working on worksheet 1. Lisa's guide forces you to slow down and pay attention to the details and strategy that are so easy to skim over. I can't wait to complete these worksheets. Thanks so much Lisa!! –Rose

Wonderful guide! It was extremely helpful, and I'm so happy I bought it. The worksheets are what I appreciate the most, as I know I will use them over and over to continue improving my shop. Thanks so much! –Anonymous

Lisa, I've read your Shop Fundamentals course and love it!  It is very easy to understand and implement the ideas and suggestions.  Whether you are new to selling or have been doing this for some time, there is something for everyone to help attract more customers to their site. –Debbie

Lisa gently but firmly takes you out of your own head and allows you to see things through your customers' eyes.  As a highly successful businesswoman, she's the perfect person to guide you through the complexities of creating a successful shop presence that will have your customers coming back again and again. If you ever get the chance to work with her directly, grab it! –Sally