Diana of Cocoa Beans was my first interview with a crochet-er on Etsy, and at over 1,500 sales, a successful one at that! I had her marked in my personal Etsy favorites for the colorful and sturdy kitchen cloths she offers, but she's also got her hand in creating soaps and twine. Diana shares everything about her first sale to her best marketing strategy for Cocoa Beans with me, so please enjoy the interview.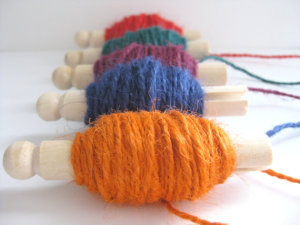 I went back to your first sale, July 15, 2008. Normally, there's a great difference in photo quality and props from first sale to present day—but your first pictures were as awesome and inviting as they are now. Is photography a passion for you?
I do love photography, and I think my first pictures of my past sales needed a lot of help.  I have tried to do better with my pictures.  I do all of my daughter's pictures too, she also sells on Etsy.
What was that first sale like for you?
Oh my goodness, I was jumping up and down and my heart was racing.  I was so excited.  That is the way I am every time that I make a sale.  Pure excitement!  I love doing what I do, and I love working with my customers.
What piece of advice would you offer someone just starting out on Etsy?
I would have to say always write your customers right away and let them know how excited that you are to be making their order for them.  And always write them again when you ship their order.  Be patient, because sometimes it might be awhile before you make another sale.  And I would always renew items throughout the day. That way if people are looking for your certain item they would be able to see it.
Please describe your "zone." What's it like when you're crocheting?
I think, okay this order is going to someone's home and I want to do the best that I can for them.  I will take something apart and redo it if I feel it is not right.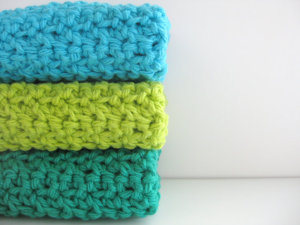 What is your typical day like?
I get up around 5:30 a.m. every morning and the first thing I do is turn on the computer. Then I make coffee and head in to see if I have any conversations or sales. Then I make my husband's lunch and get him out the door for work.  I try to make a few treasuries and post those. Then I get ready and start working on orders.  I will check my shop at least every hour.  I love Etsy so much:)  I break for lunch and then continue with my shop throughout the day into the evening.  When I go to bed and get ready to shut off the computer I get excited for the next day to get here to start all over again.
Is Etsy your only sales venue? If not, where else have you sold?
Etsy is my only sales venue.  I have done wholesale orders for shops in other states.  I have thought about putting my things out there, but it comes down to finding the time to do it.
What is your best marketing strategy for Cocoa Beans?
I would have to say being on a team.  You learn so much from other people. And it is wonderful sharing your thoughts and ideas. I am grateful for the information that I have gotten from doing this.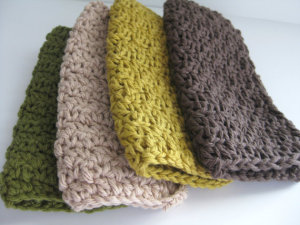 Now you sell soap, as well as your scrubbies and cloths. When did you discover that talent?
I always wanted to make soap, and thought I am going to just have to try. I did a lot of research and trial and error. But it has been a great accomplishment.  I also have started hand dyeing twine and am loving that also.
What was your proudest handmade moment?
My proudest handmade moment I would have to say is an antique hutch that my grandmother gave me.  I cherish it.  She is the reason that I opened my shop. I opened it on her birthday.  She was such an amazing woman and I learned so much from her.  She taught me to crochet and I know she would be proud. I miss her so much; she was like a mom to me and always thought I could never do any wrong in whatever I did.  I wish she was here to see what I have accomplished.
Please finish this sentence: When I was 21, I thought …
I got married at 18, and by the age of 21 we had our first daughter. I thought I just wanted to be home and raise our child. At 23 we had our second daughter.  I was able to be home with both of them growing up.  I have been married now for nearly 31 years. My husband has always encouraged me to do what I love. Without him I could not have stayed home with our children and done all the things that I have been able to do. I always said i want to be a wife, mother and grandmother, and i have gotten all of these things. My life has been very blessed.
Thank you, Diana. It's been lovely. Please be sure to check out Cocoa Beans for affordable, reusable cloths and scrubbies! Until next time ♥