Please welcome Emily of Yarn Miracle on Etsy. Her love for animals shines through her knitted creations, and her personality is as fun as these colorful toys! If you're also a knitter, you'll love Emily as a trusted and friendly resource: she offers free patterns and techniques on her blog.
Emily's been selling on Etsy for more than three years and she generously shares some of her expertise and advice in this interview. Please enjoy:
You made your first Etsy sale on March 8, 2009. Do you remember what that felt like?
Vividly!  It is the most validating feeling in the world to have someone – some stranger – who is actually willing to pay money for something I made.  I still get excited about sales (I'm a small time outfit, so the thrill of the sale has never worn off), but that first one made me smile for days.
Do you sell anywhere else online or in person?
If you know me, you can certainly buy toys in person.  I do have all my patterns on Ravelry but otherwise I'm exclusively Etsy at this point.
Your blog is a knitter's paradise! You're very fun to read. I personally love the 12 Months of Mindful Fiber, where you introduce beautiful farms that create the yarns you love. Among other charities you have supported in the past, you made a New Year resolution that …
"This year, Yarn Miracle will help rescue an elephant, spay or neuter half a dozen cats, continue to support the Humane Society, and convince you all not to buy eggs from factory farms.
And I'm going to do it with knitting."
Here we are mid-year, how are your goals shaping up?
"Help save an elephant" is going well: $196 for SOS Wildlife since E is for Elephant was published in May.  This is one of the few times I've wished for a little more Notoriety in the knitting world – I would absolutely love to sponsor an elephant's 'retirement'.
I haven't managed the spay/neuter cat quota yet.  We've got a foster kitten and two feral cats skulking around, so I should be halfway there.  But the feral cats absolutely refuse to get in the trap!  I bought them tuna and everything!  TNR (trap, neuter, return) is tough to do without the T.  My backup plan is to give our animal shelter a call.  Somebody's getting fixed this year!
The goal that I am obsessing about is eggs.  I really missed the boat at Easter for my big 'stop eating factory farm eggs' effort.  Between Easter orders and Mindful Fiber I just ran out of time.  The other problem is that people don't really want to know.  Once you know, it is hard to continue to support the cruelty, neglect and inhumanity found in factory farming.  And once you can't support it, you have to change the way you eat.  That's a challenge for anybody.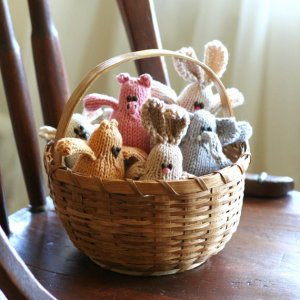 I saw the amazing renovation of your craft room on your blog. Is that where you do most of your creating? 
You'd think it would be after all that right?  But I'm really happy with the writing desk in the kitchen and I keep all of my work in progress on the den mantle.  Maybe if the cats and I had a cushy chair in there…
Please describe your "zone." What's your mood like when you're knitting one of your animals?
I don't know that I have a 'zone'. Knitting the familiar animals is soothing, problem solving a new pattern is aggravating, special orders with a deadline are a little stressful.  But really, I just knit through everything.  Otherwise, my hands are bored.  I knit during Ellie's naps, while she is at preschool, for a couple hours in the mornings before anyone else wakes up, in the car, when I'm waiting.
What has been your best marketing strategy for Yarn Miracle?
The first step to a good marketing strategy is to make a good product.  I never got any further than that.  I'm lucky enough to have chosen a venue that does all the marketing I need as a micro-business!  Etsy's advertising reaches a large customer base.  Many of those customers are looking for what I've got to sell.  My job within Etsy is to be sure that my toys are easy to find – I make my tags, search terms and materials list as applicable and precise as possible.  With the introduction of the 'in house' stats, I've been able to see which of my tags aren't getting any attention and adjust.  Etsy finds the customers, and I make sure they can find me.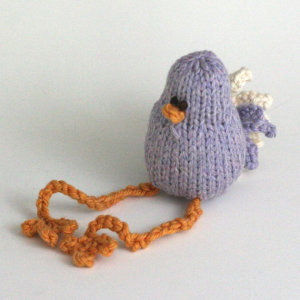 What has been your biggest mistake or waste of time and money in your business?
Wholesale.  I've only ever done one small order for a boutique, but that was enough to convince me not to go down that road.
What has been your proudest handmade moment?
I've got my favorite knitted items (complicated cables and a little bit of color work)  and I love my current series of animal toys, but the things I'm the most proud of are in my "weakest" crafting areas.  Like sewing.  My mom is amazing, but my machine sewing skills are and will remain those of a hobbyist. (We won't discuss my pitiful hand sewing.)  So when I realized that I had lent 'my' sewing machine to Mom and Ellie still needed a Poodle Skirt for 50s day at school, I unfolded Granny Nix's 44 year old Kenmore (table model) and Google and I sorted that thing out and made a skirt!  I am really proud of that skirt.  Well, the Herculean effort that produced that skirt.
What is the one biggest tip you would offer to handmade artists just starting out and looking for their first sale?
Take the time to be original! Even if you are making your products from someone else's pattern (with permission, right?) you can still make the objects unique through presentation, fiber, color, attitude.  Be influenced, but don't borrow.  Make your words and your creations your own.
Thank you, Emily. You're an absolute delight! For more from Yarn Miracle, visit her on Etsy or the Yarn Miracle website. And please be sure to buy or gift her charitable E is for Elephant pattern for your favorite knitter! Until next time and all the best ~