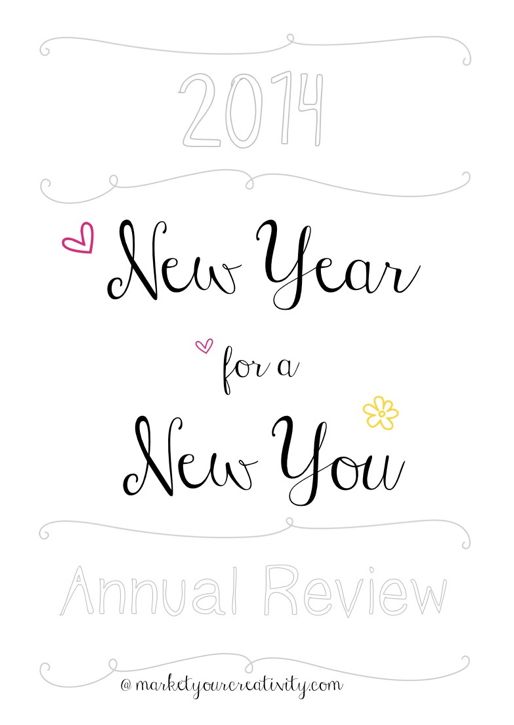 Hello and welcome to the New Year for a New You 7-day series! This annual review and reflection is one of my absolute favorites, and there's no better time to conduct it than this sacred space between end-year holidays. I can hardly wait to reflect on a glorious 2013 and plan for a brilliant 12 months to come with you!
Here are some suggestions and resources to help get you started:
Carve out some alone time
I'm going to offer you journal prompts along with review and reflection exercises in the coming days. If you've never done a self-reflection exercise like this before, you'll probably be a little surprised at how intense it can get and how many thoughts and feelings are waiting to spill out of you.
I choose to do my annual review and resolution-setting when I can find some solitude, over a period of about four days. I typically spend one to two hours in reflection, and I set the mood so that it is gentle, calm and sober. If that's not possible for you, carve out a block of quiet time in one day (give yourself at least three hours).
I'll take no excuses here: make this alone time happen. I'm a married mother of four, and I'm determined to honor this sacred practice. I'll go to my bedroom and send the "do not disturb" message before I begin. Self-reflection is critical to your wellbeing. Once you start a session, you are not to be interrupted.
Be sure to have ready a delicious ice water and/or cup of tea, favorite pens, and any additional resources you plan on using. If possible, turn off electronic distractions.
Use pen and paper
For best results, I recommend using a fresh journal or notebook to collect your thoughts and feelings during our review and resolution-setting. When you follow the ruminations of the mind without pen and paper, you chase thoughts that are too scattered to truly connect.
With a notepad, your thoughts escape to the page where they can be reworked and shaped into successful ideas. After a few minutes of writing, a sense of clarity will begin to fall from pen to paper. Many-a-journal session has left me with new solutions, insight and understanding. I always walk away with a more peaceful perspective and a refreshed sense of self. If you're already using a journal, I'm sure you would agree!
In addition and to compliment this 7-day series, I highly recommend the following resources. They will be extremely helpful during our time together.
Additional resources to consider
These are the resources I'll be using and/or referencing throughout the series:
Your Best Year: 2014 Workbook and Planner. This is a review and calendar that I created to help organize and achieve my own goals. It's gone on to become a best-seller in the Time Management category on Amazon! It starts with prompts, exercises and instructions, and it ends with a twelve-month, weekly planner.
Choose Yourself!
 by James Altucher. I wasn't expecting to find so much inspiration for $1.99 (e-book version), but I couldn't put these 276 digital pages down. It's a great read as you head into the New Year with lots of motivation and "daily practice" tips.
Harmonic Wealth: The Secret of Attracting the Life You Want
 by James Arthur Ray. My favorite part about this book was learning about wellbeing in terms of caring for the five pillars of a happy life: financial, relational, mental, physical, and spiritual. I absolutely loved this read, and I'll be revisiting it myself soon.
Overcoming Underearning(TM): A Simple Guide to a Richer Life
 by Barbara Stanny. Please own this book; oh, please do. It provided a wealth of education and inspiration, and I'm going to be referring to it here on the blog for months to come. I have about fifteen pages in my notebook full of future blog posts, exercises and notes to consider after spending the last few days with this read.
Enjoy the process
Come to your annual review with an open mind and an honest heart. Allow for new insights, inspirations and revelations … and enjoy!
Tomorrow we're going to discuss what worked for you in 2013. Here are a few journal prompts to run with:
What felt successful about 2013?
What actions did you take | skills did you learn | new beliefs did you adopt to make that success happen?
Who supported you? Who or what encouraged your success?
What did you learn | grow | change about yourself in 2013?
What was time very well spent this year?
What's your greatest memory of 2013?
Ready to continue?
:: Day 2
:: Day 3
:: Day 4
:: Day 5
:: Day 6
:: Day 7