Here are my 6 biggest small business lessons of 2013!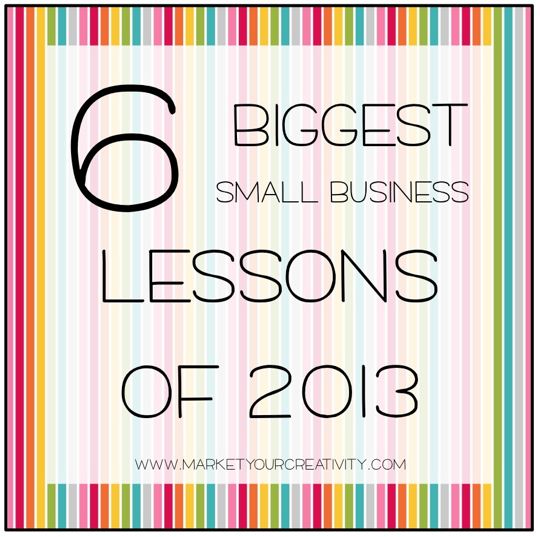 1. A multi-faceted creative business is a MUST. The phrase "multiple streams of income" is music to my ears. I love the imaginary doors it opens, I love the way it rolls off my tongue, and I love the peace of mind it brings.
I worked with a lot of creative business owners this year, and for every talk, interview, or lesson I gave, I was transparent in that my online storefront is only half of the work I do. My blog (specifically the e-programs I create and services I offer) also generates an income. The course I co-host with Tim Adam (Handmadeology) is another source of income. And my part-time editing position with Create Hype is yet another source of income.
The steady flow of cash provided by these multiple sources equals one calm creative business owner. I'm able to keep my head on straight and think clearly about new projects. My working hours are free of desperation, high pressure or anxiety.
2. Partnerships are powerful. Some of the biggest leaps in my career (and in my income) have come from my community partnerships. Tim Adam and I co-hosted the Build a Better Creative Business Course in January and then again in September this year. Not only did our course's success make a healthy contribution toward my annual salary, it also taught me how energy-saving a partnership can be.
I didn't know this going in, but it turns out that Tim loves to do all the things I dislike about launching an e-course (building websites, creating landing and sales pages, processing payments, building affiliate programs, etc.). And likewise, I love to do all the things that Tim dislikes when launching an e-course (blog writing, sales copy, scheduling and organizing).
By working together, we eliminated all of the stalls we might encounter had either of us taken the challenge on our own. We launched the first semester two weeks after having come up with the idea, and it's a phenomenal project – one we're both very proud of.
3. Editorial calendars are amazing. I hear bloggers talk about scheduling ahead often, but it never hit home the way it did when Megan Eckman guest posted about it for Marketing Creativity. I worked on a schedule three months ahead, and it has really worked for me. I keep track of sales and promotions for the Energy Shop, social media updates, blog posts, projects and goals, and personal days.
Furthermore, it got me thinking about what I'm building here. I wouldn't build my dream house without blueprints! How can I expect to build the career of my dreams without a plan? An editorial calendar helped me channel my efforts into more productive results.
4. Goals need deadlines. Because let's face it people, in our creative businesses we don't always do what we know we should be doing. We procrastinate in a thousand ways that look like work, but at the end of the day we haven't done what was really important to our bottom line.
Work hours must be dedicated and a schedule must be honored in order to keep income coming in.
5. A series is better than a one-hit wonder. Just as important as a goal achieved is knowing what you'll need to work on next. My husband has a very traditional job, and I learned this by watching him. Once he finishes a big project at work, he takes on another. His boss expects nothing less.
Whereas, once I finish a big project at work, I watch stats, wonder around the house, chat in the forums, click through social media, watch more stats, and so on and so forth. I used to ride huge spikes of productivity, and as you would when climbing to the top of a steep cliff with no safety net, I fell tumbling down the other side in a  post-production hangover.
Now (and partly thanks to my editorial calendar), I finish projects well in advance of their public release. By the time said project is announced, my nose is buried in my next project. I'm chipping methodically away at the production as I build my body of work and this helps me to not watch stats or waste time.
6. Visualizations work. Hallelujah! Click here to see what they did for me. Just wait! You won't believe my results.
If you're looking for prompts, goal-setting and -prioritizing exercises, and the questions to help you create the best year ever, please be sure to check out Your Best Year: 2014 Productivity Workbook and Creative Planner.

What lessons did you learn this year? What big goals will you achieve in 2014?