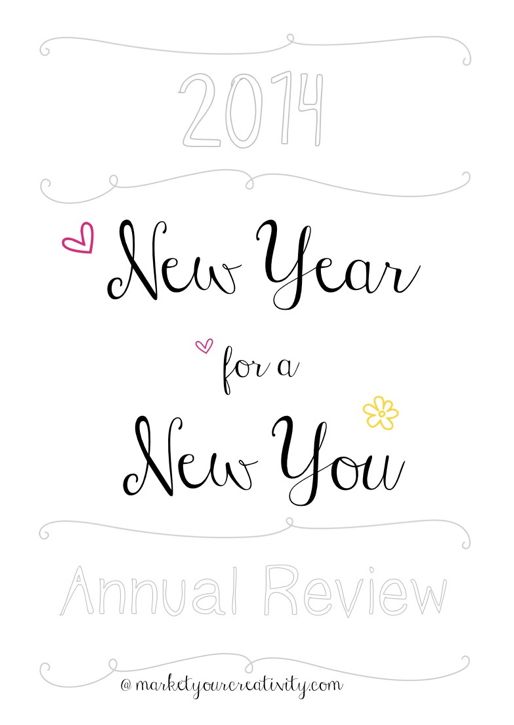 Welcome back! It's day 3 of this 7-day annual review series. If you're just joining in, catch up with day 1 and day 2. At any rate, I'm honored you're here.
So without further ado, let's get down to business. Working off yesterday's prompts, I'm going to go through the questions myself, and then offer you some more to work on tonight. I'm posting this as early as possible, assuming some of you are party-goers. They say the way you start your year is an indication of how the year will go, so tonight I'll be quietly cuddling with my family and (hopefully) peacefully asleep long before midnight. That's just me.
What didn't work in 2013?
:: What felt like a waste of time or energy in 2013? If you feel any mistakes were made, list them here.
I don't typically think in terms of mistakes. I believe in them as a means to a lesson learned. My motto is this: Mistakes are valuable research. Collect them, but don't repeat them.
My husband has this saying about people who repeatedly make the same mistakes. He always says, "How many times are you going to open the door and slam yourself in the head?" In other words, when are you going to learn to get out of your own way?
I hate to admit it, but sometimes I can't get out of my own way. I insist on repeating mistakes, mostly in relationships. I'll know good and well that a relationship isn't working, but at the same time, I'll have convinced myself that it should work, or it could work, or maybe if I finagle my personality one way and they finagled theirs another, it would work.
One day, I was with a person from one of those troubled relationships. Tensions were high. We were walking out of my house together, and completely on accident, I literally opened my own front door and slammed myself in the head with it. It hurt, but that's not why I stood there absolutely stunned. "How many times are you going to open the door and slam yourself in the head?" If that's not a message sent directly from the universe, I don't know what is.
I was reading this book a few days ago, Overcoming Underearning(TM): A Simple Guide to a Richer Life
 by Barbara Stanny. I recommended it at the start of this review, and I'll say it again: Please own this book; oh, please do! I bought it to learn more about money, but it holds a ton of life lessons. A whole chapter is dedicated to examining the company you keep.
In it, you're given an exercise that makes you think about the people you spend your time with, and then organize them into one of five different categories. Four of the five categories are beneficial and supportive, but the fifth category is called "naysayers."
In Barbara Stanny's words, naysayers are "pessimists, worrywarts, negative folks who want to hold [you] back. Not because they're bad people. But they're scared, afraid of change themselves." Personally, naysayers bring out the worst in me: I become protective, defensive, guarded and careful when normally I pride myself on being vulnerable, loving, open and receptive. But this is the part that really stood out to me from Overcoming Underearning,
Trying to increase your income [or better your life] while surrounded by naysayers is like leaving the house with a couple of kids hanging on each leg, begging you not to go. Chances are you won't get very far. Even if you eventually do, it's much harder and takes a whole lot longer.
Every relationship I struggle with is a bonafide naysayer. A passage from one of Barbara Stanny's workshop participants who had distanced herself from naysayer relationships resonated with me,
I'm not responsible for their happiness. They are grown up. They choose the way they want to be, and I get to choose what's right for me.
I learned from and continue to love the people I share these relationships with, but I've repeatedly made the mistake of feeding our bond worry, snark, a feeling of obligation, and a sense of responsibility. For each relationship that applies, I am setting us both free.
:: Are you currently still involved with this activity | person | situation? If so, how does it make you feel? How would you like to see it changed? If not, how does the break make you feel? What activity | person | situation might have replaced it?
Yes and no and getting there. I still feel apprehensive and nervous about setting up such firm boundaries with people I love and care about.
:: Who held you back this year? What or whom made you shrink into yourself or defend your dreams?
Continuing on my lesson from the first question, I'm guilty of letting people into my home that make me shrink into myself and defend my dreams. My office is usually full of inspirational boards, we sometimes keep positive affirmations in the kitchen, and I like to post income goals all over the place. However, we hadn't done that yet in our new home, and I can't help but wonder if it's because we knew who we'd be inviting in.
What I've decided is that if I have to dim my shine to make you feel more comfortable, you're no longer welcome in my home. If my first instinct is to hide all of my positive paraphernalia before you see it (and put your critical and negative energy all over it), then I'm going with my gut: I choose me and my dreams. You can stay home.
:: How did you hold yourself back this year? What beliefs | ideas | excuses did you use that stopped you from pushing forward?
I did a poor job of taking time for true rest and relaxation. I always snuck work in where it didn't belong, and as I said yesterday, my "fun" fix of alcohol + reality TV wasn't providing much by the way of rejuvenation for the next day.
My hesitation to take time off led to unnecessary burn-out. Sometimes, my undiagnosed burn-out can ruin months of potential productivity.
:: What was your biggest obstacle or worst setback of 2013?
I felt a financial pinch when I moved this year – the relocation and downpayment on our new home were very costly. I have some traumatic experience when it comes to debt. Receiving a bill I don't know how to pay sets off an emotional trigger of worry and panic.
I'm a true believer in "You get more of what you focus on," and earlier this year I was going through a period of focusing on debt.  I realized I had some inner work to do, and I found the book The Instant Millionaire (links to my review) at the moment I needed it most.
With all the transition my family was going through, I got lost in worry and fear. I needed a moment to remember myself; to "be still, and know that I am God." So, that's what I did.
Onto the big asks
Was it as fun and comforting to focus on what's not working as it was in day 2 when we thought of our successes? Not so much, but it was necessary. In identifying what's not working in our lives, we can enter into the New Year and choose less of this and more of what is working.
We're getting into bigger questions because it's time to create the biggest year of your life. Here's a few journal prompts to run with tonight:
What are some things I could be doing that I've been afraid to do? How can I stretch my comfort zone?
What would you do next year if you knew you could not fail?
What do you want from 2014? Consider your answer in all of the five pillars, as taught in Harmonic Wealth: The Secret of Attracting the Life You Want

: financial, spiritual, mental, 

relational and physical.

What major goals do you want to accomplish?
How will you reward your small wins toward those goals? How will you celebrate their total achievement?
Ready to continue? Click here to ready day 4.