It's the April earnings report! As you know, it's full-disclosure 2014 for me. Not only will I be breaking down how I spend my working hours each month, I'm also reporting exactly how much I profit from my creative business.
If you're just joining me, click here to see how much I made in January, February  and March and why I started sharing.
In 2010, my biggest goal was to be a work-at-home Mom. I've achieved it, and I want to be completely transparent about the details. I'm going to share with you exactly how much I make and list the ways in which I make it. Here goes!
In April 2014, I earned a net income of: $528.53
I start almost every discussion on money or building a rewarding creative business with full disclosure that I believe a multi-faceted business is a must. Therefore, in each monthly report, I'm going to list the source of my income from highest- to lowest-paying for that period. April's sources of income were: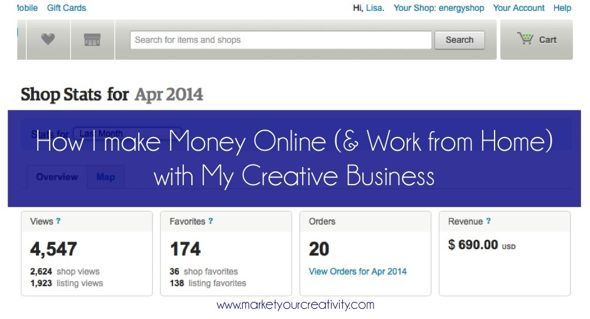 Energy Shop Jewelry (screen-clipping above)
Marketing Creativity's Etsy shop, books and programs.
I had a feeling about this month's income all the way back in March.  It just goes to show that building a business like this requires constant attention. I took 10 days off in April, and this income report clearly shows the impact it took. Oh, well. I can do better in May!
Creative Business vs. Traditional Workplace
I made this comparison in the first month's report, and because I love breaking down the numbers (and proudly showing them to my husband 

 ), I'm going to continue. By end year, I'll be able to average out an official hourly wage for myself.
After I carefully calculated my working hours this month, I did some math. First off, minimum wage in my state is $7.25 per hour. Let's say I went out looking and landed a really good job, doubling minimum wage at $14.50 per hour. Let's even say that this job offered me flexible hours so that I was only ever working while my children were in school (35 hours per week).
Here's what I make now … 
 $528.53 (April earnings after expenses and taxes) / 48 hours = $11.01 per hour
That's roughly $132.13 per 12-hour, work-at-home week (after taxes)
Vs. what I might make in the traditional workplace …
$14.50 x 48 hours* = $696 per 12-hour week at a traditional job (before taxes)
*If the job I had gave me the time I needed off this month
For an estimated total of $522 per month, $130.50 per week (after taxes)
I can't believe it! Even with a dismal income, I still beat my traditional workplace estimation. I wasn't expecting that, but it's definitely a pleasant surprise. That'll wrap up April's report. Until next time and all the best~