The May results are in! Here's the creative business income report for this month in 2014.
Here's How I Spent My Working Hours
Alright, on to the income report. Today I'll be combining the monthly posts "How I Spent My Working Hours" + "How Much I Made This Month." This year I'm sharing how I spend my working hours each month and exactly how much I earn from those hours. Click here to read my theory on working less to achieve more.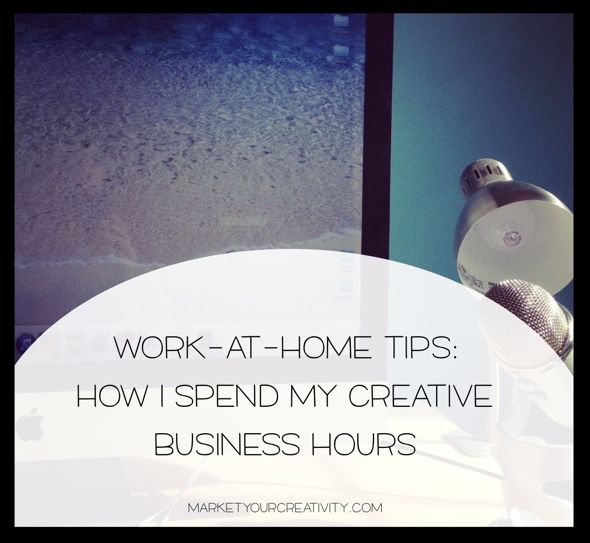 Since reducing to four-hour workdays, I have completed the following tasks in 68 hours (May 1-31, Monday through Friday with 2 days of community volunteer work, 1 holiday, 1 family, and 1 personal day off):
Marketing Creativity (this blog) posts: 9 hours
Marketing Creativity project production: 30 hours
Energy Shop inventory: 9 hours
Energy Shop packaging and handling: 6 hours
Energy Shop ordering and research: 0 hours
Guest posts: 6 hours.
Inbox zero: 8 hours
Here's How Much I Made in May
As you know, it's full-disclosure 2014 for me. Not only will I be breaking down how I spend my working hours each month, I'm also reporting exactly how much I profit from my creative business.
If you're just joining me, the idea to share my income each month took shape for me back in January.
I was reading a book that shared the salaries of other creative business owners like myself when I quickly realized that, when it comes to earning money online, we can jump to conclusions based on the little information we receive from those around us.
For instance, another creative business owner (who does work similar to what I do here on Marketing Creativity) stated that she was bringing home more than six figures each year.
I promptly took that story to my husband for a pow-wow. I presented him with the evidence, and then I asked him, "How? How is she doing that? I don't understand. Our businesses seem parallel, but hers makes four times as much? Where's that income coming from? And for what products or services?"
Please don't get me wrong. If you're making an enormous amount of money each year, I wish you much continued success. Yes please, that's for me! Competitively speaking, I always think abundance. That said, the numbers baffled me and I simply wanted to understand them better.
To this my husband replied, "Just because she tells everyone she makes that amount doesn't mean she does. You could easily say the same thing, and nobody would question it." Food for thought! I talk openly about money, and I suppose I could pluck a number out of the air and say I made it every year. In fact, that's pretty much all I'd need to do to get featured in books and magazine articles stating as much.
But that's not the reason I'm here. The best article I've written so far this year was the "How to Turn Your Hobby into a Side Business" series I started for the Creative Mama blog. It brought me back to WHY I started The Energy Shop four years ago: I wanted to live an inspired life and contribute to my family's income, but I also wanted to maintain my presence at home and continue to be there for them.
Before the Energy Shop, it never occurred to me that I could build my own work-at-home business with as little as $100 worth of supplies. But, that's exactly what happened. And each month, I supplement the family's income with my creative business earnings. That's pretty amazing.
Therefore, I'm talking real numbers, all year. I decided to do something radically opposite than announcing my big salary – made up or not. In 2010, my biggest goal was to be a work-at-home Mom. I've achieved it, and I want to be completely transparent about the details.
 In May 2014, I earned a net income of: $1,630.94
I start almost every discussion on money or building a rewarding creative business with full disclosure that I believe a multi-faceted business is a must. Therefore, in each monthly report, I'm going to list the source of my income from highest- to lowest-paying for that period. May's sources of income were: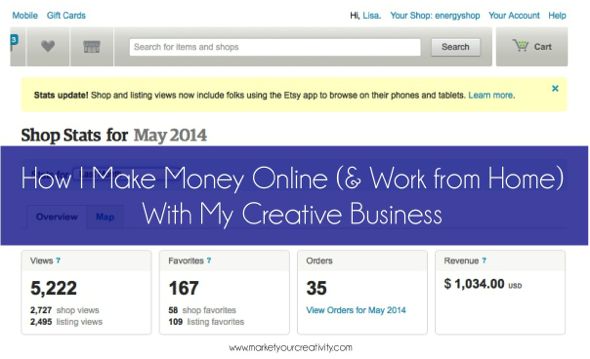 Energy Shop Jewelry (screen-clipping above)
Marketing Creativity's Etsy shop and coaching programs.
I've held some income back from The Summer Shift program because it's my first time running it, and I'm unsure of the expenses and funds I'll need available. I'll report the rest of that profit throughout the summer.
And now, for my favorite part!
Creative Business vs. Traditional Workplace
I made this comparison in the first month's report, and because I love breaking down the numbers (and proudly showing them to my husband 

 ), I'm going to continue. By end year, I'll be able to average out an official hourly wage for myself.
After I carefully calculated my working hours this month, I did some math. First off, minimum wage in my state is $7.25 per hour. Let's say I went out looking and landed a really good job, doubling minimum wage at $14.50 per hour. Let's even say that this job offered me flexible hours so that I was only ever working while my children were in school (35 hours per week).
Here's what I make now … 
 $1630.94 (May earnings after expenses and taxes) / 68 hours = $23.98 per hour
That's roughly $407.74 per 16-hour, work-at-home week (after taxes)
Vs. what I might make in the traditional workplace …
$14.50 x 35 hours = $507.50 per 35-hour week at a traditional job (before taxes)
For an estimated total of $1522.48 per month, $380.62 per week (after taxes)
And, of course, here comes summer. My four children start their vacation next week, and this is the number one reason I pursued a work-at-home career!
See April's income
See March's income
See February's income
See January's income