The July results are in! I want to thank everyone who took me up on my summer special coaching offer! Getting to know new creative entrepreneurs has been keeping me busy at the start of August.
As we head into August, I can still confidently say that I'm enjoying a nice balance between family connection, personal recharging and meaningful work. July was a month of great reflection + review, and I hope you had an insightful mid-year review as well!
Here's How I Spent My Working Hours
Alright, on to the income report. Today I'll be combining the monthly posts "How I Spent My Working Hours" + "How Much I Made This Month." This year I'm sharing how I spend my working hours each month and exactly how much I earn from those hours. Click here to read my theory on working less to achieve more.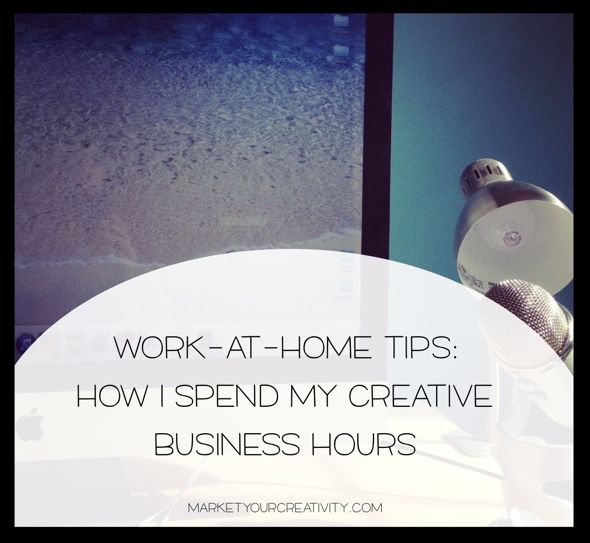 Since reducing to four-hour workdays, I have completed the following tasks in 48 hours (July 1-31, Monday through Friday with 1 holiday and 7 personal days off):
The Summer Shift (a group coaching concentrate): 19 hours
Marketing Creativity (this blog) posts: 22 hours
Marketing Creativity project production: 2 hours
Energy Shop inventory: 5 hours
Energy Shop packaging and handling: 6 hours
Energy Shop ordering and research: 0 hour
Guest posts: 2 hours.
Inbox zero: 4 hours
Here's How Much I Made in June
As you know, it's full-disclosure 2014 for me. Not only will I be breaking down how I spend my working hours each month, I'm also reporting exactly how much I profit from my creative business.
In July 2014, I earned a net income of: $2,495.46
I start almost every discussion on money or building a rewarding creative business with full disclosure that I believe a multi-faceted business is a must. Therefore, in each monthly report, I'm going to list the source of my income from highest- to lowest-paying for that period. July's sources of income were: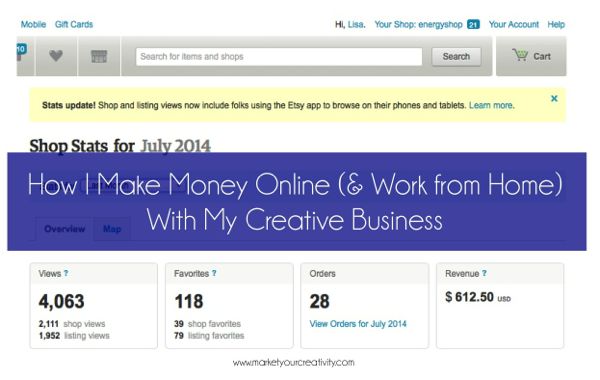 1. Marketing Creativity's Etsy shop and coaching programs
I think it's very interesting to note that in May (and seemingly out of the blue) I decided to give up smaller streams of income to focus on what matters most to me: my dream clients and the rest of the items on my "If I Knew I Could Not Fail, I Would …" list.
To do so, I had to say "no" to a lot of busywork in order to say "YES" to the things I wanted most (here's the full story). June, July and August are typically the slowest months for my business, but the results of this big leap were phenomenal.
And now for my favorite part!
Creative Business vs. Traditional Workplace
I made this comparison in the first month's report, and because I love breaking down the numbers (and proudly showing them to my husband 😉 ), I'm going to continue. By end year, I'll be able to average out an official hourly wage for myself.
After I carefully calculated my working hours this month, I did some math. First off, minimum wage in my state is $7.25 per hour. Let's say I went out looking and landed a really good job, doubling minimum wage at $14.50 per hour. Let's even say that this job offered me flexible hours so that I was only ever working while my children were in school (35 hours per week).
Here's what I make now …
$2,495.46 (July earnings after expenses and taxes) / 60 hours = $41.59 per hour
That's roughly $623.86 per 16-hour, work-at-home week (after taxes)
Vs. what I might make in the traditional workplace …
$14.50 x 35 hours = $507.50 per 35-hour week at a traditional job (before taxes)
For an estimated total of $1522.48 per month, $380.62 per week (after taxes)
And, of course, this is the season that has always stumped me on the comparison. My children are on summer vacation, and this is the number one reason I pursued a work-at-home career!
See June's income
See May's income
See April's income
See March's income
See February's income
See January's income