Your Best Year is here! I'm pleased to announce Your Best Year 2015: Productivity Workbook and Creative Business Planner: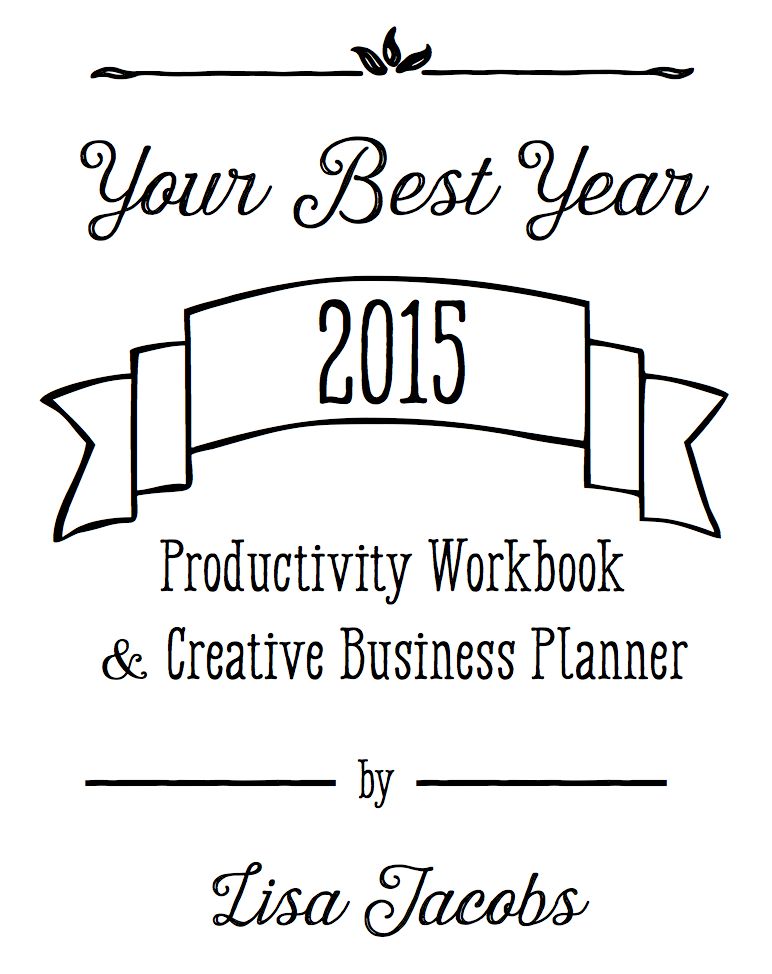 Your Best Year is back for its second year, and just in time for the busy season. Your Best Year 2014 sold thousands of copies, and I received a lot of feedback on the first version. I heard you! You wanted less calendar, more exercises and prompts. Check! You wanted a more affordable printed version. Check! In addition to all of your glorious reviews, there were a few things I wanted to improve to make the planner more functional + motivational. I know you're going to love it.
As part of the final draft, I do a proofread and practice through all of the exercises to make sure they flow the way I want them to. In a few short pages, this text had me seeing life more clearly and breathing in huge sighs of relief. It's been awhile since I've had this deep a reflection, and I went from stressed and overwhelmed to incredibly grateful for all that blesses my Life.
By page 30 I was so lost in the exercises, I forgot that I was proof-reading! It's a planning and review machine. Seriously. Here are all of the gorgeous details:
Want a Sneak Peak? Done!
Here's a flip-through and lots of lovely details about the book:

What's the Same
It's a workbook filled with prompts, goal-setting exercises, goal-prioritizing exercises and tough questions that MUST be answered in order to have an organized and successful creative business. I've been using my 2014 Best Year planner, and this has been a breakthrough year for me.
This annual planner is about making the most of your time and building toward your dreams. Are you ready to make 2015 the BEST YEAR of your life?
There are two versions available. (1.) The digital file (available for immediate download) is only $10 again this year. Print it out and do whatever you like: punch binder holes in it, paste it into a notebook or tape it on your walls – whatever works! (2). The printed copy is available for sale on Amazon.com right here: Your Best Year 2015: Productivity Workbook and Creative Business Planner. It's the same 78 pages of best year blueprints, and this year! It retails at $14.99 (but as people are buying, Amazon is already marking down that price!).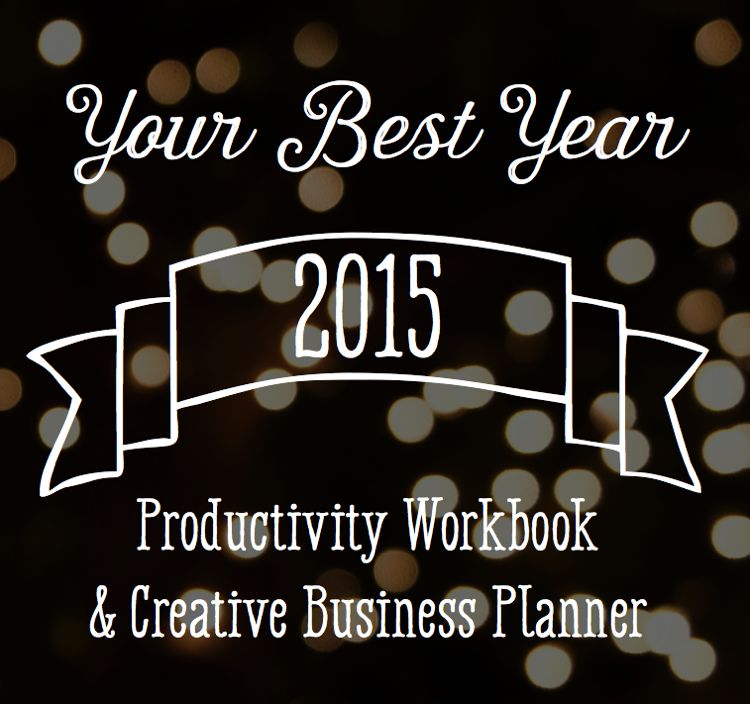 What's New + Different
It's black and white. Last year's calendar was colorful, and that also made it extremely expensive to print. This year's is much more printer-friendly + BYO colorful pens!
It no longer serves as a weekly planner, though it does includes printable, perpetual weekly and daily calendars. Your Best Year's best quality is that it helps shape your year as a whole, so I wanted to keep the focus on the bigger picture. It's meant to serve as an annual guide with monthly, quarterly and mid-year review sessions.
I added a TON of new prompts and then reorganized it into an actionable 10-step program. It's only 78-pages this year (last year's 200-page version contained about 170 pages of dated calendar), but they're a meaty and substantial 78-pages. More prompts, much less calendar.
In both the print and digital version, the calendars start in January 2015. Last year's book started in October. However, the majority of sales from the book came in December and January. That meant pages and pages of unused calendar, which felt wasteful and unnecessary in retrospect. It especially bothered me that each book printed so many unusable pages. The printable kit that comes with your order (hosted on my website) has calendars for October, November and December (for you early-birders).
Download Your Best Year Planner Now for $10
All the best and much success to you! Here's to Your Best Year ever,