Please pardon my delay! The September results are in, and I'm combining this report with the October results because it's so overdue. The September income report is late because something happened that month that hasn't happened yet this year: I came in at a loss, and I wasn't sure how to calculate the hit into my annual overview for hourly wage (part of the reason for this experiment is to figure out my average rate).
I've decided to record the loss in September as a negative hourly rate. I'm going to have to get help from my children to figure out the rest of the math for the end-year tally!
How I Spent My Working Hours
On to the income report! This year I'm sharing how I spend my working hours each month and exactly how much I earn from those hours. Click right here to read my theory on working less to achieve more.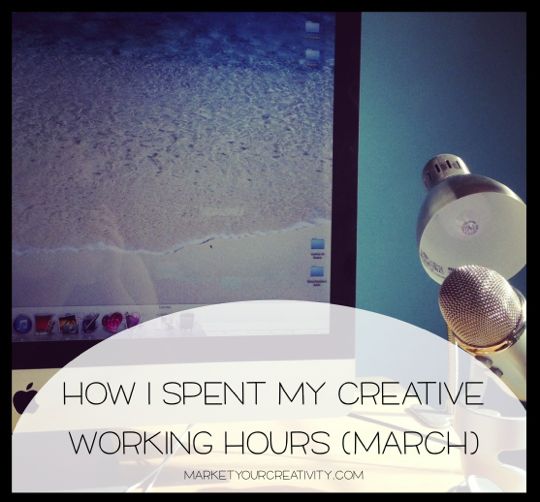 September
Since reducing to four-hour workdays, I have completed the following tasks in 21 working days and 100 hours (slightly over the four-hour workday), September 1-30 with 1 holiday:
The Summer Shift (a group coaching concentrate): 15
Marketing Creativity posts (this blog): 26
Private Coaching: 4
Energy Shop inventory: 5
Energy Shop packaging and handling: 2
Energy Shop ordering and research: 0
2015 Creative's Retreat: 7
In September, I built The Luminaries Club – a private membership program hosted on my site. It was, by far, one of the hardest things I've ever done in my creative career. I was surprised to add these hours up to find that I worked a pretty average month; It certainly didn't feel that way.
I'm proud of the work I put in and my persistence to sticking with the big, demanding deadlines I was facing at the time. I'm also happy to have this month in my rear view mirror!
October
Since reducing to four-hour workdays, I have completed the following tasks in 80 hours (October 1-31 with 3 family days off):
Marketing Creativity posts (this blog): 25
Energy Shop inventory: 3
Energy Shop packaging and handling: 4
Energy Shop ordering and research: 0
2015 Creative's Retreat: 3
Inbox zero: 10
After my site redesign in September, I made a conscious effort to increase my blog posts. I've doubled the traffic to Marketing Creativity, but I now see that I've also doubled the amount of time I put into it. I'd like to be further blogged ahead on my editorial calendar, but I've been writing more substantial posts that take hours to create. The Energy Shop has suffered for it, but only time will tell if these efforts pay off.
I also took a full week off for administrative duties (aka Inbox Zero). I was desperately behind after the craziness of September, and I used the week to write blog posts and catch up on email and organization.
Here's How Much I Made:
As you know, it's full-disclosure 2014 for me. Not only will I be breaking down how I spend my working hours each month, I'm also reporting exactly how much I profit from my creative business.
In September 2014, I had a business loss of: -$1,132.97
I was working so hard, too! When I was building The Luminaries Club, my husband and I walked through the neighborhood while I wept about how scared I was. A creative career is demanding, and building something that's never existed before is hard work. My husband reassured me, reminded me that this stretch was not going to make or break my entire business and helped me look toward the future at all that was still to come. His listening ear and calm advice is such a gift, and one he gives me often.
However, there's nothing worse than working hard and falling behind on finances at the same time. Isn't the opposite supposed to happen? Not only did I forfeit an entire month's pay back into the business, I also created a loss and borrowed from our personal finances.
While that was a nerve-wracking month, in the end, I'm glad it happened. I knew I had to make some changes and do a little investing in order to foster growth and expansion in my business. September is typically one of my best paying months of the year, and I sacrificed an easy payday for a brighter future. Not fun, but definitely needed!
Furthermore, I'm glad this happened during my year of full-disclosure so that I'm not always showing my sunlit side. I've been in business for almost five years now, and 2014 has shown my lowest business expenses to date. As you can see, it caught up with me!
In October 2014, I earned a net income of: $2,421.96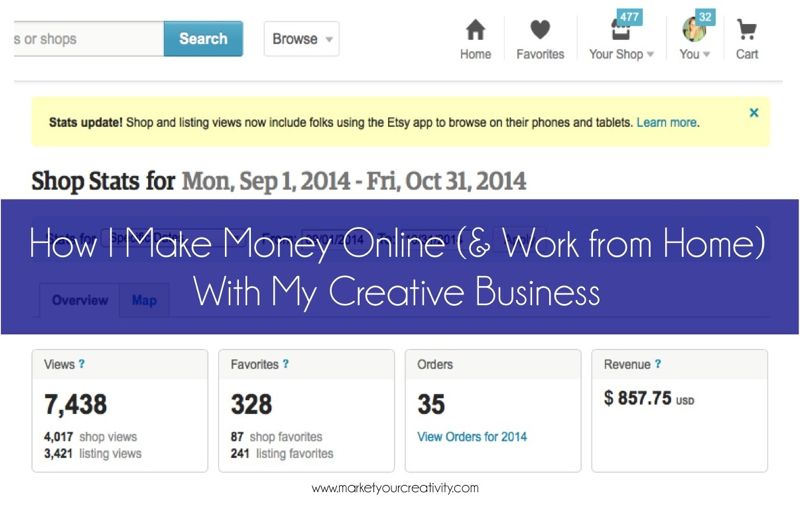 I start almost every discussion on money or building a rewarding creative business with full disclosure that I believe a multi-faceted business is a must. Therefore, in each monthly report, I'm going to list the source of my income from highest- to lowest-paying for that period. October's sources of income were:
1. Marketing Creativity's programs and products, specifically The Luminaries Club and Your Best Year 2015
3. Google Ads
Needless to say, I'm breathing a little easier now that I'm back on track.
CREATIVE BUSINESS VS. TRADITIONAL WORKPLACE
I made this comparison in the first month's report, and because I love breaking down the numbers (and proudly showing them to my husband ), I'm going to continue. By end year, I'll be able to average out an official hourly wage for myself.
This report is certainly showing one of the downsides of being in business for yourself! A traditional job would never say …
Hey, we're going to keep your pay this month, and sorry to have to do this, we're also going to charge you $1,000 for working here.
It happens to us, though! I calculate my wages every month, and then I do a little math. First off, minimum wage in my state is $7.25 per hour. Let's say I went out looking and landed a really good job, doubling minimum wage at $14.50 per hour. Let's even say that this job offered me flexible hours so that I was only ever working while my children were in school (35 hours per week).
Here's what I made in September …
-$1,132.97 (loss) / 100 hours = -$11.33 per hour
Vs. what I might make in the traditional workplace …
$14.50 x 35 hours = $507.50 per 35-hour week at a traditional job (before taxes)
For an estimated total of $1522.48 per month, $380.62 per week (after taxes)
Here's what I made in October …
$2,421.96 / 80 hours = $30.27 per hour
That's roughly $605.49 per 20-hour, work-at-home week (after taxes)
I haven't decided yet whether or not I'm going to continue sharing my income in 2015. I know a lot of you enjoy seeing the numbers, so I'll at least give you quarterly updates in 2015 to see how my big move in September pays off in the long-run. Want to see more numbers?
See August's hours + income
See July's hours + income
See June's hours + income
See May's hours + income
See April's income
See March's income
See February's income
See January's income