It's day 2 of the 7-day New Year for a New You annual reflection here on Marketing Creativity! Thanks for being here! In case you missed day 1, click here to catch up.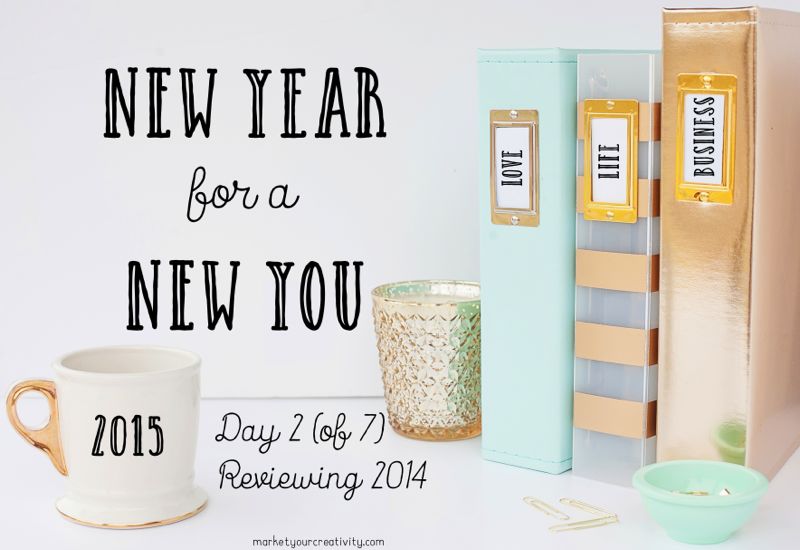 If this is your first year joining me, here's how it works: I'll offer you a new list of prompts and review questions everyday through Saturday, January 3. Click here to gather your materials and get your prep on! Each day, I answer the same questions. I then blog my answers + thoughts from the previous day before issuing the next set of prompts. If you want to blog your answers as well, I'd love to read them. Please link up in the comments below.
Yesterday, we started the series with a list of ten questions that helped us appreciate 2014. Here are my answers ….

:: What was time very well spent this year?
As I look back on the year, I realize that I'm starting 2015 from a much different place than I was twelve months ago. Last end-year review, this quote resonated with me deeply:

In January 2014, I was at that crossroads with my creative business. It was time to walk away or try harder, and I decided to try harder and track my progress. I publicly shared how I spent my hours + monthly income reports, and it was a wake-up call to how I was investing my time.
At the start of the year, my main sources of income from the writing side of my work came from passionless busywork and unequal partnerships. I was spending as much time guest posting as I was writing for my own site, and in hindsight, I can see where my burnout (which I was experiencing regularly) was coming from …
I was afraid to invest in my own vision, and it was slowly killing my career.
In May, I gave up some easy paydays to go after what I really wanted; to chase those things I would do if I knew I could not fail. I went all in on my own dreams: a group coaching concentrate, The Luminaries Club, and the upcoming Movers & Makers Summit. That was time very well spent.
:: What was money very well spent this year?
I did a site redesign for this blog, and I'm so happy I took the plunge and invested in myself. I think it reflected the changes I was making in my career as well.
I was hiding behind the chunky old design (you can see a clip of it here). A lot of creative business blogs are contributor sites with an editor, and I started out by modeling Marketing Creativity after them.
However, this blog is all me, all the time. It was time I put my name and face front and center, and to be honest, I was quite self-conscious about it at first. I was also self-conscious about aggressively going after all the things I would do if I knew I could not fail. Just look at how it's all turned out.
:: What are your favorite memories of 2014?
My favorite memories are on a more personal note. When I think of that question, no specific dates or times come to mind. Just five people.
:: What did you accomplish or complete this year?
I went after all of the things I would do if I knew I could not fail. I'm writing a new list for 2015!
:: Did you make any progress on long-term goals?
Not too noticeably; I think I was still operating more day-by-day. I'd like to improve on this and make significant progress on long-term goals in 2015.
:: What felt successful about the year, as a whole?
I feel like I finally stepped up and presented myself as an expert in the creative industry. I'm proud of what I've accomplished so far, and I've openly shared everything I know along the way. I think my hard work is starting to pay off.
:: Did you overcome any obstacles or mental blocks this year?
I definitely stretched my comfort zone professionally, but I can't say that I overcame any personal obstacles.
I am working on it, though. I feel like I'm on the verge of overcoming some profound mental and emotional blocks. I'm always seeking pure love and clean energy, mainly because that's not what I know, but what I deeply crave for myself and wish for my children.
:: What did you learn about yourself after all that happened in 2014?
I think we often wait for someone else to come along and offer us support, recognition and approval. I've learned to self-support, self-recognize and self-approve. By the way, I'm doing a fantastic job 😉
:: Who nurtured or supported you most this year?
My husband, by far and without a doubt. He's even learned the language of this business so he can listen better. His support is off-the-charts amazing.
:: Who did you enjoy nurturing and supporting?
I enjoyed working one-on-one with a small number of clients in my group coaching concentrate (The Summer Shift). It was wonderful to be so hands-on in another's business, and I enjoyed seeing their results.
I enjoyed supporting myself and my own vision more than I ever imagined I would.
And of course, I enjoyed loving and nurturing my family.
Here is a list of questions for today's review:
Enjoy some alone time in a quiet space (a journal or day planner from 2014 will come in handy, if you kept one) and write down your answers to the following questions.
What was time wasted this year?
What was money wasted this year?
What was the biggest challenged you faced this year?
If anything, what would you change about how you handled that challenge?
Are you ending the year with any unfinished business?
Are there any outstanding goals you'd like to let go of?
What was your worst setback in 2014?
What bad habits or unhealthy patterns did you engage in that you'd like to give up once and for all?
What or whom held you back this year? Did anything make you shrink into yourself or feel defensive about your dreams?
How did you hold yourself back this year? Which beliefs | ideas | excuses stopped you from pushing forward?
[Tweet "Join me for 7-days of review & reflection hosted by @_LisaJacobs_"]
If you don't have time to answer the questions right now, that's okay! I turned them into an image so you can pin the list for later.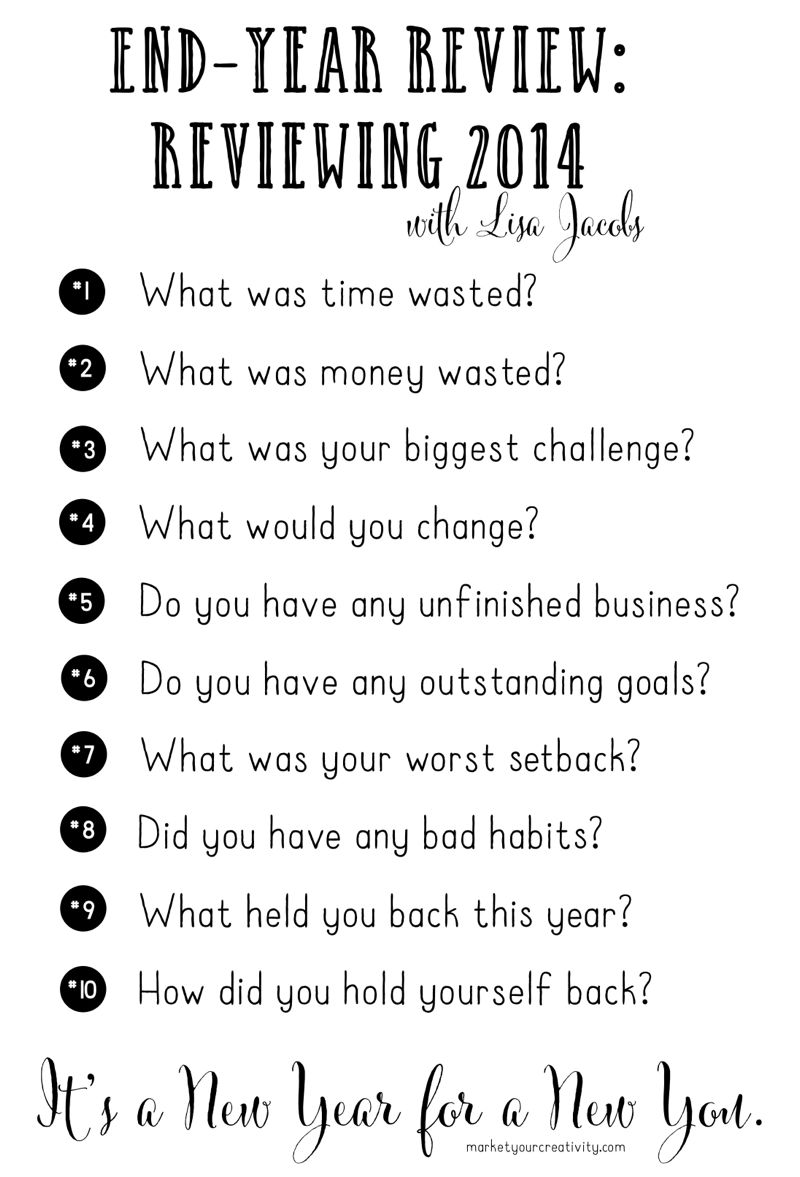 Thanks again for joining me on Day 2 of this 7-day series! I'll meet you back here tomorrow with a new set of prompts + my answers to today's list.
It's time to make your big dreams happen already. Here's to your best year yet,