Welcome to Day 3 of A New Year for a New You, the 7-day annual review. Thank you for being here! If you're just joining in, catch up with day 1 and day 2. Whatever pace you take this review, I'm honored you're here.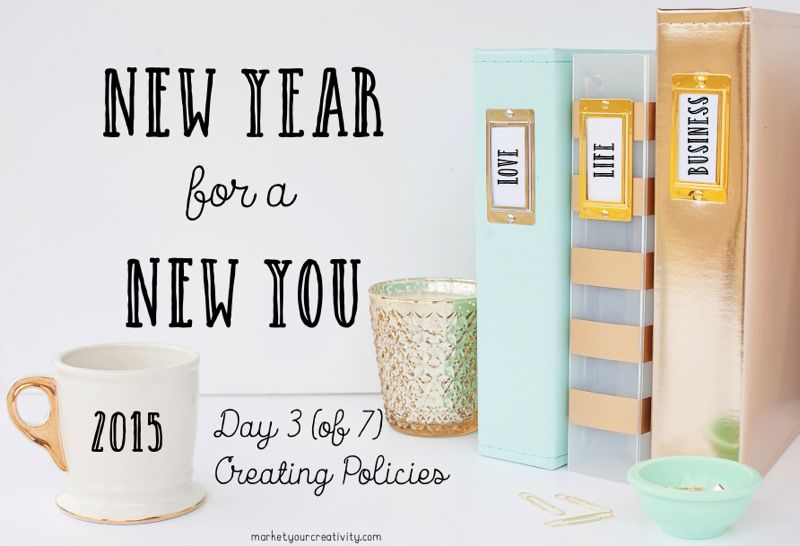 Yesterday, we continued the series with a list of ten questions that helped us review what wasn't working in 2014.
Today might be the most grumbly blog post I've ever shared. But, I think that's what makes it important. I hate to complain and dwell in the shadows, though I know it's the prequel to change. In my answers, you'll hear what I've been struggling with this year, which is also something I would never normally share publicly (unless I'd already worked it all out).
I don't like to keep my problems, but below you'll read about a problem I've kept for years. I've learned that we sometimes get very comfortable with our obstacles, for one reason or another:
We like the nurturing attention it brings from the outside world;
We're addicted to the dramatics an unsolved problem adds to our life; or (most likely)
We feel overwhelmed, uncertain and too scared to take the first step in the right direction.
PROCLAMATION! In 2015, I vow to take steps in the right direction, no matter how overwhelmed, uncertain and scared I feel. Here are my answers to yesterday's prompts …

:: What was time wasted this year?
Well, "wasted" is a strong word – I should have thought about that before I asked us this question 🙂 I learned a lot from all the different ways I spent my time this year. That said, I can definitely identify a few ways I could have spent it better.
I volunteered a ridiculous amount of hours to another blogger's vision that, I guess, just never panned out. In late April, I was excited to help build a creative co-op for collective opportunities within the creative industry. I took a lead role and donated several hours each month to help build this idea; I'm a big believer in industry networks and what they're going to mean for our future. After a few months, however, it all came to a halt without so much as an explanation.
It was not the first time I've invested my passion and energy into a membership that wasn't as invested in me, but it will be the last. The good thing about being creative is that, if you don't like what exists, you can always create something better.
It prompted me to finally chase my dream of creating a meeting space of my own, and I launched The Luminaries Club.
I realized that in my professional portfolio, I don't want a tribe, a community, or a membership. I want a relationship. I want to know your business better so that I can help it grow. I want to cheer you on, challenge you, and support you. And The Luminaries Club helps me do just that.
So, biggest "waste" of time? No. A catalyst for exactly what I needed to do? Yes.
:: What was money wasted this year?
I'm so glad I asked; I'm excited to share this with you! At the beginning of the year, I invested a huge chunk of money into a foreign virtual assistant to help me work out some kinks on this blog that I didn't know how to fix myself. When you hire a virtual assistant from a company such as the one I used, you have to buy a package of time (I think I paid $1,200 for two months' assistance). It was a waste; I was essentially trying to put a fresh coat of paint on a house that needed gutted and remodeled.
What I really needed was a qualified web designer; I just didn't know it yet. I ended up hiring the right person in August, and she not only redesigned this site, she also helped me build the aforementioned Luminaries Club and switch website hosts. All of her amazing work cost less than the VA company I hired for two months, and all my problems were solved.
:: What was the biggest challenge you faced this year?
I did a lot of things I've never done before, but I think building The Luminaries Club was definitely the most challenging. It all happened in 30 days, and I lost it. In fact, the launch post for The Luminaries Club (which should have been about the club) was actually about how badly I lost it. 😀
I like looking back on that now. Because it's over.
:: If anything, what would you change about how you handled that challenge?
Not a thing. That experience built my strength + endurance, and I'm proud that I followed through.
:: Are you ending the year with any unfinished business?
I feel like I'm sitting pretty, but I checked back on my 15 before 2015 just to be sure. There are a few things that I didn't finish, but I know what I have to do in the New Year to make up for it.
:: Are there any outstanding goals you'd like to let go of?
Gosh, yes. There's a study program I've been involved in for years that I have yet to finish. I've probably mentioned it in every New Year for a New You on this blog. All of my income-producing projects take priority, and I'd like to get this out of the way or let go of it once and for all.
:: What was your worst setback in 2014?
I didn't like where I ended up financially in September-October when I invested more than I made into this business. I jeopardized our family's balanced finances, and it was extremely nerve-wracking for me. I'm working on my budget for 2015 to ensure I don't put myself in the same situation again.
:: What bad habits or unhealthy patterns did you engage in that you'd like to give up once and for all?
On a more personal note, I'd like to give up unwelcome obligations to long-standing, unhealthy relationships once and for all. I have a few traditionally-important relationships that bring me no joy or nourishment; I only maintain them from a place of "should." I'm tired of playing nice with inauthenticity. I'm tired of constantly having to reinforce my boundaries with people who don't care enough to respect them.
I want unconditional love, genuine kindness and clean energy – or nothing at all. In 2015, I'm saying "goodbye & best wishes" to superficial relationships.
:: What or whom held you back this year? Did anything make you shrink into yourself or feel defensive about your dreams?
Yes, and something I'm learning about myself right now is that I love to know exactly where I stand with people. I don't care if you don't like me; I'm not for everyone, and that's okay.
However, it's in my upbringing to try to sustain superficial relationships with people who pretend to like me, but who really don't. After all of these years, I operate in surprisingly immature hope that the other party isn't being passive-aggressive and mean, and that it's all me; I must be reading them wrong and taking things too personally. This has got to change.
How did you hold yourself back this year? Which beliefs | ideas | excuses stopped you from pushing forward?
I have an overwhelming sense of empathy. From Google, empathy is "the ability to understand and share the feelings of another." Very empathetic people are often drawn to less empathetic people because opposites attract. For example, my husband is less empathetic than me, and our children are a mix of very empathetic and less empathetic as well. As a unit, we all get along swimmingly.
At one point this year, during the personal struggles I shared with you in the answers above, my husband (who has always openly admired my empathy) said,
"There are pros and cons to your empathy, and this is the first time I've ever noticed the downside. You're so inclined to empathize, that you'll put the feelings of the people who hurt you above your own."
In other words, I hesitate to end relationships with people who continuously hurt me, who care nothing about my feelings or needs because I empathize with how much my decision will hurt them.
I'm very careful with passive-aggressive people, so much so that I'll play the passive-aggressive game rather than confront them directly, as is my own nature. And none of this patronizing and placating is making me a better person. Quite the opposite.
Pennies or Quarters?
Before I leave this part of the review and move onto the next set of prompts, I want to share the following thought because it taught me a lot about myself.
A couple years ago, I was having a conversation with a new acquaintance about introverts and extroverts. Personality differences absolutely fascinate me! Anyway, we were discussing friendships, quality vs. quantity, when she said:
"Someone once told me that not all friendships are created equal; we each put a different value on them. Some people prefer to build a dollar on pennies, while others prefer quarters."
I thought that was a profound way to look at friendships, and I've referenced it often since. It made me look differently at my relationships and realize that not everyone was looking for the same quality friendship that I was looking for. Some prefer one hundred acquaintance-level friendships, while others prefer four best friends.
I'm a quarter person, and I think part of my time and energy wasted this year was trying to find quarter-value relationships in people who prefer pennies. Make cents?
Onto Today's Review:
I hope yesterday's list of questions prompted some ideas for what you want to change about your life in 2015. So far, we've covered what was working and what wasn't in 2014. Today I want you to apply what you've reviewed so far into a list of policies and boundaries for the New Year.
I feel like I talked a lot about what didn't work with my relationships with others today, but don't get it twisted. I know for sure that I'm one-half of every relationship and interaction that I don't love or enjoy. I'm one-half of every argument, loving exchange, passive-aggressive wiggle and direct confrontation that happens in my life. I'm one-half of every good relationship, and one-half of every bad one. And if I'm involved in a superficial affair it's because, on some level, I'm being superficial myself.
If someone's not "getting it", it's entirely my responsibility to either communicate better or stop communication altogether.

Today, we'll be using this blog post by Alexandra Franzen as a template to create a list of policies to take with us into 2015. Here's to communicating our needs + expectations better! Take and use the prompts that apply to your life + business, and leave the ones that don't.
Enjoy some alone time in a quiet space and write down your answers to the following questions:
The best way to reach me:
The best time to reach me:
How I prefer to be treated:
What I will not tolerate:
Hours of availability:  Work –   Personal –
My pricing:
My policies for those seeking advice:  Work-    Personal-
My confidentiality agreement: Work-    Personal-
My customer service guarantee:
My policy on canceling/scheduling appointments:
My volunteer policy:
My policy on partnerships and collaborations:
My policy on sales and delivery:
My policy on refunds and returns:
[Tweet "Here's to clear communication + clean energy in 2015! w/ @_LisaJacobs_"]
If you don't have time to answer these questions today, that's okay! I turned them into an image so you can pin the list for later.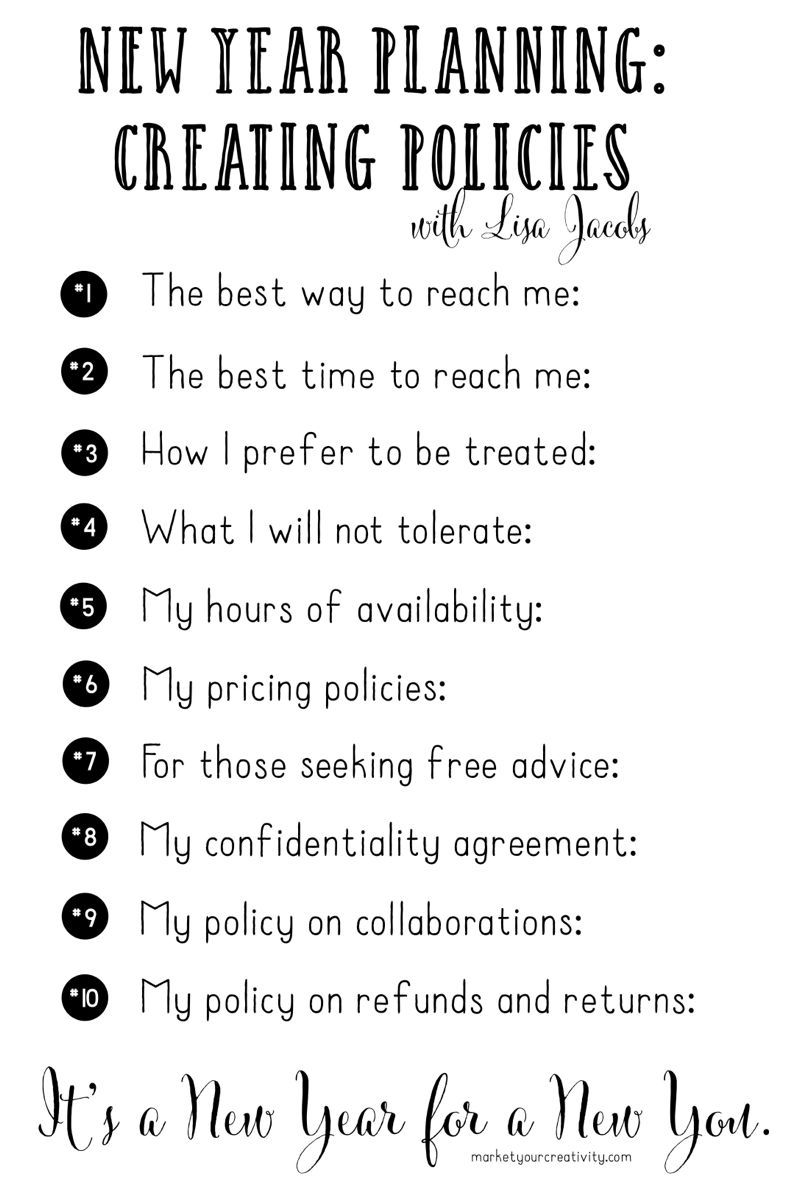 Thank you for joining me for Day 3 of this 7-day series! I'll meet you back here tomorrow with a new set of prompts + my answers to today's list.
It's time to make your big dreams happen already. Here's to your best year yet,