I'm currently working on a post titled, The Year of Income Reports: What I've Learned and How You Can Apply It. Since I have all of the numbers in front of me, I thought I'd share with you exactly how much I made from my creative career (Etsy shop and blog) this year.
The idea for monthly income reports took shape for me at the end of 2013 when I was reading a book that shared the salaries of other creative business owners like myself. I quickly realized that when it comes to earning money online, we can easily jump to conclusions based on the little information we receive from those around us.
For instance, I was reading an article about another creative business owner (she does work similar to what I do here on Marketing Creativity) who stated that she was bringing home more than six figures each year.
I took the article directly to my husband for a pow-wow. I presented him with the evidence, and then I asked him, "How? How is she doing that? I don't understand. Our businesses seem parallel, but hers makes four times as much? Where's that income coming from? And for what products or services?"
Please don't get me wrong. If you're making an enormous amount of money each year, I wish you much continued success. Yes please, that's for me! Competitively speaking, I always think abundance. That said, the numbers baffled me and I simply wanted to understand them better.
To this my husband replied, "Just because she tells everyone she makes that amount doesn't mean she does. You could easily say the same thing, and nobody would question it." By the way, he's the best sounding board on Earth, and I'm so grateful for all his patience with this gigantic online world that, to him, exists only during our conversations.
I considered what my husband said. I talk openly about money, and I suppose I could pluck a number out of the air and say I made it every year. In fact, that's pretty much all I'd need to do to get featured in books and magazine articles stating as much.
But that's not the reason I'm here. The best article I've written so far this year was the "How to Turn Your Hobby into a Side Business" series I started for the Creative Mama blog. It brought me back to WHY I started The Energy Shop four years ago: I wanted to live an inspired life and contribute to my family's income, but I also wanted to maintain my presence at home and continue to be there for them.
Before the Energy Shop, it never occurred to me that I could build my own work-at-home business with as little as $100 worth of supplies. But, that's exactly what happened. And each month, I supplement the family's income with my creative business earnings. That's pretty amazing.
Therefore, I decided to talk real numbers, all year. I wanted to do something radically opposite than announcing my big salary – made up or not. In 2010, my biggest goal was to be a work-at-home Mom. I've achieved it, and I want to be completely transparent about the details.
I didn't know what you were going to think about my income, and that scared me. But if there was anybody out there who could relate – maybe you're a stay-at-home Mom looking to make a little extra money, maybe you feel left behind by the workforce, or maybe you're just plain scared to put your talents out into the world – here's proof that the reward is well worth the risks.
The following income report is for 2014 (January – November). I obviously can't add up my December earnings until the month ends (to be released in 2015).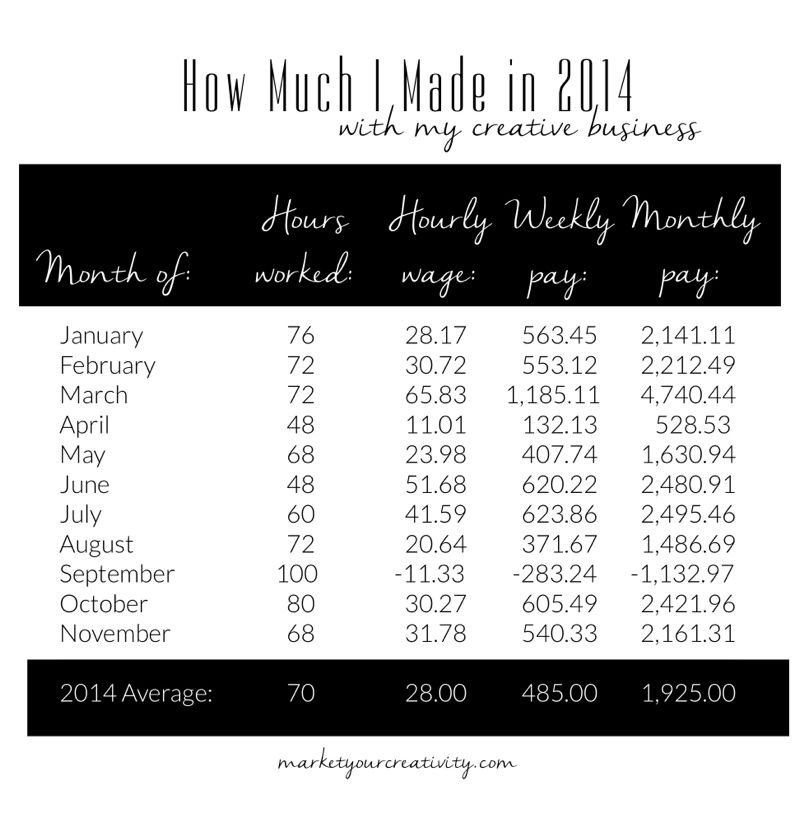 This Year, I Earned a Net Income of $21,166.87
December's earnings will most likely increase that to approximately $24,000. In 2014, I worked an average of 70 hours per month, and earned an average wage of $28/hour. For the past eleven months, I've brought home an average $1,925 per month from my work-at-home career. Tracking my income (and sharing it with all of you) was a powerful exercise. I'm looking forward to posting my lessons learned later this week. Until then and all the best,