Welcome back to Day 6 of the 7-Day New Year for a New You series. We're wrapping up with intentional goal-setting. If you're just joining me, it's easy to catch up! Simply gather the prompts from days …
:: 1    :: 2    :: 3    :: 4    :: 5  … and go at your own pace.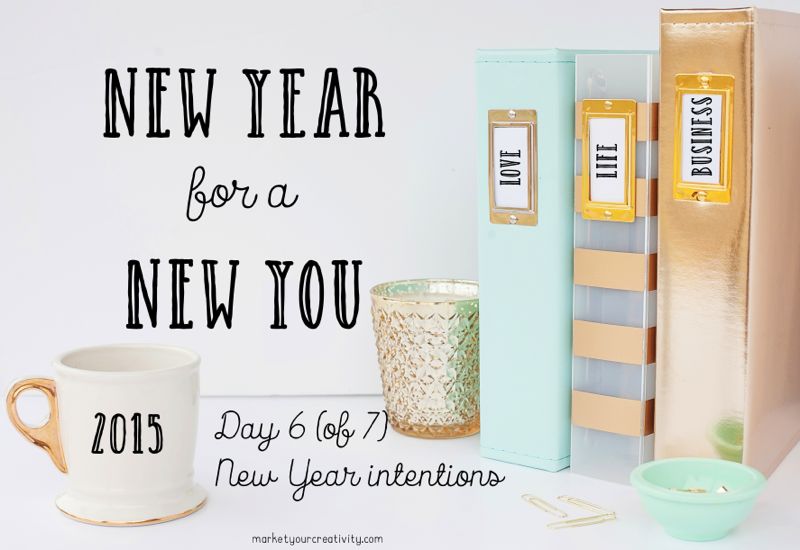 I'll tell you what, I had no idea this New Year for a New You was going to become this enormous project. I half-planned to follow along with the same prompts I've used in previous years, but I worked it up on a project map and it took on a life of its own. I didn't even plan on working much this week, but I've spent several hours entrenched in this series every day! I want to thank you for jumping down this rabbit's hole with me!
Choose a direction. I have to be honest with you. As I looked at my goals more closely (+ all the mistakes I no longer want to continue to make), I got scared to make the big commitments. It's easy to say I'll give up self-sabatoging old patterns for a month, but even looking out at just three months' worth of clean living + good behaviors makes me feel overwhelmed.
I took a hard look at what I really want last night. I'm afraid that when I cut out all of the junk in my life, I'll cut out all that's fun, exciting and carefree as well. The truth is, I'm more afraid of being boring than I am of self-sabatoge.
I do not know what's on the other side of these goals I'm about to set. I truly don't. But, I can't help but wonder:
What if making the harder choices that we all know to create a better life will actually bring me my best year yet? I decided to go for it! I have nothing to lose and everything to gain by trying.
Create an outline. I prefer to break up my big goals into 3-month challenges, but some goals don't apply to that timeline (such as a year-long income or weight loss goal).
If you have a specific professional or personal goal that requires many smaller steps to achieve, such as "write a book" or "run a marathon", it will do best on a project map. I like to use a page of a children's large drawing pad (typically 16×22″) to map each major project I'm facing. I'm going to show you exactly how to create one tomorrow.
For my year-long goals, I used a 5-subject notebook and recorded each of my major goals (financial, relational, spiritual, mental and physical) into its own section.
The first page of the section lists the things I want to accomplish for that pillar of life as one general goal, such as "Pay off consumer debt" followed by the specific tasks I need to complete to accomplish it. Each goal is also issued a deadline.
The next page of the section starts a monthly progress log, and in some cases, a daily progress log follows. For example, my physical goal is to "Lose # pounds" and I wrote down the weight I want to achieve. The next page tracks my monthly progress (my starting weight + a weigh-in every month), and the page after that tracks my daily progress (a food and workout diary). Like so: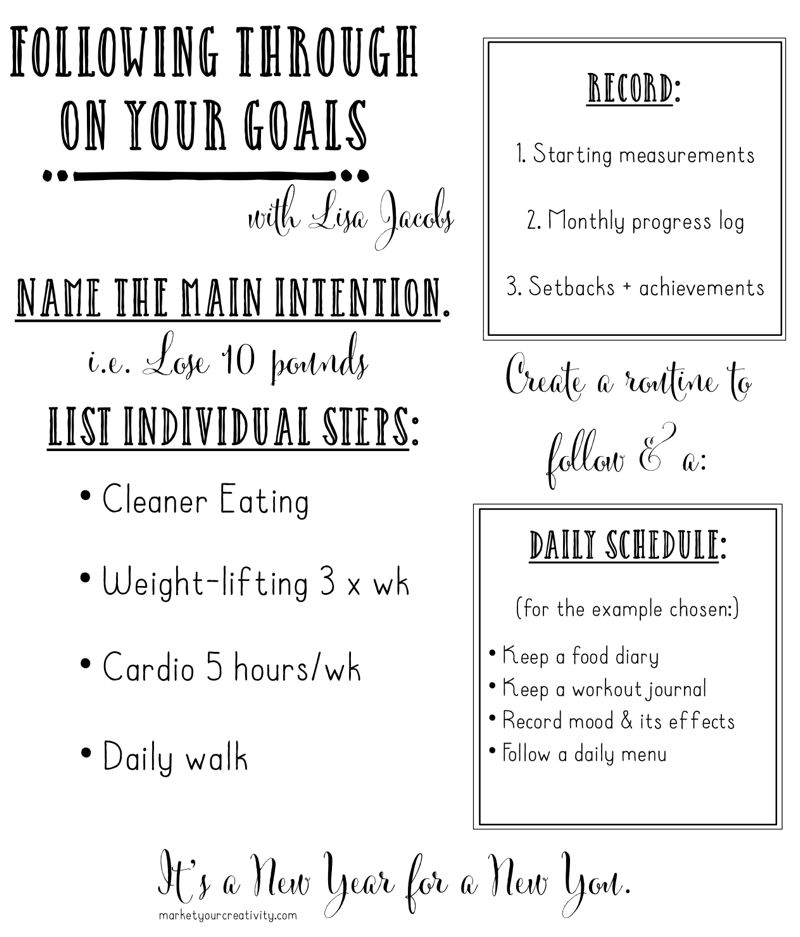 The way I see it, the only way I'm going to effect real change is if I commit to a year (instead of my usual month) and then take it day-by-day. What usually happens is: I start out gung-ho for change, feel accomplished from one month of good work and then promptly return back to my old patterns + bad habits.
Instead, I'm going to create a daily routine that will lead me to my goals if I simply follow its schedule every day and check-in every month. I can't promise it's going to work – this is a particularly experimental New Year for a New You, but I'm optimistic that this will at least get me further, and with less setbacks, than I've ever gotten before.
I'm not issuing anymore prompts tonight; we've worked very hard this week! I plan to close the series tomorrow with some solid tips for follow-through, including the template for a project map that I've been promising for weeks.
Thank you for joining me for Day 6 of this 7-day series! I'll meet you back here tomorrow with the finale post. It's time to make your big dreams happen already. Here's to your best year yet,