The Movers and Makers Summit is only 24 days away! We still have a few tickets left, and I'd love for you to come away with us to this east coast intensive in the culture-rich city of Charleston, SC. It all starts the weekend of Friday, February 27!
Feast your eyes on the weekend's itinerary! As presenters, we are so proud to share this line-up and show off the amazing event we've created for you. Here's a look at the schedule: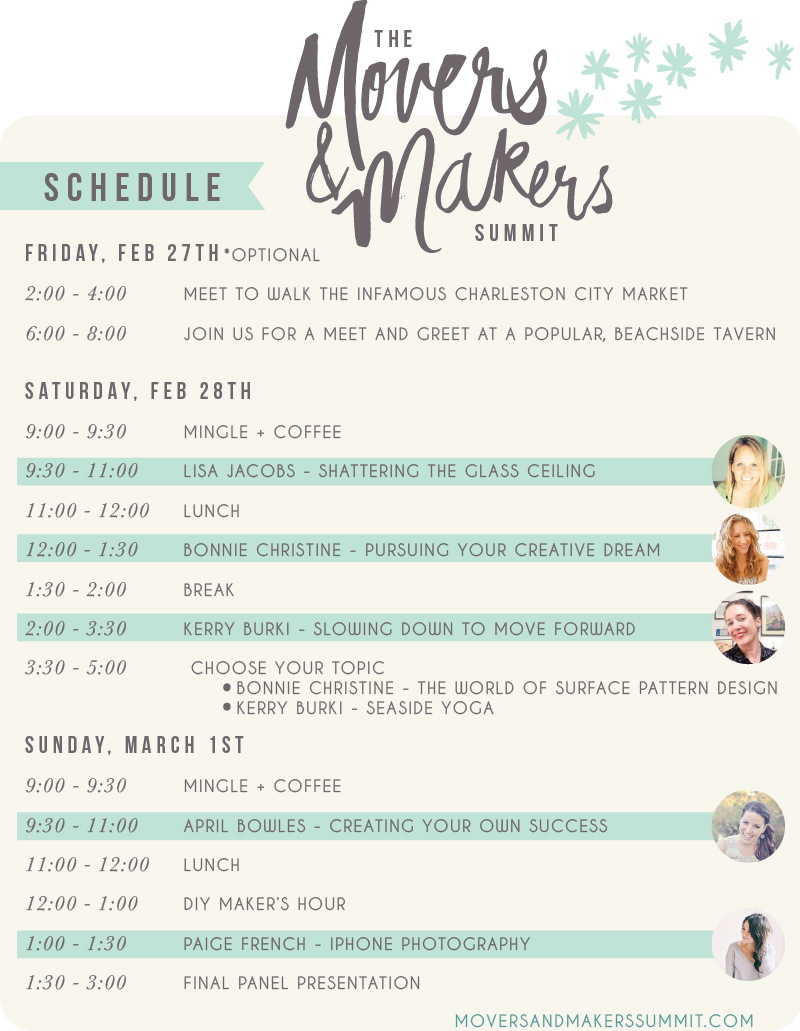 I am beyond excited for us all! In planning, Bonnie, Kerry, April, Paige and I all agree that we want to make this the event of a lifetime. We're giving it everything we've got to ensure our participants walk away overflowing with insanely useful tools and takeaways that will help their careers take-off.
Here's a more detailed description of the presentations:
Lisa Jacobs – Shattering the Glass Ceiling. What would you do this year if you knew you could not fail? Forget the ever-elusive "big break," and learn how to create your own career breakthroughs.
Bonnie Christine – Pursuing your Creative Dream: Living your creative dream is fulfilling, exciting and POSSIBLE. Learn how to stay focused on your dream, expand your audience and increase your profits!
The Ins and Outs of Surface Pattern Design: The world of surface pattern design is filled with wonder and excitement. Join me as we discuss how to get started, get noticed and begin your career as a surface pattern designer!
Kerry Burki – Slowing Down To Move Forward: Is your mind  filled with ideas and you don't know where to start? Do you feel like you are hurtling yourself forward with no real direction? Let's take some time to slow down, figure out what doesn't work, what you enjoy and profit from and make a plan for the future.
April Bowles – Creating Your Own Success: I'm sharing the five biggest lessons I've learned while building my business, giving tips and advice along the way. I'm pulling back the curtains to reveal what it really takes to build a successful, creative business on your own terms including marketing so that it feels good and not scammy, building habits that make things easier and going pro once and for all.
Paige French – iPhone Photography + providing professional headshots for everyone who attends to take home with them and use in their business.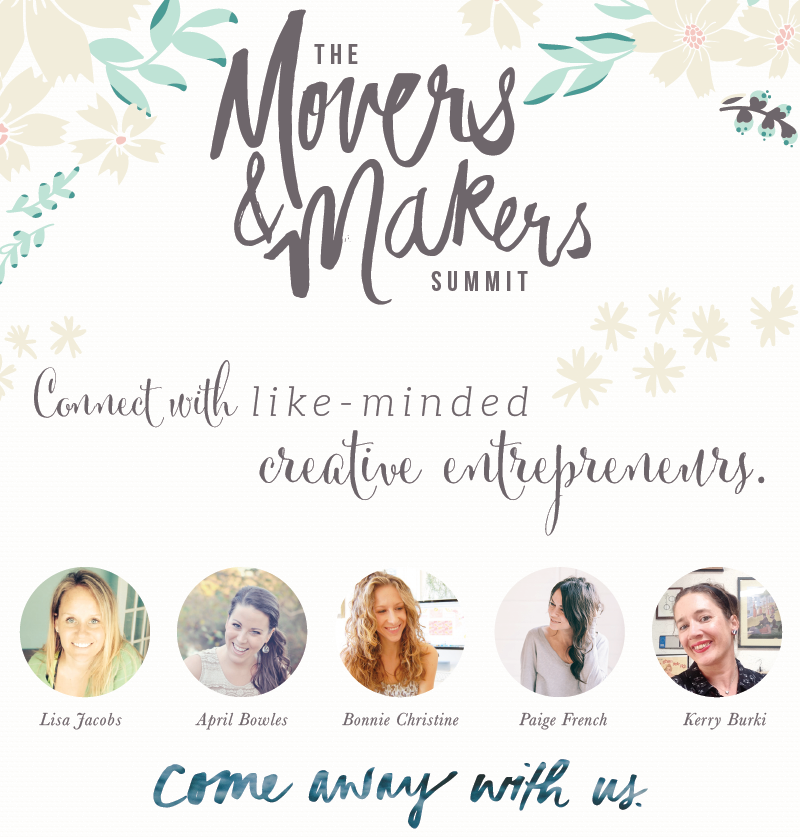 We only have a few seats left, and I would love to welcome one of you in Charleston! Here are four steps to get you there:
Step #1: Save the date.
Our workshop takes place on Saturday, February 28-Sunday, March 1 in a private, oceanfront home on the Isle of Palms (Charleston, SC). We'll meet from 9-5 Saturday and 9-3 Sunday. If you get into town early, attendees are invited to join us for a pre-party meet & greet Friday, February 27 from 6-8 PM.
Step #2: Grab your ticket.
We want this meeting to be small, intimate and insanely useful. We're gathering a limited number of creatives so that we can enjoy one-on-one time, create a-ha moments and walk away with lifelong connections. Click here to purchase your ticket.
Step #3: Arrange your stay.
Our workshop will take place in a gorgeous vacation home just 15 miles outside Charleston's city center, and 30 minutes from Charleston International airport. We will be disclosing the exact location to attendees only, but trust me when I say, it's a glorious gathering spot that will provide us plenty of comfort and inspiration.
Click here to see the closest nearby hotels. Upon purchase of your ticket, you'll receive an informational packet with some more details and recommendations.
Step #4: Plan for your adventure!
You'll want to bring a notebook (or laptop) for recording new ideas, beach-friendly clothing (for anticipated 60-degree temps), yoga gear if you'd like to participate in a beach session with our own Kerry Burki, and if you have any special dietary needs, a packed lunch for both days.
You'll be offered lots of hot + cold refreshments, fresh sandwiches and plenty of fruit and veggies during workshop.
Ready to join us? Click here to purchase your ticket now and we'll send you the welcome kit + an invitation to our private Facebook group to connect with the other attendees pre-event!
We hope to see you in Charleston! Lisa, Bonnie, April, Kerry and Paige