It's day 2 of the 7-day New Year for a New You annual review and reflection on Marketing Creativity! Welcome back! If you're just joining in, catch up by prepping your end-year review and answering the prompts from day 1.
At whatever pace you take this review, I'm honored you're here.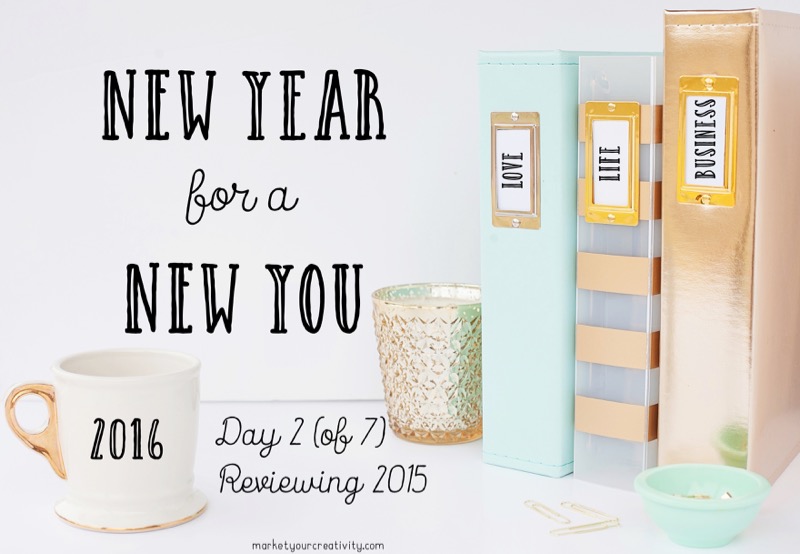 If this is your first year joining me, here's how it works: I'll offer you a new list of prompts and review questions everyday through Saturday, January 2.
Each day, I answer the same questions. I then blog my answers + thoughts from the previous day before issuing the next set of prompts. If you want to blog your answers as well, I'd love to read them. Please link up in the comments below.
Yesterday, we started the series with a list of ten questions that helped us appreciate 2015. Here are my answers ….
Appreciating 2015
:: What was time very well spent this year?
I went into the year with a strong desire to fix what wasn't working in my life + finish big projects that would propel my life and career. In fact, here's my proclamation (clipped from last year's review):
PROCLAMATION! In 2015, I vow to take steps in the right direction, no matter how overwhelmed, uncertain and scared I feel.
I'd have to say that anywhere I honored that proclamation was time very well spent. To include:
New activities and adventures with my family
Sober self-care time, such as hot baths and yoga – so good!
Workouts and walks
Reading books – I found a handful of new favorites this year
Date nights with my man
Reimagining + decluttering my wardrobe
Creating career breakthroughs
Learning and researching new business strategies
Redecorating our children's bedrooms
:: What was money very well spent this year?
I made several large investments into my business this year, all of which made me incredibly nervous, yet none of which I regret making!  Anytime I invested in my vision of the ideal career, it was money very well spent.
I also worked through some financial blocks around buying nice + expensive clothing for myself.  I now have several outfits that I adore instead of a mismatched closet of items I felt comfortable buying. I even invested in a set of high-priced pajamas ($100!) as a special treat for myself, and I feel so rich every time I slip into them. That feeling is priceless and makes them worth every penny!
So, I guess the recurring theme is this: Anytime I realized I was worthy + deserving of the best = money very well spent and a huge return on investment.
:: What are your favorite memories of 2015?
My family took a long road trip to spend several days with our dearest extended family, and together we always have a good time
Working on my 16 before 2016 challenge – a lot things on that list turned into favorite memories of the year
We bought waterproof flashlights, went night swimming and made mountain pies one summer night – it was everything
I created, co-hosted and spoke at a private retreat for 20 creatives in a luxury oceanfront home in Charleston, South Carolina
I love going to the movie theatre, and I saw several new favorites this year. Off the top, I loved Mission Impossible, Creed, The Martian, and Southpaw
I organized a neighborhood block party that included rides, delicious soft-serve ice cream cones, a bouncy house and more. 250 neighbors showed up to enjoy it!
:: What did you accomplish or complete this year?
I wanted to be a more regular + recognized speaker in the industry, and I feel like I got the perfect amount of experience this year
I wanted Your Best Year 2016 to outperform Your Best Year 2015, and it's already won that contest by a landslide – outselling its predecessor within the first two months of its release
I nearly tripled the number of subscribers on my email list
I more than doubled my business' earnings and finally shattered the income ceiling I've been struggling to break through
:: Did you make any progress on long-term goals?
I gained quite a bit of exposure that greatly added to my career's momentum
I reached a higher income
I made + decorated a more comfortable home
:: What felt successful about the year, as a whole?
This year, I made a conscious effort to focus inward, on self-improvement and my immediate family. I tried very hard not to dwell, play comparison games, or be anything less than authentic + true to who I am and what matters most to me.
:: Did you overcome any obstacles or mental blocks this year?
When I upgraded to a new email/customer management system (Infusionsoft), it was a huge investment + it took 3 months to learn and utilize – with a software trainer's private instruction.
I was really hesitant to make that upgrade. It was so hard not to run for the hills when it was, not only costing me a small fortune every month, but 8 weeks later, I was still learning how to use it!
I overcame a huge fear in hiring (again, another investment!) the person who I hope will eventually become my business' operations manager.
I think these answers fall into the recurring theme here: I've been scared to invest in my vision of the ideal career. I took apart the systems that felt jerry-rigged, and paid more for systems that promise to be streamlined and smooth. And each time I faced that decision, I tackled the mental block that I can or should "make do" with a less than stellar operation. A-ha!
:: What did you learn about yourself after all that happened in 2015?
I learned that I have a tendency to downplay + dilute my achievements in order to make others feel "safe" and not threatened.
:: Who nurtured or supported you most this year?

:: Who did you enjoy nurturing and supporting?
My husband and children – every day, all day
The Luminaries turn my job into my joy!
My neighborhood social activities
Here is a List of Questions for Today's Review
Enjoy some alone time in a quiet space (a journal or day planner from 2015 will come in handy, if you kept one) and write down your answers to the following questions.
What was time wasted this year?
What was money wasted this year?
What was the biggest challenge you faced this year?
If anything, what would you change about how you handled that challenge?
Are you ending the year with any unfinished business?
Are there any outstanding goals you'd like to let go of?
What was your worst setback in 2015?
Which bad habits or unhealthy patterns did you engage in that you'd like to give up once and for all?
What or whom held you back this year? Did anything make you shrink into yourself or feel defensive about your dreams?
How did you hold yourself back this year? Which beliefs | ideas | excuses stopped you from pushing forward?
Thank you for joining me for Day 2 of this 7-day series! Click below for a new set of prompts + my answers to today's list.
It's time to make your big dreams happen already. Here's to your best year yet,