This volume of Marketing Hacks for Creatives is going to help you write better product listings. And if you're new here, welcome to this ongoing series on Marketing Creativity! It all builds off the post, The Ultimate Guide to Marketing for Creatives (a great place to start if you're just joining me).
Anytime you write with the intention of reaching your customers it falls into one of two categories: content marketing or copywriting. You're always doing one or the other. I covered content marketing in my last volume of Marketing Hacks, and today we're going to dive into copywriting.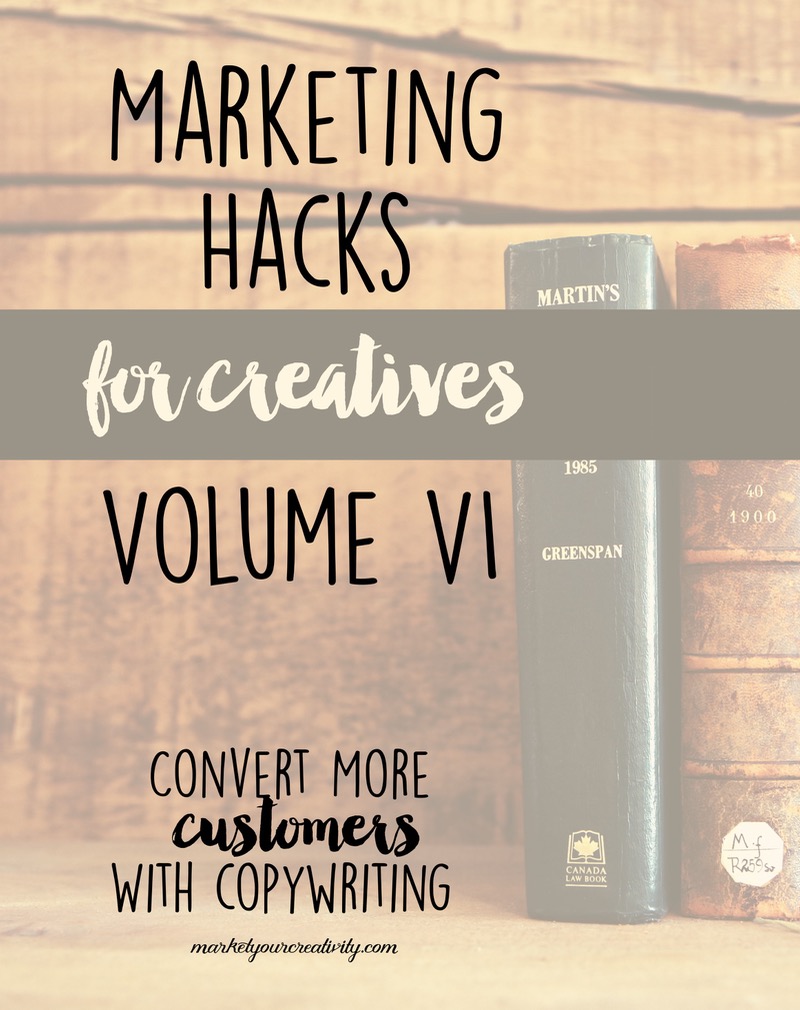 Copywriting
We're here to talk about copywriting, and if you're new to that term, it means "content primarily used for the purpose of advertising or marketing" (Wikipedia).
Copywriting is what you might already be calling a "listing" or "description." It's when the text you use helps to advertise your product. And let's be crystal clear here: your listing should absolutely advertise the product and help you make the sale.
Good copywriting is about understanding the customers' needs and what they want from your product. It's about helping them envision their desired results and explaining why they should buy. A lot of listings in the handmade community talk about how long the necklace is, or how the coffee cup has been fired in the kiln, or how the scarf has been stitched. What's missing are the benefits that will help your customer visualize the pleasure that will come from owning that necklace, coffee cup, or scarf.
By identifying what the customer is looking to gain from owning your product, you send the message that you understand their needs and desires.
What Imagery Are You Creating?
Copywriting is all about the imagery you're creating for your customer. For example, read the following example and bring awareness to what you visualize as you read each:
I sewed these toy owls from cotton fabric and then hand-embroidered them with felt hearts.
That's very common, right? We find similar descriptions everywhere on Etsy. I don't know about you, but when I read that sentence, I picture someone at their table working on a sewing project.
What about this one?
These colorful owls are made of crisp, durable cotton with pretty little details your child will love to touch! Each fuzzy felt heart has been hand-embroidered on for a truly unique toy your baby will treasure for years to come.
See the shift in perspective and what a difference it made? Here, I imagined my child handling long-lasting toy owls in bright colors that offer lots of sensory play.
Which description is more likely to guide the customer to check out?
In the second example, the phrases "crisp cotton", "fuzzy felt heart" and "a toy your baby will treasure for years to come" all produce strong visuals of a beloved stuffed animal.
3-Step Formula to Better Product Listings
Step #1: The What. The first paragraph of your product listing needs to cover the "What". The "what" includes the basic features: what your product is, what it's made of, and what it measures.
This paragraph should go first in most of your listings because it can be keyword rich, and different keywords should be alternated among the different products. In each listing, I use a different keyword in the opening "what" paragraph than I used in the title. For example, "energy" and "spiritual" are two popular keywords for me. If I title a piece Amethyst Energy Bracelet, the first line of my description would be:
"This spiritual bracelet is composed of Amethyst beads and sterling silver."
The most important keywords, Amethyst and bracelet, have been used twice. Secondary keywords, such as energy and spiritual, were alternated. This is subtle, it won't confuse a buying customer, and I've managed to stack several relevant keywords right where they count.
The second paragraph of your product listing will be the "Why." Here you want to join the conversation in your customer's mind. If the visitor is still reading, they're obviously quite interested in what you are selling. Help the customer envision your product in their lives. Use this paragraph to transform the item from a one-dimensional picture on the customer's computer screen into a product they can imagine using in their mind's eye.
If I asked you to imagine how fresh you would look wearing one of my big, chunky turquoise bracelets with a white t-shirt and your favorite pair of jeans … What do you do? You picture yourself wearing a chunky turquoise bracelet, a white t-shirt and your favorite pair of jeans. You took my product and tried it on in your mind, and why? Simply because I offered you the visual.
This paragraph is most effective if you combine the benefits you have to offer with a visual for your customer to "try on."
The third paragraph of your product listing will be the "How." This is where you (the seller) finally come onto the scene. Here's your chance to apply what is called your "Unique Selling Proposition." Basically, you tell the customer how you're going to answer their needs and why you are the maker to buy from.
Use your "how" paragraph to reinforce your brand, and let your ideal customer know what you do to stand out from the competition.
Below is a perfect example of this formula put to action. From Etsy shop, ahnaleemarie: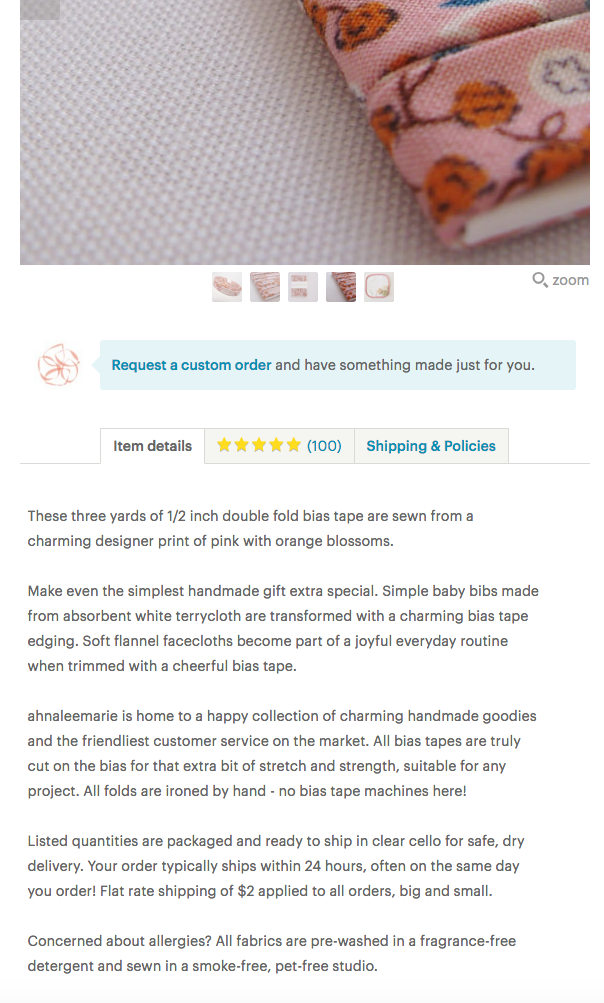 Complete Copywriting
I've been a blogger and business owner in the creative industry for six years now, and I know that makers struggle with asking for the sale. And that's the great thing about copywriting: it becomes a powerful language that, once written, does the selling for you.
It's a disservice to your customers to NOT tell them what your product can do. They want to know how it's going to add to their life and make their day better. They're literally clicking on your product listing so you'll tell them just that!
When you present your product properly, you enable yourself to provide a service; you then get to share the value you have to offer with the world. Thanks for reading! Here's to your success,