Your Best Year 2017: Productivity Workbook and Online Business Planner is back for its fourth year, and I can hardly wait to see the results you're going to create with it. Last year's Your Best Year 2016 was such a giant success, I thought I might simply change the dates and reproduce it. I wondered, how much better can it get? With 10,000+ raving fans behind it, I could have absolutely left it "as is" and that would have been well enough.
However, I learned even more about goal-setting and business strategy as the year progressed. I tripled my email list and quadrupled my income. I shattered limitations that had been keeping me stuck for years. Therefore, the reason for not changing anything about the book became the challenge: how much better can it get?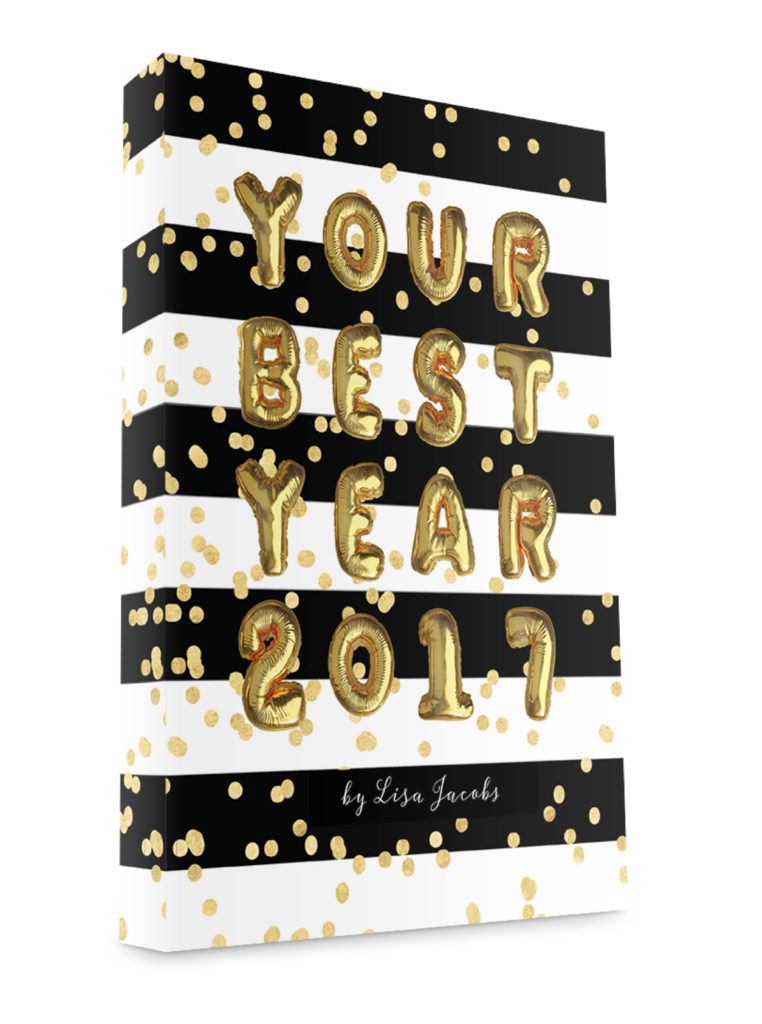 My friends, there's never been a book about online business like this before. Your Best Year is the *only* workbook on the market that encourages a fluid long-term plan designed specifically for online entrepreneurs. I did four specific things to exceed my own wildest dreams this year. I made …
My goals resolute,
My strategies specific,
My system efficient, and
My action plan productive
In Your Best Year 2017, I show you how to create the same. You'll get a refresher on the fundamentals: you'll review what's not working, identify what needs to change, challenge your limitations, and figure out what to focus on. You're going to ask the question that shaped this book: how much better can it get?
From there, I took my six-figure earning, online business strategies and packaged them into a revolutionary planning system anybody can use. Get ready to have your best year in business!
Your Best Year 2017
Inside this workbook, you'll find prompts for thought-provoking, spiritual contemplation. As a community (use #yby2017 on social), we celebrate the ugly cries sponsored by the tough questions within! You'll learn how to honor and encourage your entrepreneurial ambition to reach levels you've never imagined.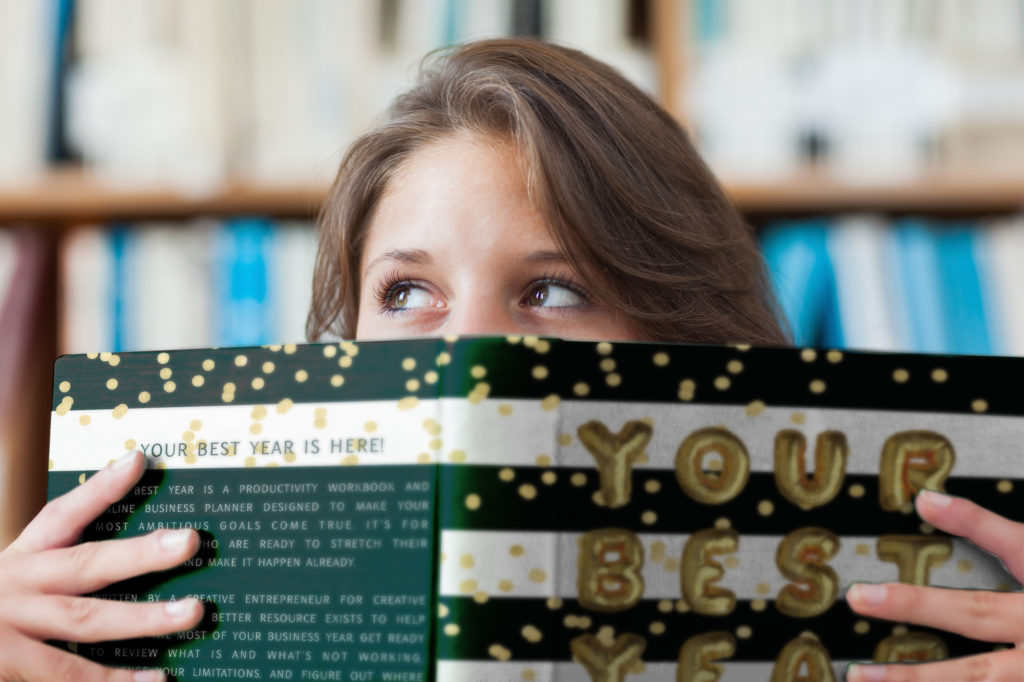 You'll lay everything about your life and business on the table, take a discerning look at what's there, and decide what to keep. It's a cleansing ritual, a spring-cleaning for the soul. These exercises will create space for the action, connection, and abundance you've been craving all along.
Here's what you need to know about purchasing Your Best Year 2017:
It's a 138-page productivity workbook filled with prompts, goal-setting exercises, goal-prioritizing exercises and tough questions that MUST be answered in order to have an organized and successful online business.
There are two versions available. (1.) The digital file (available for immediate download below) is only $15. Print it out and do whatever you like: punch binder holes in it, paste it into a notebook or tape it on your walls – whatever works! (2). The paperback copy  is available for sale on Etsy or Amazon.com for $19.99. Both are printed on pages sized 8.5″ x 11″.
There's a limited edition bundle, aka Your Best Year lovers' bundle that includes BOTH digital and physical versions of the book + exclusive bonuses, only available on Etsy and while supplies last.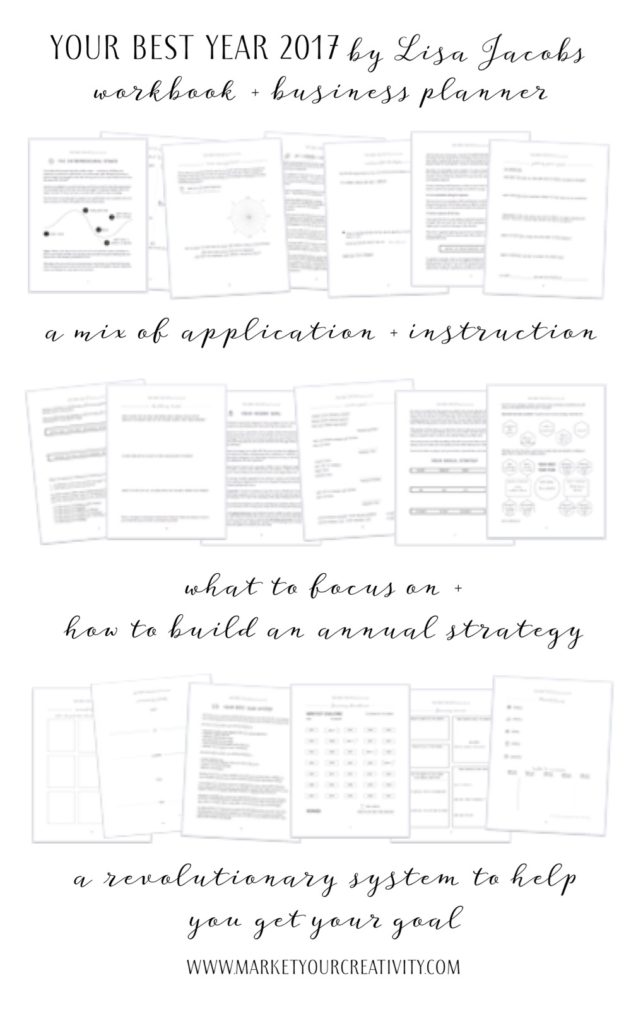 Your Best Year 2017: Productivity Workbook and Online Business Planner includes:
A place to capture your wins each month, a record of review, a focus on the five pillars of wellbeing, a record of memorable moments, improved habit and performance trackers, a revolutionary goal-setting system, a revolutionary risk assessment worksheet, and a mix of instruction and application. All of these were excellent components of Your Best Years past, and they've been improved and enhanced in the latest edition.
NEW! Introductory chapters that will help you make the most of your business' highs and lows. You'll leave this new instruction empowered to make extraordinary changes in both your life and business.
NEW! Examples for every worksheet. No more guessing what an exercise means, examples follow each exercise or instruction.
NEW! A time tracker that will help you make the most of each hour of your workday. Are you disciplined towards the things you claim are most important? You'll soon find out!
NEW! Getting your goal worksheets designed to help you demolish the obstacles in your way.
NEW! What to focus on in your business – I'll help you identify the two things your business MUST DO in order to find success, and then I'll show you exactly how to strategize that plan with actionable items. You will leave this book knowing exactly where to focus your business hours for the next twelve months.
NEW! Look at your business income in a whole new light! This book is full of tools to help you achieve more sales, trust your business to provide, and take your profit to a whole new level.
NEW! How to build an annual strategy for success: how to offset the slow seasons and make the most of the busy seasons.
NEW! Your Best Year plan – a new system that teaches you SPECIFICALLY how to get your goal this year.
NEW! How to delegate tasks and hire so you can make more money and have more life!
You've never seen Your Best Year like this before. It is EVERYTHING you need to create a successful, record-breaking, goal-getting year. Find out for yourself why thousands of online business owners are raving fans.
Download Your Best Year 2017 Now! (15 USD)
When you click the "buy now" button above, and you'll be redirected to a secure check-out form. Once your payment has been successfully completed, you can expect the PDF to be delivered to your email address within minutes.
Share Your Planning Days!
Thousands of online entrepreneurs are already digging in and enjoying the goods, and I don't want you to miss out! It's time to make bold choices and demolish the foundation of your comfort zone. I want you to accomplish something that makes you unabashedly proud of yourself, and then go brag about it! This year, I grew weary of playing it safe. I decided it was time for me to come alive – to truly be the energy I'm made of, so I let it flow without a filter. I want the same for you.
If you already have your copy, I thank you and can hardly wait to see your results. Please, oh please, show me your dreamy planning days on social using #yby2017. I'm in love with the early shares I've already found – they're so delicious, I eat them up with a spoon!