As this is my sixth (and most profitable) year in online business, these are by far the biggest small business lessons I've ever shared. I've gone from a hobbyist's income to hitting the six-figure mark twice in one year. Here's what I learned this year …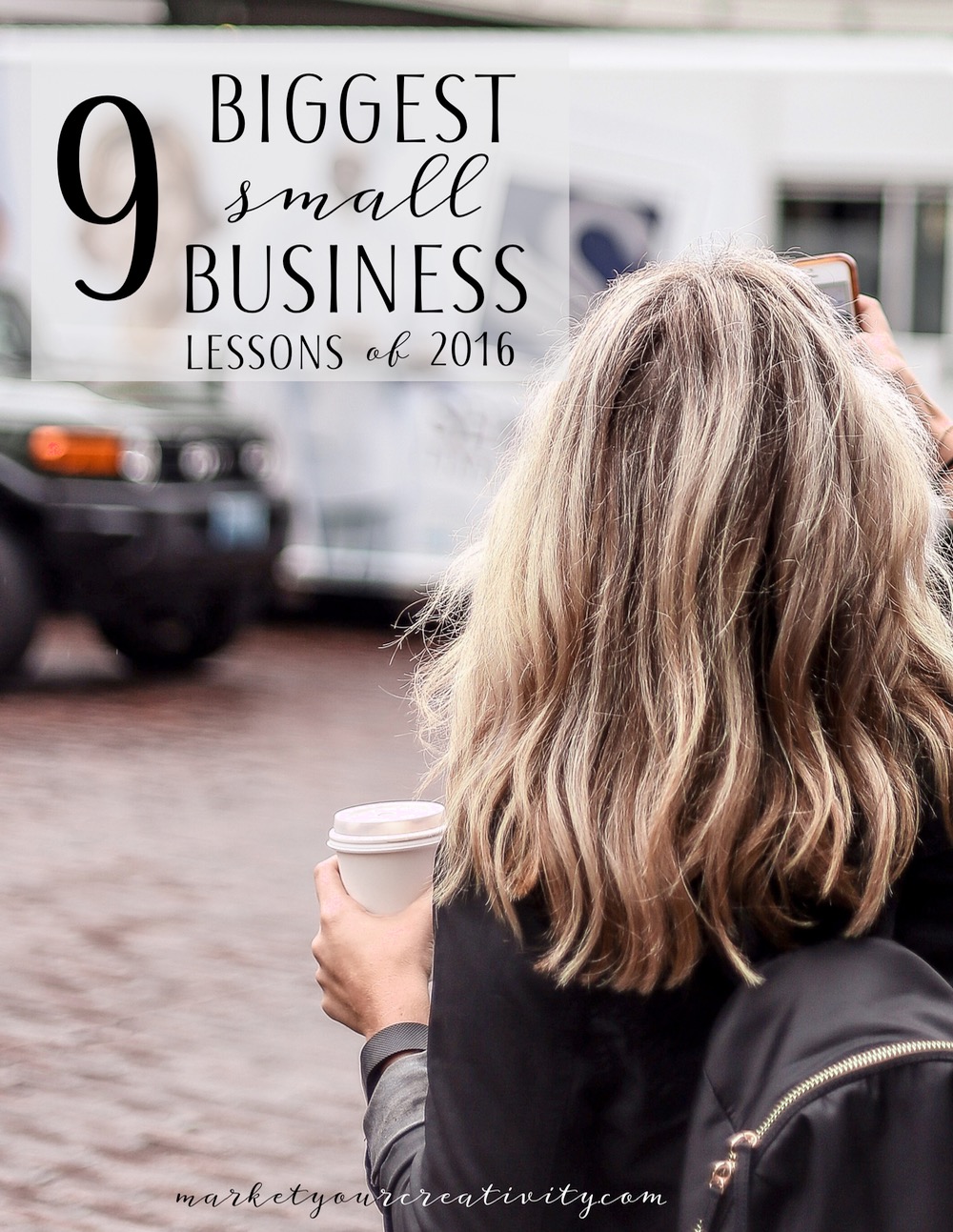 #1 Trust the business to provide
I post my biggest small business lessons each year, and this one's a recurring theme. In last year's post this lesson was subtitled, You are 100% deserving. I wrote,
You have to know, on a cellular level, that you deserve to be successful in business.
If your confidence wanes, so will your determination.
The previous year's lesson was subtitled, Invest in yourself. I wrote,
If someone you love dearly had the exact same big dream + lofty goals that you do, what would you say to them? Imagine the love and support you'd feel for their endeavors, and then turn those feelings around on yourself.
Give yourself that same level of love and support. You deserve it.
In order to have a break-out year, I knew I needed to trust my business to provide and barrel roll towards my goals. There could be no more pumping the breaks, doubting my abilities, or second-guessing the direction.
I wanted to earn a six-figure salary this year, and I met that goal because I started to operate as though I were already running a six-figure business. I stopped him-hawing on trivial decisions in both personal life and work, such as, Should I buy that book? Should I upgrade my phone? Should I invest in more business training?
Don't *hope* you'll hit your target, do a barrel roll through it. There's no room for uncertainty, and there's no time for hesitation.
#2 Count your money 
This is the most important activity I've added to my year. I learned about "abundance tracking" from Denise Duffield-Thomas, author of Get Rich, Lucky Bitch! Here's the gist: Money flows into your life every day, and unless you record it, you really have no idea how wealthy you are or how healthy your business is.
I adapted this into a business worksheet where, each month, I wrote a financial goal that challenged me. I then listed things I would do to make it happen and named a reward should I achieve it.
I have SHATTERED my income ceiling using this method, rewarding myself things, such as a bi-weekly housecleaning crew, a Disney Cruse for my family, a private sitting room sanctuary for myself, and a spontaneous trip to San Francisco – all paid in full.
This exercise has been so powerful for my business that I included it with your monthly review in my book titled, Your Best Year.
#3 Hire help
When it comes to staffing, I have a different outlook than most. As a creative business owner myself, I know it's hard to give up control on the little details that make up the work you do every day. It can also be nerve-wracking to take on the added expense. However, I figured out a way to alleviate both those concerns.
To start, think of every task you do each week – your responsibilities in both your personal and professional life. Next, organize all of your weekly tasks into one of three categories:
Work that creates income
Busywork to maintain your business
Your household responsibilities
Then, decide which items you want to continue and which you'd like to eventually delegate. Here's a sample of my weekly tasks, organized into the 3 columns: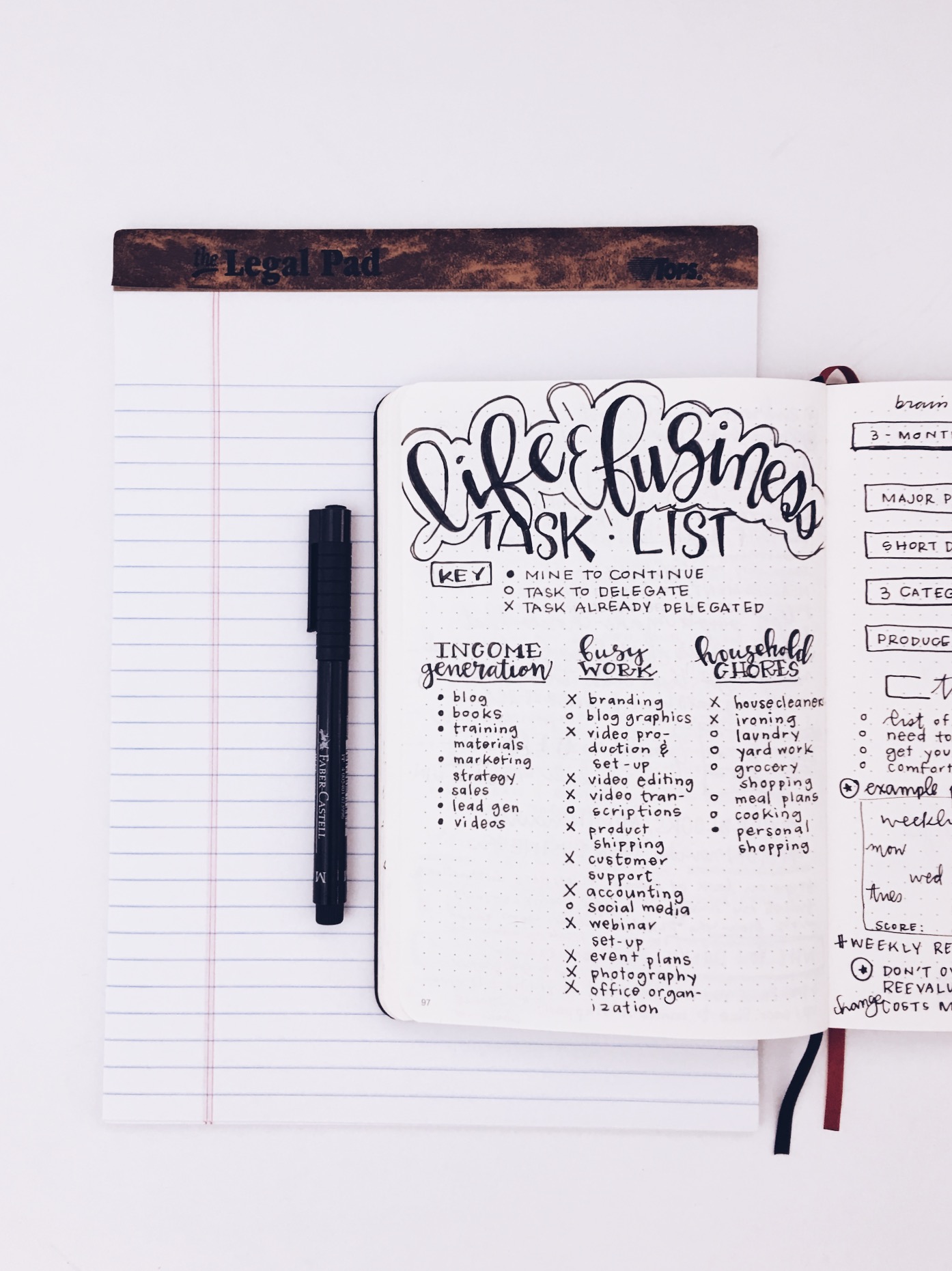 As you can see, I organized everything that is my responsibility into the three aforementioned categories. In this bullet journal spread, I decided which tasks I want to continue (marked with a closed dot), which tasks I would like to give up (marked with an open dot), and which tasks I've already delegated (marked with an x).
If you know it's time to hire, you've probably wondered and worried about the finances of it all. Most people see hiring as an added expense or cost that will cut into their profits.
I love to rearrange that thinking! 
Hiring should greatly increase your profits. Your hire is there to enable you to make more money! >> Click here << to read my epic guide to hiring for your online business.
#4 Build an annual strategy
My method for annual strategy-building is based on your personal upcoming year and your business' strongest seasons. My motto is: Your life then your business. It's an effective approach that will not only help you eliminate the daily scramble for sales, but it also guarantees you'll improve your results and enhance your career.
In the complimentary sampler of my best-selling workbook, Your Best Year 2017 (claim yours at the end of this post), I break down my six-figure earning strategy into simple step-by-step instructions with examples, but the gist is:
Identify your personal seasons (such as summer vacation, winter holidays, back-to-school preparations, etc.) and list these special events on your calendar before any business-related projects or promotions.
Identify your business' strong seasons. If you have an existing business, you can check your annual statistics for the months where you get most traffic. If not, you can use my examples (included inside the comp workbook below) as a guide.
It is the nature of business to have hot and cold seasons, most do. This technique is in place to help you utilize those seasons to their fullest. For example, it seems like everyone is on the internet in January, whereas in February, nobody's online. There will be plenty of average months in between, but it's important to take note of the high tides, in particular, and make the absolute most of them.
#5 Identify your main money makers
With full awareness of your personal schedule, as well as busy and slow seasons identified in your annual strategy, it's time to plug in the money makers. I advise you to name three to six main money makers because these will be the larger promotions or projects that anchor your year. Some examples of money makers are:
Semi-annual sales
Seasonal promotions
Product launches (e.g., a book release or a seasonal line of products)
Big events or shows
Naturally busy seasons (e.g., Christmas or other holiday orders)
Affiliate promotions
So much is revealed when big projects are added to your annual calendar. Now you know when you need to be working on what. Rather than be stifled by the slow seasons, you can use them to your advantage. You can start prepping, promoting, and creating excitement around the next big event. You can make your best seasons even better. With this big picture in mind, you will know when your efforts will be rewarded.
#6 Strive to build business assets
When the station manager at CreativeLive told me that earnings are distributed into quarterly royalty checks, I shouted, "That's my favorite way to get paid!"
There are only a handful of ways to create true passive income, defined as income where you are not physically or materially involved. These are:
Rentals
Royalties
Businesses owned (but not operated)
Interest or dividends from lending or investments
Affiliate commissions
One of my financial goals is to produce more assets that create passive income. Some examples of assets I've created this year are: Turn Your Etsy Shop into a Sales Machine – a workshop for CreativeLive, and my annual planner and best-selling workbook, Your Best Year. Both are examples of royalty payments, in which the product is created once, but sells hundreds of thousands of times over without any additional work required.
Therefore, once I have my annual strategy and money makers laid out, the next thing I'll strategize is asset potential. I'll ask myself questions, such as: How can I extend the sales life of this product? Where can I invest profits to create more passive income? What passive income goal to I want do strive for this year?
If you have a product-based business, you might struggle with creating assets in which you are not physically or materially involved. You can build promotional, design and marketing assets instead (while you'll still be involved, it will save you massive amounts of time in the long-run).
For example, you can repeat your designs (do the photo styling + copy once with endless relistings), and you can run the same successful email marketing campaigns and promotions bi-annually, or even seasonally.
Over the years, I've learned that nothing is more profitable than a repeatable marketing campaign. Because you learn so much from every promotion you run, they only get better (and you get more confident about them) over time.
#7 Prioritize your working hours
It's quite common to get swept away by a lot of business-building ideas that don't even make sense: such as, "Open another storefront" (when you already have one storefront that's not selling), or "Grow my account on Twitter" (when none of your customers/clients even use that platform), or "Start Periscoping" (because it's the latest random advice floating around all of the other social platforms that day).
None of it matters. It's all doing for doing's sake. You don't need two storefronts anymore than I need two blogs! It will only create more things that don't matter to fuss over. It's scrambling, and you're better than that! Your work deserves more attention, your time is extremely valuable, and your business is meant to give back!
To grow a successful online business you need: (1.) A website that attracts and converts, (2.) A marketing strategy that wins, and (3.) A plan to optimize numbers one and two.
+ Where you spend your working hours should always result in one of two things:
Growth (Will it attract email subscribers and traffic?), and/or
Profit (Will it make money for my business?)
I attribute much of my success this year to inspecting my task list and asking: To what end? And harsh as it may seem, one of the things that became pointless was the other half of my multi-faceted business, the Energy Shop. I wanted to quit and had been moving towards its closing for more than a year, but I was scared to officially take the leap.
I found myself feeling very sentimental about leaving it. I ran the shop for five lovely years, and I continue to be deeply grateful for every lesson learned and every customer earned. But a few years in, I realized that jewelry production isn't what I want to do for a living. I started to quietly separate myself from the tasks involved in the product-based business.
And after more than a year of indecision, I immediately felt better because of the break. 
What I learned is this: Being decisive helps free up more creative, income-generating energy. Chasing problems or allowing indecision to loom over your productivity (as creatives have a tendency to do for weeks, months, or years) burns expensive fuel and gets you nowhere.
#8 Make and repeat the ask
My business earnings have increased nearly 3,000% this year. Guess what's increased equally as much? The number of times I ASK for the sale! I used to launch a product with two emails: one to announce, one to remind … and that felt like a lot.
For my first big promotion this year (a money maker!), I emailed about the product six times in ten days. For the next launch, I emailed ten times in twenty-one days. My emails generate 99.8% of my sales (very few people buy expensive programs straight from my blog), and those two launches helped me earn my first six-figures in one quarter. 
I write my sales emails in a way that both informs and inspires, all while directly asking for the sale. My readers love them and often send me notes of appreciation during my campaign! Be on my list and you'll see what I mean this January 😉
#9 Keep your goals front and center
My annual best-selling planner, Your Best Year has evolved over the years, and the last edition struck a chord with online entrepreneurs all over the world. It's not just about how to meet all the demands of our profession, but moreover, what's stopping us — right now — from claiming the success we crave? What are we struggling with most? And, how can we aim to solve that once and for all?
Because there's no doubt in my mind: We are struggling! This thing we're doing is hard! Even the uber-successful doubt their mission from time to time, and I'm tired of putting on a brave face and pretending that's not the case.
What I've learned is this: if the vision isn't front and center at all times, the wind gets knocked from your sails. And that's why I love this year's Your Best Year – it breathes LIFE back into your vision and keeps it omnipresent. And that's empowerment, people! Here's wishing you all the best!  Until next time,