It's officially the holidays! I'm here to bid you Christmas wishes + New Year kisses, and if those aren't holidays you observe, well, Merry Everything + Happy Always! I love this time of year for all of its thoughtful surprises, reflective silences and the underlying excitement + appreciation it holds. Before I go into holiday mode …
I want to thank you for the gifts + creativity you've bestowed upon me this year.
I used to think "God-given talent" was something extremely rare and uncommon, such as a singer with an amazing voice. I've always admired people who were born into such voices because, no matter what I do, my voice will never sing like that.
But through this work, I've come to realize that we're all as amazing at our own unique things as those singers are at singing. I think we're all made to be brilliant at something, and it's often a greatness we don't even realize we're creating.
More often than not, people lose their way. We're steered in another direction, or we stubbornly try to do what we think we should be doing, and we ignore our calling. People don't always go inward to find their true north. Oftentimes, we try to think about what would be right, rather than do what feels good. And more often than not, thinking and trying are the main ingredients of an unhappy life.
I have a talent for inner-expression. Wherever I go, I imagine how everyone else is feeling. I'm very tuned into how I'm feeling. I mirror moods. I cry easily: I shed tears through arguments, songs I love, football games (or, winning moments in general), prayer, laughter, and when I see babies being born on TV. Events, people, and nature move me; I care very deeply about the the things I care about. And I can't not process my feelings.
One of the things that I care very deeply about is you. I love that you're putting yourself out there, taking a chance, and exploring your true potential. I love that you create because I really love creators. I think we are all, each one of us, put here to create and play and explore this beautiful playground of a planet.
New Year for a New You
I want to help you showcase your unique talents and birth your miracles in 2017. I want your spirited creativity to take center stage. It's time, and this is going to be your year.
Tuesday, December 27 – Monday, January 2 on Marketing Creativity
Before I break for the holiday this week, I thought I'd share a recap and the results of my 17 before 2017 challenge. Did you make a similar list? How did it go? Please share and/or leave a link in the comments!
17 Before 2017 Update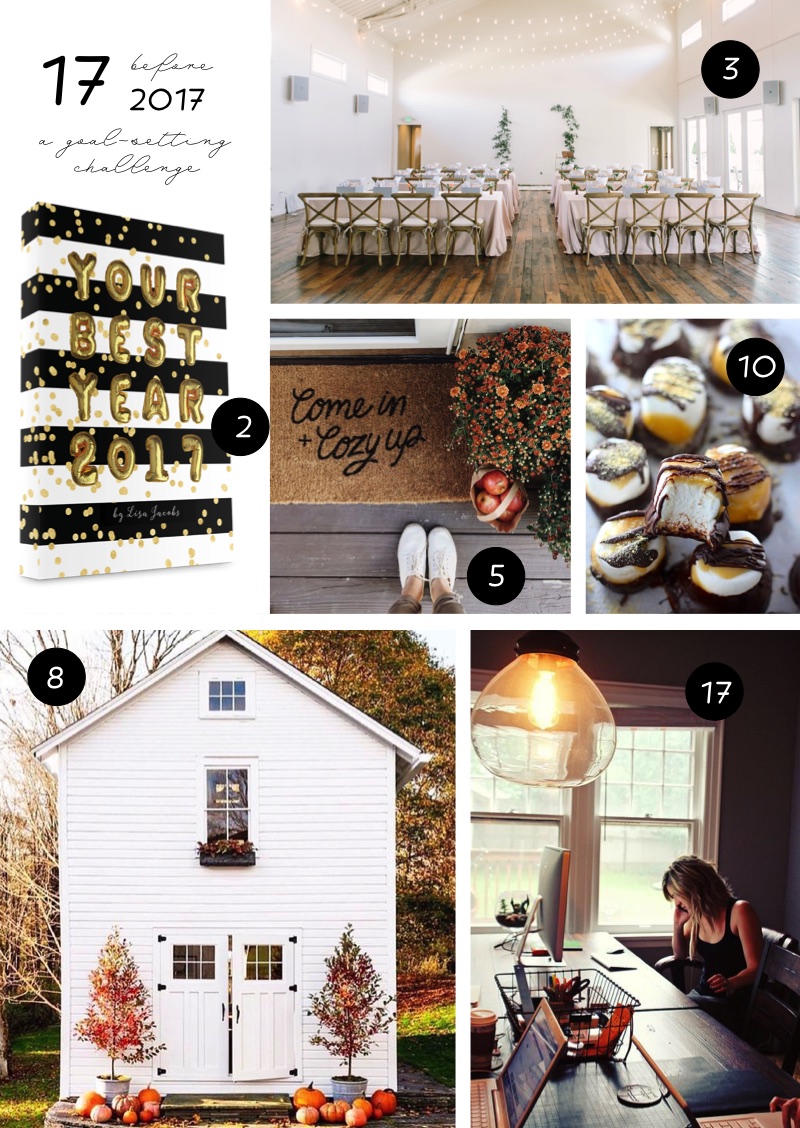 #1 Move house. If you would have told me last year that I'd be moving house, family and dog in the fall of 2016, I'd have called you crazy. As in, that's crazy — I'd never move during my busiest + most successful season of the year. There are way too many deadlines! I'm so sure I'll be in the same spot next fall, I already booked a week-long family vacation right smack-dab in the middle of October to celebrate the launch of Your Best Year 2017!
But, it's true and crazy. I've spent the last two months, not only writing my best-selling product of the year, but also prepping my house for sale, selling it in less than 3 days on the market, panicking over where in the world we were going to live next, and finally buying a new house we all love. Now it's just time to move to that house.
Done! And truly grateful every day that this move is behind us. This will all come to light in my New Year for a New You review, but I am blown away by the changes we've made in one short, but very impactful year. We love our new home, new schools, and the convenience of our new location very much.
#2 Launch Your Best Year 2017. I can't stop smiling about this year's edition.  Your Best Year 2016 was such a giant success, I thought  I might simply change the dates and reproduce it. I wondered, how much better can it get? With 10,000+ raving fans behind it, I could have absolutely left it "as is" and that would have been well enough.
However, I found more success this year than ever before. I tripled my email list and quadrupled my income. I shattered limitations that had been keeping me stuck for years. I knew this book was destined to evolve just as my career had. Therefore, the reason for not changing anything about the book became the challenge: How much better can it get?
In the image above, you got your first look at the new cover. Hold onto your hats. This is going to be your best year yet.
Done! And it's being even better-received than I could've imagined.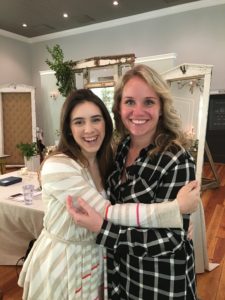 #3 Go to conference. I am headed to North Carolina to learn business legalities from my girl, Christina Scalera + other amazing topics from creative women at the School of Styling. I'm going to escape the moving mayhem just before we pack out and savor a quiet three days to myself. What a treat!
Image credit: School of Styling
Done! To the left, you'll see a picture of Christina and I at the conference. I had so much fun, I decided to go back to the School of Styling next summer + I'll be leading a breakout session in Richmond, VA. Click here to join us!
#4 Make vacation memories with my six. Do you know those still pictures of people in motion, where all you see is a blur of the person? That's how my life has felt for most of the year EXCEPT when I'm away with my family and we're sitting together or being with each other while enjoying the same experience. I can hardly wait to be present in those moments with them during our long-awaited Disney cruise (an income reward I earned last year).
Done! The Disney Cruise was everything. Did you know that this cruise line assigns the same two servers to meet and assist your family at every dinner? I didn't realize how much it would mean to us; it was so comforting to see them each night! They take care of the children's every need, from cutting their meat to cleaning their dessert crumbs. Below you'll see a picture of my smiling family and the two amazing men, Ricky and Laslow, who delivered delicious meals, magic tricks, and loads of laughs to our family every evening. We made memories to last a lifetime <3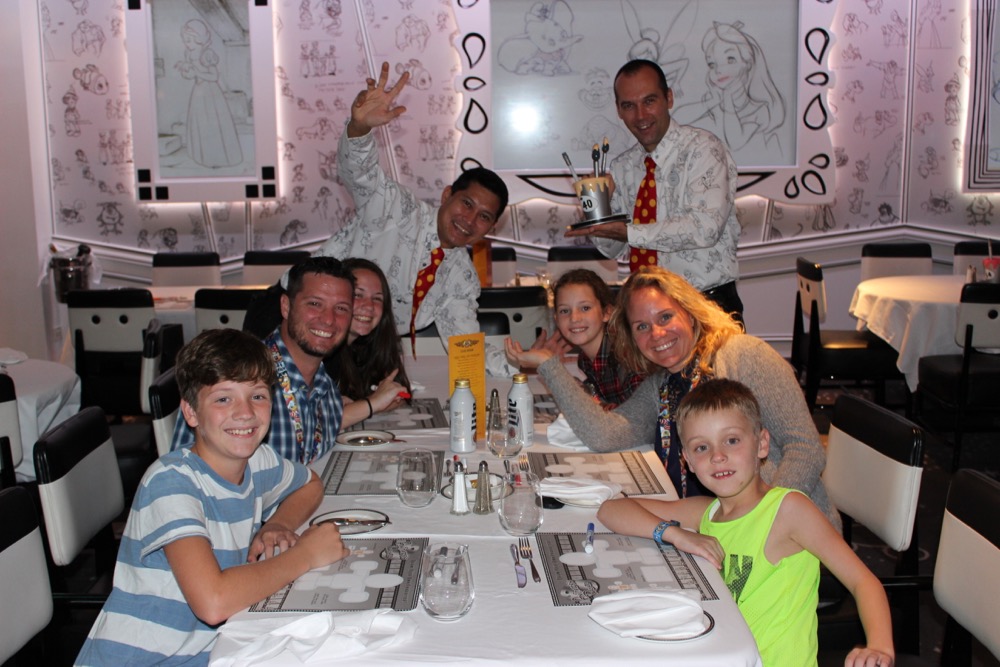 #5 Settle down. I've already written this as the headlining advice for November. The year's pace has been so rapid, I'm as wound up as they come. Can you tell through my writing? I feel like I'm running down a steep hill and my feet are never exactly underneath me.
I think that's been all well and necessary, but oh my goodness. It's time to change the incline and take back control of the pace.
Image credit: Pinterest
In progress! I'm still waiting for time to slow down for a minute, but my stress levels are definitely becoming manageable again.
#6 Do a company work retreat, party of two. It's time to sit down in-person with my creative's assistant, Jennie for a power session. If you're looking for any type of assistance in your business, my testimonial for Jennie would be, "OH LORD JESUS! Hire her."
When you're working with your hire, it's nice to be able to sit down and knock out a bunch of issues and instruction all at once. Jennie and I video chat, but the screen gets in the way and takes up extra time. It's nice that she and I are somewhat local to each other, and I can invite her over. I even shopped my new home office space with that in mind.
I'm going to plan and conduct our first meet-up using this question as the guide: How can every one hour of training take at least four hours off my plate each month? The results will be phenomenal, I'm sure.
Postponed! Jennie and I were so busy with Your Best Year 2017 orders + an early January course release that this meeting would prove more productive early spring. 
#7 Hire an accountant. I can hardly wait to get my books off my plate!
Done and (mostly) filed! Though very little of it felt like it was off my plate. SO. MUCH. PAPERWORK. 
#8 Decorate my new home. I tend to put this off when I first move into a new house, which leaves me wondering why I'm living in such an undecorated house years later. I've already bought the paint and picked out most of the new furniture. I can hardly wait to make our gorgeous new house a comfortable home for my family.
Image credit: Martha Stewart (not an actual picture of my new home 🙂 )
Done! And I can't even believe I'm saying so already. We made such life progress after finally making the decision to "finish" our last home that we jumped right into cozying up this one. I'm very proud of my husband and I for how comfortable we've made our new home after only a few months moved into it.
#9 Schedule monthly dates. My husband and I have so much fun trying new foods and enjoying a relaxing evening together, and now we have a whole new neighborhood to explore. I look forward to reestablishing this routine once we're settled.
Postponed. We're very good about dating each other and keeping the passion alive, but we're tired! I've never craved boredom before, but I'm salivating at the idea of having nothing to do. We're trying to wind down before we hit the town 😉
#10 Schedule whitespace. I want my job and my life to feel fun again! It's been such a push this year. I want to spend an afternoon shooting photos for Instagram, meet up with some other creatives in my new area, and take a day to bake with my daughters.
Image credit: Baker by Nature
Done! It took more than I realized to catch up with my workload again, but I'm getting there + eager to mix it up and have some fun.
#11 Be on track to sell 200,000 copies of Your Best Year 2017. It's a big goal because I believe this book is going to help online entrepreneurs all over the world reach their goals. And it's a no-brainer investment! I took my six-figure earning strategies and packaged them into a revolutionary business planning system anybody can use.
Done! And by the way, thank you for spreading the word and sharing your progress. I appreciate you! Please continue to use #yby2017 so I can find + thank you on social!!
#12 Enjoy my annual wrapping day! This is my favorite to share because, each year, more and more readers adopt this tradition. It's so fun! I block my schedule for a day in December when the children are in school. I play Christmas movies and music all day, drink wine and eat delicious breads and cheeses for lunch, pull all of the presents out of hiding and just wrap! It's one of my favorite days of the whole year.
Done! This photo was the most I could share of that day because I've got a family full of present-peeking looky-loos. I had an absolute blast, and it was successful as always.
#13 Have dinner delivered at least once a week. I live in such a rural area, I haven't had food delivered to me in my home for over three years. No such service exists, and it takes almost an hour to drive to any restaurant and back.
Every few days, my family and I look at each other and go, "What's it going to be like when our dinner gets delivered to our door, hot and ready to eat?!"
Yes, honey! I barrel-rolled through this goal! So good!!!
#14 Try Botox. Because I'm not as comfortable with wrinkles as I thought I would be, and so I don't see why not.
Done! Of all the goals on this list, I got the most feedback on this one. Some people were sad for me, but please trust that there are far better things in the world to be sad about than whether or not I'm happy with wrinkles. The majority of comments were about how brave it was for me to share!  Again, I appreciate you! I love the very honest conversations we have here; the depth of our discussions speaks volumes to my introverted ways even when we're talking about something as superficial as Botox 😀
As for the update: I almost chickened out multiple times. This was the goal I was most scared of, but my excitement for the results equally matched that fear! I did excessive research before booking and then chose a top-rated plastic surgeon's office to perform the injections. 
As for the results:  I love it. I asked for more of a preventative, natural treatment rather than a harsh, corrective one. My injector gave me approximately half the typical dosage, and I look exactly like me but my eyes and forehead behave like they did six years ago (no more deep wrinkles show up when I'm being very expressive, smiling big, or have my head down, looking up). Exactly what I wanted!
#15 Build a fiction library of books to read. For my birthday, I asked for a bunch of good books on my wish list to read for leisure. I then proceeded to read through them all in a few short weeks.
I love having a good fiction book by my bedside, but I don't trust many recommendations. I'm going to put in the time and research required to gather a collection I can't wait to read.
Done! Some of the books in my pile: It Ends with Us, The Poisonwood Bible, Homegoing, and The Language of Flowers. 
#16 Post to Instagram on a regular basis. I really love sharing and connecting on Instagram. Unfortunately when my schedule gets busy, it's the first thing that gets moved to the back burner.
Done! And I must say, I genuinely enjoy posting and engaging there.
#17 Decorate my next home office. In the new house, it's at the front of the home right next to the front door. I love it, and my last home office has been so good to me, I can only imagine what I'll create there.
Image credit: Pinterest
Done! I need to add more personal touches, but I don't want to rush it. I feel at home now; I'm going to take my time and bring things I really love in to enhance it.
This is the most successful I've ever been with this challenge, and Luminaries (members of my online training club) are reporting the same!
How about you?
Share your results and hashtag them #17before2017 on social – or – leave a link to your blog post in the comments. I would love to read about your goal progress! Until next time and all the best,