I'm excited to share pages from my bullet journal with you today. A few weeks ago on Instagram, I shared a flip-through video of the new notebook I started this year. I received some requests for a blog post about the different spreads, and I am so happy to oblige! It's a treat to share a story in pictures instead of words.
If you're curious about bullet journaling or ready to start your own, I learned everything I know about this hobby from Boho Berry.
Here are a few of the supplies I'm currently obsessed with:
(I am an affiliate – I receive a small commission if you purchase any of my recommendations through these links, at no extra cost or inconvenience to you.)
I'm going to jump right in and start with a utilitarian page that I wouldn't share otherwise. It's the very first page of my journal where I keep a photo index (pages to shoot), a dot count (for centering spreads), a list of hashtags I love, and common brands to tag.
Beside that, my goals for 2017 divided into the five pillars of life.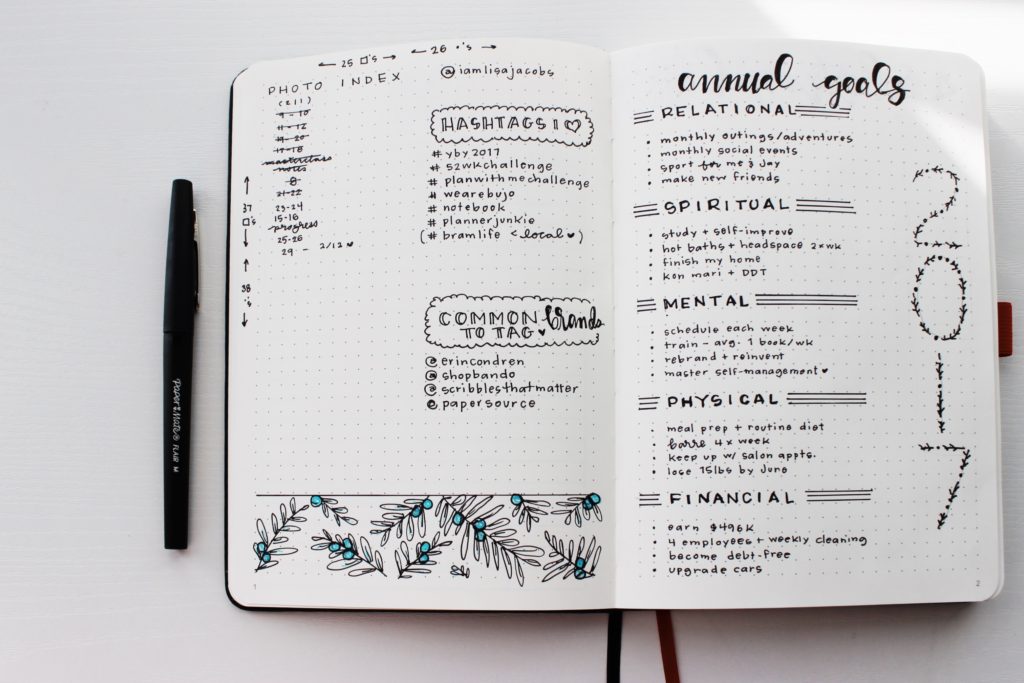 Next pages are titles, but I plan on filling each in with an action plan towards my goals.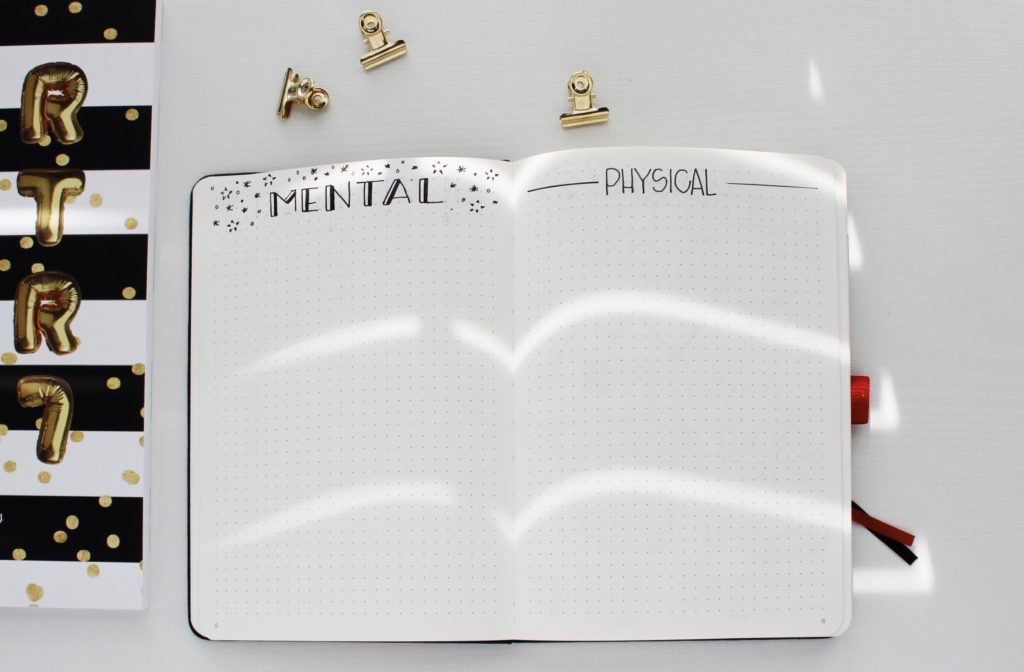 The next spread is one for financial (not photographed) attached to a page asking, "What do I need to do to next level?" – See it on Instagram.
After that, a "just for fun" spread of books read and movies watched this year.
That's followed by my annual strategy (click here to learn how to build one).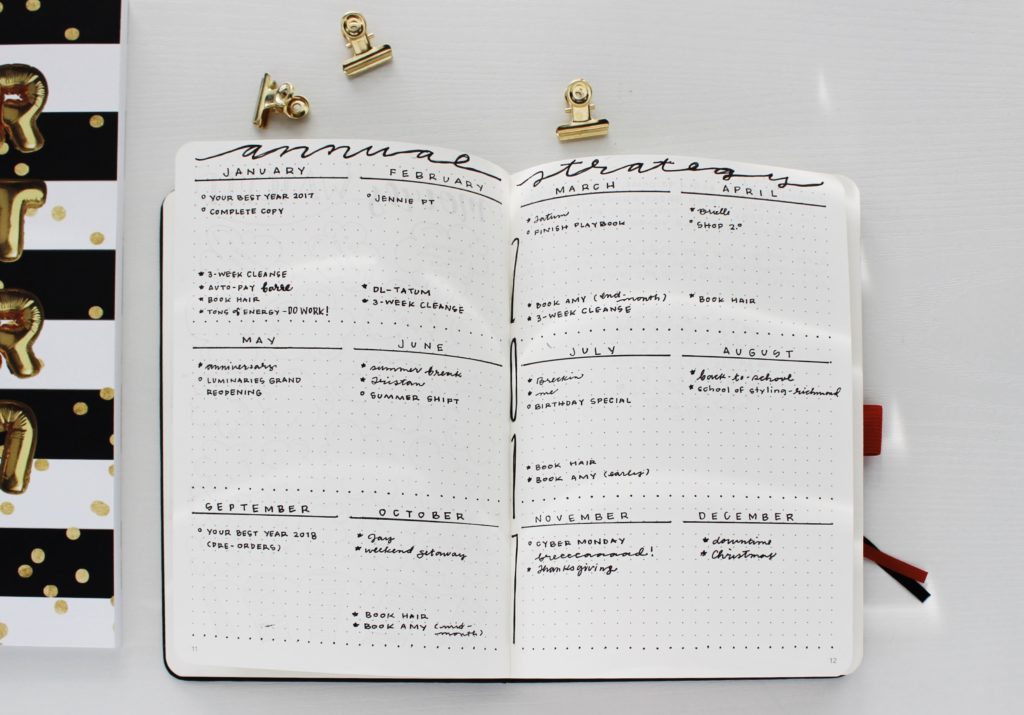 I'm still in what I consider the reference section of my bullet journal, so the next page is quotes I'd like to remember for the year.
Across from that is a countdown to my 100th class at Pure Barre. They throw a party and and pour champagne at the studio when you complete this landmark goal.
The page above is a great example of what happens when you make a mistake in your bullet journal. Before I got started, I used to worry what would happen if I made a mistake and couldn't rip out the page – because in these hard-bound journals, you can't rip them out and start over!
When I started my 100-class countdown, I seriously overestimated the space I had to draw 100 squares. I even though I'd have room to write how I was feeling after say, 50 classes. Sixty squares in, I ran out of room and decided to give some a middle to make them count as two classes.
I find that, in most cases, finishing the page makes most mistakes disappear.
Next up: If you haven't purchased Get Rich, Lucky Bitch! by Denise Duffield-Thomas yet, today's the day! Do not waste another moment! I keep this book on my Kindle, and I commit to reading it at least once a year (though I would seriously benefit from studying it every quarter).
It's medicine for my abundance mindset; it doesn't always taste good, but it's extremely effective! Decluttering and forgiving are agitating at best. Most of my journey through this book leaves me in a funk, but the end-result is incredibly empowering. I highly recommend it, and these are my latest notes (a work in progress).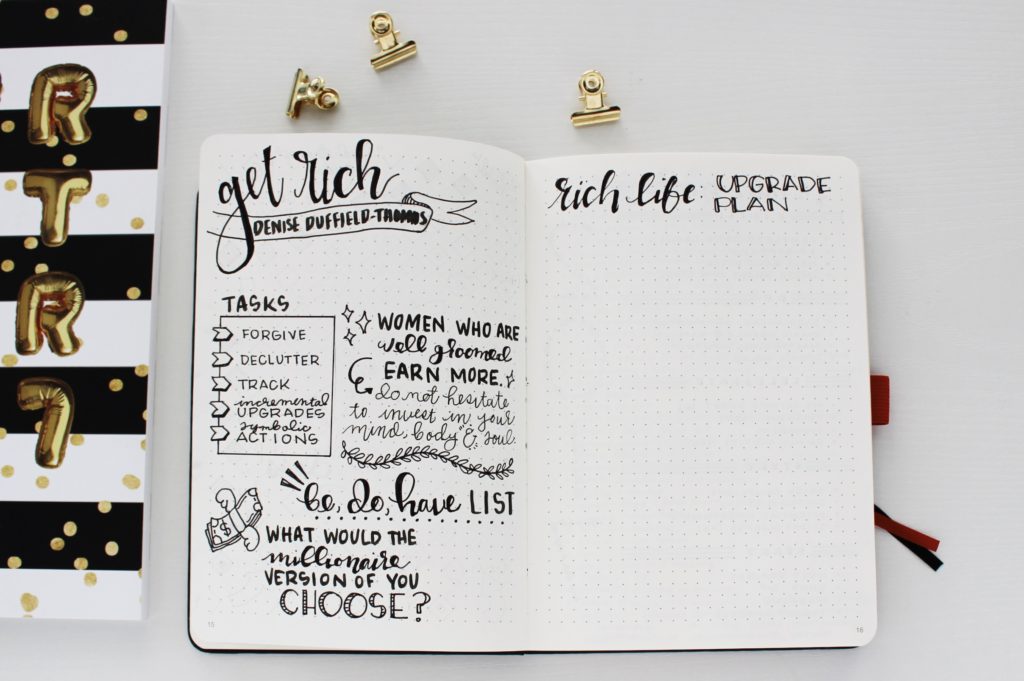 My seasonal progress log follows this spread. It looks much like my annual goals (click here to view it on Instagram). I started this bullet journal mid-January, so the only two pages I have on that month are my weekly breakdown and abundance tracker.
(And if you love talking business + real numbers, check out my monthly income reports.)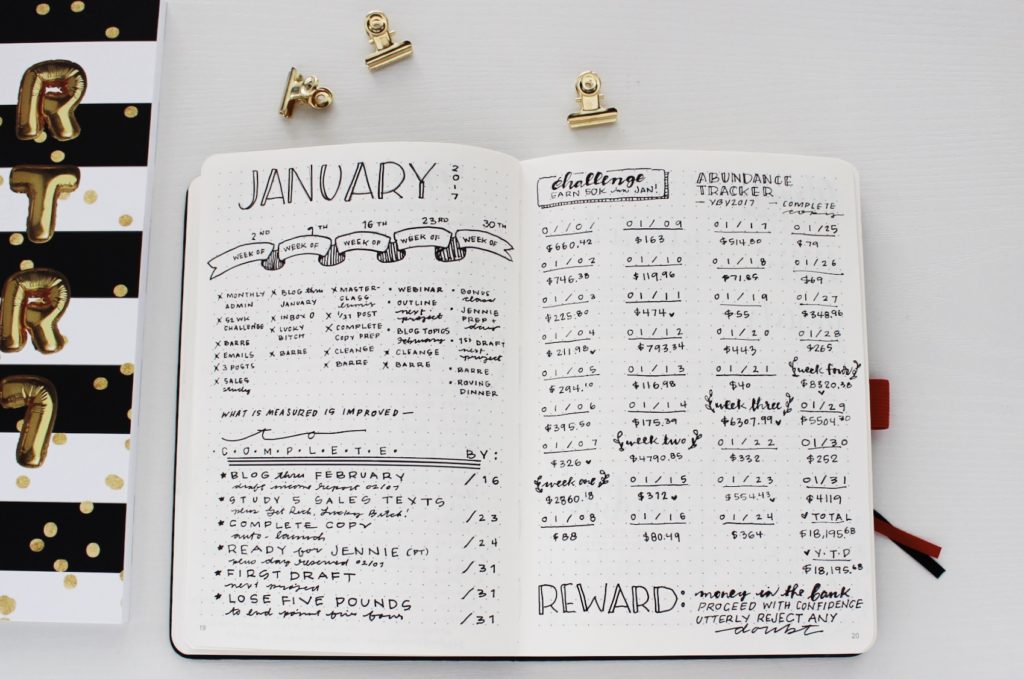 Then came February! I had more time to plan and organize the following material, and it's a better representation of what I'll do each month.
A big picture spread …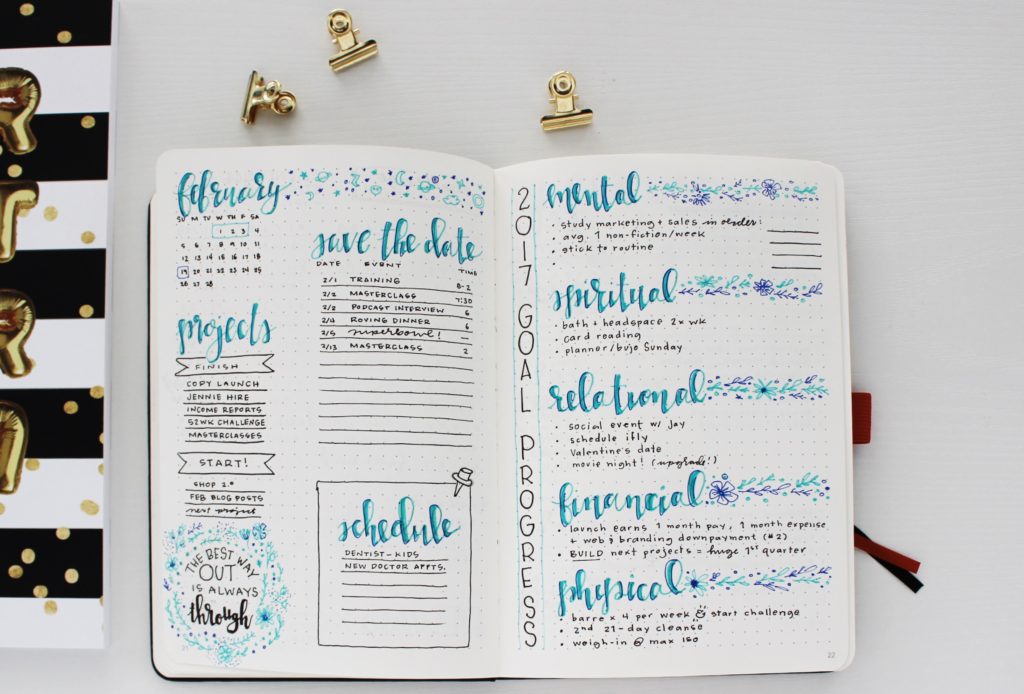 A 3-month projection and weekly breakdown …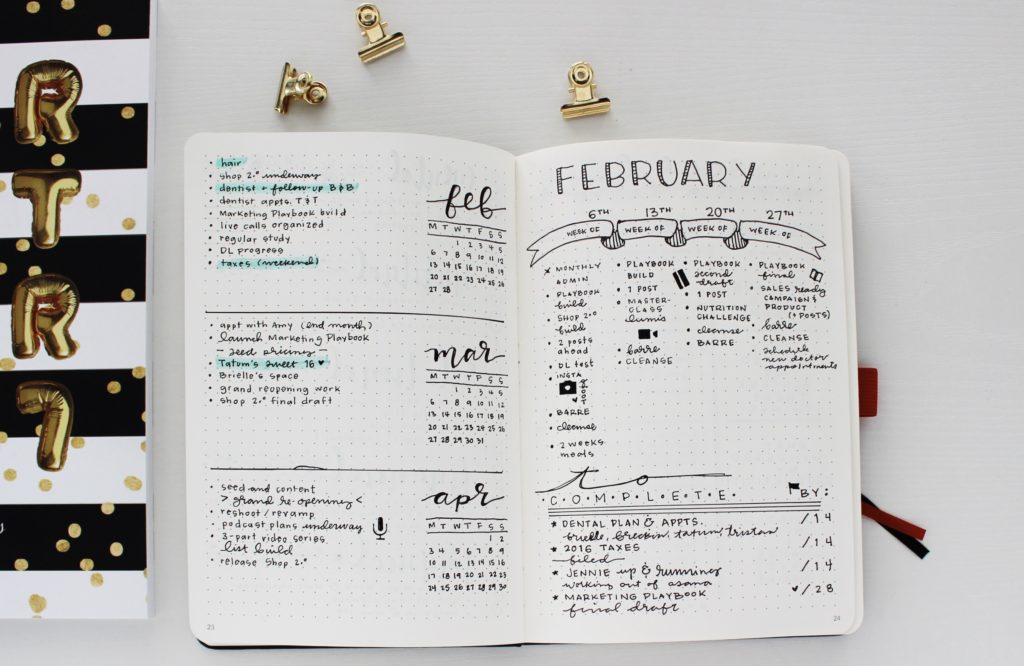 A weekly review …
And my absolute favorite! A monthly card reading (click here to learn more about that) and an abundance tracker. I visit the abundance tracker daily, and I adore finding these loving notes doodled around the money I record.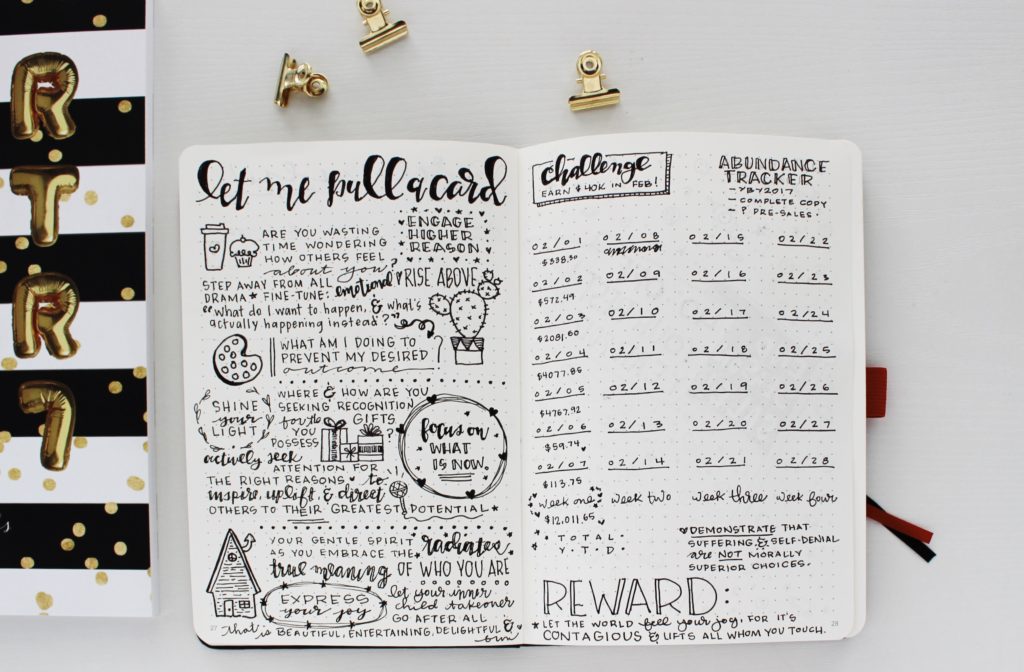 By the way, I was so nervous about sharing my first income report of 2017 when I did this reading. Per the advice on the cards, and I quote …
Demonstrate that suffering and self-denial are not morally superior choices. Let the world feel your joy, for it's contagious and lifts all whom you touch.
Finally, I'm using the next few blank pages for this month's promotions (40% off Your Best Year 2017), study notes (another mistake: it should say "February notes & resources", but it doesn't! Who cares?), and an outline on my next master class session (not shown).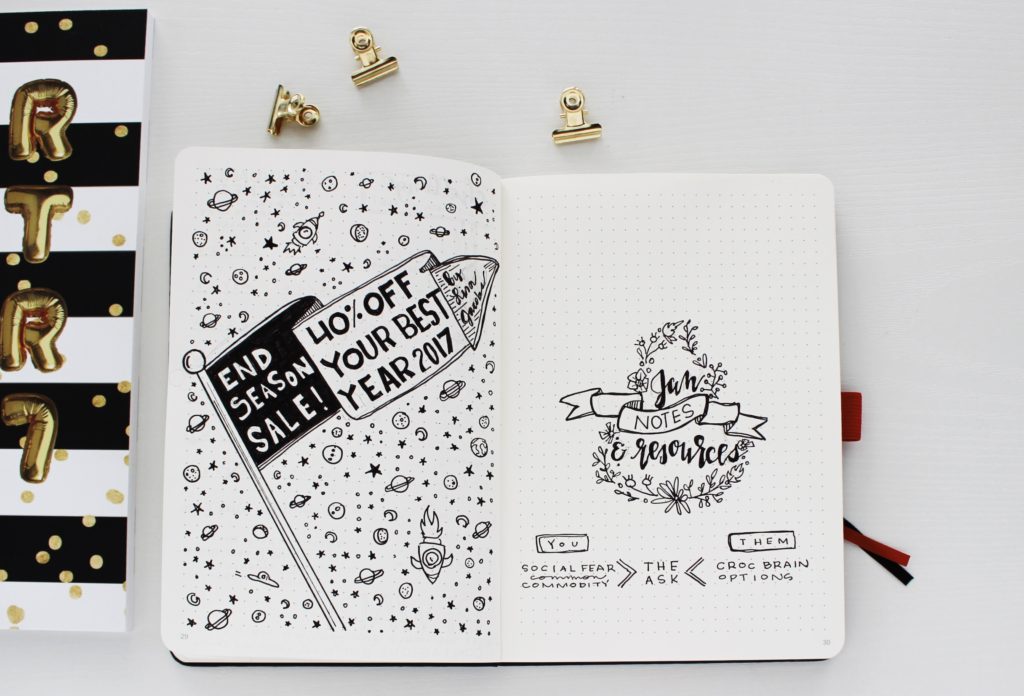 Oh my goodness, can all my posts be in drawings and pictures? I LOVE MY LIFE! This blog post was too much fun. Find me on Instagram for more.
Thanks so much for bringing your creative energy here and sharing it with me xx