Do you mind if we talk real dollars and cents this year? It's time I pulled my head up out of my latest project to tell you how I earned $22,936.05 last month (working from home, running my online business). Because this year, I'm going to drop real numbers in your lap to show you exactly what can happen if you stick with it.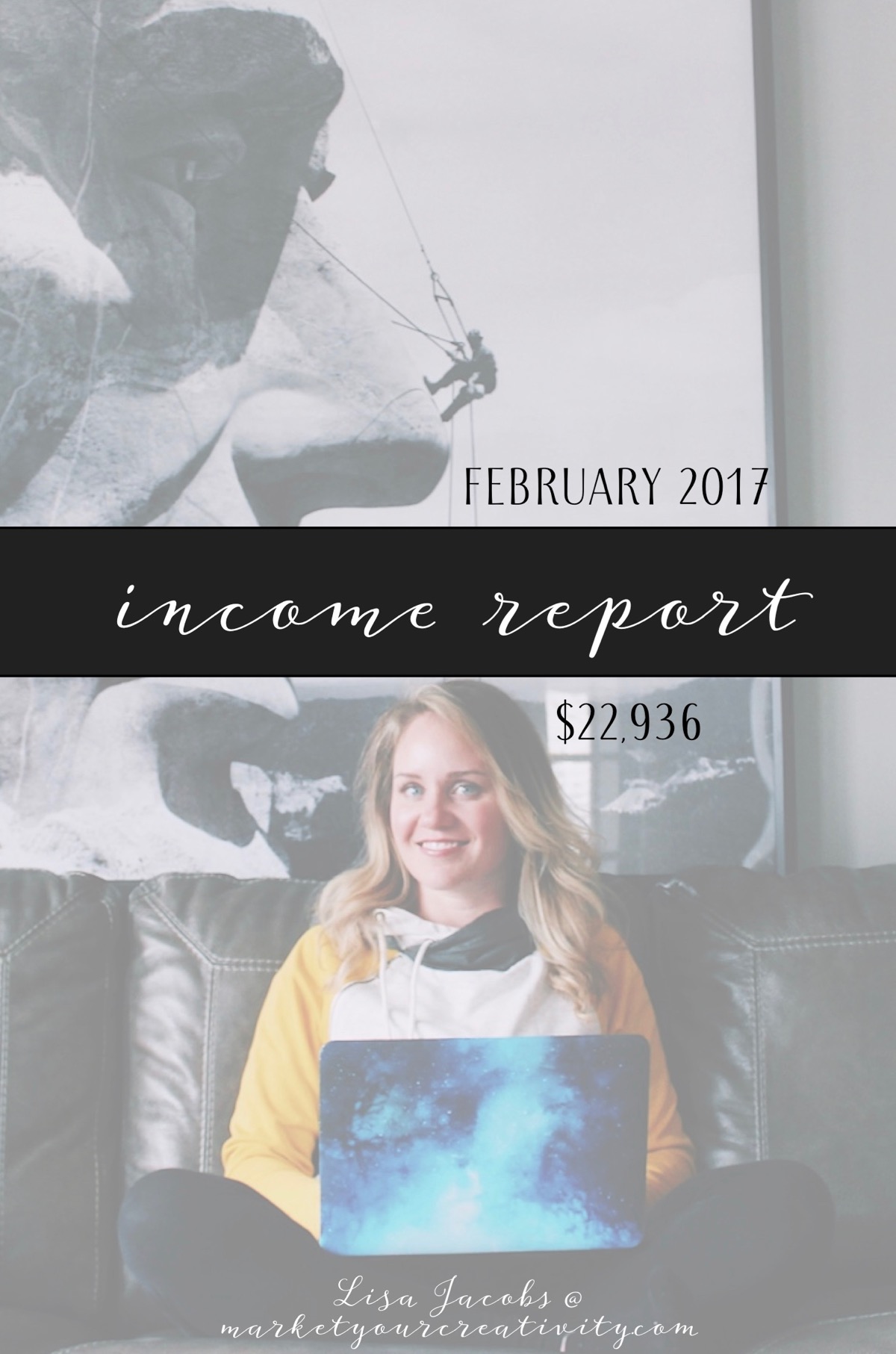 Income goal for February: $25K
I set income goals for myself at the start of every month, and in many cases I hit them (or come very close). I also make a habit of setting monthly rewards for myself, and I track my abundance daily.
Further reading: 6 Things I Do Everyday to Grow Online
My goal for February was average for my business, even though I was in what I call a "build" month. I'm writing a new book, Marketing Playbook: How to Scale Your Online Business to Outrageous Success to be released later this month. New projects get 100% of my attention, which means I'm not selling or promoting anything else.
I felt comfortable setting a median income goal (currently, $15K/month is minimum, $50K/month is my best) because Your Best Year is still selling (it runs October-March), and I finished launching my signature program, Complete Copywriting: The Course to More Sales on February 4.
Technically, I missed my mark (earning $22K of my $25K goal). However, when I'm *thisclose* to an income goal I celebrate it as complete and absolutely enjoy the reward I set.
Income report – February 2017
Complete Copywriting re-opened for sales on Monday, January 30 and closed February 4 – I'm quite pleased with its results. To promote the course, I held one webinar on January 30 titled, Complete Copywriting Secrets of a 6-Figure Business. I only shared the opportunity to register for that webinar with my email list, and we had a full house long before it went live on air. Everyone who registered for the webinar got the replay, and 18% of viewers signed up.
Every quarter, I receive royalties for two CreativeLive workshops I've filmed, Copywriting for Crafters and Turn Your Etsy Shop into a Sales Machine. I love everything about teaching on CreativeLive, and it's delightful to see my hard work paying off years after the class has wrapped.
Your Best Year 2017 earned a combined total of $5,442.53 in February. Amazon royalties earned are actually from January sales, issued on a 30-day delay.
The Luminaries Club is currently closed to new members (with exception to those signing up for Complete Copywriting this month), and the income earned here is from previously sold subscription plans.
Total income for February 2017: $22,936.05
Y•T•D Total: $41,131.73
Business Expenses
Staff, salary, and contractors: $15,142
Payment, host, and shipping fees: $669.42
Infusionsoft: $299
Office Supplies: $599.85
Education + Training: $10
Web hosting + software: $330.99
Total expenses this month: $17,051.26
Y•T•D Total: $29,663.15

As I mentioned last month, my expenditure for staff, salary (mine), and contractors will increase dramatically over the next few months (starting here). I've taken on new employees, and I plan on increasing my own salary in the second quarter.
I've talked about hiring for your business before, and I thought it might be useful to list all the things I've outsourced in my business should you be considering adding staff to yours. My hires help with …
shipping and handling (physical books)
video editing and production
webinar moderation
accounting
customer support
text editing
product creation
photography
transcription
tax preparation
branding, website design, and development (coming soon)
office organization and cleaning
business management
Etsy fees and shipping take up the bulk of the second line, but I've also included Paypal and credit card processing fees there.
Infusionsoft is my email and customer management software, as well as the host of my private membership and training programs.
My web hosting is by Pagely, and my bill is only $24/month (sadly, that amazing price is no longer available to new customers; I love this service). This month also includes some charges from Google business services.
Coming Up
My new book, Marketing Playbook: How to Scale Your Business to Outrageous Success is on its way! This is the most comprehensive + affordable package I've ever put together for online business owners, and I can hardly wait to deliver it to you. I took my six-figure earning strategies and packaged them into a revolutionary system that anybody can use.
You can grab your copy of Marketing Playbook here on April 4, 2017. If you're not already, subscribe to my email list below to receive exclusive pre-order discounts, and get your copy for even less!
Until next time and all the best!