The March income report is here! It's time I pried myself away from my upcoming book, Marketing Playbook: Scale Your Online Business to Outrageous Success, to tell you how I earned $30,210.78 last month (working from home, running my online business). Because this year, I'm going to drop real numbers in your lap to show you exactly what can happen if you stick with it.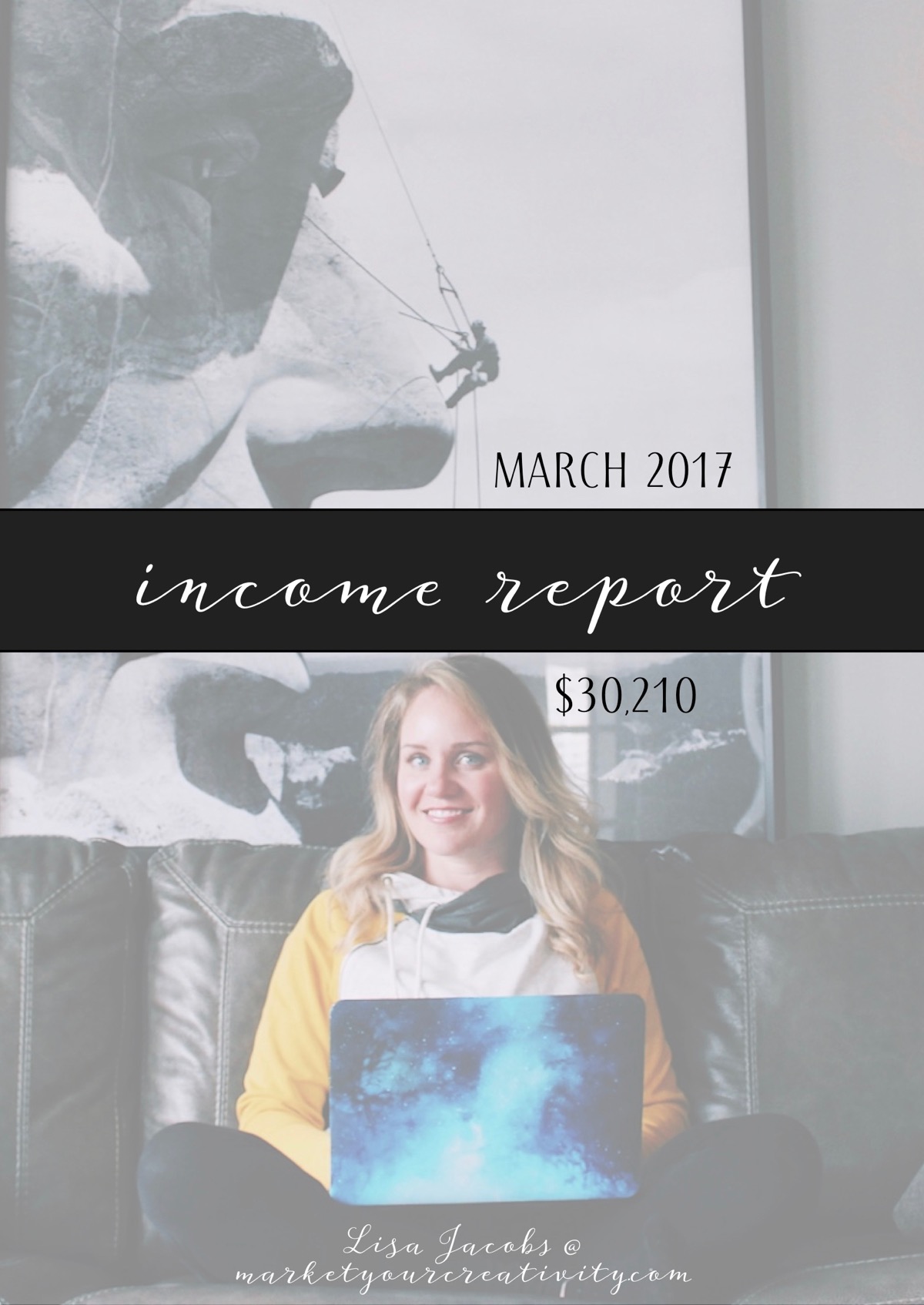 Income goal for March: $30K
I set income goals for myself at the start of every month, and in many cases I hit them (or come very close). I also make a habit of setting monthly rewards for myself, and I track my abundance daily.
Further reading: 6 Things I Do Everyday to Grow Online
I had hoped to release Marketing Playbook end-March, but I didn't come close to my projected timeline. I severely underestimated the amount of work that's involved in a book this big (the largest I've ever written). It didn't contribute to my income at all in March, and its new release date is April 25.
Your Best Year sales also fall off after February, so that book didn't contribute much either.
However, March is my best-selling month so far this year because it was a huge rollover month for the Luminaries Club. Members who signed on last year with an annual subscription (no longer available) saw a recurring (and final fee) that granted them lifetime access to club materials.
I hit my sales goal (earning $30K) because of loyal and long-term clients, and for that I'm incredibly grateful.
Income report – March 2017
The Luminaries Club is currently closed to new members (with exception to those signing up for Complete Copywriting), and the income earned here is from previously sold subscription plans. The large number this month is due to annual members (those who signed before April 2016 with a subscription plan) paying their final installment fee.
Complete Copywriting is my signature course, and it re-opened for enrollment back in January. It continues to perform well.
Your Best Year 2017 earned a combined total of $1899.78 in March. Amazon royalties earned are actually from February sales, issued on a 30-day delay.
Total income for March 2017: $30,210.78
Y•T•D Total: $71,342.51
Business Expenses
Staff, salary, and contractors: $15,686.67
Payment, host, and shipping fees: $1049.52
Infusionsoft: $299
Office Supplies: $1,304.01
Home Office Remodel: $2,757.42
Education + Training: $169
Web hosting + software: $203.95
Total expenses this month: $21,469.57
Y•T•D Total: $38,520.83

It's been an expensive first quarter, and I'm not going to lie, nothing about spending such an exorbitant amount of money each month is comfortable for me. To make matters worse, I just cleaned up my taxes from 2016 (a 5-month long process), and between Y-T-D expenses and that bill, I've already kissed over 100K goodbye in 2017.
The good news is, it's progress in the right direction and I'm incredibly thankful to still be in the black. I came into the New Year prepared to invest at least 30% of my earnings into future growth. I love where I'm at in business right now, but I also know that I'm more susceptible to stalling out than ever before.
Generally, when things get stalled in business, it's caused by one of three things: (1) the entrepreneur is holding back (and the competition/industry outgrows them), (2) the business' system isn't optimized or fully developed, or (3) the entrepreneur's schedule is overcrowded and inefficient.
After last year's success, I knew my biggest danger this year would be thing number one: holding back. The better you do in business, the more you have to lose. Therefore, my natural inclination was to hoard and preserve, so to combat my fear, I took giant leaps of faith instead.
The point is, I intend to keep playing like I've got nothing to lose. I'm all in and it's not comfortable, but it's absolutely necessary.
As with most months, staff, salary (mine), and contractors were my biggest expense in March. I've talked about hiring for your business before, and I thought it might be useful to list all the things I've outsourced in my business should you be considering adding staff to yours. My hires help with …
shipping and handling (physical books)
video editing and production
webinar moderation
accounting
customer support
text editing
product creation
photography
transcription
tax preparation
branding, website design, and development (coming soon)
office organization and cleaning
business management
Etsy fees and shipping take up the bulk of the second line, but I've also included Paypal and credit card processing fees there.
Infusionsoft is my email and customer management software, as well as the host of my private membership and training programs.
Office supplies cover everything from pens and notebooks to equipment. This month is high because I invested in an iPad Pro and Apple Pencil, among other things.
Home office remodel isn't an expense I have on here every month, but I've recently moved and I'm in the process of finishing my new home office. It'll be included as an expense category this month and next. See sneak peeks of the new design on Instagram.
My web hosting is by Pagely, and my bill is only $24/month (sadly, that amazing price is no longer available to new customers; I love this service). This month also includes some design software and upgrades for my iPad Pro.
Coming Up
My new book, Marketing Playbook: How to Scale Your Business to Outrageous Success is on its way! This is the most comprehensive + affordable package I've ever put together for online business owners, and I can hardly wait to deliver it to you. I took my six-figure earning strategies and packaged them into a revolutionary system that anybody can use.
>> Click here to learn more about Marketing Playbook <<<
You can grab your copy of Marketing Playbook now! If you're not already, subscribe to my email list below to receive exclusive pre-order discounts and private lessons.
Until next time and all the best!