My latest book, Marketing Playbook: Scale Your Online Business to Outrageous Success is here!  I can hardly wait to see the results you're going to create with it. It's written for creative entrepreneurs to help YOU build the systems and strategies your business needs in order to thrive online.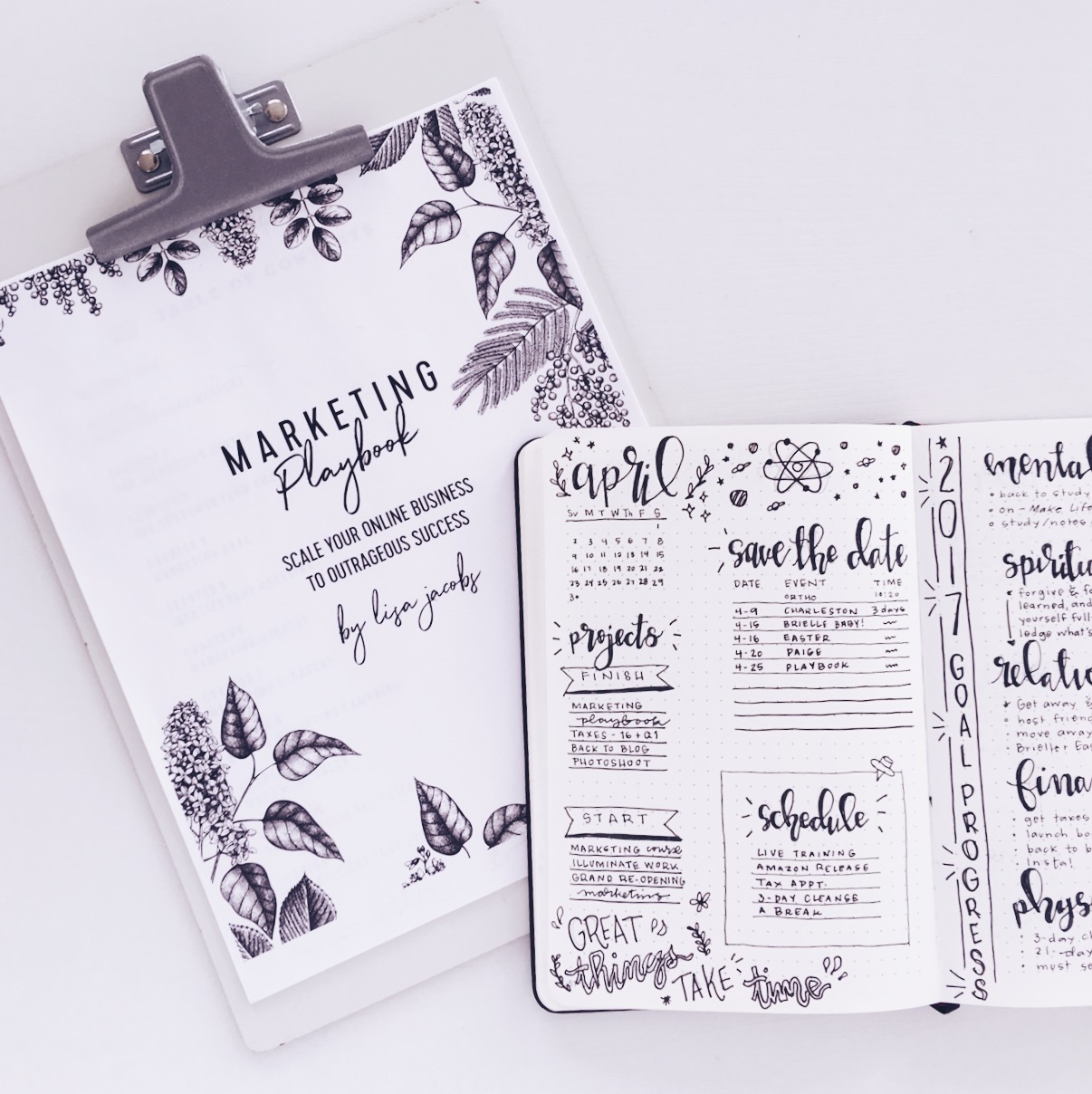 The definition of marketing should be, "the act or instance of doing business." If a thriving business is what you want to have, then marketing is what you need to do. Simply put, if your business isn't exceeding your expectations, then marketing is the missing link.
Now, here's how it actually applies to you …
You're severely overestimating the reach of your online presence. Your brand is most likely recognized as intermittent and unreliable. You think you're showing up in your potential customers' lives way more than you actually are. You think your outreach is way more significant than it actually is. And all the while, you probably even fear you're overdoing it.
These are the things I aim to remedy once and for all, so let's cut straight to the chase.

In relation to all that's happening on the internet, your business is a tiny speck in an infinite universe. As thousands, then tens of thousands, then hundreds of thousands of people find that speck, your business grows in size, reputation, and credibility.
In Marketing Playbook: Scale Your Business to Outrageous Success, I'm going to show you how to create a gravitational pull around your online business that attracts and converts more customers. You'll no longer merely exist online. You're going to learn how to become a force so large with a reach so wide that you'll outshine the competition and corner the market.
In this book, you'll not only learn everything that marketing your online business entails, but more importantly, I'm going to teach you marketing that matters to your bottom line. As a bonus, I'll show you how to increase and expand your presence online.
There's an unlimited amount of commercial space available to you, I want you to conquer every square inch of it.
Marketing Playbook
While easy to understand and implement, the strategies within Marketing Playbook are advanced. The material assumes you have a few things in place …
An online point of sale such as a storefront, website, blog, etc.—somewhere where potential customers can actually check-out and buy from you
A product for sale (this could be a service, information, or an actual product that needs to be shipped, but it assumes you have something to sell)
Some interested buyers (you've proven the marketability of your product; you know people are willing to pay money for it)
An email list manager
If you have these four items under your belt, you already have more resources than you realize. You've got all of the components of a working sales machine, now it's simply time to build it! If you're in the researching stages of your business and one or more of these aren't in place yet, I've included instructions on how to achieve them in the appendix of Marketing Playbook.
Marketing Playbook includes:
What to focus on in your business – I'll help you identify the two things your business MUST DO in order to find success, and then I'll show you exactly how to strategize that plan with actionable items. You will leave this book knowing exactly where to focus your business hours.
How to create marketing that matters. Most marketing efforts are a lot of doing for doing's sake. I'll show you how to actively add to your bottom line with three foundational rules to effective sales.
How to build an annual strategy for success. You'll learn how to offset the slow seasons and make the most of the busy seasons.
How to stand out on a crowded internet. Contrary to popular belief, a saturated market is a good thing, and you'll soon learn how to use it to your advantage.
What makes customers buy. You'll look at how potential customers come to find your business, what their thoughts and hesitations are upon arrival, and what they want from you before they purchase.
How to build a marketing system. This requires an initial investment in time, but offers a huge return on investment!
Where you're leaving business on the table every single day. And how to correct that once and for all!
How to build a marketing campaign that wins. I'll show you how to build your own as I share the exact strategies I've used in launches earning upwards of $70K.
Why you need to improve your marketing mindset. It's an easy fix, but it'll cost you sales until you repair it. We'll talk about the sales attitude that turns your customers on and make them scream, "YES!"
And so much more! Literally, this list could go on for daaaaaayyyys. In Marketing Playbook, I teach you what your customers want to hear, what they want you to do, why they're hesitating to say "yes" (and what you can do about it), and how to keep showing up in their lives in meaningful ways.
Best of all, you should be able to build and execute the formulas learned in Marketing Playbook within a month's time. This isn't an overdrawn, theoretical lesson; quite the opposite. It's an effective organization of the resources you already have available to you.
Here's what you need to know about your purchase of Marketing Playbook: Scale Your Online Business to Outrageous Success— The book is a 114-page digital file (PDF) filled with systems, strategies, and winning campaigns. Instant download is currently the only way to get the book. It will be available in paperback, and can be found on Amazon by May 11.
Download Marketing Playbook: (15 USD) Save 40% Today!
When you click the "buy now" button above, and you'll be redirected to a secure check-out form. Once your payment has been successfully completed, you can expect the PDF to be delivered to your email address within minutes.
Build a More Profitable Business
Thousands of online entrepreneurs are already digging in and enjoying the goods, and I don't want you to miss out! It's time to make bold choices and demolish the foundation of your comfort zone. I want you to accomplish something that makes you unabashedly proud of yourself, and then go brag about it!
If you already have your copy, I thank you and can hardly wait to see your results.
"I just want to thank you for putting this ebook together. I picked up my copy yesterday and haven't put it down since. I am already looking at my business from a whole different perspective. I have been dabbling for a year now and just posting on social media at the very last minute before a launch without any strategy. I have to say that your ebook came at the very right time."—Sofia
"I'm totally hooked. Thank you for another incredible tool!"—Chelsea
"Just read and worked through 80% of Lisa's new Marketing Playbook. Thank you so much, it's amazing!!! My head feels like it's going to explode but it's the most excited I have been this year!"—Sandra
Here's to your most profitable year xx