The Luminaries Club is my privately-hosted membership program for up-and-coming entrepreneurs. It's filled to the brim with tools, resources, and trade secrets that will help you take your business to the next level. Inside, you'll find a place to connect, recharge and reimagine your success.
People come to the club to turbo boost their reach, convert more customers, increase their income, and utilize every working hour in the most efficient way.
They join the Luminaries Club for rapid results and giant learning curves.
Today I'm going to share with you some frequently asked questions I'm receiving about the Luminaries Club and yet another member review full of stats and inspiration.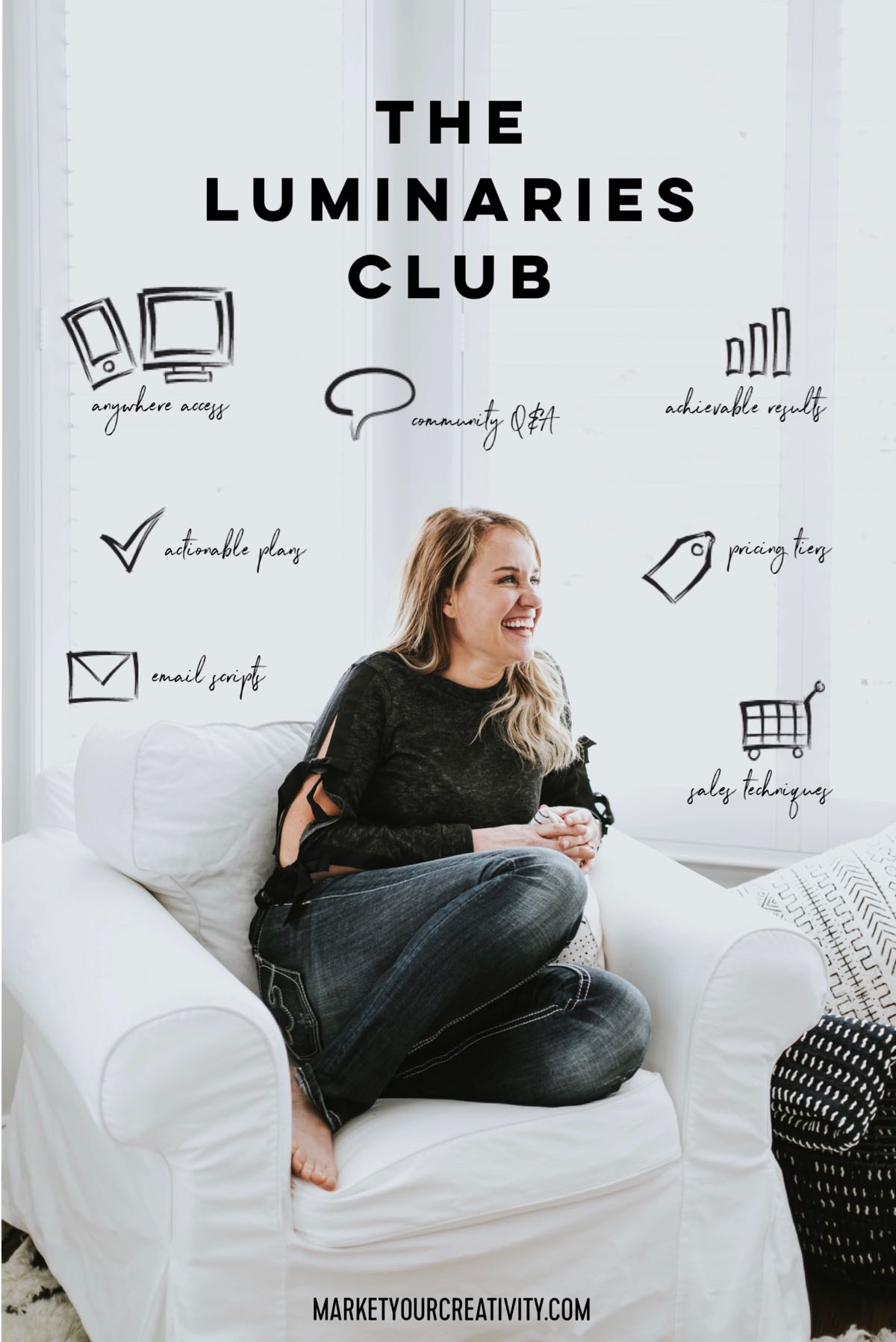 Frequently Asked Questions
Because I have a business very similar to yours, I'm the best-suited to guide you toward all those things we desperately crave in this industry: more sales, a winning marketing strategy, more recognition and respect, and a long-term plan for growth. Here are some of your frequently asked questions …
1 – Will your training apply to me?
This is the most frequently asked question I receive, and it is actually one of the four pain points I covered in my free training, Become a Best-Selling Strategist. It was pain point number two: "It won't be useful to me."
In other words, you're saying: I see it working very well for everyone else, I see them getting phenomenal results, I would love to create similar results, but what's working for everyone else won't work for me."
It's an extremely limiting belief, and a self-sabotaging one at that. I do my best to answer these questions individually, but more often than not, this group is looking for reasons not to join. They're ultimate seeking to back up their own limiting beliefs with confirmation that, this too, is just something else that seems to work for everyone else but not for them.
In response to the question, this training is for businesses who are looking to grow their reach and profits online. It doesn't matter if it's product-, content-, or service-based. Online business is a machine of working components (the ultimate goal is to attract > connect > convert), and I teach those components based on my experience with two winning business models (as well as the countless others I've fueled along the way). I strive to give applied examples for every model with every lesson I teach.
2 – Do your methods work for writers?
So many writers reached out to me during this latest open enrollment period—so much so that I chose today's member review (a writer!) to showcase some achievable results.
For anyone curious about the Luminaries Club, my first piece of advice is to watch my free training, Become a Best-Selling Strategist. It's very representative of my teaching style. I love the psychology of sales, and if it speaks to you or gives you marketing insight you can put to use, you'll know my techniques will be valuable.
Additionally, I've taken several books to Amazon's best-selling status myself. In direct response to this question, yes absolutely! I share exact marketing techniques, launch strategies and more inside The Luminaries Club.
3 – The only people making money online are those who help others grow their businesses.
This statement is often made with the first and most popular FAQ: "Will your training apply to me?" Not only is it an insult to my professional talents and abilities, it's completely false. It's an unfair justification for why you yourself haven't succeeded yet.
This is your own limiting belief, and if you say it to me, I'll know that it's blinding you. All week, I've been sharing different types of entrepreneurs (a journalist, two storefront owners, my own business successes, a writer, [and coming up, a crocheter, a life coach, the list goes on!]) who have created phenomenal results.
In my business and my life, I take the approach that everything's relevant. I absorb business lessons from successful real estate agents, doctors, MLM superstars, you name it. If they're winning in business, I break down what's working and learn how to apply it!
If you want to make it, you have to go out, get the training, and seize the win.
You'll get nowhere waiting for the perfect advice to land on you in the most specific way.
(By the way, this is the response I actually send to people who say this to me. The last person I wrote it to thanked me for the "kick in the butt.")
Member Review
Over the next few weeks, I'll be spotlighting members of the club and sharing their reviews publicly. I have no words to express how proud I am of this group and their ongoing commitment to their individual callings. The Luminaries take the knowledge and strategies they learn inside the club, customize it to fit their businesses, and work hard to create better results every day. If you're bringing the same dedication and persistence to your career, I can help you channel your efforts into extraordinary results.
I know many of you are trying to decide if The Luminaries Club is right for you. I asked club member and author, Lori Robinett to share her thoughts, and this is what she had to say.
Lori on The Luminaries Club

What's something we should know about your journey thus far?
Though I had dreamed of being a writer since I was a child, I didn't take it seriously until my best friend died of cancer in 2003. It sounds cliché, but I was jolted into action with the realization that life is short. I finished my first novel in 2004. It was published in 2014.
Why did you hire Lisa to help?
My books were languishing in obscurity, only selling a couple hundred copies. I know writing, but I need help with marketing.
What are some of the biggest challenges you've faced in business?
Hundreds of thousands of books are released every month. Somehow, I have to catch readers' attention in that sea of books.
What have been your biggest takeaways from The Luminaries Club?
There are many, but the most helpful was that planning is important. I needed to stop thinking in terms of "what can I do right now?" and develop a plan designed to reach my goals. Also, I realized that I needed to specifically identify what my goals were, so that I could determine the path I needed to take.
Why are you excited for other online entrepreneurs to experience the Luminaries Club?
I saw solid results after implementing Lisa's methods—literally saw the results in my sales within a month. I went from selling a couple hundred books over a year to over a thousand in a month. I want women to identify their goals and take steps to reach them—I want others to experience the success I've experienced!
Thank you, Lori! Your success is so well deserved!
You Like Growth and Expansion?
We all talk a big game when it comes to our goals. We dream of becoming recognized and respected, relying on our income, and hiring help someday. In order to achieve that, you must create a better system and employ better strategies! You need a trusted advisor, one who has the experience and skills that will take you to the next level.
I'm officially applying for the job!
Join The Luminaries Club now, and get yourself situated. Come meet the amazing group of like-minded creatives already gathered among us. Take a workshop, start a course, or download from the e-library of information.
I've taken countless businesses from a state of uncertainty to top-selling industry leaders. Through my club, you'll learn how to thrive and endure in online business. There's an unlimited amount of commercial space available to you, I intend to help you conquer every square inch of it.