Guess who's back, back again? Your Best Year 2018: Productivity Workbook and Online Business Planner is almost here! Here's what to expect from this year's edition, officially launching October 17.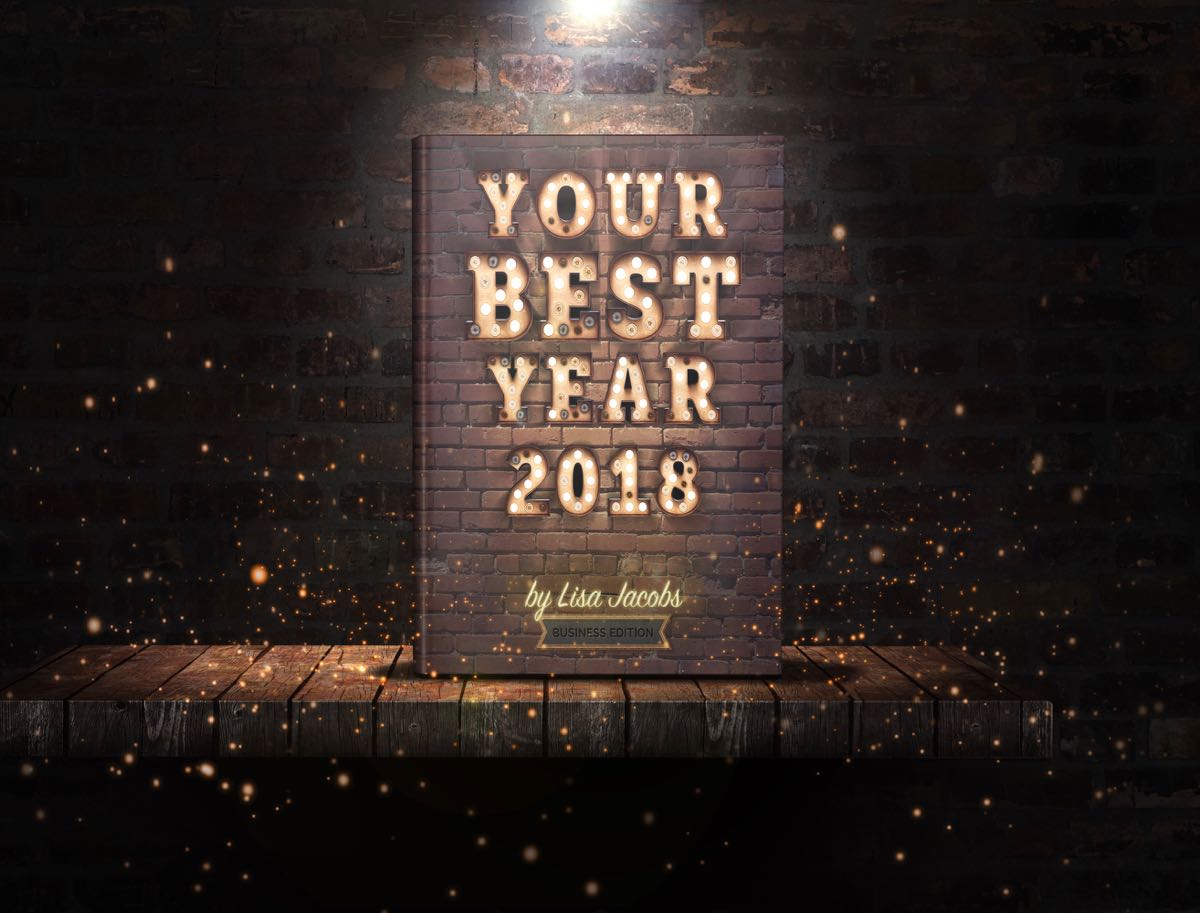 Buckle your seat belts. This is the biggest, baddest Your Best Year yet. I set out to write the book with lofty goals. I wrote it because I want you to find and embrace unlimited potential. I want you to accomplish whatever it is you set out to do for the betterment of your life and business. I want you to obliterate time-wasting inefficiencies, mindless busywork, and bad habits.
You will leave this year's edition feeling motivated and empowered. I'll show you how to get an edge over the competition and dominate your industry. With this book, you will finally take command of the results you create.
My friends, there's never been a book about online business like this before. Your Best Year is the *only* workbook on the market that encourages a fluid long-term plan designed specifically for online entrepreneurs. You will find all of your favorite tips and exercises from previous editions, and so. much. more.
I've finally figured out what it takes to make it online. While I've always had an entrepreneurial spirit, I haven't always known how to be a successful entrepreneur. I've since mastered the basics. This book takes my proven systems and methods, and shows you the way.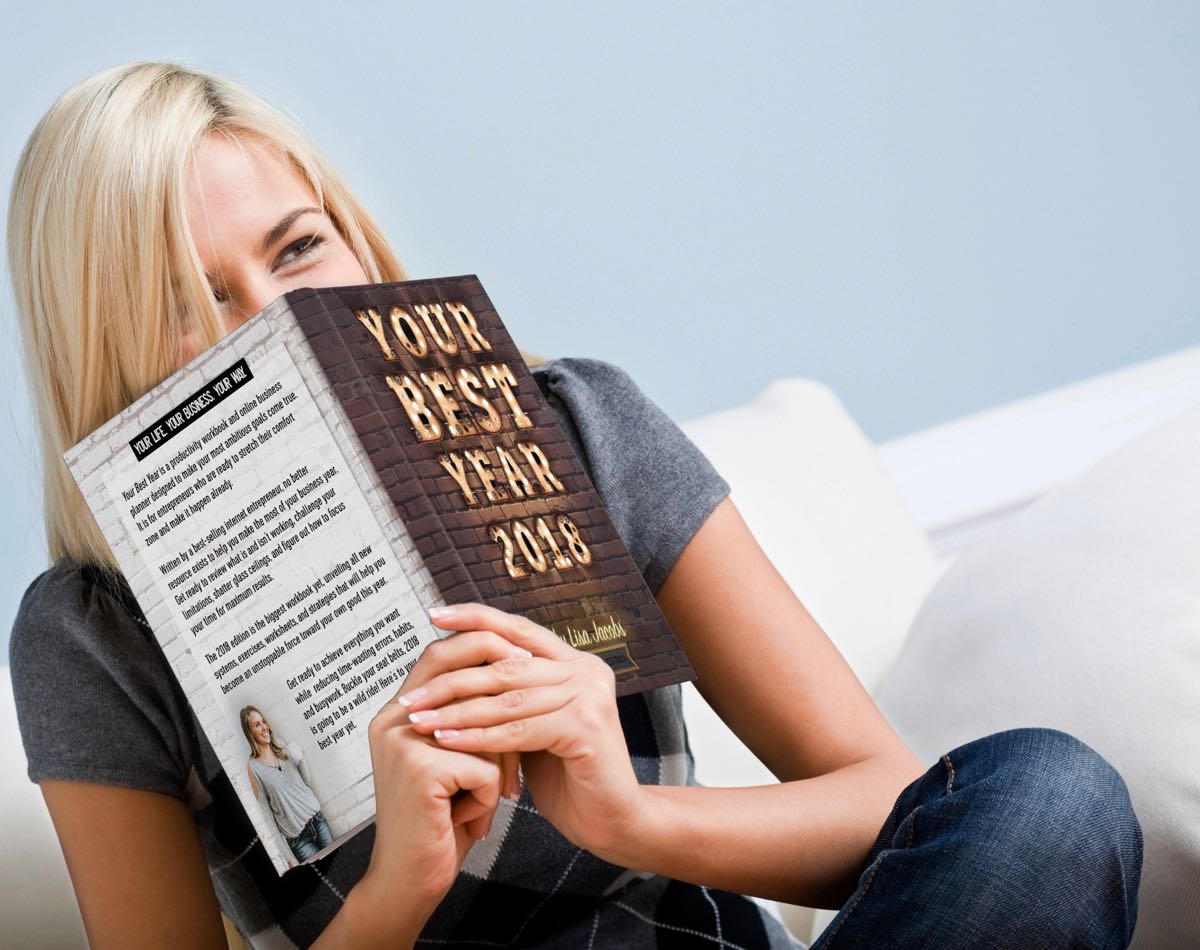 What to Expect
Right from the kickoff of Your Best Year 2018, I'm going to speak to the next level YOU. I want to appeal to her, strengthen her, and help you bring her to life. It's your time, and you're going to take it to the next level this year. It's going to be hard work. At times, you'll suffer discomfort (and that's okay, you'll survive). If, and only IF you agree to learn, adapt, evolve, and endure, you will thrive. You'll reach peaks of personal achievement you never thought possible.
The vast internet in which we do business is as scary and unforgiving as the mighty jungle. It's easy to get lost. You'll feel overwhelmed and outmaneuvered. It's easy to panic. You might get eaten alive, and there's a very high probability of failure.
That's why, in Your Best Year 2018, I will teach you lessons of survival and endurance. With this book, I want you to become an unstoppable, relentless force toward your own good.
You'll get a refresher on the fundamentals: you'll review what's not working, identify what needs to change, challenge your limitations, and figure out what to focus on. You're going to ask yourself the question that shaped this book …
How bad do you want it?
Oh, yeah! Hold onto your hats. It's going to be a wild ride.
Your Best Year 2018
Your Best Year 2018 will help you tackle the next level that eludes you. It's a monster, hungry for your obstacles and starved for your achievement. Are you ready to feed it?
This workbook contains dozens of exercises arranged into thoughtfully planned sections to help you make the most of the upcoming calendar year. At the start of the book, we'll discuss what it really takes to reach your goals in online business and beyond. You'll find new ideas on survival and endurance that will help you get your mind right for the battle ahead.
Next, you'll assess the current status of your business and what you're up against. This will help you measure the distance between where you are and where you want to be.
You'll then create a clear vision of the goals you plan to reach, to include all of the motivating reasons you want to achieve it. I'll help you build a strategy that will empower your annual goals. This section of the book will ensure your success.
Finally, you will create an airtight schedule for when you'll work and what you'll focus on. Your monthly action plan will help define what you need to do in order to create and attract the success you crave.
Your Best Year 2018 includes …
Prompts, goal-setting exercises, goal-prioritizing exercises and tough questions that MUST be answer in order to have an organized and successful creative business.
Trackers and review to help you make the most of your time with high-efficiency and focus.
A place to capture your wins each month, a record of review, a focus on the five pillars, a record of memorable moments, improved habit and performance trackers, a revolutionary goal-setting system, a revolutionary goal-setting worksheet, and a mix of instruction and application.
Refreshers on all the fundamentals you've loved in the past: what to focus on, how to trust your business to provide, how to spend your working hours, and more
NEW! Monthly calendar spreads—I brought this back for so many of you who missed them in the 2017 edition.
NEW! Introductory chapters that will help you make the most of your business' highs and lows. You'll leave this new instruction empowered to make extraordinary changes in both your life and business.
NEW! Examples for every worksheet. No more guessing what an exercise means, examples follow each exercise or instruction.
NEW! Instructions on how to use this workbook. A whole new opening that will pump you up from the beginning!
NEW! Coping methods and survival techniques specifically curated for online entrepreneurs.
NEW! Decision-making tools that will launch you into the leader's circle.
NEW! Vision for success worksheets and creative prompts.
NEW! Fear-naming exercises and helpful insight.
NEW! Motivational worksheets to keep your engine running and your creative juices flowing all year long.
NEW! Monthly tracking tools, weekly reviews, unfinished business eliminators, daily scorecards, and more!
Seriously. You've never seen Your Best Year like this before. It is EVERYTHING you need to create a successful, record-breaking, goal-getting year. Once you get the review and strategies out of the way, it's time to take action!
The new system will have you prioritizing your monthly goals, assessing your professional strengths and weaknesses (thereby teaching you exactly what to showcase and what to train for), and always identifying ways to improve your work – life balance.
Official launch date is October 17. Be on my email list to receive exclusive pre-order discounts and early access!
All New! Life Edition
Over the years, I've figured out how to maximize my efforts toward personal achievement, and I teach tens of thousands of business owners how to do the same through this book.
I've since realized that online entrepreneurs aren't the only ones starved for accomplishment! For years, people asked me if the business edition of Your Best Year would work for them too. They buy the book, skip over the entrepreneurial stuff, and apply the same proven systems and methods to their life goals to produce fast results.
This year, I thought I'd make things a little more convenient and a lot more useful: A life edition just for you!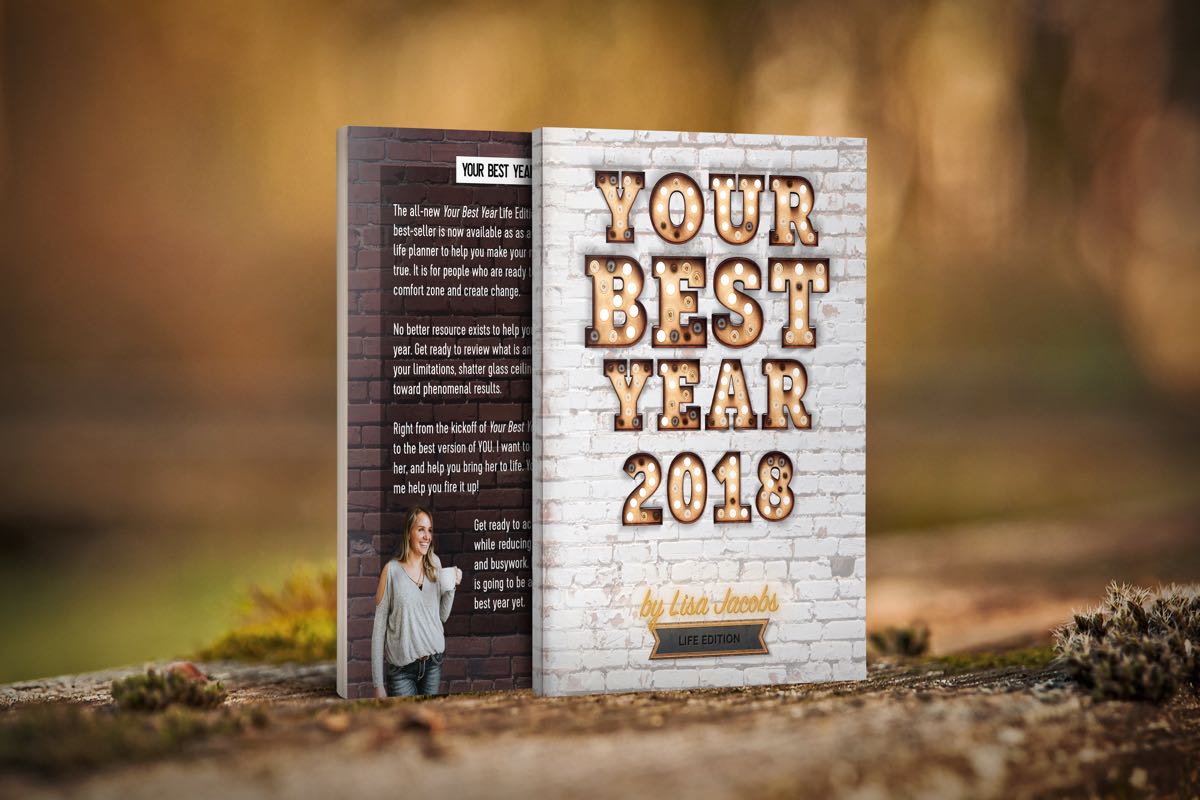 Official launch date is November 7. Here's to Your Best Year yet!