This is the monthly blog income and expense report for August 2017, in which I'll tell you how I earned $50,534.32 last month (working from home, running my online business). Because this year, I'm going to drop real numbers in your lap to show you exactly what can happen if you stick with it.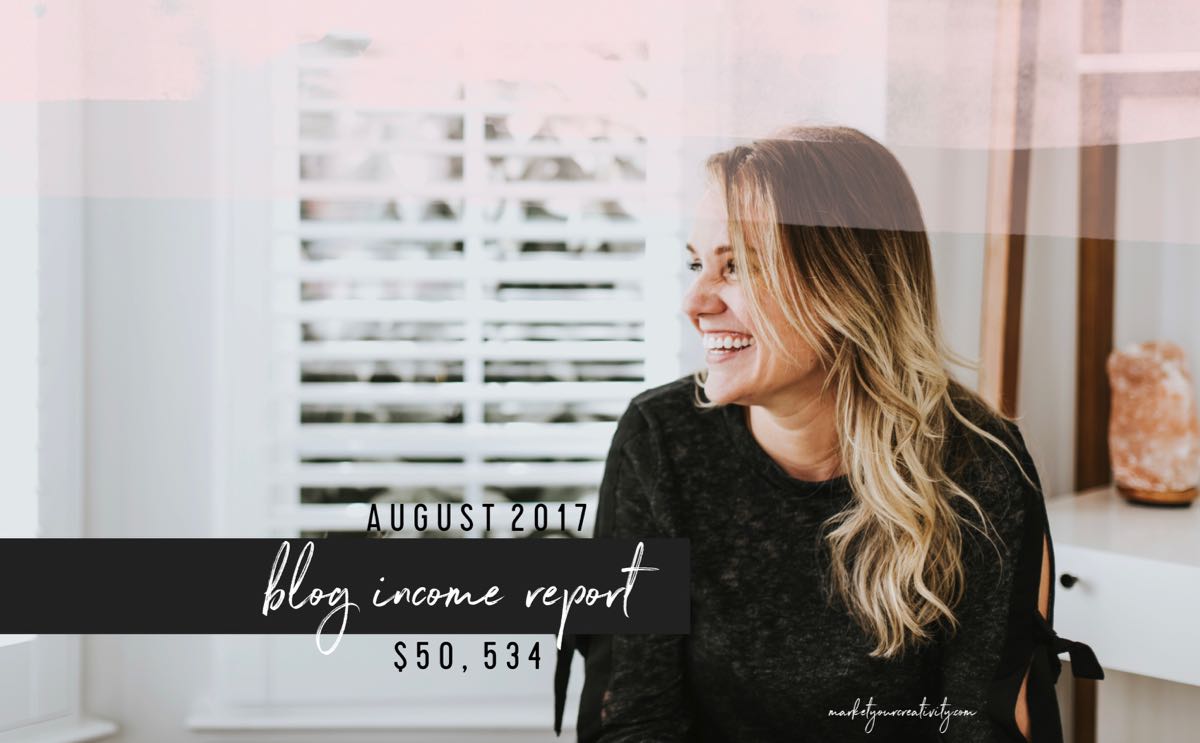 I'm committed to sharing these income reports to show you how important it is to barrel-roll through the uncertainty. Your hard work and persistence will pay off!
Income report—August 2017
Luminaries Club Membership Dues: $43,840
Complete Copywriting: $2,449
CreativeLive royalties: $2,048.63
Your Best Year 2018 launch party: $1,625
Direct sales Marketing Playbook: $285.73
Direct sales Your Best Year 2017: $101
The Luminaries Club enjoyed a grand re-opening (see Lessons from the Luminaries Launch just below this write-up). The club is my signature offer and it earned $43,840 this month in a combination of installment plans and one-time fees. It's a thriving membership of inspired entrepreneurs. I'm pleased to say you'll now be able to sign up at any time! Click here to learn more.
Complete Copywriting is my signature course, and it re-opened for enrollment back in January. It continues to perform well and welcome new students. It earned $2,449.
Every quarter, I receive royalties for two CreativeLive workshops I've filmed, Copywriting for Crafters and Turn Your Etsy Shop into a Sales Machine. I love everything about teaching on CreativeLive, and it's delightful to see my hard work paying off years after the class has wrapped.
I'm hosting a Your Best Year launch party + workshop in my hometown of Ashburn, VA this October 5. Tickets became available in July, and sold another $1,625 in August.
My current books on the market are Marketing Playbook: Scale Your Online Business to Outrageous Success and Your Best Year 2017. All totaled, they earned $571.59 in August.
Total income for July 2017: $50,534.32
Y•T•D Total: $195,209.42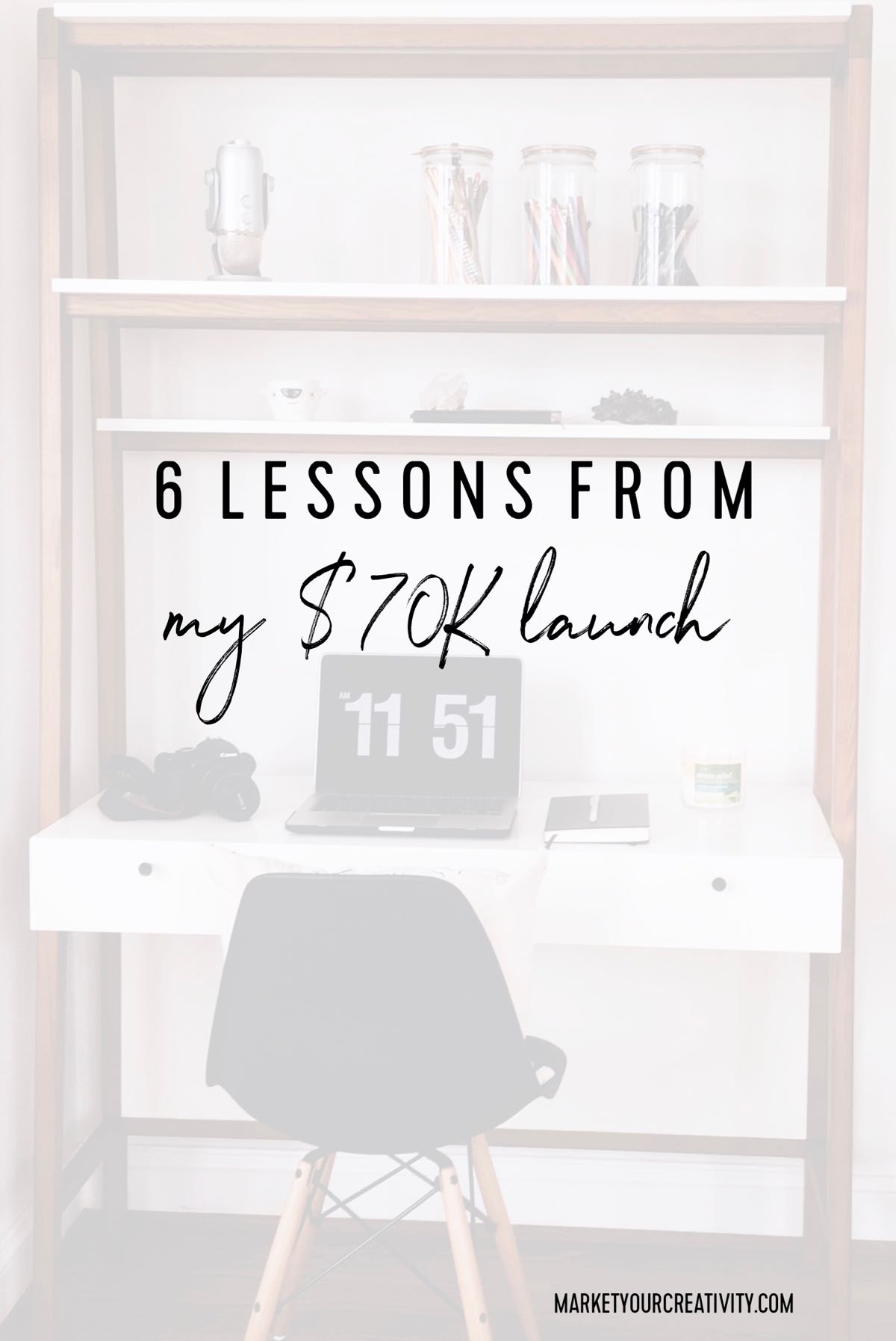 Lessons from the Luminaries Launch
What a month! I'm writing this only a day after the launch ended, and it feels too soon. I have yet to recover from the hectic pace of it all, and I find myself having to put my nose right back to the grindstone for the upcoming launch of Your Best Year 2018.
Not complaining! I love this time of year.
The Luminaries Club launch made $43,840 in its opening, and will collect just under $30,000 in the coming months (from members choosing to pay in installments). That's almost double the last launch strategy I shared ( > click here to see a breakdown of my $40K course launch <, and at $50,534.32, this is my highest earning month to date.
Here are a few things I did differently this time:
1. I collected testimonials.
This feels like a century-old strategy, but I absolutely avoided it (until now). My clients are constantly telling me, "It worked!" And they're talking about my 6-figure-earning sales campaigns, copywriting secrets, and email scripts. But they're only surprising themselves—I already know it works! I don't teach anything I haven't already tested (and proven) myself.
For years, readers have been asking for honest reviews, stats, and shared results of other club members. For years, I denied this request. Our private group is a feed of accomplishments, income increases, big sales wins and more, but I fiercely protect members' privacy. I felt that their hard-earned results weren't mine for the sharing.
Last month, I asked if they cared to share what they've accomplished. The reviews came pouring in, and their results are astounding. I loved putting a spotlight on their success. I shared club members and their stories with both blog readers and email subscribers alike. It's something I'll continue to feature here for months to come.
For the launch, I showcased …
There are dozens more to feature, but this was what I had time to publish during launch week. Once published, I mentioned each review 2-3 times in follow-up emails.
2. I opened a members-only affiliate program.
This was a spontaneous decision based on two things: (1) I realized how well the testimonials were selling the club for me, and I wanted to give contributors the chance to earn a commission for that, and (2) I found myself swept away in someone else's affiliate program, which was done incredibly well, just a few weeks before my own launch was set to roll out (Denise Duffield-Thomas' Bootcamp). It was extremely motivating and fun, and I used theirs as a template for my own campaign.
This decision put me a full two weeks behind schedule. For every three clicks on the user's part, I swear, I built thirty-eight pages, links, and uploads on my end. It was incredibly time-consuming, but I knew it was one-and-done once it was finished. Running this program will be a breeze for future launches.
In its first run, the affiliate program cost more than it earned, but there isn't much I would change. I'd rather give advertising funds back to club members who are spreading the word than spend it blindly on Facebook ads. I know this is going to be a stellar program in the near future, and I look forward to next time.
3. I created free training in the form of a 3-part video series.
This had been on my agenda for more than a year, so I was glad to make it happen (and the affiliate program forced it into a reality—I needed an interactive series where interested new visitors could land).
>>> Click to check it out: Become a Best-Selling Strategist <<<
It was well received, wildly popular, and openly celebrated; I'm so happy with the results. Thousands partook in the training, and I plan on making it an evergreen series that people can take at will.
4. The sales webinar was an epic fail.
It was where I was to reveal the third part of the 3-part Strategist series, but the webinar host I paid thousands for utterly failed me—the audio was atrocious on the call. Rather than motivate people to join, it only served to frustrate.
I'd worked all month for that hour; it should've been the club's biggest sales day of the year. Instead, it tanked and resulted in about five sales. (NOT GOOD.) My assistant, Jennie got bombarded with complaints about the sound in the chat. I got flustered, then frustrated as the hour went on. Nothing went right.
Rather than welcoming hundreds of new members, I found myself on damage control. I can't know how much that webinar actually cost me that day. I'll never give a third party the chance to ruin my presentation again.
5. I shortened the sales campaign.
Last year, I ran a 5 email sales sequence over a ten-day period and it earned $25K (I give the exact script away as a free gift in the free Strategist training linked above). My plan for this campaign was to run 12-14 emails in a two week period—my instincts were telling me to up my game. But then, I didn't—or at least not how I'd planned to.
Because of the affiliate program I'd created earlier in the month, I was flying this campaign by the seat of my pants. I'm glad for it; I needed to be at the controls the entire time. I planned to sell aggressively, no question, but the idea of being aggressive for two weeks felt off.
People have enough going on, this isn't the year, that wasn't the month, and it simply isn't how people want to be approached right now. I could sense it. So, instead of pushing the club, I just gave out the free training. It's something I want everyone to have anyway.
I emailed a total of twelve times in an 11-day period, all club related. They were well-spaced and conversational up until the final three days. I used an all-new script paired with a different approach. Later this fall, I'm going to organize everything I learned from this recent launch into a training workshop for the Luminaries Club, to include the latest email scripts I used for this $70K launch. 
6. I added moving parts.
Movement is an integral part of any marketing campaign. I felt like I never stopped moving during the launch period, and I added two moving parts to my sales pages: Proof and Deadline Funnel.
After I run a launch, I hear two frequent responses. One is, "I'm so glad I joined!" The other is, "I missed my chance, and now …
I'm kicking myself.
Moving parts contributed favorably to the final sales push. Proof is a pop-in that you can see on my >> club sales page <<. It integrates with your order form host (in my case, Infusionsoft) and your website to show who's recently purchased your product. It is an excellent form of social proof, and I credit it for increasing my sales page conversion by 619% last month.
Deadline Funnel provides a countdown timer, and since I had special offers ending, I had countdowns running on my 3-part video training, on the sales pages itself, and in the body of several emails.
As I was discussing the launch with new and old Luminaries alike, I asked those who recently joined, "if they had to credit one aspect of the campaign, what was the thing that ultimately sealed the deal for them?" I wasn't surprised at their collective responses, but I was surprised at the ONE thing that nobody said. (I'm not giving it away for free; it will be included in my upcoming launch workshop for the club.) This will help me apply the 80/20 rule next time around.
Online business is a rapid beast.
I had to up my sales game and about 10X my marketing efforts, and I proudly welcomed more than one hundred new members to the club.
Business Expenses
Staff, salary, and contractors: $6,440
Payment, host, and shipping fees: $1,853.41
Infusionsoft: $299
Office Supplies: $219.48
Education + Training: $591.99
Web hosting + software: $174.89
Meals, accommodations, travel: $75
Advertising: $7,404.04*
Affiliate commissions: $5,245.67*
Total expenses this month: $22,303.48
Y•T•D Total: $125,919.99

As with most months, staff, salary (mine), and contractors were my biggest expense in June. I recently wrote an absolutely *epic* guide to hiring. Please be sure to check it out! My hires help with …
shipping and handling (physical books)
video editing and production
webinar moderation
accounting
customer support
text editing
product creation
photography
transcription
tax preparation
branding, website design, and development (coming soon)
office organization and cleaning
business management
Etsy fees and shipping take up the bulk of the second line, but I've also included Paypal and credit card processing fees there.
Infusionsoft is my email and customer management software, as well as the host of my private membership and training programs.
Office supplies cover everything from pens and notebooks to office equipment (computers, tablets, etc.).
My web hosting is by Pagely, and my bill is only $24/month (sadly, that amazing price is no longer available to new customers; I love this service). I'm also using (and loving) the following software …
Proof (this little pop-up increased my sales page conversion by 619%, starts at $29/month)
Deadline Funnel (love the movement these countdown timers add, starts at $37/month)
QuickBooks Online
Meals, accommodations, and travel is a rare category for me, but it's happening more and more this year. This month it was just one meal.
*Most advertising and affiliate commissions won't be paid out until November, but I included the expense here, in the month they were earned. I have a members-only affiliate program through The Luminaries Club. Members earned $5,245.67 in commissions, and I offered $7K(!) in cash prize contests during the launch. The program was an absolute blast, and I can hardly wait until next time!
The Luminaries Club is Now Open!
We all talk a big game when it comes to our goals. We dream of becoming recognized and respected, relying on our income, and hiring help someday. In order to achieve that, you must create a better system and employ better strategies! You need a trusted advisor, one who has the experience and skills that will take you to the next level.
I'm officially applying for the job!

Join The Luminaries Club now, and get yourself situated. Come meet the amazing group of like-minded creatives already gathered among us. Take a workshop, start a course, or download from the e-library of information.
I've taken countless businesses from a state of uncertainty to top-selling industry leaders. Through my club, you'll learn how to thrive and endure in online business.
There's an unlimited amount of commercial space available to you, I intend to help you conquer every square inch of it.