Introducing The 20-50 Push: An updated reference to marketing your online business in this ever-expanding economy of online businesses!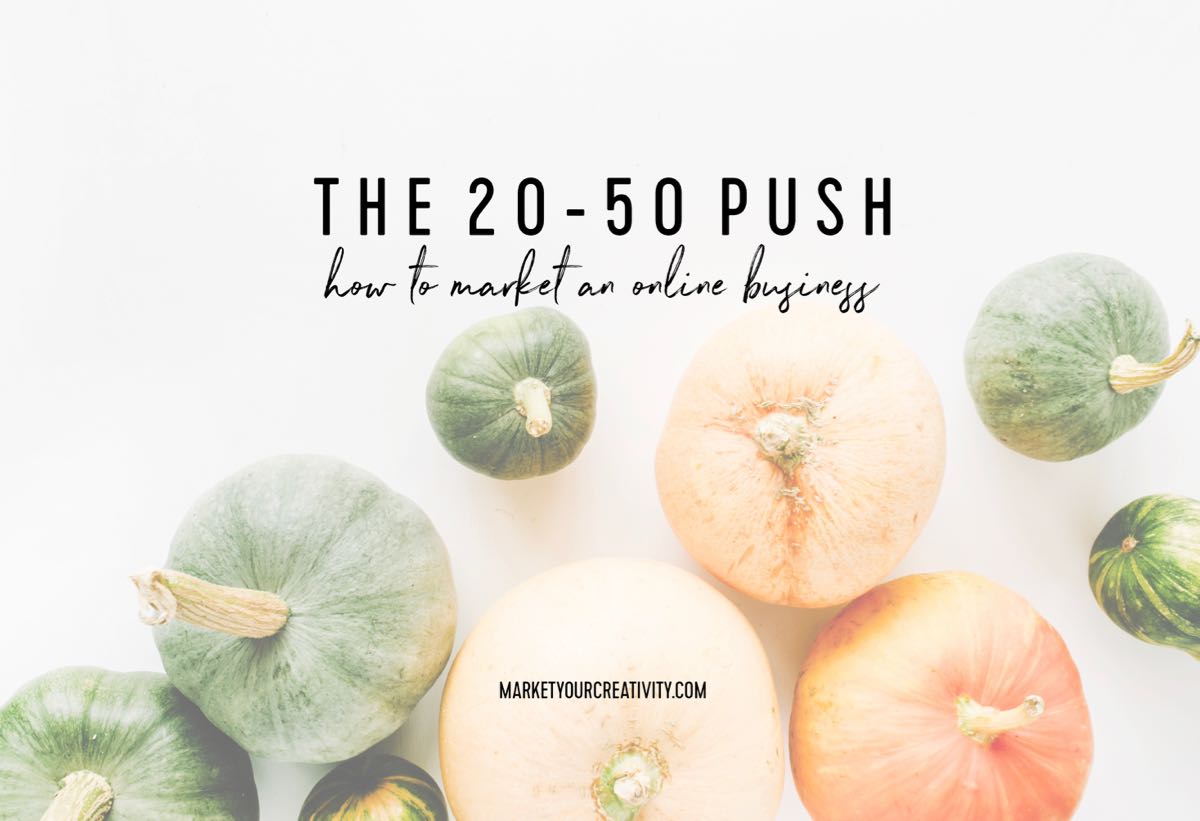 Your online presence should be strategically created as a web of touch points (website, blog, social media profiles, storefront, etc.) that all lead back to the hub of your business (your highest-earning point of sale).
For example, my presence online (my web of touch points) consists of books on Amazon, classes on CreativeLive, an active Facebook page with an engaged community group, a thriving Instagram account, a well-known Pinterest page, and a best-selling Etsy storefront. All things point back to the hub of my business and my highest-earning point of sale, Marketing Creativity (my website—you are here). 
Years ago, I taught the 7-Touch Rule to marketing for warm contacts. A warm contact is someone who knows and trusts you already, and a cold contact is someone who's just finding you for the first time—no trust established.
The 7-Touch Rule states that you need to present the offer at least seven times before a customer buys, and that's not to mean seven emails in a row, but rather seven touches from a variety of platforms. For example, you would email your warm contact three times, promote a post about your offer to your followers on Facebook so the same people (from your email list) would see the offer two more times, and then have Pinterest and Instagram running promotions in hopes the contact would see the offer on at least two more occasions.
The idea is to surround warm contacts with your offer within a short timeframe.
Additionally, I shared the 20-Step Guide to Advertising in which you have to advertise to a cold contact up to 20 times before they're interested. I referenced this article (written by Thomas Smith in 1885) for years.
Unfortunately, those rules have radically changed.
With social media, you're bombarded with sales messages in a most personal way at every turn. Therefore, it typically takes as many as 20 touches before a warm contact buys, and as many as 50 (!) introductions before a cold contact takes interest.
The 20-50 Push
Therefore, I introduce to you the 20-50 Push, and when I say "push" I mean intentional, promotional shares of your product or offer. Now, I know your marketing already feels like a lot. In fact, I suspect many of you aren't even following the 7-Touch Rule or the 20-Step Guide to Advertising from years ago, and it still feels like a lot more than would be natural for you.
If you laid your marketing efforts on the table and tallied how many times you share your offer with warm and cold contacts alike, I can almost guarantee you're not reaching out to buying customers seven times during a sales period. And today I'm going to let you in on the big secret: your business requires you to make all seven touches and so much more.
The Warm Contact (20 Pushes)
With this rule and during your next sales campaign, aim to reach warm contacts 20 times (through direct contact, social media, and referrals). Create a tally sheet of the number of times you've shared the offer, but word of warning, it's always going to be a way smaller number than it feels like you're sharing.
For example, I just launched Your Best Year 2018; I feel like I've talked about nothing else for several weeks.
Actual number of promotions for my new book (so far): 6.
Have I received negative feedback and criticism for talking about it so much? Yes. I just got a complaint that I'm emailing about the book too much. (By the way, honey, you're on the wrong list.)
Are there hundreds of thousands of customers out there who would create phenomenal results if they only knew about the book? Yes, and that's what is important. That's what all of this is about.
It's not a business if you're not unapologetically asking for the sale!
In order to find the success you crave in marketing and sales, you must go boldly. During your next promotion, create a tally sheet and make sure you share it with the people who follow your business at least 20 times. If you want the results, you have to go out and create them!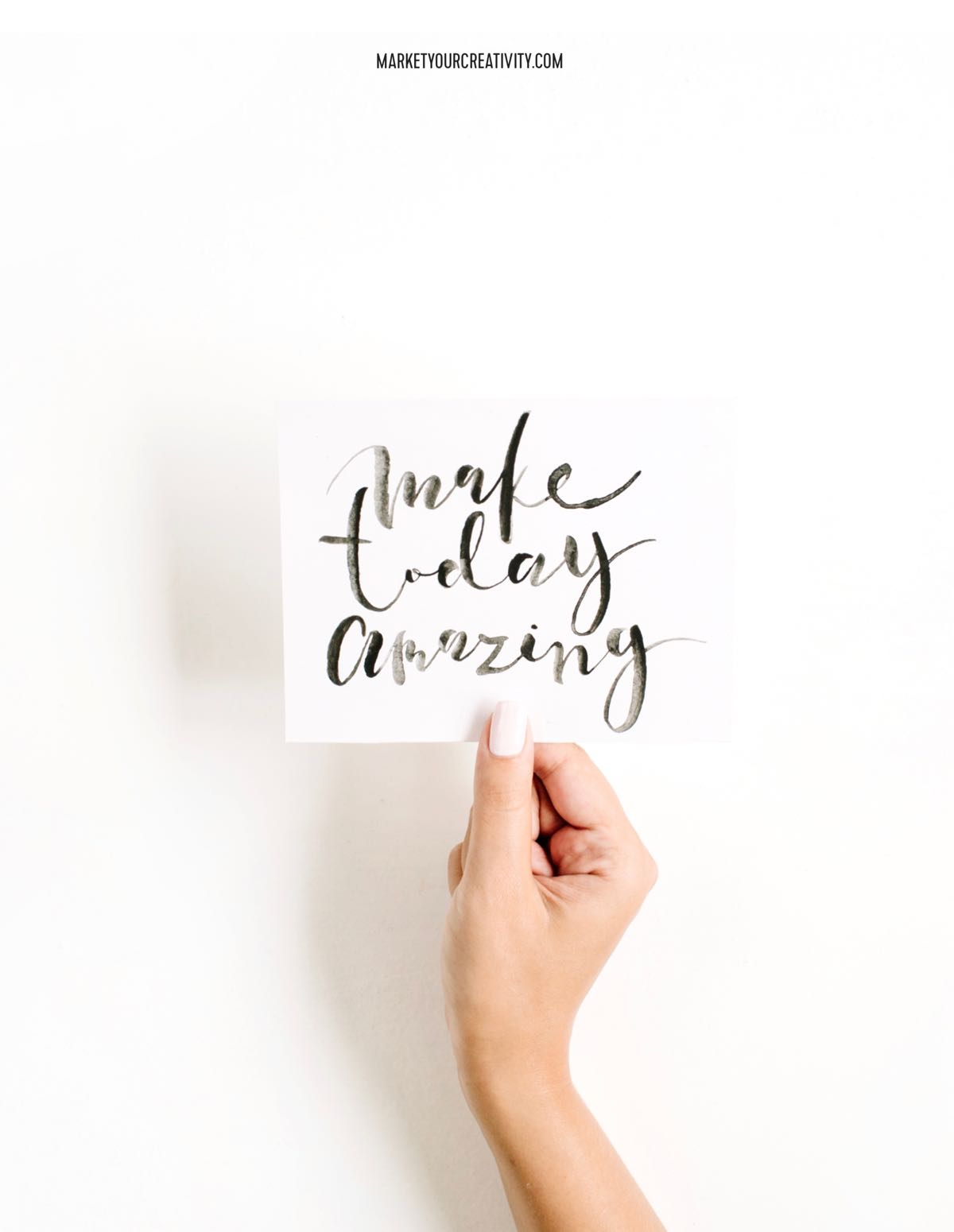 The Cold Contact (50 Pushes)
Next, let's talk about cold contacts and how to make an introduction 50 (!) times.
First of all, the good news: the 20 pushes you make to your warm contacts count here! People who don't know you will watch how you interact with your followers. They'll also observe how those followers interact with you.
This is called social proof (a psychological phenomenon in which we automatically like what we perceive as well-liked and popular), and it's a very good thing to have for your business. It supercharges the trust-building process.
The next 30 pushes will have to come from social media outreach (beyond your existing followers, usually achieved through paid promotion), alternative ad spend, and/or affiliate partnerships. In order to expand your business and reach new customers, you'll need to promote your business consistently with a long-term strategy.
This means different things to the many different types of businesses out there, but I'll give you example of how it looks for my business. Feel free to adapt and apply this to your own.
During a Luminaries Club enrollment period, I'll have twenty touches lined up for warm contacts. Let's say I share seven sales emails, six Instagram posts, and seven Facebook updates. (I also repurpose these into blog posts, tweets, and pins—none of which directly convert sales.) All of this talk about my offer and social sharing will naturally create a lot of movement around my business. Because of that, a launch or promotion is always a great time to catch the attention of new potential customers. Therefore, I'll invest in ad spend on Facebook.
Ad spend is always about selling the click, and never about selling the product. My ad spend "sold" my free training program, Become a Best-Selling Strategist. I promoted it to a very narrow target market because I'd rather reach the same customer 50 times than reach 50,000 customers one time. This increases my pushes, but it's much harder to track how many times each individual potential customer has seen the offer.
The next thing I did to increase my push count was to incorporate affiliate partnerships. I offered scripts and release dates to ensure that affiliates all launched my content at the same time and sent multiple emails. Again, the idea is to surround contacts with your offer within a short timeframe. Where possible, I also advertise to the affiliate's audience in order to increase sales for both the partner and myself.
By following the 20-50 Push, my last enrollment period resulted in $70,000 of new business and thousands of new email subscribers.
Start Small
If you leave this article to immediately share your promotion 20 times, you'll burn out yourself and your audience. Instead, start by incrementally amping up your output. I challenge clients to 5x their marketing efforts for a week to see if it's something they could maintain long-term.
For example, let's say you normally share five posts/week on Facebook (this article assumes that you've studied the platform and your ideal customer so that they're connected and engaged with your shares—if not, focus there first). Multiply your output by five, and share 25 posts this week. Practice spreading the word, so you'll be ready to launch your next promotion in the biggest way possible!
Here's to Your Best Year yet.