I know many of you are trying to decide if The Luminaries Club is right for you. I asked club member, Megan Smidt of Your Coach Meg to share her thoughts, and below you'll find her story and review.
During my 10-year career, I've personally built and succeeded at two different types of businesses. I refer to both of these in examples throughout my private training programs. The first was a product-based online store, The Energy Shop. I marketed that shop to sold-out success, and during its run, it was in the top 2% of highest earning storefronts on Etsy.
The second is my service-based business and blog, Marketing Creativity (you are here). I offer marketing strategy in the form of books, online courses, and private consultations. My revenue exceeds a quarter of a million dollars annually, putting me in the top 8% of highest earning websites on the internet. Bottom line …
I know how to make businesses make money.
I can teach you how to get better results too.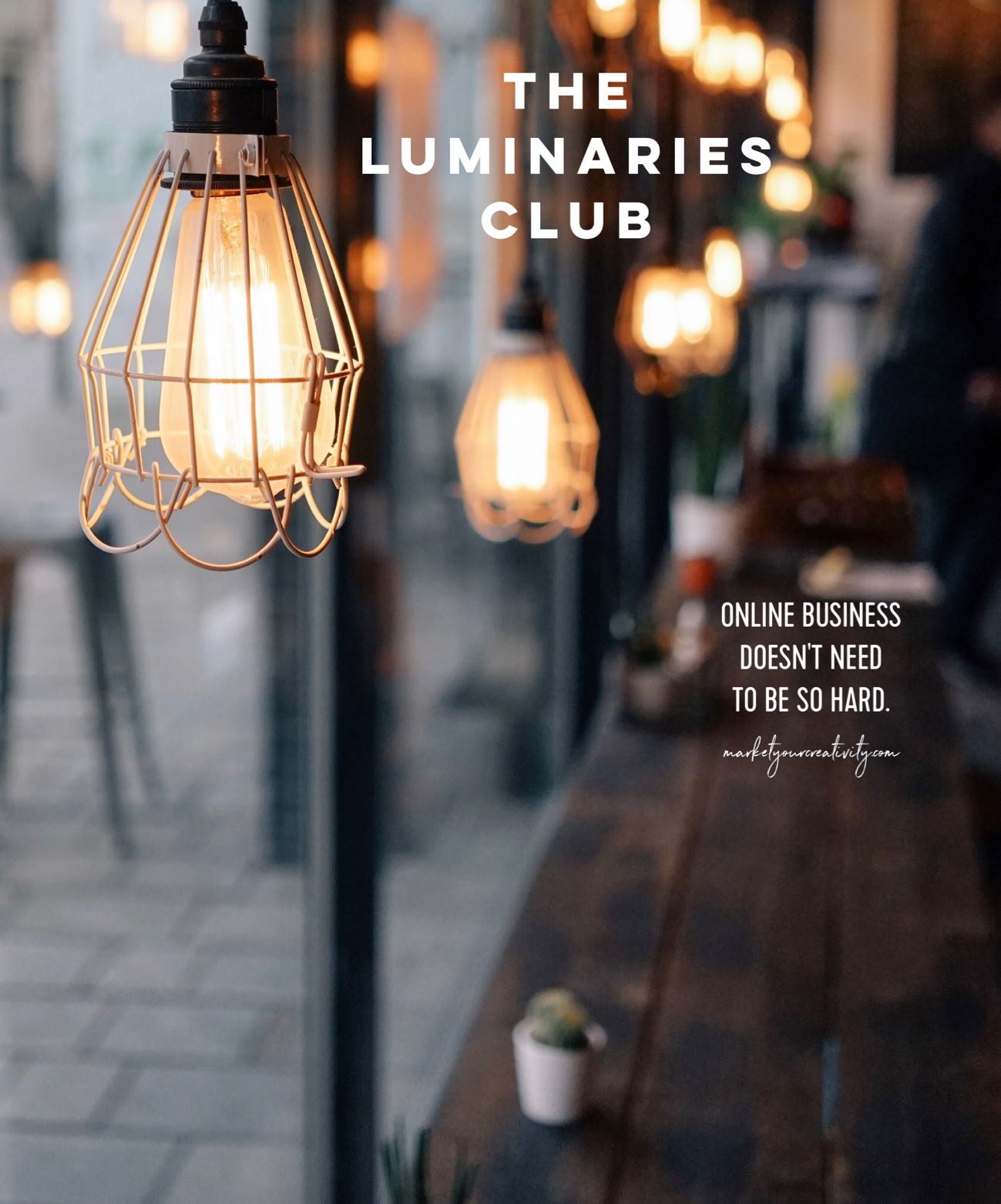 Over the next few weeks, I'll be spotlighting members of the club and sharing their reviews publicly. I have no words to express how proud I am of this group and their ongoing commitment to their individual callings. The Luminaries take the knowledge and strategies they learn inside the club, customize it to fit their businesses, and work hard to create better results every day. If you're bringing the same dedication and persistence to your career, I can help you channel your efforts into extraordinary results.
Megan is a certified life coach whose motto is: Life's a party… let's plan it! Both her website branding and online persona are so alive, it's difficult not to be drawn to her. In Marketing Playbook, we applied her marketing system to the customer flowchart to show the online presence Megan has built for her business.
Megan on The Luminaries Club

Megan has recently turned her part-time hobby into her full-time profession. Through Lisa's training and online community, Megan is now celebrating being booked to capacity for the first time in her 7 years of business! We are so proud of the progress she's made, and we know this is just the beginning
What's something we should know about your journey thus far?
My business was a "part-time hobby" up until February 2017 when I rebranded and went into full-time biz mode.
Why did you hire Lisa to help?
Most of what I see other life coaches do is boring and not great business! I wanted to specifically learn from creatives.
What are some of the biggest challenges you've faced in business?
One of my biggest challenges has been setting up a sales funnel so that all of my marketing efforts work together as a cohesive whole.
What have been your most helpful takeaways from the Luminaries Club?
To shut out all the voices! It's almost impossible nowadays to get anything done because you get bombarded with information. Lisa highly suggested shutting down other voices speaking into my business and that has made a HUGE difference for me in moving forward and not staying stuck.
I also found my mastermind business buddies through this group, which has made all the difference in my business!
Why are you excited to welcome more entrepreneurs to our club?
I strategically joined The Luminaries Club instead of a mastermind for other Life Coaches, specifically, because I value collaboration with other visionaries outside of my industry. I was looking to learn and grow with other creatives, not just life coaches. I don't want to do what every other coach is doing—that isn't who I am. In being a Luminary for over a year now, I have learned amazing strategies for my business from Etsy shop owners, bloggers, photographers, and other creatives across many industries.
This has not only opened up my business to amazing collaborations but also insight and innovation into my business that I don't believe I would have achieved just learning alongside other coaches. I have formed business and personal relationships with other life coaches and other amazing creative business owners though Lisa Jacobs and I believe that all of our businesses have thrived through the creative collaboration we have achieved across industries.
Thanks, Megan! You're a star.

You Like Growth and Expansion?
We all talk a big game when it comes to our goals. We dream of becoming recognized and respected, relying on our income, and hiring help someday. In order to achieve that, you must create a better system and employ better strategies! You need a trusted advisor, one who has the experience and skills that will take you to the next level.
I'm officially applying for the job!
Join The Luminaries Club now, and get yourself situated. Come meet the amazing group of like-minded creatives already gathered among us. Take a workshop, start a course, or download from the e-library of information.
I've taken countless businesses from a state of uncertainty to top-selling industry leaders. Through my club, you'll learn how to thrive and endure in online business. There's an unlimited amount of commercial space available to you, I intend to help you conquer every square inch of it.