One of my favorite annual traditions: My biggest small business lessons of 2017! As this is my seventh (and most profitable) year in online business, these are by far the biggest small business lessons I've ever shared. I've gone from a hobbyist's income to a sustainable multi-six-figure business (most of that progress occurring in the last two years). Here's what I learned in 2017 …
#1 Have Courage and Take Action
What your business pulls in financially says a lot about you. It speaks to how committed you are, the risks you're willing to take, the time and money you're willing to invest, and the success you believe you deserve.
I post my biggest lessons every year, and this one's a recurring theme. In last year's post, it was subtitled "Trust the Business to Provide." The year before that, "You are 100% Deserving." And the year before that, "Invest in Yourself." Each of these is a way of describing the exact same concept!
In order to make it happen in business, you have to know—on a cellular level—that you can and will be successful in your pursuit. You have to force yourself to take the leap time and time again. You must take the actions everyone else shies away from in order to stand out in the crowd.
If your confidence wanes, so will your determination.
You can no longer pump the breaks, doubt your abilities, or second-guess your direction. Don't *hope* you'll hit your target. Have the courage to do a barrel roll through it. There's no room for uncertainty, and there's no time for hesitation.
While everyone else talks about what they want to do or what they wish they had, be the one who's brave enough to actually go do and get those things.
#2 Always Work Off the Next Level List
What do you need to do to next level? <<< That was the most important question I asked in this year's Business Edition of Your Best Year 2018. Here is the journal page where I asked and answered that question for myself in 2017: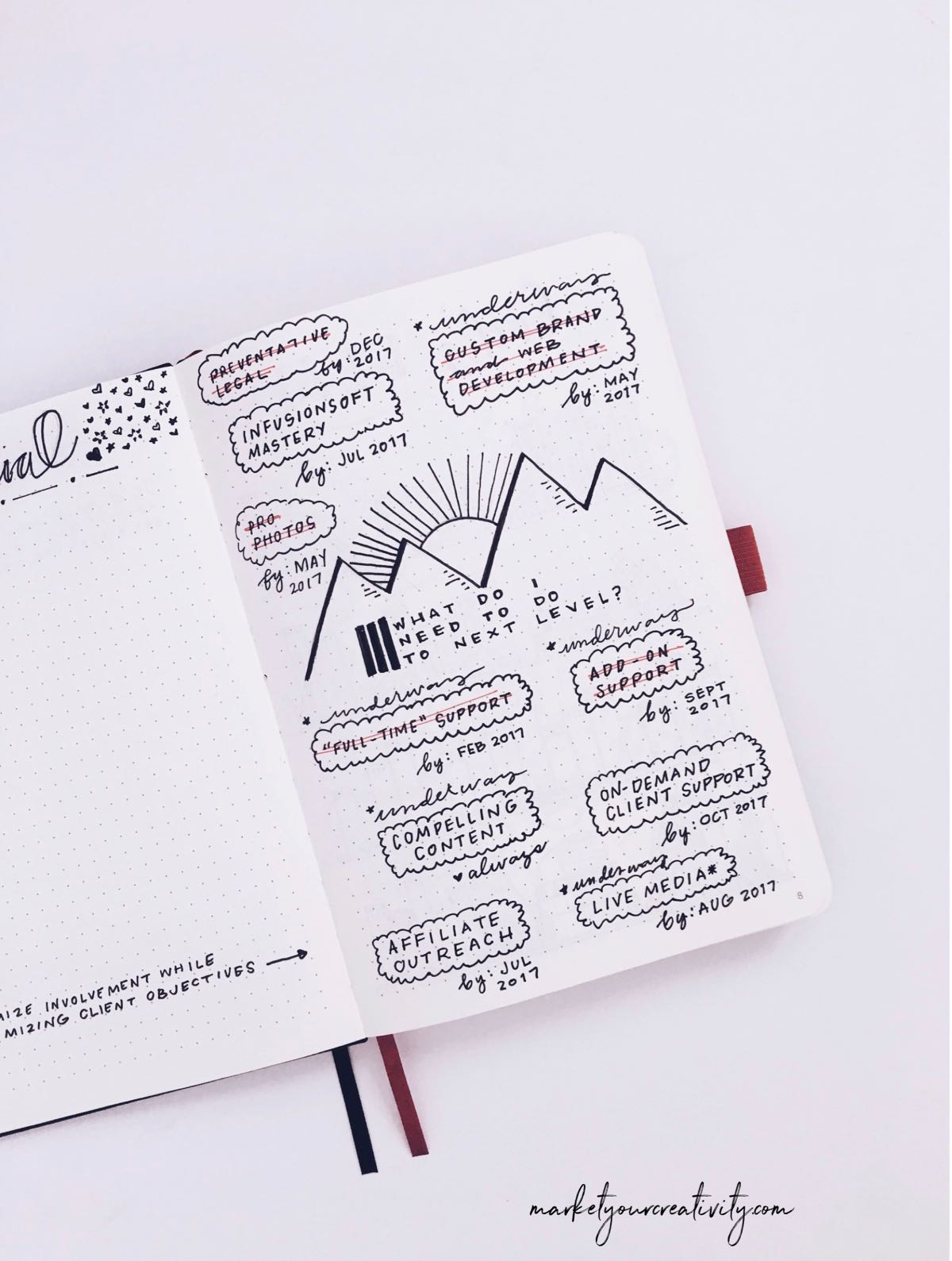 It takes a brave person to answer this honestly! Only the most courageous high achievers would set an actual deadline (in this calendar year) for getting it done, trust me.
Make your own next level list for 2018, and think of it as a mental head start. You can do all of the things you write down; they're 100% doable. Is it going to be easy? No. Comfort is easy. Complaining is easy. Constant low-grade dissatisfaction with your life is easy and common. The next level is uncommon and extraordinary. Write down what you need to do, and you're on your way.
#3 Identify Your One Thing
Earlier this year, I read The One Thing: The Surprisingly Simple Truth Behind Extraordinary Results by Gary Keller and Jay Papasan. If you have a tendency to overcomplicate your schedule, lose focus, and get in the way of your own progress, I highly recommend it.
Their "focusing question" summarizes the book's message beautifully, and it's worth the cost of the book alone, but I'll give it to you for free: "What's the ONE THING I can do such that by doing it everything else will be easier or unnecessary?"
I thought about that question this year for my business, as a whole. What's my ONE THING such that by doing it everything else will be easier or unnecessary? The Luminaries Club is the answer, and has been for years (since 2015). In fact, every time I do a New Year review, I set a goal to attract a set number of new members. New members keep my business running, keep the club fresh, and keep me doing fulfilling client work that I absolutely love.
Inevitably, February hits and the New Year's frenetic energy starts to wear off. I get restless and chase new ideas. I write new books, frantically develop new content, and try to come up with the next "big thing" to offer. Only, big things aren't simple things. The one thing (The Luminaries Club) falls to the wayside as I lose my way chasing random ideas.
When I forget my one thing, I lose direction. 
This year, no project was developed unless it pointed to or enhanced The Luminaries Club in some way. Next year, my work there will get even more intense as I develop workshops, group masterclasses, and one-on-one support for members.
The idea was even further reinforced when I attended Denise Duffield-Thomas' conference in New York City, and she said "all roads lead to Money Bootcamp" (her signature offer). Where do all your roads lead? Speaking of conferences …
#4 Networking's Not for Everyone
During my mid-year review, I realized that I was lacking business mentors and a mastermind group. I sought out some conferences to attend, created an in-person workshop of my own, and booked a call to learn more about a paid mastermind (that was supposedly only for businesses earning 6-figures or more).
Outside of my own workshop, most of these fell way short of my expectations. The paid mastermind (to the tune of $20,000) was the most disappointing of all—I didn't sign up, but the person offering it didn't even bother to check out my business model before asking me for $20K on the sales call! Ugh. It was so inauthentic and uncomfortable; the idea of masterminding just left a bad taste.
Traditional networking is not for me, but real, authentic, organic friendships are my cup of tea. For years, I've been trying to fit a square peg in a round hole—taking my introverted self, by myself, to conferences, workshops, and business networking events. They make me downright uncomfortable unless I'm leading them (and in charge of the event) or attending with a friend I deeply trust.
I hate explaining myself to strangers! Even after years of public speaking, the mandatory "stand up and introduce yourself" at conferences causes me to have an internal panic attack. I don't trust my legs to get me out of my chair as the introductions make their way to my table.
I've noticed that some people love their turn at the mic. I very much enjoy watching them soak in the room's attention, and I find myself fascinated by our differences of personality. And it's weird, because I love to participate—raise my hand, answer questions, and get involved, but only after I get comfortable with the teacher, the material, and the vibe of the room.
This year, I learned that there were better ways to find mentors and masterminds. First, I only go to conferences to see a mentor I really admire—no more conferences for conferences' sake! I've attended too many networking events trying to connect with like-minded entrepreneurs, even though I had no idea who the speakers were. That has never ended well for me!
Instead and in October, I went to see a mentor I've admired for years online (Denise Duffield-Thomas) with a trusted friend I've known for years (Kara Benz). It was the best event I've ever attended for my business. I felt comfortable with Kara and worried much less about the vibe of the room or explaining myself to strangers. I jumped into participating with Denise from the start, and I walked away feeling like I got so much out of the conference and my time in New York.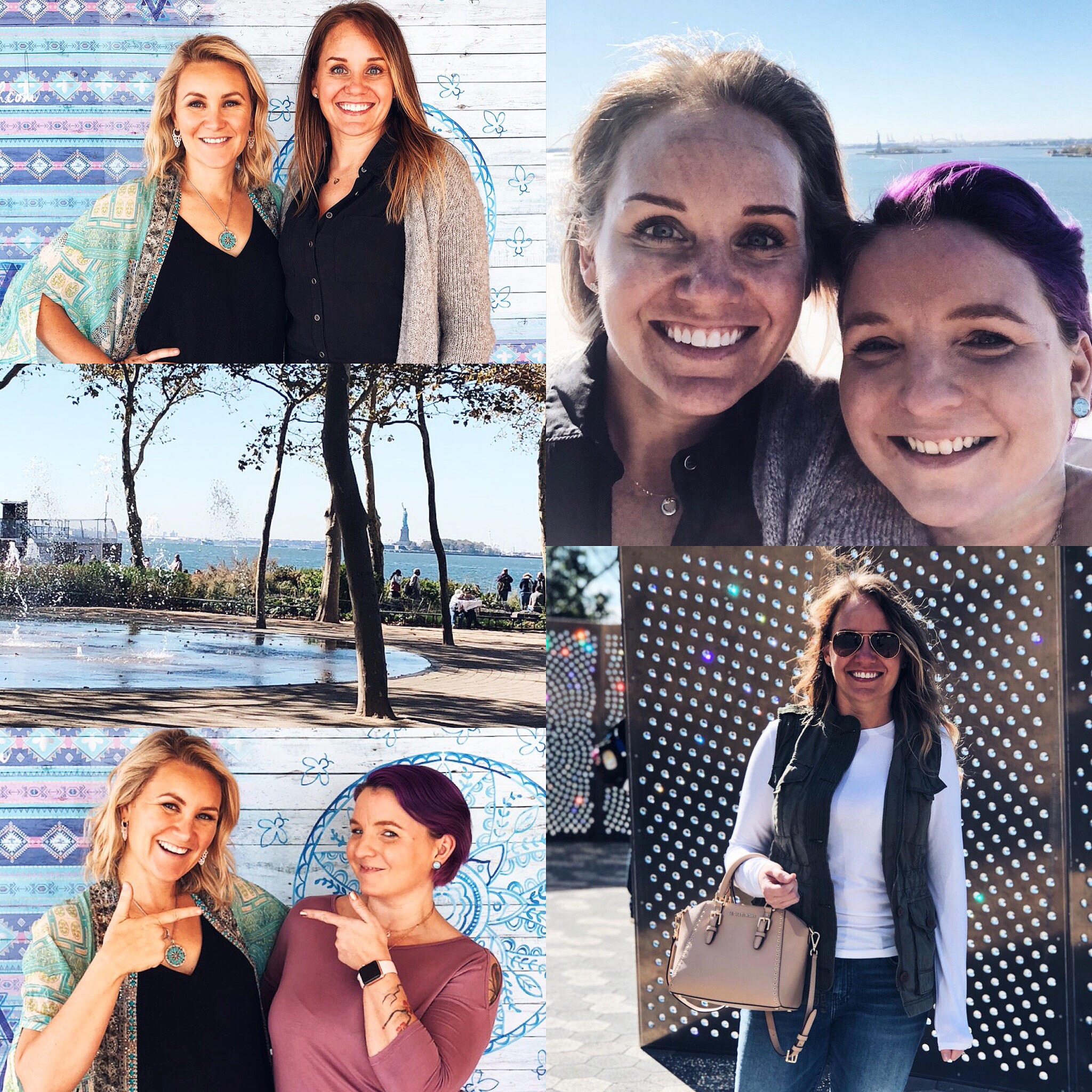 There is also magic in real conversations with trusted friends, and my business best friends are Kara of Boho Berry and Bonnie of Going Home to Roost. I uncover the best professional (and personal) takeaways from every talk we have.
They both came to my in-person workshop this year with their husbands (hosted in my hometown), and afterwards, we took our men to Top Golf so the ladies could talk business. 😉 That one October evening with them—where we could just be real and safe in sharing both our fears and pursuits—was more valuable than 12 months in any $20K mastermind group.
#5 You're Worthy of the Very Best Support
When it comes to staffing, I have a different outlook than most. As a creative business owner myself, I know it's hard to give up control on the little details that make up the work you do every day. It can also be nerve-wracking to take on the added expense. However, I figured out a way to alleviate both those concerns and so much more. >>> Click to read my Ultimate Guide to Outsourcing <<<
Contrary to a lot of advice on hiring, I suggest you first delegate the tasks that are easiest to give up, such as the housecleaning. The hiring process for household help is simple—at most, it's an interview, a reference check, and a brief discussion about what areas need covered. It gives you a chance to communicate and manage terms of employment. Then you let the pros do their thing.
No training necessary.
From there, you might move onto an assistant to help you with one or more items on your busywork list. Once you have an employee or contractor on the business' books, be sure to do regular performance reviews. This is one thing I failed to do this year, and I loved learning my lesson. When you first hire, being supported at all feels so good that you forget to question if you're being supported well.
Ideally, performance reviews should be tracked regularly and conducted at least bi-annually. As an employer, I suggest keeping a running list of pros and cons to be discussed at the meeting. Additionally, here were some questions I failed to ask myself this year:
Is my plate getting fuller or more spacious each month?
Is my support willing and eager to learn more?
Is our communication getting clearer or foggier?
Are our working systems getting easier or more difficult?
Are my requests being received the first time I make them?
Can I let go of the task and trust it will be executed to my expectations? If not, where is the breakdown in communication? How can I improve communication? How can my support improve communication?
Is my hire in any way resisting the work assigned? Is their resistance slowing me down?
As time goes on, does my hire get better at understanding my needs? Does their support continually grow and evolve with me?
Am I happy with the work I'm receiving? What would make me happier?
Is my hire happy with our terms and agreement? What would make them happier?
As time goes on, does my hire's understanding of the business grow? Are they able to connect the dots and fill in the blanks without my constant attention?
If you can answer these positively, you're in a great spot, but that last question is a sure sign that your working relationship is moving in the right direction.
#6 Beware of the Third-Party Trap
There are three required parts to any online business: a website (or storefront) to sell on, an email manager, and a payment processor. Those are our must-haves.
Think about this: Who and what else do you rely on outside of those core 3?
Online business is a thriving industry, and third-party apps are feeding off of it. One place hosts your landing pages, another place hosts your calls, a different place hosts your videos, another site schedules your appointments, another app provides your countdown timers, and yet another app connects all those apps together.
That's where things go awry for you, the business owner. Rather than have one system that does everything, we are relying on countless subscriptions and services to jerry-rig our businesses together.
Earlier this year, I was using Leadpages until they stopped integrating with Infusionsoft (my email manager). Leadpages support informed me that it was Infusionsoft that was no longer integrating, but remember the three required parts of an online business! I didn't sign up for Infusionsoft to support my third-party apps—it was the other way around.
Once the integration had failed (costing me who knows how many subscribers along the way), I had to go through years of old posts and old forms to remove all the bad links and begin again with landing pages.
I had another falling out with Crowdcast, who couldn't handle the number of active viewers on my call—even though I'd bought into the "pro plan" every third-party upsells to handle higher traffic. The video and playback had terrible audio, and I watched it happen again to another professional with a large audience weeks later.
Not only that, but it didn't integrate with Infusionsoft at all, so I had to buy yet another "pro plan" with Zapier to subscribe viewer emails! What's worse, each of the emails came through that entangled web with some code attached to the front, so they're not even valid in my system.
Are you kidding me?
I don't see the third-party trap going away anytime soon, but I mention it as a public service announcement. You don't need them. They're not what's selling the product. You only truly need the 3 things: site, email manager, and payment processor. If you find an app that solves a problem or makes things easier on you, then by all means, enjoy it. I'm using third-party apps right now to add movement to my sales pages (countdown timers and pop-up sales notifications), but I avoid third-party subscription forms at all cost.
#7 Pay Attention to the Stories You Tell Yourself
Members of The Luminaries Club are working through our very first book club title, Claim Your Power by Mastin Kipp. It is intense, and together, we've been consciously listening to the stories we tell ourselves.
When I reviewed Your Best Year 2018, I proofread one of my example pages where I was discussing challenges and setbacks of the year. In that example, I said …
My worst setback this year was the summer; there were times when I completely lost faith and perspective. I couldn't see the forrest for the trees. I had recently moved into a much more expensive area, and for the first time, we were relying on my "less reliable" income. 
Upon review, it struck me how often I tell myself the story that my income is unreliable. It's a glorious income, and I work really hard for it. My husband has a traditional career, yes, and we've depended on it for much longer. However, if we had to count on one of us to earn a million dollars next year, I'm a way more reliable source.
Isn't that something?
I decided right then and there, no more calling my extraordinary income such a dirty word as "unreliable." What stories are you telling yourself about your ability to succeed and earn?
#8 Authenticity is the Way
Going into 2018, I'm going to stop doing #allthethings I feel like I have to do, and start doing the things I must do. You know, those things you can't NOT do.
There's a shift happening in online business, and if you haven't felt it yet, you will soon. I've been sharing real numbers with you lately (i.e., 30-90 Day Rule, 20-50 Marketing Push, etc.). That's what we have to do because that's what it takes right now, but trust me, I'm not happy about it.
That scene is about to burst like the U.S. housing market in 2008.
I think that, after the collapse, the real deals will be separated from the false claims. When clients ask me what to focus on now, in the midst of all the noise, I say:
Answer what calls you.
Do what your heart is calling you to do—those things that, deep down, you know you must do—and put what you "have to do" to the side-burner. That's why, in the middle of some turmoil, an unexpected extra workload, and a whole lot of launching, I'm also scheduling a lot of business travel into my plans for 2018. It's extra. It's extravagant, but it's also on my heart and that makes it a must-do.
Have-to's have to wait!
When I'm doing what's on my heart, I'm not worried about the impending marketing burst or what that means for my business or how next year's profits will compare to this year's. Because none of it matters. I'm here now, soaking up the opportunities and callings as they arise.
And this I know for sure: We all need to do a whole lot more of that.