This is the monthly blog income and expense report for November 2017, in which I'll tell you how I earned $71,476.90 last month (working from home, running my online business). Because this year, I've dropped real numbers in your lap to show you exactly what can happen if you stick with it.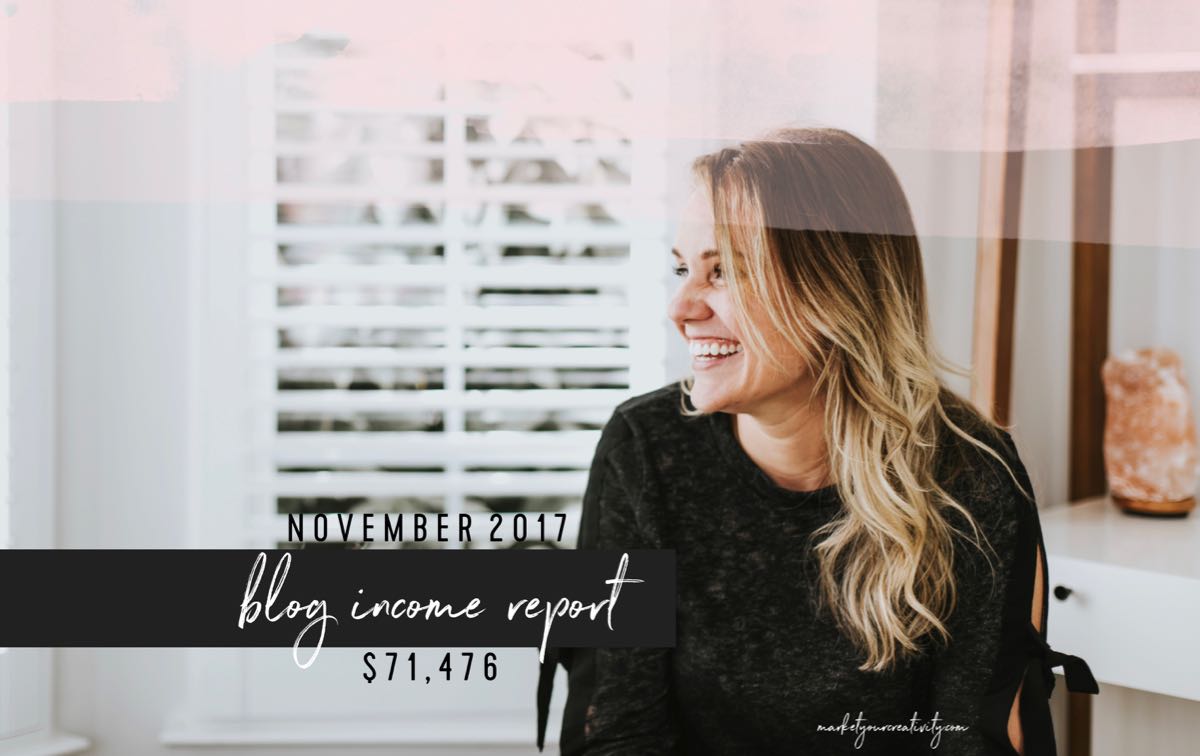 I'm committed to sharing these income reports to show you how important it is to barrel roll through the uncertainty. Your hard work and persistence will pay off!
Income report—November 2017
Luminaries Club Membership Dues: $40,790.50
Complete Copywriting: $2,027
CreativeLive royalties: $1,735.08
Direct sales of books: $21,482.09
Affiliate commissions: $2,676.10
The Luminaries Club is my private membership program. It earned $40,790.50 this month in a combination of installment plans and one-time fees. It's a thriving membership of inspired entrepreneurs. I'm pleased to say you're now able to sign up at any time! Click here to learn more.
Complete Copywriting is my signature course, and it re-opened for enrollment back in January. It continues to perform well and welcome new students. It earned $2,027 in November.
Every quarter, I receive royalties for two CreativeLive workshops I've filmed, Copywriting for Crafters and Turn Your Etsy Shop into a Sales Machine. I love everything about teaching on CreativeLive, and it's delightful to see my hard work paying off years after the class has wrapped.
Normally, I break income down by books sold, but with now four relevant books on the market earning sales and royalties (Your Best Year 2017 is still selling, in addition to Marketing Playbook: Scale Your Online Business to Outrageous Success, and two editions of Your Best Year 2018) that's too complicated to decipher.
Tallying them up sale-for-sale would take more time than I have to allot to income reports, so for the rest of the year, I'll share book sales as one category. All totaled, they earned $24,248.25 in November. A phenomenal month for Your Best Year 2018!
Total income for November 2017: $71,476.90
Y•T•D Total: $301,364.82 (—my highest ever with one month to go!)
Business Expenses
Staff, salary, and contractors: $4,011.73
Payment, host, and shipping fees: $4,080.39
Infusionsoft: $299
Office supplies: $337.09
Office storage: $1,237.81
Copies of my books: $3,410.28
Office equipment: $4,991.85
Education + Training: $220.76
Web hosting + software: $169.98
Meals, accommodations, travel: $1,034.07
Advertising: $2,119.48
Affiliate commissions: $12,035.60
Client/Contractor Gifts: $127.78
Total expenses this month: $34,075.92
Y•T•D Total: $186,194.08

What an expensive year it has been! I really considered 2017 one of investment. I front-loaded a lot of projects in hopes of creating long-term assets, I rebranded my website, hired professional photography and services to assist, and took on a salaried contractor. My salary payroll is also included in that year-to-date total (my business files under S-Corp status [U.S.]).
As we head into 2018, I plan on picking up more specialized contract help (lawyer, bookkeeper, graphic designer, customer support) working on an as-needed basis versus having one salaried contractor on staff. It was useful and productive to have a full-time virtual assistant this year, but also incredibly expensive and time-consuming to manage.
Etsy fees and shipping take up the bulk of the second line, but I've also included Paypal and credit card processing fees there.
Infusionsoft is my email and customer management software, as well as the host of my private membership and training programs.
Office supplies cover everything from pens and notebooks to office equipment (computers, tablets, etc.).
Office storage and equipment is a rare expense. Around this time of year, I always try to anticipate what the business needs in order to succeed in terms of upgrades and improvements. I use business profits on these expenses which helps ease the tax bill a bit, but more importantly, it ensures I'm fully equipped in the New Year—I can hit the ground running.
My web hosting is by Pagely, and my bill is only $24/month (sadly, that amazing price is no longer available to new customers; I love this service). I'm also using (and loving) the following software …
Proof (this little pop-up increased my sales page conversion by 619%, starts at $29/month)
Deadline Funnel (love the movement these countdown timers add, starts at $37/month)
QuickBooks Online
Meals, accommodations, and travel has been an underutilized expense category for me in the past, but I aim to remedy that in 2018!
The Luminaries Club is Now Open!
We all talk a big game when it comes to our goals. We dream of becoming recognized and respected, relying on our income, and hiring help someday. In order to achieve that, you must create a better system and employ better strategies! You need a trusted advisor, one who has the experience and skills that will take you to the next level.
I'm officially applying for the job!

Join The Luminaries Club now, and get yourself situated. Come meet the amazing group of like-minded creatives already gathered among us. Take a workshop, start a course, or download from the e-library of information.
I've taken countless businesses from a state of uncertainty to top-selling industry leaders. Through my club, you'll learn how to thrive and endure in online business.
There's an unlimited amount of commercial space available to you, I intend to help you conquer every square inch of it.