It's day three of the annual New Year for a New You series with me, Lisa Jacobs! Welcome back for your next dose of review and reflection. If this is your first year joining me, here's how it works: I'll offer you a new list of prompts and review questions every day through Tuesday, January 2.
:: Day 1
:: Day 2
:: Day 3 (you're here)
:: Day 4
:: Day 5
:: Day 6
:: Day 7
Each day, I answer the same questions and post them as examples. You'll find my thoughts from the previous day before the next set of prompts are issued. If you want to blog your answers as well, I'd love to read them. Please link up in the comments below or use #yby2018 on social.
At whatever place you start or pace you take, I'm honored you're here.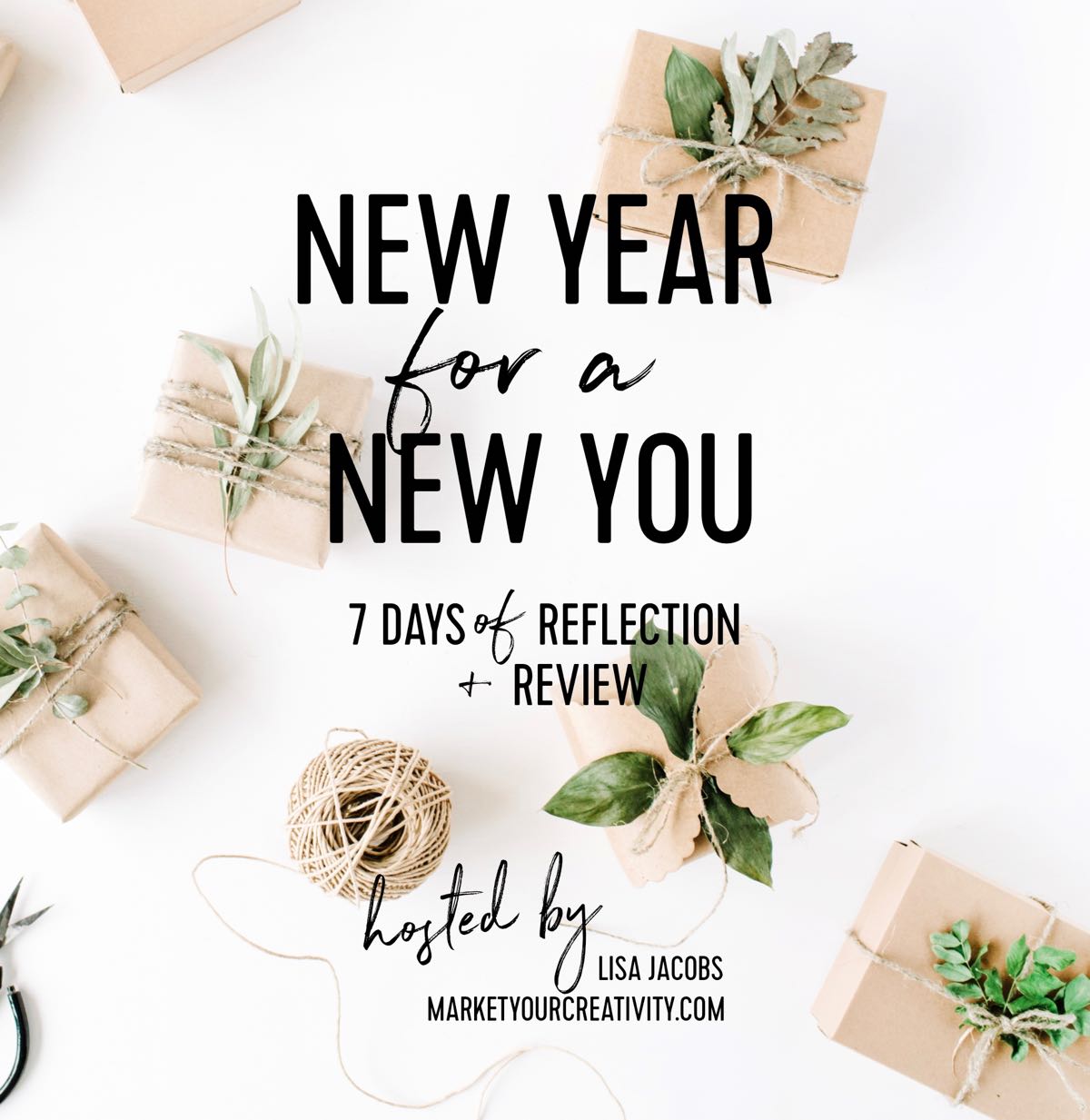 Yesterday, we continued the series with a list of ten questions that helped us review what wasn't working in 2017. The truth is, we sometimes get very comfortable with our obstacles, for one reason or another:
We like the nurturing attention it brings from the outside world;
We're addicted to the dramatics an unsolved problem creates; or (most likely)
We feel overwhelmed, uncertain and too scared to take the first step in the right direction.
In 2018, I vow to take steps in the right direction, no matter how overwhelmed, uncertain and scared I feel. Are you with me? GOOD! Here are my answers to yesterday's prompts …
Reviewing 2017
:: What was time wasted this year?
Time wasted was time worrying, especially during the summer months when my business slows. I aim to be much more appreciative and aware of the present moment in 2018.
:: What was money wasted this year?
I had answers for this a few months ago, but I'm feeling more protective about it right now. I've learned a lot about making money, bookkeeping, taxes, and smarter investments this year. The "wasted" category is small and insignificant in comparison.
:: What was the biggest challenge you faced this year?
My "summer panic" over a slow period in business while I was still acclimating to the expenses of my new home and neighborhood.
:: If anything, what would you change about how you handled that challenge?
I would have taken just an hour or two each weekday to make significant progress on my task list.
:: Are you ending the year with any unfinished business?
One last thing left to do: I plan to spend the next few days to declutter and use the Kon Mari method to clear space and energy for the New Year!
:: Are there any outstanding goals you'd like to let go of?
I'm retiring the plans for one project that's been on my to-do list forever because I've completely lost inspiration for it. I'm all set with a new plan that feels good, exciting, and spacious for 2018.
:: What was your worst setback in 2017?
The summer panic I mentioned—I worked myself into an unhealthy state of stress and anxiety.
:: Which bad habits or unhealthy patterns did you engage in that you'd like to give up once and for all?
Worry, overconsumption (food and drink) as a reward for hard work, and mindless clicking and checking on the internet.
:: What or whom held you back this year? Did anything make you shrink into yourself or feel defensive about your dreams?
I dealt with some resistance and turbulence from support staff, but nothing too disruptive. All was quickly resolved.
:: How did you hold yourself back this year? Which beliefs | ideas | excuses stopped you from pushing forward?
I've been thinking that the things I don't know how to do are not possible. I've been hiding from the camera and shying away from public broadcasting.
Today's Prompts
I'm going to share a few prompts to help you choose your intentions for the New Year. I like to do this exercise before setting any major goals or resolutions to get a sense of what I really want to create in the coming months. As Jack Canfield said,
You don't want to get to the top of the ladder only to find out you had it leaning against the wrong wall.
What do you want from 2018? Consider the following five pillars of a harmonic life, as taught in Harmonic Wealth: The Secret of Attracting the Life You Want
 by James Arthur Ray:
Financial:
Spiritual:
Mental:
Relational:
Physical:
Next, we're going to apply each change/desire above to the following list. I've gathered the questions below from MONEY Master the Game: 7 Simple Steps to Financial Freedom
 by Tony Robbins:
What do I really want? (vision)
What is important about it? (values)
How will I get it? (methods)
What is preventing me from having it? (obstacles)
How will I know I am successful? (measurements)
Thank you for joining me on Day 3 of this 7-day series! See you tomorrow with a new list of prompts + my example answers to today's questions.  It's time to make your big dreams happen already. Here's to Your Best Year yet,