Public relation experts charge outrageous fees for helping you spread the word about your creative business. However, with a little research + the right introductions +  a pinch of patience, it is possible to get your work out into the world without shelling out the big bucks!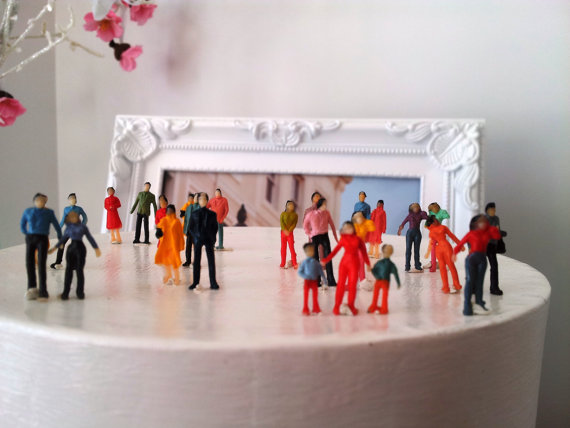 The point is not to tell the whole world about your product, but rather a whole lot of the right people. Start by identifying the ideal customer for your business. You want to be sure you're sending your marketing message out on the right channels to exactly the people who want to hear it. Once you've identified your ideal customer, ask yourself: Who are they reading? What's their style? Who do they follow on Pinterest?
The better you get to know your customers, the better your chances are of connecting with them. Next …
Actively seek out new business all the time.
How do PR agents spread the word about your business? They simply know people. They introduce themselves to everybody and form relationships. I know it's old-school, but maybe you've heard of it?  It's called "networking," and most online sellers and industry leaders are doing a lot of it.
Think "two degrees of separation."  For example, maybe you've learned that your customers love to read Better Homes and Gardens. Unfortunately, a magazine with a large audience can be hard to tackle on your first PR pitch.
Instead, think in terms of two degrees of separation from that large publication to come up with a handful of home and style bloggers that BH&G has featured or invited to guest pin on Pinterest.
Next, pitch a giveaway, seasonal story, or a tutorial to those home and style bloggers. Once you get to know the blog, you can probably think of many ideas that would work for their audience, which is wonderful because bloggers need new stories every day!
The world is just awaiting your arrival!
Start writing your own blog and newsletter. This is the starting point to position yourself as the expert in your niche (whether it be crocheting, painting, jewelry designing, or candle stick-making).
Creatives, in general, are too used to imagining themselves in this huge collective of other creative people. We often think to ourselves, "Why should I make my product when so-and-so already has it covered?" -Or- "Anybody could make this. Why am I trying to do it for them?"
Let me bust this myth once and for all: The world is waiting for your unique spin on the talent that many may have, but none will deliver quite like you.
And not everybody can do it! Most people label themselves as "not creative" (and consequently believe their non-creative affirmations). They're looking to you to fill the void. Show off your work and share your talent in a blog. Send newsletters and special offers to all of your readers  to build an audience of raving fans and happy customers.
Start to engage with other leaders in your niche market or industry.
Reach out to a new contact. And then another. And then another. I lovingly laugh at us all when we sit at home and wait to be discovered. I know I'm guilty of it, and I bet you can relate! It took me two years to realize that if I wanted people in my industry to know me, I had to go out and introduce myself!
And not only that, I knew the people that I wanted to know better were busy. I assume hoards of people are reaching out to them every day. So (and like any virtual interaction I conduct), I first imagine how I would approach my would-be friend in person.
Would I waltz up to a stranger and ask them to introduce me to their circle of impressive and popular friends?
Would I introduce myself and then ask for a big favor?
Would I say hello and then tell that person to go look me up online?
Introduce yourself in a way that makes people want to get to know you better.
When I meet someone face-to-face, I always show interest in them – whether they initiated the introduction or not. If I'm not the initiator of the first contact, the number one thing I want to know about a new acquaintance is, what brought upon this meeting? Who are you and why might we know each other? What do we have in common? Are you someone I would be interested in getting to know better?
I'm an introvert, so if I'm the one introducing myself, there's always a good reason! When I'm the initiator, it sounds something like this: "I"m Lisa, and I'm your neighbor on (street name). I wanted to meet you because our daughters have (teacher's name), and I hear about (your daughter) often! How long have you lived in the neighborhood?"
On both accounts, I listen for cues that tell me more about the potential relationship: are they positive and upbeat? Did they lead off with something negative or sarcastic? Are they warm and friendly? Or are they cold, abrupt, or stand-offish? Is there humor or a willingness to laugh? I love a first impression! I think it says so much about a person.
Now, let's translate that into an online introduction.
First things first. If you're the initiator, please do a little friendly, online stalking and get to know the person you're contacting. The first time you find a popular blog in your industry is not the day to contact the editor. Take your time, do your research, read a few blog posts and learn more about the person in charge.
This will help you …
Perfect your "Who I am, and why we might get to know each other"
Find common interests
Brainstorm ways you might help each other
Think of possible contributions or guest posts
Show familiarity with their work
You'd think the key to a good pitch would be to keep it short and sweet, and it is, but beware of new introduction turn-offs. As a blogger, I get pitched to by nameless corporations and marketers trying to build back links. Therefore, avoid a too-short or -direct email that could be read as cold and abrupt (or be confused as nameless corporation-spammy). If a potential contributor doesn't sound warm, friendly, and a part of my industry, I don't take the time to respond to the contact.
In an introduction, tell your potential contact who you are, what you do, and what you two have in common. Then, tell them why you're reaching out.
Why you're reaching out to a new contact
If you want to make fast friends in your industry, then you're always going to reach out to a new contact with an offer to contribute or support. How can you help? Let me count the ways:
Offer a review or testimonial of their product. Ask them if they'd like to use your headshot with it. (In marketing and copywriting, a testimonial with a headshot is proven to be the most persuasive to potential buyers.)
Share their product or article with a tweet, and follow-up with a "thank you" email telling them why you liked it.
Consider advertising on their website.
Offer a guest post or tutorial to a blogger.
Interview them for your blog (or share it with a larger blog audience).
Think of an introduction (to another professional you know personally) that you could make to potentially help their career.
Be sure that you've supported your potential contact in some way, big or small, before you ask them to support you.
Don't forget the follow-up
So, let's say you just made a great new acquaintance in your neighborhood. For me that would mean, she laughs easily, loves to watch and process The Real Housewives, and she likes campfires and beer (down-to-earth). I can tell in the introduction that we're going to hit it off, and I want to be her friend. At the end of our meeting, should I shake her hand and say "goodbye", or should I invite her for a coffee sometime?
Just like in real-life, if you want your contact to become more than just a far-off, virtual stranger, you'll want to leave an opening to follow-up …
Offer to support, help, review with any upcoming projects
Tell them you'll reach out again when … [a mutually beneficial time/place/event is going to happen]
Ask for a one-on-one consultation for whatever amount feels appropriate to them
Tell them you have some ideas to bounce around if they're interested in collaborating and promise to get back at a later date
Offer to Skype if they need anything else or have any questions about your ideas/talents/abilities
Make a List
Make a list of 20 creative connections: people you want to support, collaborate with, be mentored by, interview, or introduce yourself to. Challenge yourself to list all 20 right now, and vow to reach out to them ALL by the New Year. You'll be amazed by what your creative connections will inspire!
[Image credit:
Khrissies Little World on Etsy
!]