I'm an open book when it comes to creative business, but one thing I've never wanted to discuss is website hosting for wordpress.org. Since switching from the free wordpress.com to the self-hosted wordpress.org, I've had an absolute headache of a time. In fact, I've been so frustrated with this side of business for the last two years that I've done my best to ignore it altogether … until I couldn't ignore it any longer.
In September of 2014, my website was crawling (web page speed tests below), and I was being charged a small fortune ($483/year to Dreamhost – one of the many companies that promises to host your site for less than $10 per month). The traffic to Marketing Creativity was increasing at a rapid pace, but the better this blog did, the slower the hosting ran it. It felt like only a matter of time before the ridiculous loading times and page crawl cost me something even more precious than the astronomical fees I was being charged: my precious readers.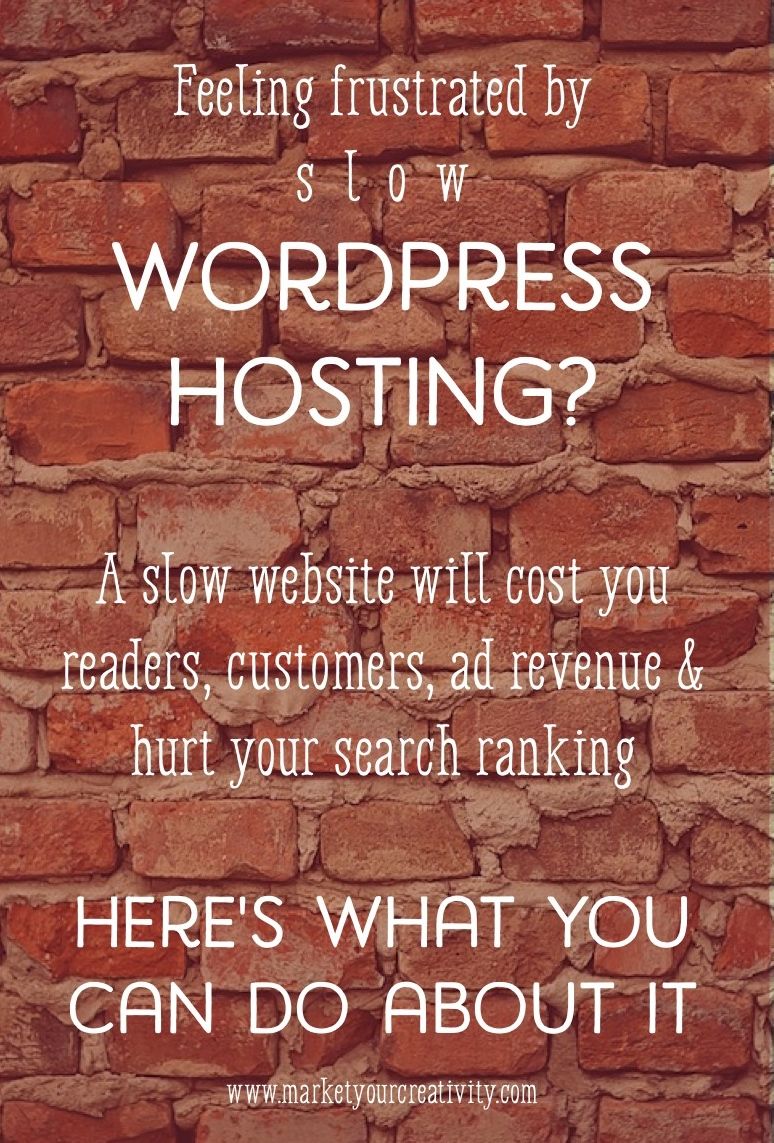 Why You Should Avoid Starter Plans from Web Hosts
Dreamhost was some shady business. I signed up with them in August of 2012 under one of their starter plans. Important note: anytime you see a site host that starts at an unbelievably low price, i.e. $4.95/month, it's merely bait for new business, especially if you're operating on wordpress.org – a robust platform. You will immediately need to upgrade your plan to operate at a credible speed.
And, I get it -that's business, and baiting new customers is not why I'm calling them out. I'm calling Dreamhost shady because all of my pleas for help and service plus the upgrades and extra charges I agreed to still failed to get me operating at a reasonable speed. They've been charging me an outrageous fortune for two years while my site continued to crawl at a s l o w pace. Like a sloth.
Disclaimer: I don't speak web code, the language of web hosts, FTP, DNS, etc. There's actually a section on web hosting in The Little Black Book for Creative Businesses that says, "I don't pretend to know or care what any of this does." (I will be updating that book with the information you see here.) I can't wrap my head around the back-end language of websites, mostly because I don't want to. I want to write blogs and upload pictures. I don't care how it works; I just want it to work.
No matter what plan I was on with Dreamhost, even when I was at the highest possible upgrade, their customer service always insisted that my site was slow because of my site; never because of their hosting. By the time I closed my account with Dreamhost, they were charging me $483/ year (more than $40/month). And this was how my website graded for page speed: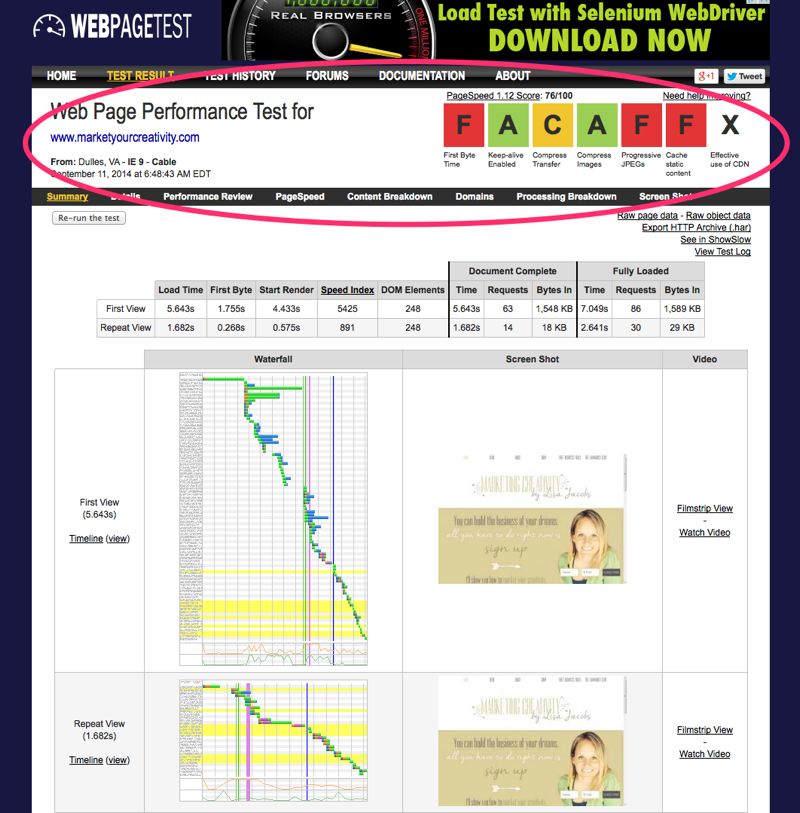 (You can test the speed of your website at: webpagetest.org [above] or tools.pingdom.com [below])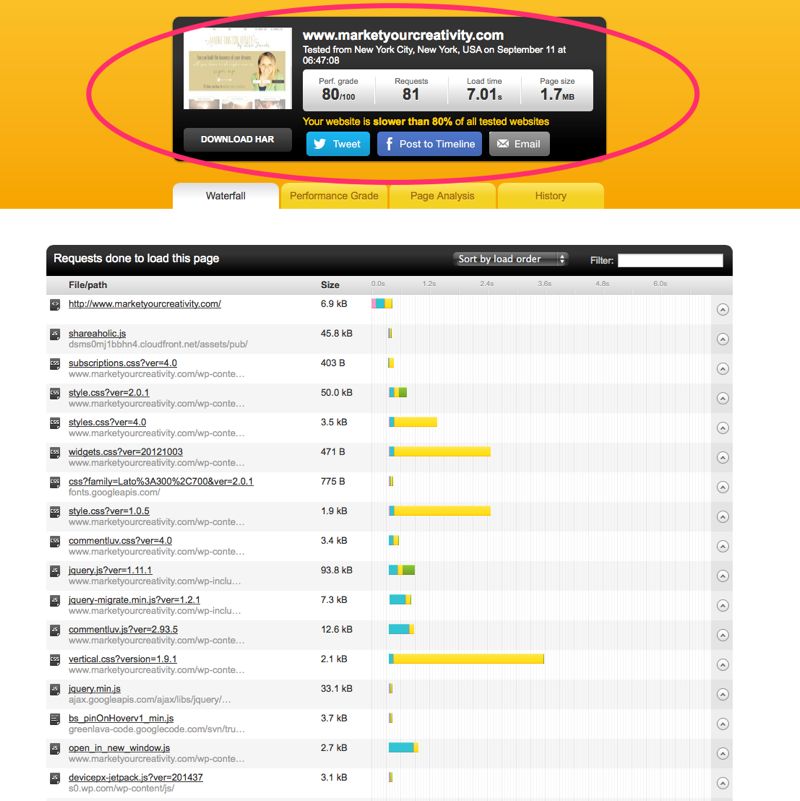 When Marketing Creativity was hosted on Dreamhost, I graded 76/100 on one test and slower than 80% of tested websites on the other.
The reason I never wrote or spoke about this before is because it felt like a hopeless situation. I don't know enough about the analytics of website hosting to plead a strong case for myself, and since Dreamhost always blamed my site's drag on me, I was scared that I'd experience the same problems no matter where I went.
I felt TRAPPED by my shitty hosting plan in a foreign land, where I don't speak the language. I am truly sorry if you can relate. It's a powerless position to be in.
In my last attempt to deal with Dreamhost and work this out, they sent me a generic article about how I could optimize my WordPress site. That's our relationship in a nutshell … it was always my fault. "WordPress is robust." "You're using too many plug-ins." "Stop uploading images." In other words, quit trying to use the WordPress platform for all it's meant to do.
They then told me I could save money by moving to their new hosting plan specifically made for WordPress sites. No thank you, I think I've learned my lesson.
I Switched to Pagely (Powered by Amazon)
To be quite honest with you, Pagely had me at "Amazon." I think Amazon.com is the absolute leader in online services and technology. I've been impressed with their business model and impeccable customer service since day one. When I read that Pagely was powered by Amazon, it put this WordPress host heads and shoulders above the competition (there was one formidable rival, IMHO, and that was WP Engine).
Pagely charges $24 per month – $195/year LESS than Dreamhost was charging me – and my site is now running at lightning speed. Their customer dashboard is phenomenal and user-friendly, and my web developer tells me its capabilities and options are like nothing she's ever seen before. When I decided to make the switch, I tried to use their step-by-step instructions to transfer my site … and I got hopelessly stuck on step 2. I contracted Ginny of My New Favorite Design (at an extremely reasonable fee) to move me from Dreamhost to Pagely for good.
I was offline the night of September 11 for the switchover, but I was back up and flying the next morning. It was one of the best decisions I've made in my creative business thus far.
Here's how my page speed has tested since:
At 81/100 above with all A's and a B. At 93/100 below and running faster than 40% of all tested websites.
With the addition of my recently launched Luminaries Club (hosted here as well), my site is bigger and more trafficked than ever before … and still running at lightning fast speeds.
If you're miserable with your current host or researching the BEST WordPress host for your new site, I strongly recommend Pagely. I cannot speak highly enough of their service! Make the switch, and you'll never look back.