This is one of my most searched topics on the blog, so I thought I'd develop a post specifically for people looking to name or rename their creative business. Today's topic takes me back to some very important advice I read as I was just starting the Energy Shop:
Build your business with the intention of selling it.
This sentence helps you, as the business owner, think more long-term. Whether you're considering what to call your future business or changing the name of an existing one, there are a few things to consider.
Naming your business is an exercise in branding
You have a product or service that you want to offer the world. Who is it for? Tell me about the person who would most benefit from it.
When that person experiences your product or service, what will it feel like? Describe the experience they'll take away.
Is there a word or phrase that immediately comes to mind when you think of the exchange: from the maker's heart to the customer's hands, _____ surrounds us.
Is it wise to give the business your own name?
Again, think of the advice at the top of this article. If your business is you, then it's perfectly acceptable to call the business by your name. However, if the business is a reflection of something that you love, it's better to name it in a way that helps brand it.
Here's where naming the business after yourself might work:
Life or business coach. For example, Martha Beck is a best-selling author, popular speaker, and a regular O Magazine contributor. Her empire involves teaching and certifying other aspiring life coaches. Her website is rightfully named Martha Beck.
High-end designer. For example, Michael Kors has been designing fashion since he was a teenager (he's now 53 years old). He started paying his dues in 1977 when he enrolled in fashion school, worked for several high-end stores and a French fashion house before leaving it all and launching his own brand in 2003. His online storefront can be found at Michael Kors.
Service for hire: event photographer / party planner / local personality. Some creative businesses are dependent on local customers, and it's a good idea to incorporate your name into your brand so that it gets shared and remembered more easily.
Traditional artist. I have a friend who has a very traditional view of how art should be sold. She wishes to be known by her name as a painter, or not known at all.
If any of the above look like good role models for your business then it may be a good idea to name the business after yourself. However, I remain a fan of businesses with a branded name. I follow a lot of popular bloggers, but few of my favorites are named after the person who writes them (the exceptions are life and business coaches): Create as Folk, Handmade Success, Going Home to Roost and The Pioneer Woman to name a few. 

Beyond the creative industry, consider Bethenny Frankel. She launched a company called Skinny Girl … it has a likeness of Bethenny in the logo, and what a brand it's become! Do you think it would have had the same impact if she named the business Bethenny Frankel? That's definitely something to consider.
Business Name Ideas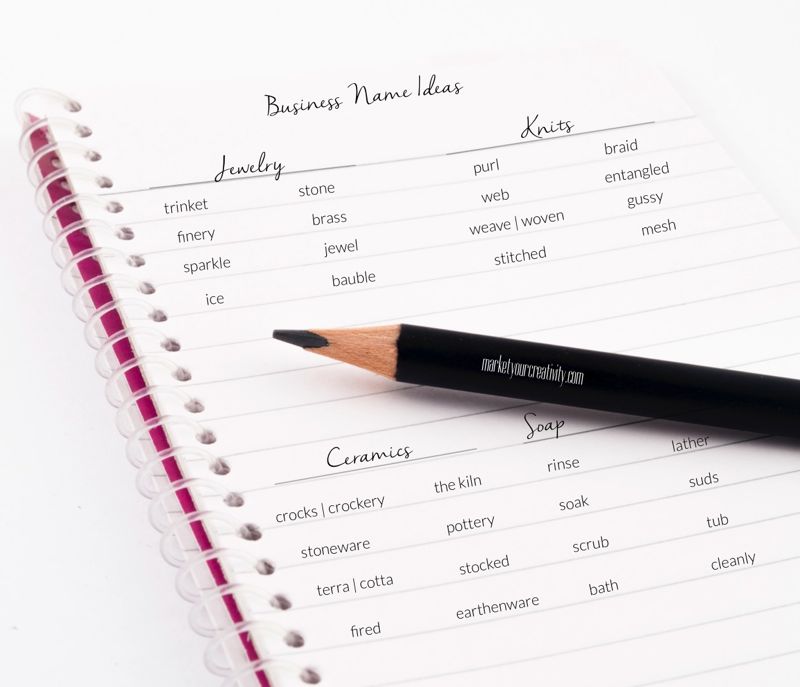 Use your answers from the branding questions above, and plug them into a thesaurus to see what catchy synonyms come up. Jot down a list of your favorite results, and begin to play with them–both by themselves and in combination with the others.
For example, a cool name for a ceramics shop would be "fired," and if that was taken I might try: Fired & Stocked. For a soap maker, "suds" might be taken, but "Tub Suds" would be a good alternative – even better if you're making body washes to help distinguish yourself from the hand soap crowd.
Test its Effectiveness
When you do come up with some sample names for your business, be sure to ask yourself the following questions:
Does it match your product and brand message?
Is it universal (could you blog by the same name)?
Is it open-ended (could you expand your business by the same name if you choose to)?
Is the domain name available?
Is it catchy?
Sometimes the business name includes the product (i.e., Yankee Candle), but more often than not, it isn't necessary. Consider the brands you love that have become household names: Apple, Kleenex, Starbucks, etc. Notice their simplicity and distinctiveness. When I think of Etsy shops, I think of a few favorites: Marmar, Pixiebell, For Strange Women and Katwise. When I mention those brands, I picture the products each create without the business owner spelling it out in the brand's name.
I notice that many home-based online sellers feel the need to add end-words, such as handmade, boutique, creations … but that's not always necessary and the first word(s) in the name might stand very well on its own.
Don't Force It
This is one decision that will stick with you for many years to come, and you have to love it! When you find the perfect name, you'll know. It will fall into place and feel right. Take your time and sit with the brand message you're creating.
When I was working with crystals and Reiki healing, I asked myself: what one word would summarize my work here. The answer was "Energy." And the Energy Shop was born.
As another example, I've been building a membership program for over a year. When I thought of its purpose, I kept seeing thousands of floating lanterns rising together in the sky. I knew that if creative business owners combined talents and strategies, we could shine brighter than ever before. The branding concept was centered around light. The name, The Luminaries Club came to me in a flash of insight.
How did you come up with your business' name?
If you're already running an established business, I'd love to hear how you came up with your business' name. Please share in the comments! Until next time and all the best,