Riddle me this: What's top secret, insanely useful and completely free? Why it's The Little Black Book for Creative Business, of course! You get a complimentary copy of this tremendous resource when you sign up for my email list, and if you already have your copy, I'm sharing the second edition (what's changed) here today.
After releasing this a few months ago, things quickly changed in my business and I soon realized I'd have to include regular updates to The Little Black Book for Creative Business. Not that I mind! I love this little nugget of insider information, and I know you will too! For those of you who already have a copy, here's what's new and different inside the book:
Home Equipment
Oracle cards: I've been convinced that the card deck I use for my regular reviews was out-of-print. My book (that comes with the cards) is worn out and falling apart, and the other day on Amazon, I found my favorite, Soul Lessons and Soul Purpose: A Channeled Guide to Why You Are Here
 in stock and for sale!
Resources
Web designer: At the time of first print of The Little Black Book, I was just beginning my work with my web designer and wasn't able to write a proper review. Here's the full story of my design process (+ what it looked like before).
Ginny at My New Favorite Design was an absolute delight to work with! I chose her because I loved the clean layout of her personal blog. Her about page (mainly, her willingness to communicate) sealed the deal for me.  She also transferred my site off of the awful host it was on and onto the fabulous Pagely! I highly recommend her services.
Blogging
Web host: Pagely. Before switching to Pagely, I was on a much cheaper plan that caused headaches and tears (that Pagely link will tell you the whole story). When I signed on with Pagely, there was a less expensive option ($24/month), which I still pay. That has since been removed from their pricing tier.
My second favorite option for hosting is WP Engine – I think both are fabulous hosts for the WordPress platform.
For my membership program, The Luminaries Club, I've added a new plug-in: iThemes Exchange – I got the pro pack, and I had my web designer's help (Ginny at My New Favorite Design) to get it up and running. It takes payments from the customers, creates recurring payments in Paypal (a service Paypal charges $19.99/month for when you use it directly) and drips content to the members (sometimes you'll want to delay release of pages or products and that's what "drip" means).
Miscellaneous Goodness
The Luminaries Club – Where I go when I need to recharge, reinvent, and unwind in creative life and business.
JustUnfollow – Recommended to me by my friend, Karen at Begin Within Jewelry, you'll love this clever app for growing your Twitter + Instagram accounts. Thank you, dear Karen!
And That's Just a Snippet!
Inside The Little Black Book for Creative Business, you'll find:
The office equipment I use and swear by;
The apps and software I cannot live without;
My favorite branding and design resources;
Payment processing and email management systems I use;
How I create e-books and downloadable files; plus,
LOADS of extras, such as: how to find virtual assistants, how I manage my schedule, and a slew of other fabulous resources!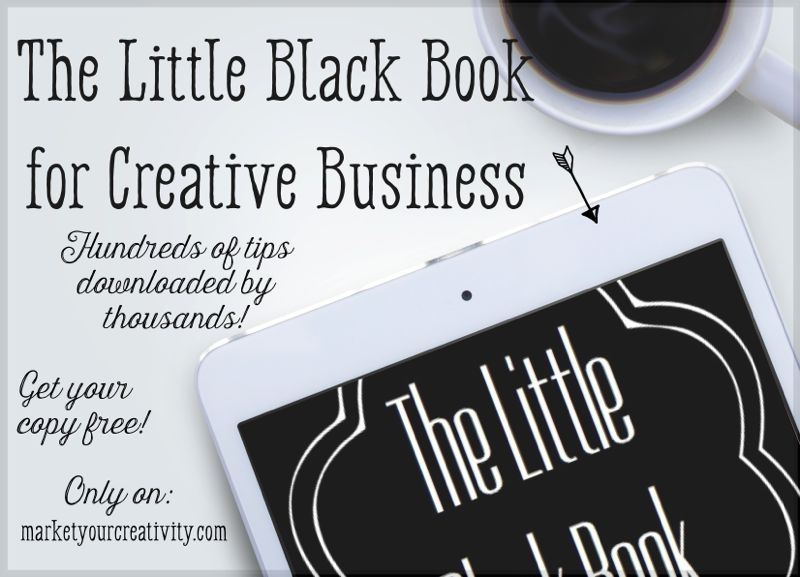 The Little Black Book for Creative Business contains a whopping 16 pages full of my trade secrets, insider tips and resources. And it's my BONUS gift to Marketing Creativity email subscribers! It's been downloaded thousands of times, so sign up above to join those in the know. Simply enter and confirm your subscription to download your copy instantly!
Until next time and all the best,