The creative industry is such a funny space. It really is. I subscribe to many emails in the field, and I notice a lot of different strategies for growth …
Some people are direct and aggressive. They'll offer you their product for sale – plain and simple. They might even give you a sample, and then you'll buy it or you won't.
Other people are indirect and passive-aggressive. They will put down every other product on the market, throw around the word "copycat" and attempt to sour all the other offers out there. Next, they'll whisper in your ear that they've made something [quite similar to the products they've just bashed], but it's only for the best kind of people who also turn their nose up at [the product they've just created that, by their own declaration, is so much better than the similar products they've just bashed].
I  question the word copycat, and I feel myself cringing at anyone who throws that accusation around. Don't claim you're the victim unless you're willing to admit that you're sometimes also the culprit! Unless of course, you've completely barricaded yourself indoors with nothing but your imagination and a blank canvas to keep you company.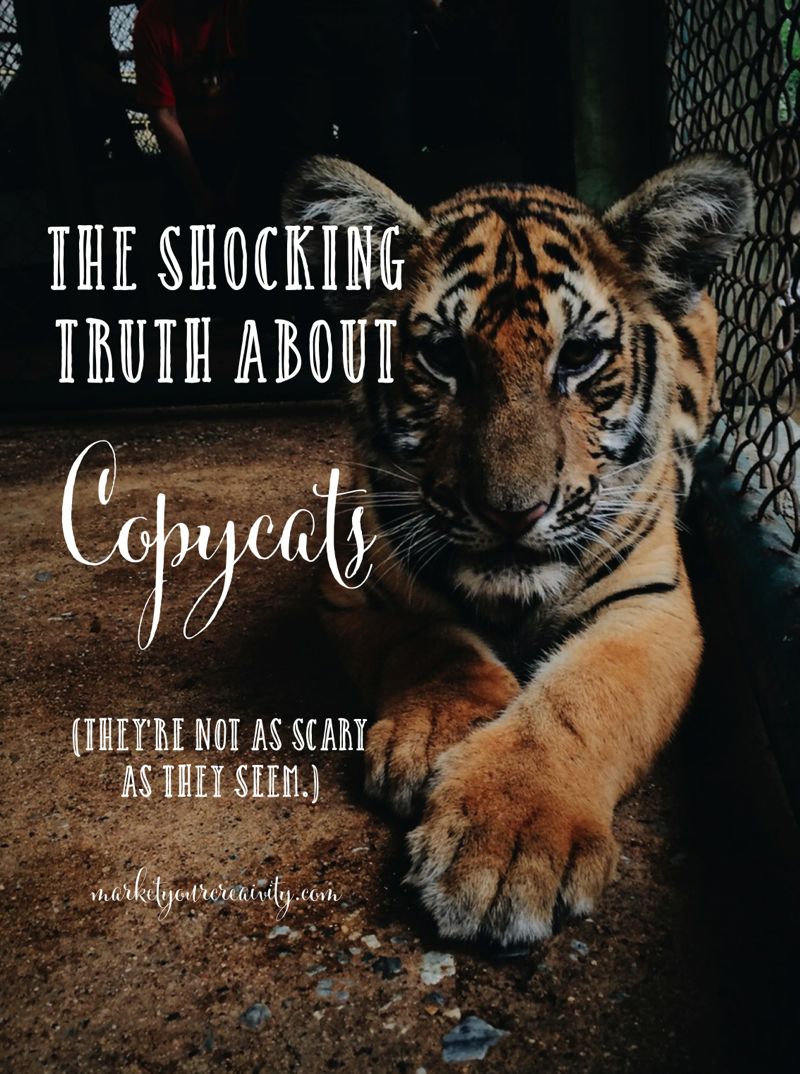 We're all inspired by the word and work of others, but in my experience coaching creatives,  the concept of copycatting appears in two forms: (1.) The basic fear of "not being original enough." In other words, "I might create something that accidentally resembles another product I've seen in my lifetime!" Or, (2.) The debatable idea that they're "too original" and everyone will try to steal their work. In other words, "Everything I do is so unique, and everybody wants to steal my ideas!"
And it's no wonder!  There's a plethora of copycat worries in our industry. Artists become obsessed with either feeling like a copier or fearing them – that ever-elusive band of dirty copycats trolling the internet to steal our designs, our copywriting, and even our pictures!
The "too original"
I've seen copyrights and watermarks. I've coached artists who won't sell digital prints because they've conjured up an imaginary scene in which their work will be reprinted and sold by others at art shows.
I understand protecting the art and the rights of the creative, but I feel the "too original" artist tends to shelter their work, fearing a hypothetical crime while causing their own suffrage.
This group takes themselves a bit too seriously. If you're really that great of an artist, people won't settle for knock-offs. They'll seek out the original, and you have no control over the rest.
The "not original enough"
On the other hand, this group doesn't take themselves seriously enough. They don't yet believe in their own unique talents, but when they do … look out.
[Tweet "No one threatens your originality; You are a unique creator. @_LisaJacobs_"]
How to fix it, either way:
Stick to the facts.
You don't have to strive to be unique; you already are.
You don't have to protect your uniqueness; no one can take it from you.
You know how to tap into your imagination and create something from nothing. That's amazing; never fear showing it off!
You are passionate (and possibly somewhat of a perfectionist) which means you pour your heart + soul into each piece of work. No one could replicate or replace that, no matter what.
Your creations reflect what is beautiful to you; it's a form of innovative self-expression and cannot be copied.
Even if another artist, maker or designer has created something similar at one time or another, their work can never be exactly like yours. Yours will always be authentic to you.
Who Cares about Copycats?
I know that there are horrible copycat stories circling the web in which beautiful artwork was copied or plagiarized or boxed in a big store. Hands down, those are crimes against the artist. However, those stories are not the norm. In creative business, we're making it all up as we go along. When we come to depend on this income and our livelihood is at stake, scary stories like those create widespread panic, and I'm no fan of panic.
You don't have to be afraid of copycats. I'm telling you this from experience. Sure, it can happen, but it's very unlikely that it will matter to your bottom line.
Take for example my lovely little Energy Shop. It's been open since 2010, and since that year, I've been telling people exactly how to build a thriving creative business, my keyword examples, my photography tips, my marketing strategies and everything else under the sun. People take that information and run! Can I blame them?
Maybe I could, but I don't. I'm too busy thinking about the next design I'm going to create or the project I'm working on behind-the-scenes to even pay attention. It's never hurt my bottom line. I believe that everyone has their beginnings somewhere, and I don't mind being the inspiration.
The shocking truth about copycats is that they'll either be forced to carve their own path or shrivel in someone else's shadow.
As a creative, it's in your nature to observe the world (and other creators) around you, and in doing so, you often find new inspiration. Don't let this scare you … it doesn't mean you're copying or vulnerable to being copied. Observing the beauty around you only means you're awake, alive and well. Breathe it in and continue to be inspired.
What are your thoughts on the matter? I'd love to know,