I love talking productivity! Time management is one of my favorite topics, and over the last five years, I've really enjoyed learning about + experimenting with different systems. Today I'm sharing seven tried and true ways to be more productive this year!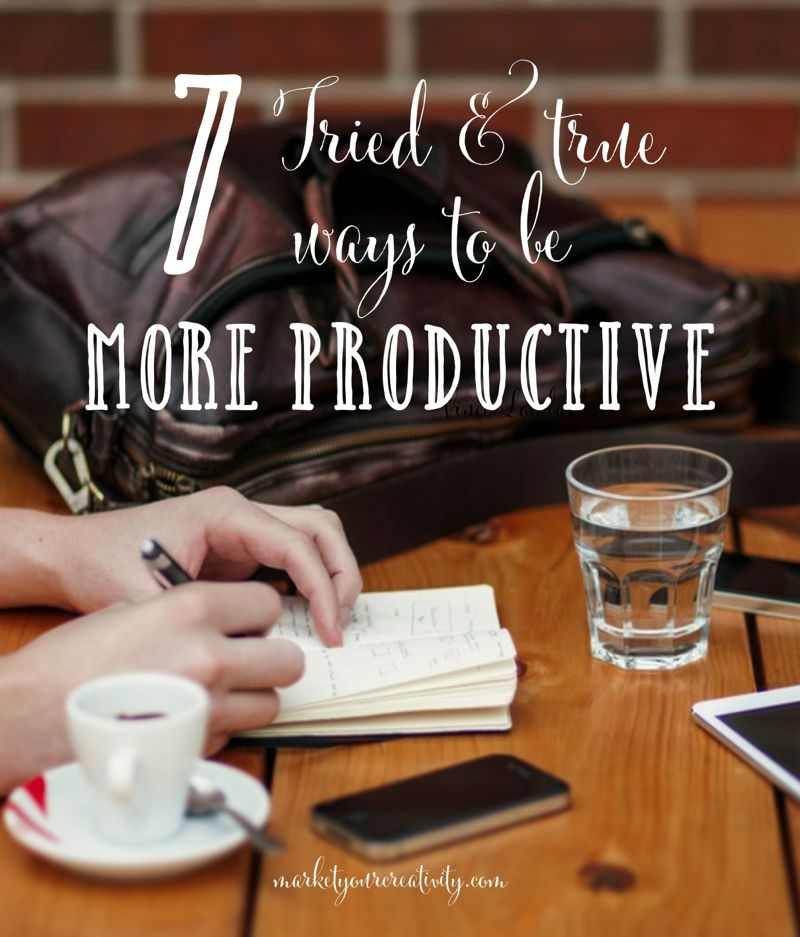 #1 Create a morning schedule & stick to it
Hands down, this is the best way to start a productive day! I've found that one morning hour can make or break my workday, and it starts at 7 AM. By that time, I've had two cups of coffee, and I need to see my children off to school.
With that hour, I can either do all of this:
Review the day with my children and send them off with a dose of love + attention,
Have breakfast and drink my first glass of water,
Clean up the breakfast dishes and start the dishwasher,
Start a load of laundry,
Review my planner and the day's tasks,
Get cleaned up and dressed,
Make my bed, and
Be at my desk for work by 8 AM.
Or, I do this:
Sit on the couch with my laptop checking stats and repeatedly clicking on social media sites and email.
I have to decide how I'm going to spend that hour (and 12 more like it) everyday, and I thank myself every time I make the better choice.
#2 Work toward the results you want
All work is not created equal! Results are inevitable: no matter what you do, you're going to get results. Whether they're the results you want or not, well, that's entirely up to you.
Success doesn't just happen to people – you need a deliberate plan and actions you can take to achieve it! Imagine building your dream house without blueprints – you show up every day and let the bricks fall where they may. Do you think you would be perfectly content with the end-result after years of free-form building? No way!
This fly-by-the-seat-of-your-pants mentality has got to go! You must have a clear set of desired results in mind when you show up to do work everyday. Stay focused and on task while constantly challenging yourself to grow.
#3 Schedule an admin day
I talk to a lot of creative business owners who operate in clutter and chaos. I don't say that to shame anyone, but rather to let you know that if YOU'RE operating like that, you are not alone. It happens to us all, at one time or another.
This assignment is for you if …
Your craft room or home office is a mess
Your email inbox is cluttered and you struggle to find messages
New ideas make you feel restless, almost uncomfortable; you desperately want to develop them, but you can't seem to find space in your schedule
You have so much to do, you don't know where to start
You find yourself scrolling through hundreds of photos to find the ones you just took
Your phone storage keeps warning it's "full"
You have unfinished business nagging at you
Your mind is jumbled; you keep asking yourself "What did I come in here for?"
An admin day is time you set aside in your work schedule to wear your "secretary hat." Somebody has to clean up the mess around you, organize your clutter and answer your emails! And until you can afford your first assistant, it's going to have to be you.
Schedule your admin day at least one week into the future so that you can create a running to-do list of unfinished business. Have clear goals for the day, such as, an empty inbox, a neat and organized office, a list of inventory and a revised budget.
In creative business, it's important to remember and respect all the different hats you need to wear. Your CEO hat (planning, review, decision-making) is as important as your secretary hat (admin, organization and scheduling) and vice versa. In order to run an efficient operation, be sure to take time for these things every month.
#4 Always time your work sessions
Best productivity hack ever! As I write this, I have a free app called, Alinof Timer counting down my 50-minute interval of pure focus. Having a timer in my peripheral view while I'm working helps me stay on track.
Working from home (and on the computer, no less) is full of distractions! The rule is that while the timer is on, I can only work on the project at hand: no snacks, no bathroom breaks, no internet clicking, no phone calls, etc. When my time is up, I take a short break, and then I set it again. Each day I allot at least four hours for laser-focused production time.
The level of energy or resistance I have for a task determines how long the timer will be set between breaks. Here is my guide:
Difficult tasks and grudge work: 15 minutes
Work I'm resisting, but perfectly capable of doing: 25 minutes
Work I enjoy: 50 minutes
The results from a laser-focused, timed work session are truly amazing. Try it out for one week to see how much you're able to accomplish!
#5 Find the right organizational system
I don't mean to be vague, but there isn't a one-size-fits-all organizational system. One of the major differences we face is whether you prefer to organize digitally or on paper. For me, there's no question! I need paper plans, calendars and project maps plus LOADS of empty notebooks. It's the only way for me to bring my new ideas to life.
I've spoken with other creatives who have to have everything digitalized. With today's technology, I can absolutely understand that preference!
The most important part of your organizational system is that you create a way to capture and follow-through on your ideas. The reason digital doesn't work for me is because there's so much going on in so many different places. When I allow myself to take digital notes, they end up on every device I use (phone, iPad, laptop, computer, as well as Pinterest, email, etc.). My digital world is so vast, I easily forget those notes exist!
Inside my paper system, everything has a home. I keep a planner for my blog, a notepad for my upcoming big projects (sectioned for each), a copy of Your Best Year 2015, and another day planner for my daily schedule. If something for the blog pops into my mind, I reach for its book (aka its "home" – the only place blog notes are allowed to go), and so on and so forth.
Whatever your system, make sure you designate specific "homes" for the different areas of your work and projects in order to ensure progress.
#6 Leave some business on the table
Whaaaaat? Yes, you heard me correctly! Believe it or not, you don't want every customer.
Before I opened my membership program, a reader told me she was excited and asked how much The Luminaries Club was going to cost. I hadn't announced the price yet but I knew her from another project, so I told her it was going to start at 27 dollars per month. She said she probably wouldn't join because she was a "cheapskate."
I appreciated her honesty, but moreover, I appreciated the chance to tell her that the club I built probably isn't for her. I pour everything I've got into it. I'm invested in your success, and I work hard for my clients. I'm a fiercely loyal employee!
If you're looking for "cheap," we're probably not a good fit, and that's okay by me. If you don't want to invest in your business, I certainly don't want to, either!  In the last four years, I've hired graphic designers, virtual assistants, private coaches, copywriters and mentors to help take my business to the next level. To me, it's the natural order of things, and I love building a team I can count on.
The fact of the matter is: cheapskates are nobody's ideal customer. They feel entitled to the results, but they don't want to make the investment. And because they're so unwilling to invest, they're constantly disappointed in their results and eager to complain.
I created The Luminaries Club because I believe in the value and the solutions it offers, and I only want clients who are willing to invest in themselves (+ a good dose of rut-busting, income-boosting coaching). My rate for personal mentorship, private networking, and step-by-step instructions, secrets and strategies? 27 dollars per month or a discounted 197 dollars per year; Take it or leave it.
#7 Invest in a standing desk
I've been working at a Stand-up desk for over a year now, and I can't speak highly enough of it! I bought it for improved health (sitting is the new smoking), but there have been many extra benefits to my productivity because of it. For example, who's going to spend hours on social media when they're standing up? Not me, that's for sure. My desktop computer (the main source of everything I do online) sits on this desk along with my printer, and I write blogs and run the Energy Shop standing up in five 50-minute timed sessions per workday.
I mean business when I come to my standing desk! Since I'm already up and working, I'm more likely to go get what I need in the moment and cross things off my list; my work is more determined than it would be if I casually sat all day. I feel as though I get a lot more done.
Now, sitting down defines a rest period for me. I love kicking my feet up after a long stretch of hard work. It signifies that I'm off and allowed to relax – a necessary trigger when you work from home. Here's to a more productive year + the results you want,