Working from home sounds absolutely dreamy, and it can be! However, frustrating obstacles, lonely silences and well-meaning interruptions can sometimes get the best of you. A work-at-home career is not always as blissful as one might imagine!
Part of my coaching and writing is to teach creatives better business practices, and an important business practice is to not let others manage your time or energy. Ever. I write + enforce my own policies with love, so that I may provide the best service and value for all concerned. I hope you'll do the same. Here are three ways to create more zen around your work-at-home business …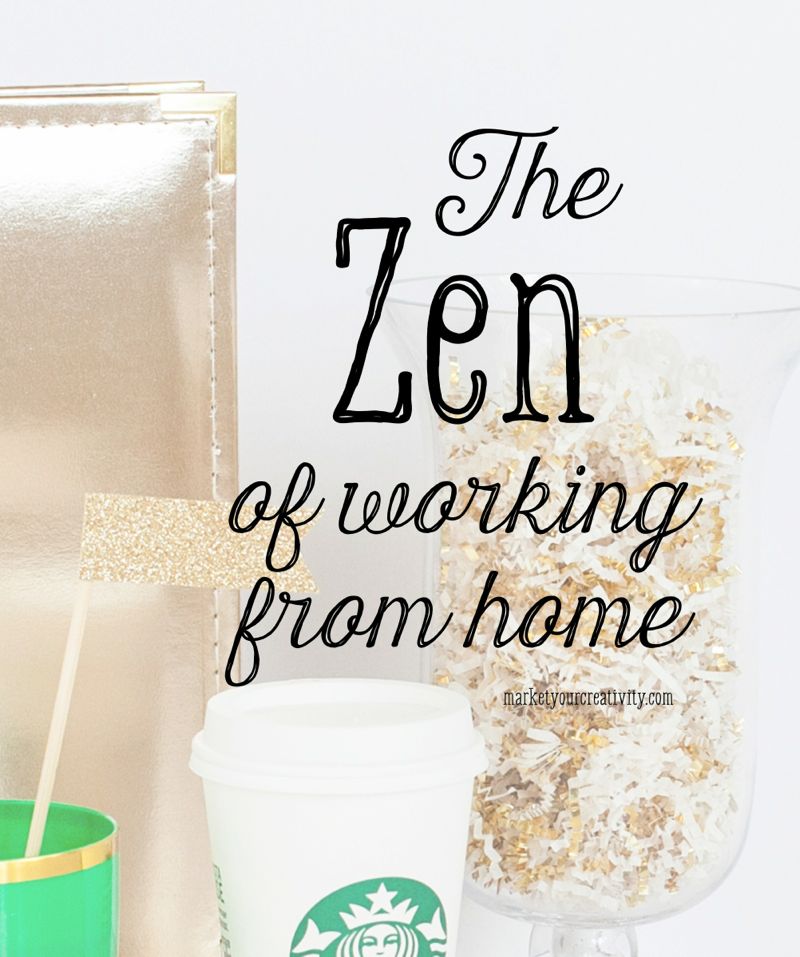 #1 Set boundaries
I find that working for myself, by myself requires constantly checking in with myself! It's all too easy to get caught up with a new website visitor who is all convos, no sales. This takes me back to the early days of the Energy Shop (circa 2010). I earned a huge fan. Man, she loved me. She followed me on Twitter and tweeted often, she found me on Facebook and commented all over the page, and she wrote me direct messages through whatever forum was available to her in the moment. She had a boatload of requests. My site had all of the things she loved, if only they could be altered ever so slightly: a different size, another stone, etc.  For two months, I worked for her, ordered for her, researched for her, and just as I was about to jump through 3 hula hoops on fire, I looked her up in my records. She had made one sale, with no promise to make anymore. It seemed one of her hobbies was managing my business, and I was allowing it!  I stopped doing anything just to please her, and we grew apart gracefully.
I love my customers so much. 99.8% of them are not anything like the person I mentioned above. Moreover, when I'm dealing with that .2% of customers who are all-demand and no check-out, I don't have time to appreciate my valued buyers. When the convos are coming daily, but there hasn't been a sale in weeks, you might want to determine who's really interested in your products from who's just bored at home.
#2 Create policies
Here's to communicating our needs + expectations better! Enjoy some alone time in a quiet space and write down your answers to the following questions:
The best way to reach me:
The best time to reach me:
How I prefer to be treated:
What I will not tolerate:
Hours of availability:  Work –   Personal –
My pricing:
My policies for those seeking advice:  Work-    Personal-
My confidentiality agreement: Work-    Personal-
My customer service guarantee:
My policy on canceling/scheduling appointments:
My volunteer policy:
My policy on partnerships and collaborations:
My policy on sales and delivery:
My policy on refunds and returns:
Here's an example set: the policies I created for 2015 … 
:: The best way to reach me:
The best way to reach me is via email. I am so protective of my phone number that I've simply stopped giving it out. I like for only the family who lives in my home to know it, especially the landline. I have two major reasons for blocking incoming phone calls:
Most people don't understand how important my honoring my work schedule is to my career. They don't realize that, during any lunchtime hour, I might be giving a live webinar to 100 people from my home office. After a few years worth of interruptions, I realized they're not really trying to figure it out, either. Now I only share my mobile phone number with our nearest + dearest and reserve the household line for family use.
I don't like to be put on the spot. I'm an introvert, and that's not how I operate. I need time to think things over before I make a decision, and I prefer to make plans in writing.
:: The best time to reach me:
I check email regularly, but the best time to get a quick response from me is on weekdays in the early afternoon.
:: How I prefer to be treated: 
I'll always be considerate of your needs, appreciative for your energy and respectful of your time. I'm very grateful when I get the same in return.
:: What I will not tolerate:
I will not tolerate passive-aggressive behavior. If you have a problem with me, confront me directly or expect the issue to be forgotten.
I will not tolerate people who refuse to admit their wrongs; It's a sign of stunted growth. It means that the person is not interested in taking responsibility for their own actions and it guarantees they'll continuously repeat the same mistakes.
:: Hours of availability:
I work every weekday from 8 AM – 1:30 PM. I chat with The Luminaries around the clock.
:: My pricing:
My pricing is going up in 2015. I make no apologies for this (and neither should you when you need to adjust yours), but I will explain what's changing in full detail before it takes place.
Other than the upcoming Movers and Makers Summit, the only way to work with me as a creative business coach right now is by joining The Luminaries Club. More on this in the next section.
:: My policies for those seeking advice:
We have several ongoing conversations happening inside The Luminaries Club, and I'm available to all types of requests: critiques, questions, suggestions, follow-ups on e-books, how-to's, insider secrets, etc. I'm an open book, and the price is extremely reasonable. For $27/month, you get my e-programs, challenges, your questions answered and some creative camaraderie.
My email subscribers regularly ask me questions via the comments section and contact form on this site and on Twitter. I share an exclusive Q&A at the end of my bi-weekly newsletters. I love to answer industry-related questions that I know will go on to help many people facing the same obstacle.
I do not respond to emails or Etsy convos requesting pointers, critiques, tips or instructions, except to direct you to my blog where you'll find hundreds of pages full of free advice.
#3 Curb loneliness 
Though I'm an introvert by nature (and love being alone), this business can be lonely! I have a few methods to curb loneliness and keep it at bay.
Turn off screens and connect in real life. Take a 15-minute walk outside, eat lunch without screens and end your work day at least one hour before you'll see the people in your life so you're able to refocus your attention where it belongs.
Take a day off. In a traditional job, you'd have a regular commute and lunch with co-workers. If you're anything like me, you can go several days in a row without leaving the house, while your family comes and goes. That's not what normal people do. Just because we don't have to go out doesn't mean we don't have to go out! If you're having a season that's leaving you at home a lot, take a day off to run errands and meet a friend for lunch. Get out of your head and out of the house.
Write your feelings down and find a place to share. A creative career is demanding, and we face the brunt of it on our own. It's important to get your frustrations and feelings out of your head and onto paper. This is yet another reason I love blogging. I can share a post like this and your feedback will reassure me that I am not alone. You feel me; you experience a lot of the same challenges and obstacles that I do.
Play hooky with a loved one. I do this with each of my children + my husband at least once per year. Sometimes, the whole family skips work and school, and we do something extravagant (like driving to a nearby city to see Wicked the Musical!).
Join a club. >> I know just the place for you! <<
I hope that helps you create more zen in your working environment. It's important to keep your wellbeing in mind when carrying so much weight + responsibility to succeed in business. Here's to your success,