Welcome to day 1 of the 5-day series, How to Build a Business Your Customers Will Love! Let's get right to it and set the mood + spirit for our time together this week.
The creative industry is a female-dominated one, and that makes it less aggressive than most business. Some would say that's a good thing, but I disagree. I'm tired of fighting the starving artist's myth and proving the "If you build it, they will come" mentality wrong. I'm sick of hearing creative "experts" or "leaders" talking about unicorns, rainbows, cupcakes and fluff. I'm reading about the industry because I'm at work; I'm helping to provide for my family. I mean business.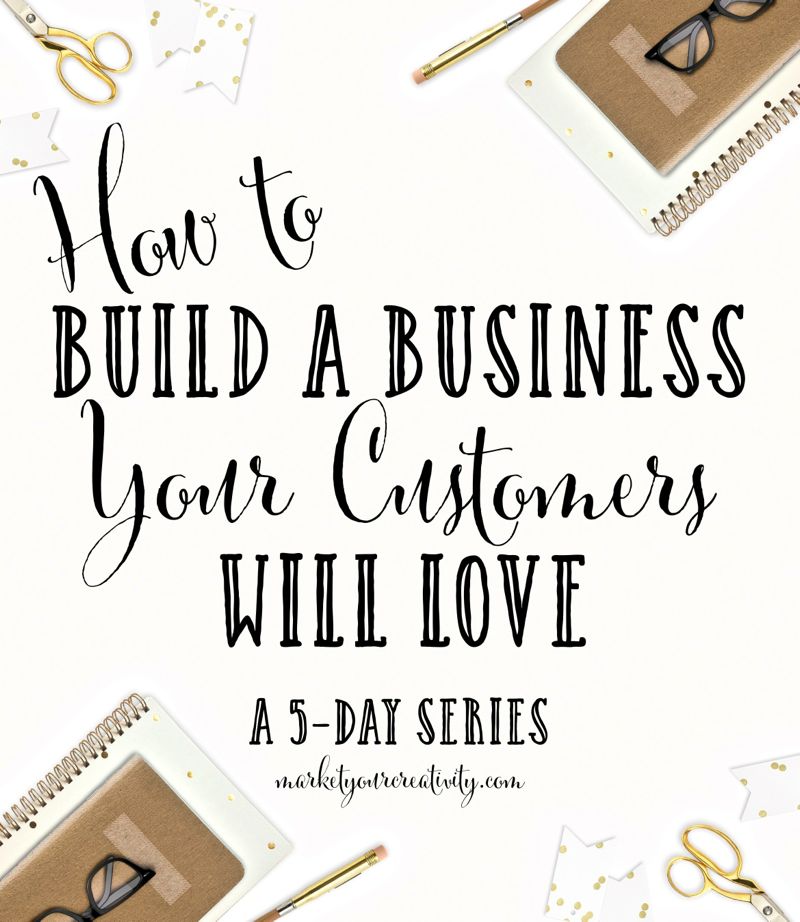 Everyone enters the creative industry looking to achieve similar goals: reliable income, fulfilling work, professional recognition, industry respect, and a steady stream of sales and customers. That's what my focus is and what I want you to expect from my blog and offerings.
If you've been in this business for any number of years, you might also be seeking a feeling of arrival and a sense that you belong among the experts in the field. After you've been doing a job for sometime, it's nice to not have to introduce or explain yourself. It feels wonderful to have a conversation online where people already have an understanding of who you are and what you do.
Around this time (which does take years, by the way), you suddenly start to realize that nobody's recruiting for that big break you'd been hoping for. You can achieve a level of self-made success and find that you still have much more work to do to get a massive online following or front page exposure or that book deal you want. Here's the big tip of the day:
You Can Create Your Own Big Breaks
It's amazing how much business has changed in the last two decades. Amazing. As an example, it used to be that if you wanted to write a book (that would actually sell), you needed a publisher with the budget to advertise and market you to the masses. Back in the day advertising to the masses meant television, radio and newspaper and magazine ads.
To create a best-seller, the author had to be very well known or the campaign had to be huge, or both. The publisher was the gatekeeper, they issued the "big break", and the author would be hard-pressed to create a best-seller without them.
This is how we were all brought up to think in business: "I practice my craft, I get really good at it, and then someone will appear in my life to grant me access, or permission, or funding for the level of success I want to achieve."
And anytime someone accuses a creative business owner of being aggressive, "salesy" or spammy, what they're really saying is that, in their eyes, no one "official" has given you permission to run a business yet. They're telling you that they believe in gatekeepers, in fact they're in line right now to be approved by a gatekeeper!, and you should quiet down and get back in line yourself.
Walk Around the Gatekeepers
Forget them. You're building your own business! You're the one doing the work everyday! You have the absolute right to make your career whatever you want it to be! If you've made one sale, you can get 1,000 > 10,000 > 100,000. You have a winning product, now all you need is a winning marketing strategy to match it.
Same goes for your online platform! If you've found one reader // fan // follower, you can get 1,000 > 10,000 > 100,000. Your first subscriber proves that you have something people are interested to know more about! You can have a huge online following, you just need a working sales funnel to match it.
Walk right toward the success you want to achieve, and ignore the gatekeepers. In today's market, you can build a blog, write a book, be a bestseller.  Don't wait in some imaginary line next to or behind people who are scared you'll get what they want first! Successful people know and teach that there's MORE THAN ENOUGH to go around. Your success makes us all look better, and it's there waiting for you to do the work to claim it!
On this first day of the 5-day series, How to Build a Business Your Customers Will Love, the biggest takeaway is this: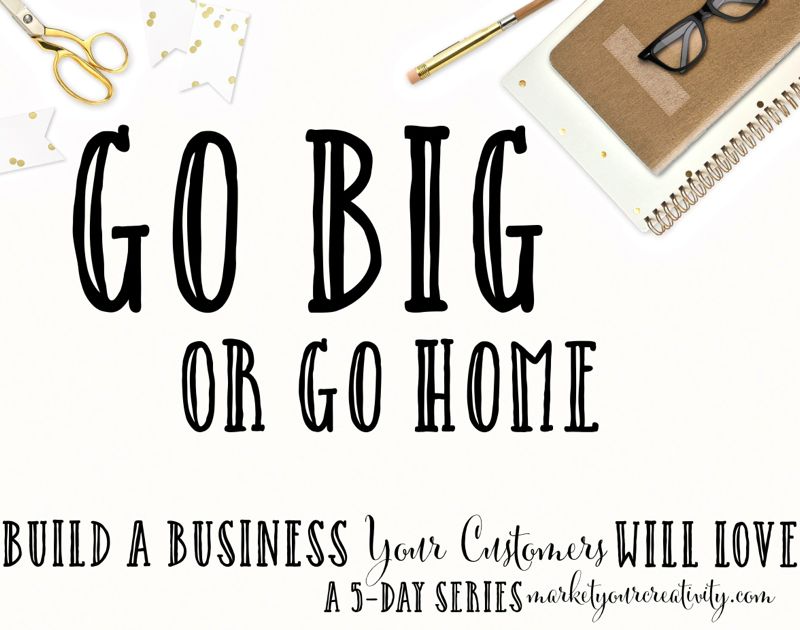 Go big or go home.
You're not doing anyone any favors by playing small and waiting for permission. If you want to create a business your customers will love, you're going to have to knock it out of the ballpark. To create raving fans, you have to prioritize their experience above all else. You're going to have to self-promote; show off how good you are. Please don't wait years for someone to think you're good enough to do this for you.
Know + believe how good you are first. Because if you don't, no one else will either.
Do This Exercise …
Please. It's life-changing, I promise. Write an "If I knew I could not fail, I would …" list, and answer it boldly. Take a blank piece of paper and write down all of the things you would do in your career right now if you had nothing to lose. Don't hold back!
Then review it, knowing that the list is exactly what your life is calling you to do. The list you've written is your greatest potential staring back at you from the page. It's the journey you need to take from where you are now to where you want to be. Because that greatness is there for you, just awaiting your arrival.
Take Back the Reins on Your Career
I'm launching something revolutionary this month – something that does not exist specifically for our industry, something that "business gurus" charge thousands of dollars for, and something I've created just for you (at a price you can afford).
I've been actively fighting the starving artists myth for years, the biggest obstacle being that most people don't realize that they're holding onto some aspect of it.
If you've ever …
been hesitant to go after your biggest dreams
second-guessed your best ideas
felt uncomfortable selling your offer
lowered your prices because you thought you were asking too much
worried about the term "sell-out"
turned your nose up at marketing
associated profits with greed or some other negative connotation
think of "affiliate," "advertisement" and "sponsorship" as dirty words (or think 1-2 of those words are okay, but the other is despicable) …
Then we desperately need to talk. You've been listening to the wrong people and letting them "should" on you – here's what you "should" do, here's what you "shouldn't" do. Should's a dirty word in my life!
If you've ever felt this way or let hypothetical disapproval hold you back, you're carrying sandbags in the desert, my friend. Don't let this nonsense keep you from what you really want.
Illuminate: The Creative Business Course
This is a new offering and available exclusively inside The Luminaries Club. This 9-month course offers advanced marketing, sales and growth strategies and a highly interactive lesson plan that walks you through the inner-workings of a thriving online business.
Imagine creating a series of marketing campaigns that doesn't make you look or feel desperate at all. Imagine sending a sales email that has your customers replying, "Thank you so much! I love your stuff!" That's how thousands of customers feel about my sales tactics, and I'm proud to show you how to create a similar system that feels good and converts.
Here's what you can expect from Illuminate, the best creative business course on the market:
How to create your own career breakthroughs (versus waiting for the ever-elusive "big break")
The psychology of selling and how to overcome the fear of self-promotion
How to rise above a crowded marketplace and appeal to your niche
Word-for-word marketing scripts that feel good and convert sales
The psychology of pricing (and what yours is saying about your product)
How to stop worrying about the competition (and leave them in your review mirror)
Conversational scripts to help you turn new visitors into raving fans
A marketing playbook! An easy-to-follow template that helps you know what to promote and when
Tips to help you turn your storefront or blog into a cash machine (because that's its most important job)
Again, this offer is available exclusively to members of The Luminaries Club. When you take the course, you also get everything that comes with the club!

Ready for more? Continue on to day 2! Until next time and all the best,