It's Monday, and I'm back home in Virginia after a whirlwind week (I've been to San Francisco and back to teach a one-day class, Copywriting for Crafters on CreativeLive). I am still taking it all in, and I couldn't wait to share the behind-the-scenes of my experience with all of you.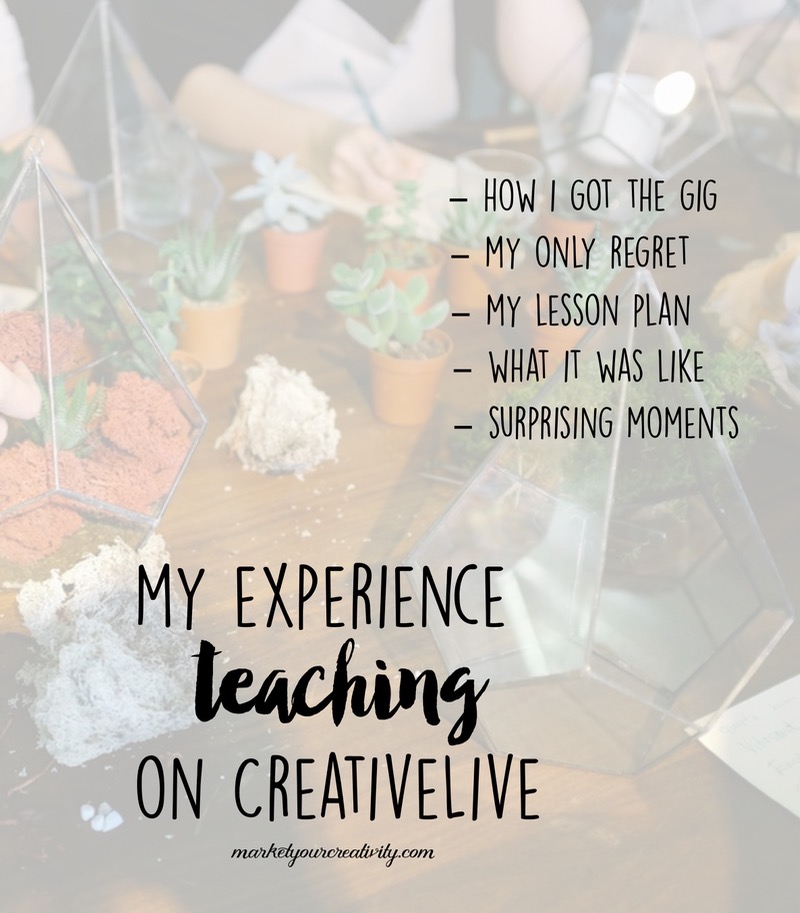 Getting the Gig
This story started back in February, in the dreamiest way imaginable. I was in Charleston, South Carolina in a luxurious, oceanfront home for The Movers and Makers weekend-long retreat. It was the end of a long day: we'd wrapped day one, and both Bonnie Christine and I had presented. We'd been fond of each other's work up until that point, but watching each other speak had made our bond even stronger. She loved my talk on the energy cycles of entrepreneurs as much as I loved the incredible story of her success.
That evening, after the attendees had gone home and the house was quiet, I sat at the dining room table with a glass of wine and had an intimate + insightful conversation with Bonnie and our retreat photographer, Paige French. Bonnie's mom, Maxie tidied up and prepared ahead in the kitchen, her presence equally soothing and lovely. Paige's husband, John quietly played beautiful music in the background on his guitar as we spoke. The scene was surreal and full of possibilities.
CreativeLive seemed to come up a lot that weekend because multiple retreat speakers had experience teaching there, and I think our weekend together in Charleston reminded them of the work. By all accounts, teaching on CreativeLive sounded amazing. I began to think I'd like to teach on the platform, but I wasn't sure how or where to start.
That night over the dinner table, I mentioned to Bonnie that I'd like to go out for CreativeLive. She lit up and reached across the table, "Yes! You should totally teach on CreativeLive!!" It was incredibly reassuring, and she was happy to make the introductions.
My First Proposal
Bonnie introduced me to Elizabeth Madariaga, manager of the craft and maker channel on CreativeLive. Once connected, I emailed Elizabeth a proposal that I had carefully crafted based on the presentation I had given at The Movers and Makers Summit.
If there is one thing I regret about this entire experience, it would be that first proposal.
I had watched many a CreativeLive class in my time, but I just wasn't sure how to translate my lesson plan and the way I coach/consult into their format. My first proposal didn't make much sense as an all-day class, so Elizabeth asked me for a chat over the phone.
During our call, Elizabeth gave me a better understanding of what she was looking for in an instructor and asked for another proposal. I took my time, paid more attention to how the platform works, and learned from other classes before submitting my next proposal. It made much better sense (to us both) and showcased my teaching abilities and experience.
Copywriting for Crafters
It was late spring when Elizabeth pulled a section from my proposal (the copywriting template) and asked if I'd like to expand that into a day-long class for a week-long, Improve Your Holiday Sales conference that she wanted to host in August.
Needless to say, I was thrilled.
She explained the process to me on the call, and we were off! To start, you're responsible for booking your airline ticket (which is later reimbursed by CreativeLive) and organizing your content (which is later refined by content and online producers). They literally take care of the rest! More on that in a minute.
While I love me some copywriting, I am stronger suited in marketing strategy and the buying process. Since we were talking Copywriting for Crafters, I saw an opportunity to use my experience in product listings (since most crafters sell in a storefront) and combine that with the buying process while honing in on copywriting techniques and amping my experience in that arena.
I was beyond grateful for the opportunity and could hardly wait to get my class underway.
Building a CreativeLive Class
I am a writer. I've always known this about myself, but now I realize what a predominant power it is. In my original plans for class preparation, I was going to write out the entire class and then create a Keynote based on the highlights.
I thank my lucky stars for the day (late July) when I said to myself, "I better just open Keynote and get a slide deck started."
My slide deck contains more than 400 slides (full of presenter notes) and took about 100 hours to create. I usually keep a bullet list of talking points when I speak, but for my copywriting class, I was hostage to my notes. I had organized the flow in such a way, and brought in so many points and examples that I wanted to touch, that I wasn't going to miss a single sentence that day! I refused.
So while the slide remains the same throughout a topic of discussion during the class, you'll notice me clicking because I need to get through all those damn notes! 😉
By mid-August, I dreamt of my slide deck and had copywriting conversations in my sleep.
The preparation was real. #CreativeLiveProblems When it comes to traveling for work, I generally don't like to be gone more than two nights away from my family. Technically for this trip I wasn't, but I felt lost in my head and the workload for about ten days before I left. A week out, I knew I was obsessing over the slide deck, but I couldn't stop myself!
I held onto my Keynote until I arrived in San Francisco. I used my 6-hour flight to tweak it!
CreativeLive Logistics
When Bonnie and I co-hosted the Movers & Makers retreat, I had traveled solo and I was completely spent from the experience. There was always so much to figure out and organize: how to get where you're going, what to prepare, what times to start, what and when to eat, what everyone's role is, etc.
It was a lot, and it took me weeks to recover.
That was my absolute favorite thing about teaching on CreativeLive – every last detail was cared for. I met my content producer, Justin months before the class and we had regular check-ins and updates over the phone.
Justin sent a full itinerary of my trip before I left. CreativeLive arranges hotel and travel to and from the studio and airport, so the itinerary included what times I would be picked up and by whom. (This is need-to-know info for a planner like myself, and I was immediately calmer with that itinerary in hand.) The studio office (which is SO COOL by the way, but I was too nervous/excited to take a lot of pictures) has an amazing kitchen stocked with catered food, snacks, goodies and anything else you can imagine. So, I got to eat. In fact without that amazing kitchen, I don't think I would've eaten for two days! When you teach, you arrive the day before the class for a pre-production meeting in which you meet the entire crew as you discuss the schedule and flow of the live broadcast. This isn't all of them, but meeting the CreativeLive crew looks and feels like this … 
The people at CreativeLive, both on production and in-studio, are an absolute delight. Meeting them and having them work on my! class was a dream come true!
Live Broadcast
The people at CreativeLive could not make you feel anymore comfortable or at home, but my nerves got edgier the closer we got to the live broadcast at 9AM PST. Ten minutes out, I was employing some deep breaths and loud sighs to get back to calm! Amazing makeup artist + kind soul, Eliza, steadied me back to ready. But every time I revisited her chair that day, my stomach went up in butterflies all over again!
The studio itself is surprisingly calm. In fact, walking into the studio settled me to normal. There are cameras in motion for sure, but it feels very inclusive and "just us" when you're in that room with a CreativeLive moderator (we had Kenna Klosterman for #craftweek2015) and the studio audience.
The rest is a blur. Once it started, it just all sort of happened. I felt prepared and ready to unleash a wealth of information on anyone watching, so I was excited to reveal it all. Now that it's said and done, I am extremely proud of my class material and the overall presentation.
Afterwards, I was sitting in the green room spilling some tea and sipping my wine with Justin. A handmade panel was filming in the studio. When the panel wrapped, Justin said, "Here you go!" as he was pointing to the screen.
The rebroadcast aired, and I saw myself on CreativeLive for the very first time.
Surprising Moments
I was unexpectedly starstruck when I met Kenna Klosterman (CreativeLive moderator). I have met many respected and admired people in my professional career -I'm cool as a cucumber- but, I lost it when I met Kenna.
She caught me staring at her in the green room (which I didn't even realize I was doing before she returned my gaze!), and I said,
I can't believe I'm in the same room with you.
J'adore her! I had such a great time with Kenna in class, and she invited me to have a glass of wine after we wrapped on the rooftop patio of the CreativeLive studio! #yesplease – one of many shining highlights of my day.
My husband watched all day and blew my phone up text-shouting his praise. He even filled a document of copy and pasted comments from the at-home audience's live chat (which I don't think I get to read otherwise) so that I could feel all the love + support I received!
All four of my children saw the broadcast and thought I did "awesome." So, there you go. If you don't know know, now you know: I'm awesome.
Nobody missed me as much as our family bulldog missed me while I was away.  
My youngest son wanted to know why I didn't wave when he tuned in. He told me, "You knew we were watching!" Next time I randomly start waving on-camera, you'll know why.
My youngest daughter wanted to buy the stuffed owls I sewed (final segment, fictional example of good copywriting).
Friends I hadn't heard from in years shared and supported my broadcast.
One member of our studio audience took the most amazing visual notes, and her entire set of notes from the Improve Your Holiday Sales conference is ready-to-download if you purchase a class from the week.  

The sun set on my time in San Francisco over a quiet and comfortable dinner with Elizabeth and Megan Auman at a delicious restaurant in the city. It was amazing. The end 😉
Missed the Broadcast?
You can purchase my class, Copywriting for Crafters and get on-demand access anytime. It's worth every penny, I promise! You can also add it to your CreativeLive wishlist to be notified of its rebroadcast or any sales and specials they have on it.
Thank you all for your love + continued support. I felt you there with me! Until next time and all the best,