Your Best Year is here for its third season in a row, and this time, it's better than ever before. Your Best Year 2016: Productivity Workbook and Creative Business Planner is the best one yet. I literally wake up every day excited to get this into your hands and watch the results you're going to create with it!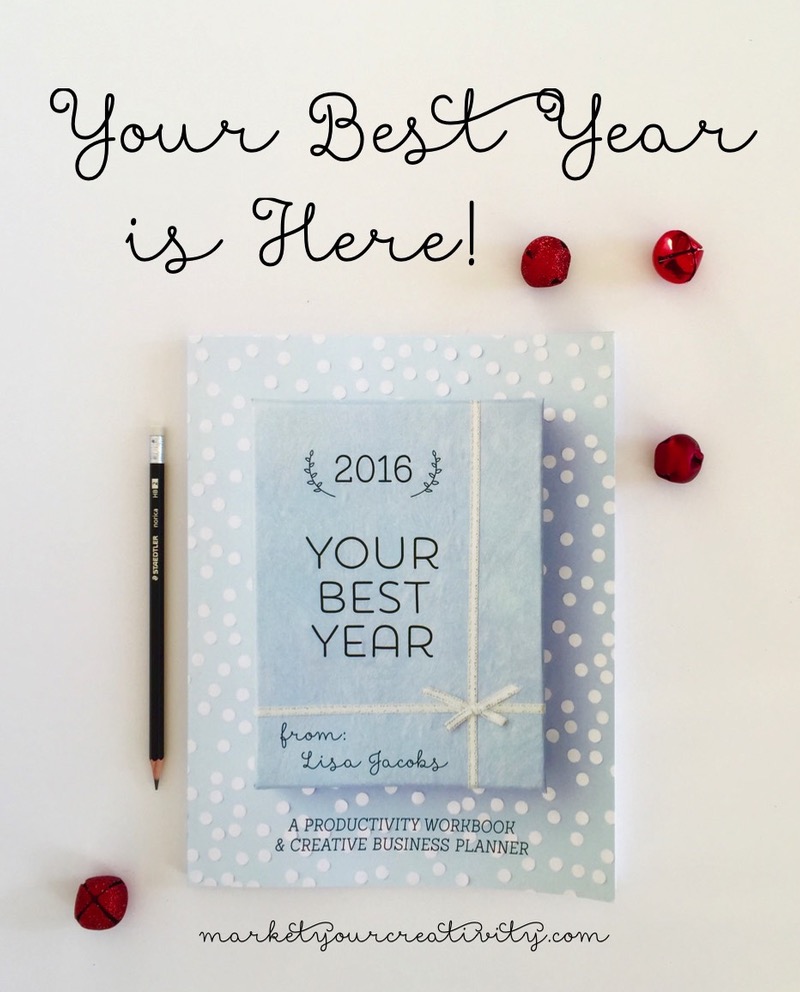 All year long, I've been following the system I share in Your Best Year 2016. It's no coincidence that this was the year I finally made it happen: I doubled my income, made hundreds of sales, hosted an offline event, and taught to thousands on CreativeLive! Which, by the way, had more to do with productivity, review and improved performance than anything else!
I've taken what worked for me and packaged it into a revolutionary + comprehensive system. Are you ready to make it happen already?
What's the Same
It's a workbook filled with prompts, goal-setting exercises, goal-prioritizing exercises and tough questions that MUST be answered in order to have an organized and successful creative business. I've been using Your Best Year planners, and they've been game-changers for my career!
This annual planner is about making the most of your time and building toward your dreams. Are you ready to make 2016 the BEST YEAR of your life?
There are two versions available

. (1.) The digital file (available for immediate download) is only $12.50. Print it out and do whatever you like: punch binder holes in it, paste it into a notebook or tape it on your walls – whatever works! (2). The printed copy is available for sale on Etsy or Amazon.com for $17.49.
What's New + Different
I think a better question is what's NOT new and different about Your Best Year 2016? This edition includes:
A place to capture your wins each month: Creative businesses can feel slow-moving, even when you're getting a lot done and making a lot of progress. This book is designed to help you regularly record + review the wins you're creating.
A record of review: By the end of the year, what worked and what didn't won't end in a question mark. You'll know exactly what you need to do to create a more successful business.
A focus on the five pillars: You are your business, and it's often hard to separate personal from professional life. This book doesn't try to. Without you, there is no business! You'll be encouraged to focus on all aspects of your wellbeing (financial, physical, relational, spiritual and mental).
A record of memorable moments: Whether you're recording personal or professional events, there's a designated section to help you remember what matters.
Improved habit maker + tracker: We are creatures of habit, and I can't tell you how many New Years I started off with the best intentions, only to find myself back in the same rut within three months. Trust me, it's not for lack of trying! We're wired to repeat our mistakes, but this book helps you conquer that.
A revolutionary goal setting system: I love this new system, and I know you will, too. I developed it in early 2015, and it's been a game-changer for my career. I encourage you to hold the year's vision loosely and remain open to unexpected opportunities this year. I designed this system specifically for creative entrepreneurs so that it allows your plan to unfold and evolve in the best way imaginable.
A revolutionary risk assessment worksheet: Should you go after that big dream? Should you make that big investment? Wonder no more! This simple worksheet will help you make the decision and get over your fear once and for all.
A mix of instruction and application: At 154 letter-sized pages, this book is ready to teach and help you tackle this business once and for all!
Planner tools for 2016: I haven't even told you about the planners yet! Your Best Year 2016 includes an annual overview with objectives, quarterly goal-setting, monthly overviews, monthly tasks and priorities, weekly overviews, weekly tasks and habit trackers.
See what thousands of creatives are raving about: enjoy the end-season clearance rate! 
Download Your Best Year 2016 Now! ($12.50 Only $7.50!)

Here's a flip-through and lots of lovely details about the book:
And you don't need to just take my word for how great it is. If you'd like to see what other creatives think of the book, please check out the unanimous five-star reviews its collecting on both Amazon on Etsy!
Your Best Year 2016: Productivity Workbook and Creative Business Planner is where serious business begins. Have you ever wondered how far you would go if you fully committed to your plans and followed through on your big ideas? It's all too easy to take a slow month at a slow pace, disgruntled by a lack of results and income. But what if instead you invested a year to giving it your all with a specific outline of business wins and rewards? That's what Your Best Year 2016 is all about.
This book is a monster, hungry for your obstacles and starved for your achievement. Are you ready to feed it?
The fact of the matter is, goal-setting works + it can take months, if not years to get to your desired destination without guidelines and route markers to follow on your path. At the same time, your path is going to be creative. That is the nature of you! Because you are creative, traditional career trajectories and goal-setting formulas simply don't work. Your journey is fluid, as your planner should be!
That's why I am so proud to announce that Your Best Year 2016 is designed so that you can constantly reinvent your plans throughout the year.
If you're anything like me, you try to plan six months in advance, only to end up with a planner full of cross-outs, chicken scratch, and arrows to redirect it all. Your Best Year 2016 is uniquely inventive that way: it's designed to get you OUT of the daily scramble (because we're the only small businesses in the world that try to operate day-by-day), all the while allowing for your annual plans to shift and align with your interests as you go.
For the first time ever, you can create a fluid, long-term plan using a system I designed specifically for creative entrepreneurs.
See what thousands of creatives are raving about: enjoy the end-season clearance rate! 
Download Your Best Year 2016 Now! ($12.50 Only $7.50!)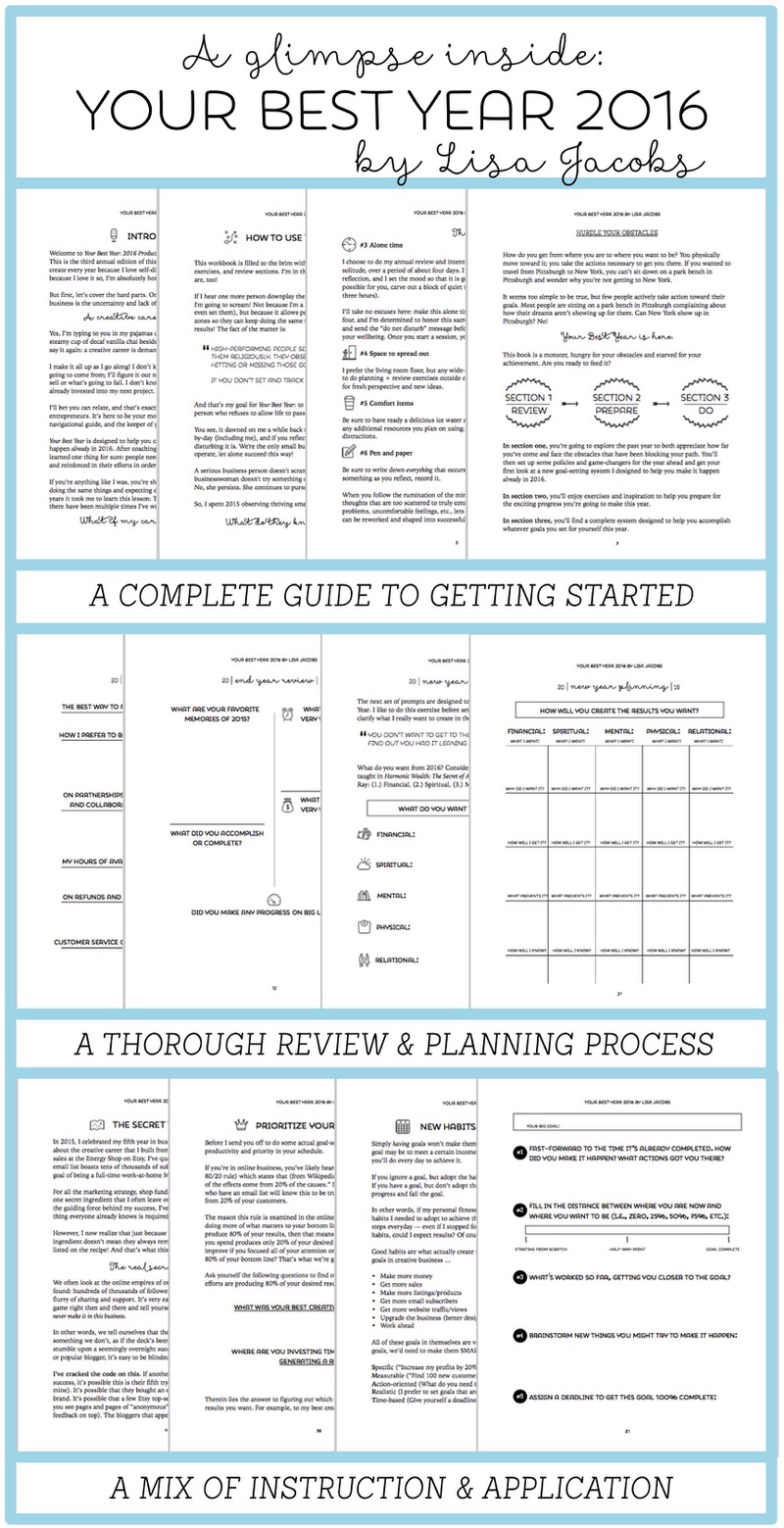 Show Me Your Planner!
This year's hashtag is #yby2016 – I'd love to compile a round-up post of your planners in use! Share your planner in action so I can blog, retweet, repost and share them too. Here's to your best year yet,