A gift guide for the creative entrepreneur in your life!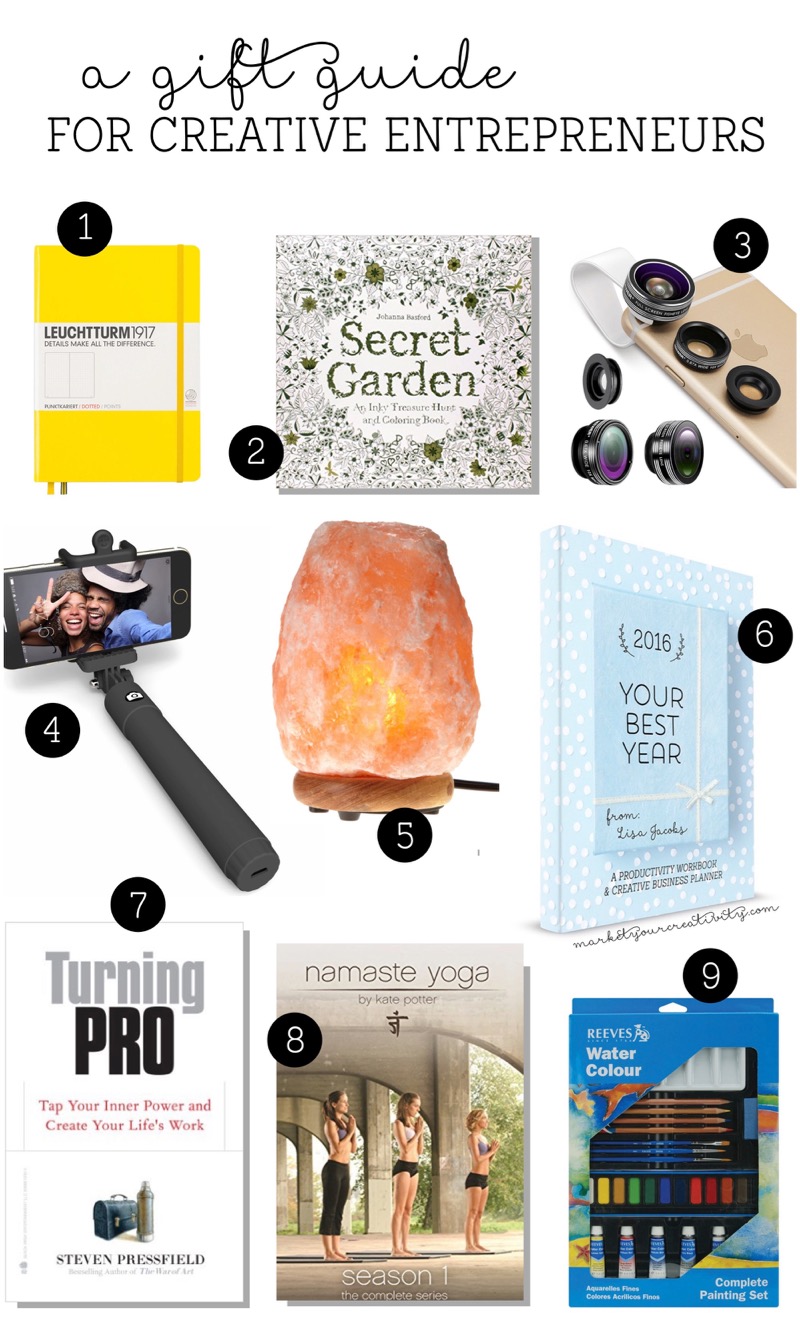 #1 Bullet journal + drawing pens. I have to thank my friend and fellow Luminary, Kara of Boho Berry for this awesome recommendation (and add to my personal wish list). She's done amazing things (and achieved amazing exposure) with her bullet journal, and I've been fascinated by her progress.
#2 Secret Garden. Adult coloring books are everywhere this season, and Johanna Basford's are even showing up in my local Target store! I love this growing trend, and I think it's a great way for even the "non-creative" in your life to unleash their inner artist.
#3 Lens kit for smart phones. This is a 3-piece kit I found on Amazon. I was afraid to recommend it without trying it myself, so I ordered it! It was only $10.99 at the time (and currently still is, marked down from $79.99!), and it's upping my Instagram game for sure.  I'm so glad I grabbed it for the fish eye lens alone!
This kit is just so cool for the price. The lenses are loose, and it comes with a soft, magnetic clip to help secure them over the lens of your smartphone. Here's an example of what it can do:
I took this photo of my daughter's redecorated space, and I literally had to squeeze myself into the corner to not be in the shot!
#4 Selfie Stick. I'm guilty of making fun of the selfie stick, but let's be honest: Pictures get a whole lot more flattering an extra arm's length away! I ordered the one pictured here (again, purely for "testing" purposes – 😉 ), and it's great quality. I didn't realize they needed to be corded to your phone (as this one does), but I'm sure you can find wireless selfie sticks as well.
#5 Himalayan Salt Lamp. Oh my goodness, I wish I would just take the plunge and BUY one of these already! I recently found them in Bed, Bath & Beyond, and I can't tell you how many times I've considered this purchase. These are so cool!
Himalayan Salt Crystal Lamp emit ions that have several benefits, namely air purification. They're also said to be soothing to the mind, body and soul. Such a great gift!
#6 Your Best Year 2016. Of course, Your Best Year 2016 gets a mention on the creative's gift guide! It's already earned dozens of 5-star reviews on both Amazon and Etsy, so you don't have to take my word for it. It's that good!
#7 Turning Pro. I read a lot of business books, but I would have to credit Turning Pro by Steven Pressfield as resonating the most with me in 2015. It's not organized like a typical business book, I'd say it's written in segments rather than chapters, but the insight within is profound.
#8 Namaste Yoga. A TV channel used to play Namaste Yoga everyday back around 2012-13, and I used to keep a running list of episodes on my DVR. Then I moved out of country, and when I came back, this show was nowhere to be found. I finally located it on Amazon, and found an entire free episode on YouTube. I love this yoga after a long day of creative work. It's relaxing, not terribly challenging, and it would make a superb gift for the creative entrepreneur in your life!
#9 Watercolor art set + pad. Because who doesn't love watercolor?
What Did I Miss?
What's on your creative wish list for the year? Anybody asking Santa for a Glowforge? Stop tempting me with the advertisements already, Facebook! Until next time and all the best,