[From Zero to 30K Instagram Followers in 6 months is a guest post from fellow Luminary and my new operations manager, Kara of Boho Berry! She's done amazing things with her business in a very short time, and she'll be sharing key elements of her success with all of us. Take it away, Kara!]
First let me start by being completely honest here. When I started my Instagram account back in May of last year with zero (yes, ZERO) followers, I didn't know what I was doing. I was new not only to Instagram as a platform, but to creative business as well. My photography was sub-par. My captions were listless at best. And I didn't understand what a hashtag was, much less how to use one properly.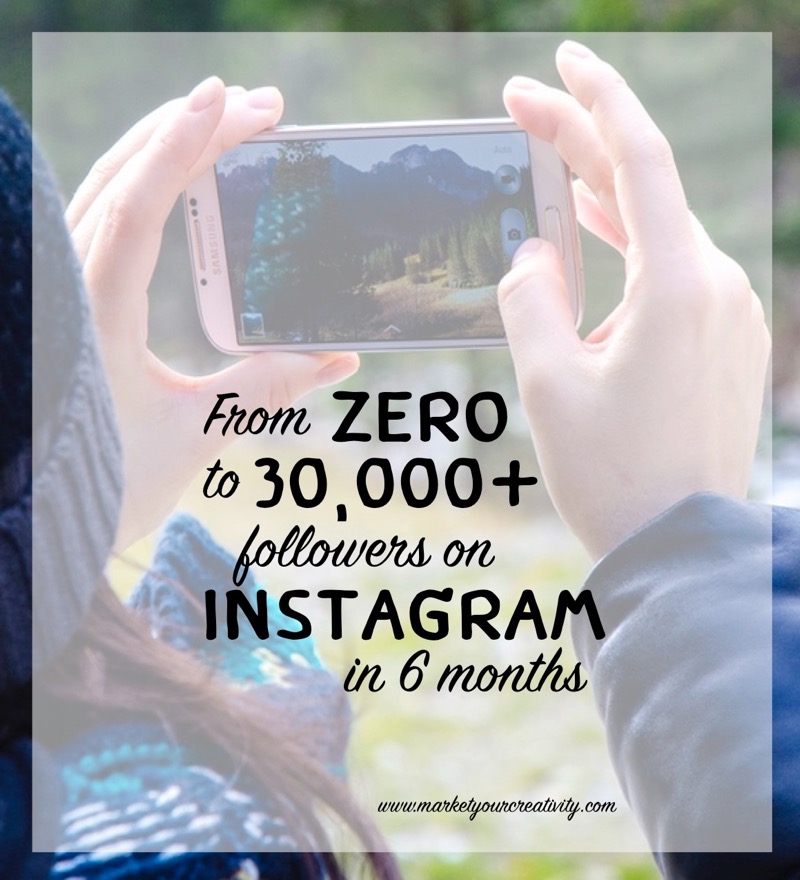 Being the self-starter that I am though, I devoured blog posts about Instagram marketing left and right. I tried all of the advice out there (good and bad), and slowly started to build my following. Fast-forward 10 months, 400+ photos, and lots of trial and error later… I now have a loyal + engaged following of 30,000+ on Instagram. Oh, and that number is increasing by 500-600 new followers per day!
So, how did I do it?
Some days I ask myself that same question. Often I tell myself that it has all been a matter of luck and happenstance. And sure, there's been some lucky breaks here and there, but none of them would have happened without a few calculated moves on my part.
In essence: I created my own "luck".
3 Tips to Building Your Own 30K Following
#1 Be specific with your hashtags. A hashtag, in essence, is a way to turn a word (or a group of words) into a searchable link. When using hashtags, think in terms of what people might be searching for relative to your content.
If you're posting a picture of your most recent jewelry creation, remember that no one is searching for #jewelry. Or #earrings. Or even #cutestbraceletever. Sure, people are using these hashtags regularly, but trust me: Your customers are NOT going to find you this way.
What they are searching for is #bohojewelry, #wrapbracelet, and #giftsformom.
For example, I often use the hashtag #BulletJournal in my posts, because that is the first thing people search for when trying to find Bullet Journal ideas. This way, when a user searches the #BulletJournal hashtag, any post that I have tagged will show up in the search results.
#2 Consider tagging brands and using their hashtags. This is where that "calculated luck" I was telling you about comes in, y'all!
One of the biggest boosts I received on Instagram happened back in September. I had just decided to take on the Whole30 Challenge, and created a spread in my Bullet Journal to keep myself on track.
I posted a pic of my spread to Instagram, and tagged @Whole30 in the photo. In addition, I used the hashtag #Whole30Challenge in the comments.
On September 13th, the folks at Whole30 saw my photo (because I had tagged them in it), and re-posted it to their 183k+ followers  The results? Not only did my Instagram following grow exponentially that day, but it trickled into other areas of my business as well. It sent loads of new traffic to my blog, which in turn resulted in email list signups, ebook sales, and of course new eyes on my blog as a whole.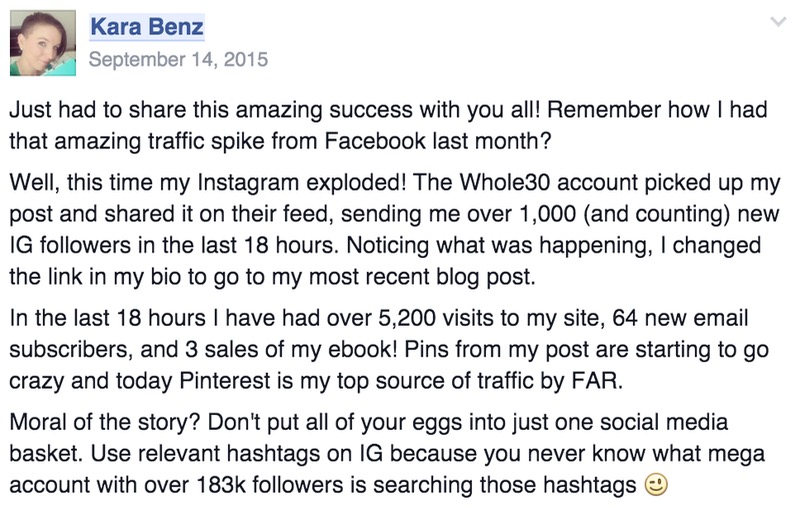 So how was this calculated luck? Well, I was lucky that Whole30 decided that my photo was share-worthy. But they would never have even seen it if I had not tagged them in the photo to begin with. Are you seeing the magic here?
Here are my resulting blog stats that day: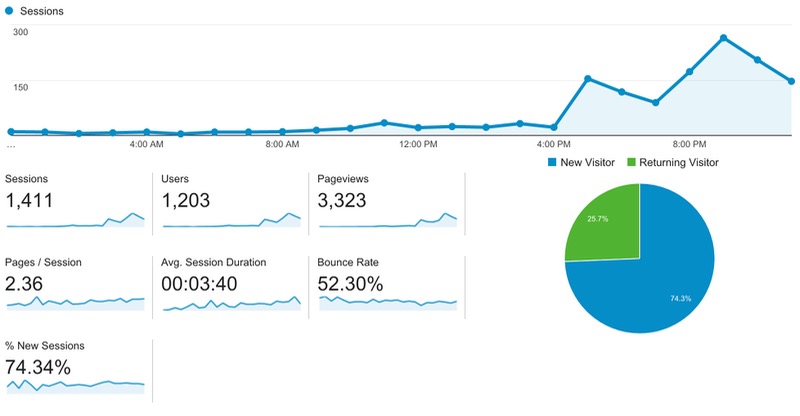 #3 Engagement is the currency of Instagram. Likes (hearts) and comments are great. The more engagement you get on your photos, the more likely you are to be in the "Top Posts" section of the search results for whatever hashtags you used.
However, engagement on Instagram goes both ways. Instagram literally puts the word "social" in Social Media. Being a part of the community as whole will drive your follower growth more than any other tactic out there.
How to engage on Instagram:
Search for hashtags relevant to your niche.
Like and comment on the photos that stand out to you.
Follow others who are posting quality content that you'd like to see in your feed
Use those same hashtags in your own posts when relevant, and start conversations with your followers in your own comments section.
Join Me on CreativeLive!
There's more! I'll be teaching a segment during Lisa's 3-day CreativeLive class, Turn Your Etsy Shop into a Sales Machine! I'm going to show you how to strategically build your Instagram following to drive traffic and generate sales for your creative business.

I'll be sharing the complete play-by-play of how I went from zero to 30,000+ Instagram followers, and then I'll teach you how to do the same. And remember, it's always free when you tune in live! Click here to join us, and hit the "RSVP" button to save the date. See you there!
Kara Benz is the artist and author behind Boho Berry, where she inspires her readers to lead a more centered, fulfilled, and free-spirited life. Kara lives in Central NJ and when she is not planning away in her Bullet Journal, she is crafting boho-style jewelry for the Boho Berry Shop. You can connect with Kara on Instagram @Boho.Berry