For the first time ever on my blog, this post isn't written to you! It's written to all of those people who know and love you outside of your creative business. You know, your IRL (in real life) friends. How to Support the Creative Entrepreneur in Your Life is intended to help them help you.
But before we get to them, I want YOU to know that they see you. Your friends and family don't always understand your path; it's not their language, it's not their world. That's why you don't hear from them as much as you'd like when you talk about your business or your online presence.
But, they do see you.
They know you're doing something extraordinary, and they're watching with great interest as you carve yourself a new path. This article is written to help them take a more active role.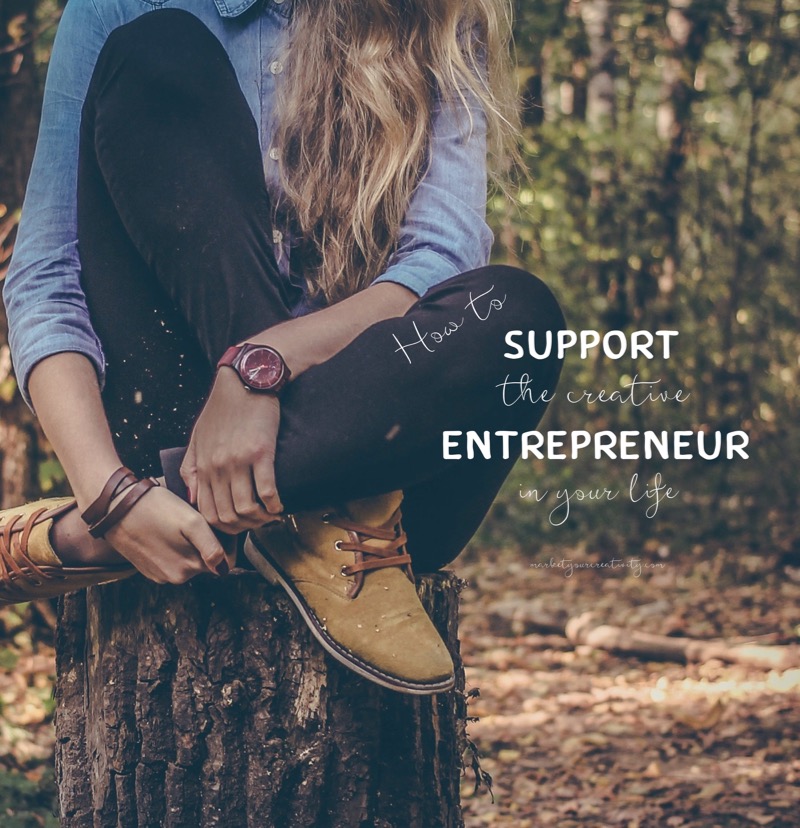 Here are a few things to know about the creative entrepreneur in your life:
#1 It's hard to explain what we do (and what it means to us)
It's so passionate and personal; it's always more than "running an Etsy shop" or "writing a blog" or "having a website."
It probably seems as though our businesses just happened – it suddenly became this thing we do and talk about every day, but what you don't know is that it was one of the greatest challenges any one of us has ever faced.
It's an extremely vulnerable thing to go all in on an idea that has a greater chance of failing than it does succeeding. Nothing about it was easy, and yet here we are.
#2 We're hustling hard behind the scenes
You might see the confident face, the pretty, staged results of all the behind-the-scenes work, but you know we're human better than anyone else!
Because truth be told, we're each very alone in this. We're trying to create a product or service from scratch, testing what works and what doesn't while conquering the uncertainty we face every single day.
#3 We look up to people you've never heard of
Our industry thrives online, and we often greatly admire our own (very personal) examples of success. This is an unintentional secret we keep from you, because to tell you our greatest dreams or share our vision of success typically comes with a long and lengthy explanation you probably don't care to hear.
The best thing you can do for us …
The best thing you can do for us is to click "like" on any and all business posts we share on social media. Seriously. We wish you understood the weight of your "like" or "heart", how it helps us reach more potential customers every time you give it.  And we know that, if you knew how easy it was for you to help us, you would do so more freely.
This is such a weird thing for us to ask for in the moment (and it would make us look bad to our potential customers if they saw it), but every time you click the social triggers on our posts, you boost our reach.
On Facebook, we struggle to be seen by the fans who like our business page; we typically have to pay Facebook for our updates to be shown in our fan's feed. When you "like" the post, it tells Facebook that our business updates are valuable, and it then displays posts to more of our potential customers (at no cost).
On Instagram, we struggle to connect with the right communities. We use hashtags as a way to be seen to people with similar interests. When you "heart" the photo, you make the picture more popular, thereby deeming it a "top post" – which can boost us to thousands, if not tens of thousands of potential customers.
On Pinterest or Twitter, a simple repin or retweet when you notice our share will help us reach more people who are interested in what we offer.
Thank you so much for your support!
Alright, dear creative. Now that we've gotten that out of the way, share this post along with links to your business profiles so the people who care most about you will know how to support you.
Until next time and all the best,