Before I share the play-by-play of my 40K launch, I want you to know that I grew up with a very modest idea of money. My history is so modest, in fact, that I've had to overcome major mental blocks before I could trust the value in my own offer, price my work to reflect my experience, and earn more money as a result.
I grew up in the suburbs of Pittsburgh, PA (as did my husband), and to us, $40,000 was an amazing salary. And when I say amazing, I mean, it was an eye-boggling, jaw-dropping amount of money to be earned in one year! In the area I grew up, $200,000 bought you a "rich" house, so at 40K a year you were living high on the hog.
In DC, where I live now, $200K won't buy you a cardboard box in the city.
And what I've learned since then is what a very subjective topic money can be. I don't know if you think $40,000 is a lot of money or a little bit, but trust me when I tell you that – even a year ago – I could not fathom that glorious amount of money spilling into my life in a single month. After all, I spent years desperately grappling to make 40K as an annual salary from my creative business.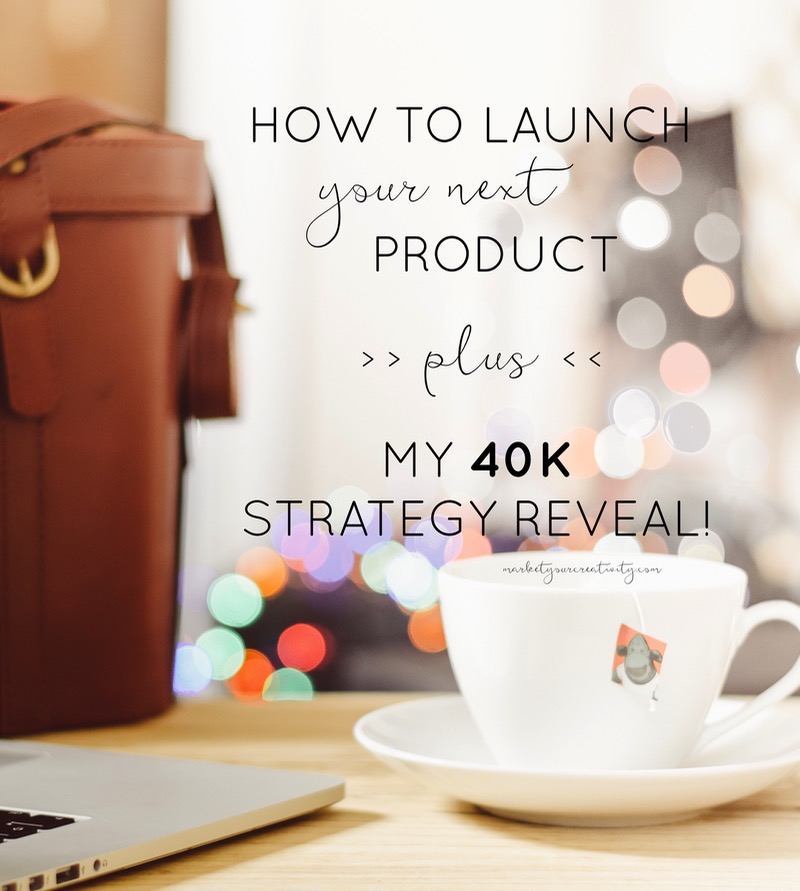 This year, I'm going to drop real numbers in your lap. 
I feel very called to share my journey to six figures (and beyond), so I'm trusting my gut on this, even though money conversations make some people really uncomfortable – or worse, money conversations make them compare.
If you want to compare anything, compare where you're at now to these income reports I shared back in 2014. That's the year I felt stalled and unsure, and the struggle was real. Making tens of thousands of dollars a month is surreal, and the funniest part …
Everyone wants my business today! The vision is alive, and so they believe!
Nobody wanted my business in years 1-4 when I worked just as hard, scraping by, frustrated and ready to quit, but I refused to quit because I BELIEVED and my FAMILY BELIEVED in my calling and my message and my purpose. And I'm pretty sure YOU believed, too. So, thank you for that. I'm honored you're here.
My 40K Launch Strategy Revealed
I'm sharing the behind-the-scenes schedule of the launch of Complete Copywriting (the numbers are at 40K and counting). The course is officially open for enrollment for one week (May 17-May 24), but I opened an exclusive early-bird registration on May 11 during a live webinar.
You can easily apply this same launch schedule to your next product release or seasonal promotion, and I encourage you to check out Complete Copywriting (while it's open) to make the absolute most of your time and efforts around the launch (it's a lot of work, you'll want maximal results).
12 Weeks Before –
Product details and deliverability – Whether I'm creating an ongoing course (several modules), a book, or a single class, I organize the details and have a loose outline of the project at least 12 weeks before. Here I determine: what type of product it is, what it's going to do for my clients, and how I'm going going to deliver it. In this case, the product was an 8 module course delivered in weekly releases. I wanted to deliver two additional classes live (using private webinar-hosting) to give both myself and the students an inclusive classroom feel.
Opt-in created – The first thing I create and promote for a product is the opt-in offer that speaks directly to its ideal students. For Complete Copywriting, the opt-in was a fail. I spent a lot of time on a free download about how to write a perfect product listing, but as I got deeper into the project, I realized that product listings were a very minuscule and insignificant part of the course syllabus. (They're there, but promoting that aspect lost sight of the bigger focus.)
Marketing plan. Now that I know the details and the loose needs of the project (a guesstimate of how much overall work will be involved), I plug launch dates into my calendar. Although after this launch, I realized these almost always need to get pushed back a week or two. Tasks inevitably take longer than I expect. I'm trying to learn a better rhythm to launch, so next time I plan on giving myself more time.
Course research and build. I won't be anywhere near final draft of the project at this stage, and I'll be adding finishing details until the last minute, but I do extra research early on to ensure my trainings are the most comprehensive coverage of the topic on the market.
8 Weeks Before –
Name a sales goal for the product. I typically use the number of subscribers on my email list and project a 1% sales conversion, based on that number (for example, I have 16,000 subscribers, I projected 160 sales).
Write the sales page. Right around this time in project production, I'm really excited about it and the potential impact it holds for creative businesses, which means it's a perfect time to channel that excitement and write the sales page. I refer to the sales page throughout the rest of the course build to ensure I'm delivering everything I promised – it almost becomes my "table of contents" on the project.
Decide on pricing. To come up with a fair price for both me and my students, I test my offer's return on investment. For example, I'd been having private clients test the material in my Complete Copywriting course, and they were immediately reporting huge returns. One of my clients made (an unexpected!) $776 in a week by using just one technique in my program (and this was a technique she could easily repeat four times per year).
Figure out the potential return on the launch (a dollar amount, i.e. if 50 people bought it at $99, this launch could be worth $4,950). I'll do this early on to determine whether or not I want to advertise or invest to make a good launch even better. If I do choose to advertise, I promote the opt-in, not the course. I never ask for sales from strangers.
6 Weeks Before –
Create an editorial calendar based on the topic at hand. I aim for one blog post per week, but if it was my first launch and/or my list wasn't as established, I'd aim for at least two blog posts per week.
Identify the product's narrative. This is a copywriting technique, and probably more advanced than you'll find in most launches. I like my product launches to deliver extreme value; I want people to love them even if they don't buy. Since launches have me talking about one specific topic for more than a month, I try to create an overarching storyline that is useful and engaging. For example, during The Luminaries Club launch, I taught a narrative on gaining exposure for your business (common problems we all face, as well as solutions and techniques to overcome them).
Have the sales page and course distribution ready. The last stages of a launch are busy and quite overwhelming. I'm not kidding, it's a lot. The more you can have clickable and ready to go, the better off you'll be.
Add the finishing touches to the user's experience. Imagine you just bought the product you plan to sell. Test the flow and delivery – it's important, and it's a nightmare if you don't have all of your ducks in a perfect row. Work out any kinks as early as possible to save yourself a lot of stress down the road.
4 Weeks Before –
(Optional) Set-up a live webinar. This was new to me for this launch, and if I'm honest, it really pushed me out of my comfort zone. I've taught on CreativeLive and have plenty of experience presenting at other people's webinars, but I've never self-hosted a live call before. I need an entire blog post to discuss this (but you can get the full breakdown and set-up, plus my webinar template and sales script – they're all included in my Complete Copywriting course). To host a webinar, you need a host (I use Webinarjam), a prepared presentation (I use Keynote and shared my screen), and ideally, a moderator (I use my assistant, Jennie). You want this in your books and prepared about four weeks out, but you don't need to start announcing it until about a week before it airs.
Emails. For my last launch, I emailed about the product six times in ten days. For this launch, I emailed ten times in twenty-one days. My emails generate 99.8% of my sales (very few people buy expensive programs straight from my blog), and those emails earned six figures last quarter. I only give them away for free if you're subscribed to my list!
Two Weeks Before – 
Webinar Live! I taught a masterclass titled, Copywriting Secrets of a 6-Figure Business, in one day, but for three separate one-hour sessions (9 AM, 12 PM and 7PM- my time; never again!). It was exhausting, but I learned a lot. Next time, I'll do one session and push registrations (everyone who registers gets a link to the replay, even if they can't attend live). The webinar included a pre-order special bundle, and both the replay + offer expired 72 hours later.
LAUNCH. The day the product launches brings an end to my 3-month long campaign. I spend this week welcoming students, letting the finale of my email sequence roll out, and standing by to answer any last-minute questions.
If it looks like a lot, that's because it is. But, the great thing about online business these days is that everything is repeatable.
If you look at the above sequence and take out: the course research, the course build, the opt-in build, the course testing and pricing (but ADD – collecting testimonials), the product's narrative, the sales page, the welcome sequence, the user's experience, the webinar presentation, and the emails … because they're already written, researched, prepared, and ready! What will that mean for your business and your schedule next year?

If you loved this post, you'll love my premiere program, Complete Copywriting: The Course to More Sales. Sign up to be first to know the next time it opens.
Good luck on your launch! Until next time,