I've been a creative entrepreneur for six years, and today I'm going to reveal the planning system that helps me get it all done! When I started this business, I was a stay-at-home Mom of four; I had two children in elementary and two toddlers still under my wing.
The sweet flavors of motherhood mixed with the savory satisfaction of business are the best ingredients for my being. It's a recipe that makes me jump out of bed every morning; I can't get enough of this delicious life!
Over the years, I've learned a lot of things about myself as both a parent and entrepreneur. For example, it took me years to realize that my anxiety is induced by conflicting priorities. I've noticed that anytime my duties as a wife and mother are pushed to the back-burner, I'm a walking stress-ball.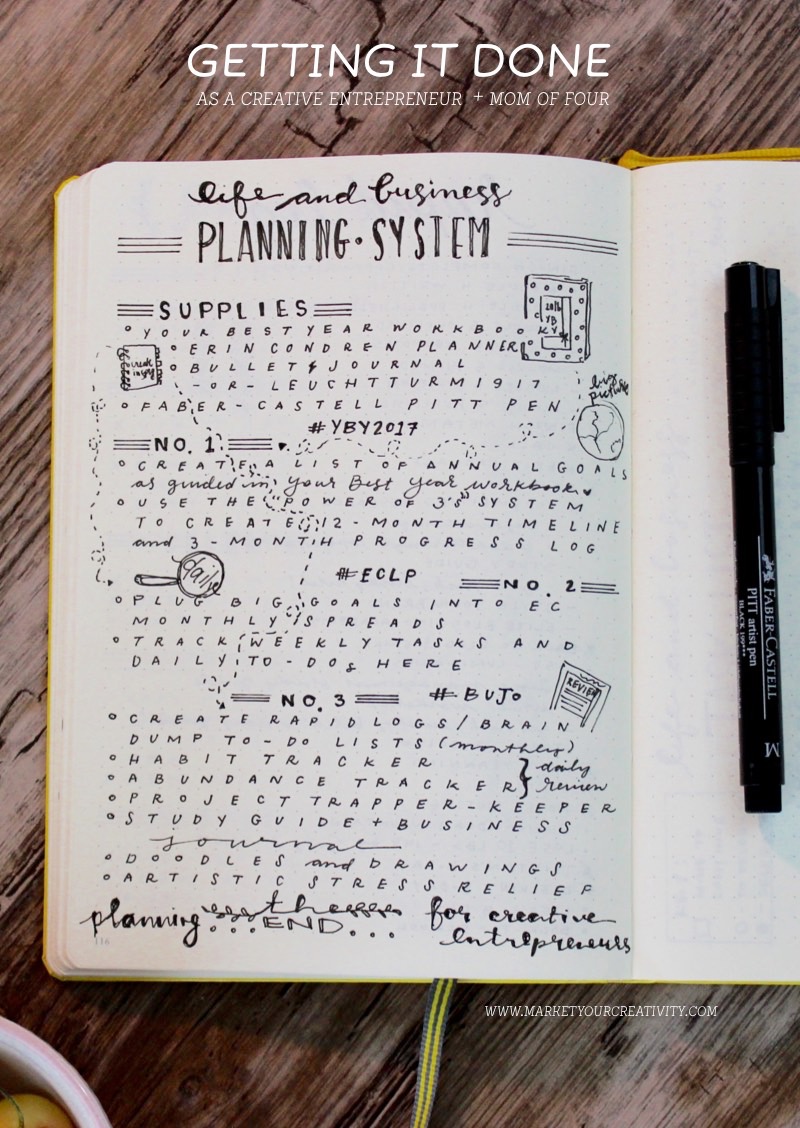 Therefore, I do my best to keep my family in the forefront at all times. The first thing I do for any editorial, marketing or business schedule is take note of where I need time with them. But, I get a lot of questions about the mom/business balance, and if that's why you're here, there's something that I need you to hear.
In an interview I gave to Mandy Fitzgerald, she asked:
"You have a successful jewelry business, you teach marketing to beginner small business owners, and you raise your four children– how do you find balance?"
My response: 
I stopped looking for balance. When I'm working on something big, I live in a messy bun and sweats, and it's a given that we're having freezer-kept chicken nuggets for dinner. My husband gladly picks up the slack, as I do for him when his schedule calls for it.
Sometimes this business occupies every living cell inside of me, and my family notices when that happens. When I'm working on something big, they can tell I'm not present even when I'm physically in the room. I used to feel bad about this, for sure.
Outside of school, my children are always with me. That's why I started this business in the first place, so that as they grew, I could be at home and have them always under (or at least near) my wing. One day, my youngest son asked me a question, and I was so in the zone writing something about business, I didn't hear him.
My youngest daughter said, "She didn't hear you. Sometimes you just have to ask her twice." And with that, I gave everyone a kiss and stopped feeling bad that it happens.
Later in life, they'll look back on their childhood, and they won't care that sometimes they had to ask me twice. Or worry about the few times they ate freezer-packed chicken nuggets. They will, however, remember a Mom that pursued her passions and created her own success. And I wouldn't have it any other way!
The System That Helps Me Get it Done
Here are the supplies I use for planning:
Your Best Year (annual workbook)
Bullet Journal (or Leuchturm1917)
Extra planner (editorial/marketing)
Overall my system is pretty simple as far as business planning goes, though I do use two planners to organize my thoughts + strategies. I like to keep my editorial calendar, where I keep blog post titles and new ideas, separate in the extra planner noted above. It always gets scribbled out and messy, and I can't handle all that scratch in my regular day planner!
Let's walk through how I use each of these supplies to create a system that gets it done.
Business Workbook
Your Best Year by Lisa Jacobs—This book features a revolutionary goal-system I created specifically for creative entrepreneurs, and it gets better every year.
I use this book to organize the year at a glance, keep quarterly progress logs, and review monthly growth and profit. Your Best Year 2017 comes out in October, and if you're just hearing about it, you can click below to enjoy a free sample of this best-selling, business-planning workbook.
If you're anything like me, you try to plan six months in advance, only to end up with a planner full of cross-outs, chicken scratch, and arrows to redirect it all. Your Best Year is uniquely inventive that way: it's designed to get you OUT of the daily scramble (because we're the only small businesses in the world that try to operate day-by-day), all the while allowing for your annual plans to shift and align with your interests as you go.
The ideas + organization in Your Best Year are designed to work in conjunction with your preferred day planner. What's my preferred day planner?
Day Planner
Erin Condren Planner – I'm a planner junkie, and I own every day planner on the market. Seriously, I have a problem. As far as I'm concerned, nothing beats an Erin Condren planner.
I love the sturdy cover, the different buying options, the 18-month layout, and the unbreakable/non-squeaky binding. I carry it everywhere, open it at least 20 times per day, and refer to it more than anything else for my business. It's built to be used.
I buy a new planner every year in June, the minute the pre-order email lands in my inbox. I've tried both horizontal and vertical layouts, and I'm always in love with the last one I chose (and got used to). Right now I'm using vertical and missing horizontal.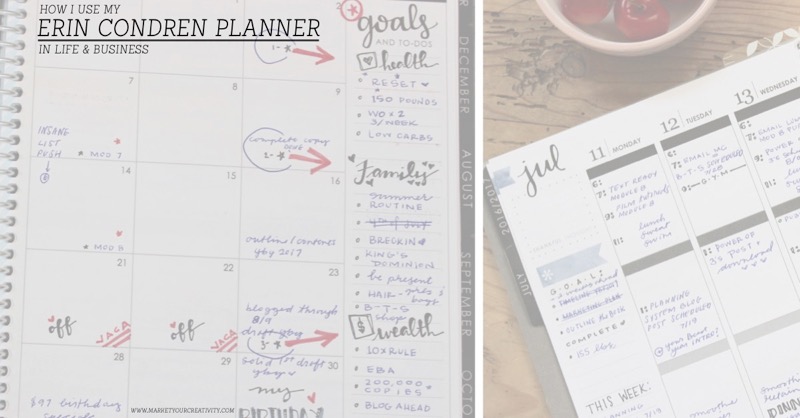 I love my Erin Condren planner like I love Apple products – I know a new one's going to be almost exactly the same, only brand new. I love having the latest model.
It has columns – to the right of monthly spreads and to the left of weekly spreads –  that I use to keep track of goals (transferred straight from my work in Your Best Year).
Every month I set goals in three areas:
Health
Family
Wealth
I then block off days of the month for my family/life: Birthdays, personal days, vacation, etc. As I've said, the very reason I built this business was to put family first, so I'm sure to block it off or schedule it in.
Every week, I look at what I need to complete to stay on track with my goals. I use the daily slots to list the actual to-do's. There is nothing social or recreational scheduled into my work day (i.e., pin, share, tweet, etc.); only production. I call these time slots "power blocks."
Power blocks are periods of time, anywhere from 45-90 minutes where I do purely income-generating work. I usually do 2-3 power blocks each day of the work week.
Bullet Journal
I learned about bullet journaling through Kara of BohoBerry, and both of my supply recommendations (the notebooks + pens that don't bleed through the page) come directly from her. Bullet journals are simply grid-dot notebooks that are used to organize information, notes, schedules, and to-do lists.
Some people use bullet journals to draw out their own monthly, weekly and daily calendars (also known as "spreads" – a DIY system that suits each journaler's needs), but I prefer my ready-made Erin Condren planner to save time.
I visit my bullet journal every morning to track abundance. I write down the dollar amount I earn every single day, and it's done wonders for increasing wealth in my life and business.
I also use my bullet journal to …
I love it, and I highly recommend trying it out for your business. There's a huge community on Instagram enjoying this trend – tag your shares #bujo, #bulletjournal, and #bulletjournaling to join in!
That's my planning system as a creative entrepreneur, and I hope you found some inspiration in it! Subscribe to the Marketing Creativity list below to be first to know when Your Best Year drops (and enjoy a crazy-exclusive pre-order discount).
Until next time and all the best,